We are indeed living in exciting times where dreaming something means you can achieve it realistically. You'd have not thought about sounding like a Vocaloid voice generator some time ago, but now doing this has become a reality. Various voice changers allow you to make your voice sound like a Vocaloid character.
Keep reading this guide to know the secrets to making your voice like a Vocaloid character.
Part 1: Best Vocaloid Voice Changer for Vocaloid Voice Make Easily
MagicMic Vocaloid Voice Changer
When generating a voice like Vocaloid, you need to consider whether the audio is flawless, as some voice changers come up with pretty poor sound. However, you won't find such inconvenience and disturbance when using the iMyFone MagicMic.
It is a superbly talented voice changer that will customize your voice in real-time unbelievably, making it sound like Vocaloid voicebanks. From helping you to explore professional features to coming up with an effortless user interface, MagicMic has genuinely been a significant Vocaloid voice changer.
OS: Linux, Mac, iPhone, Android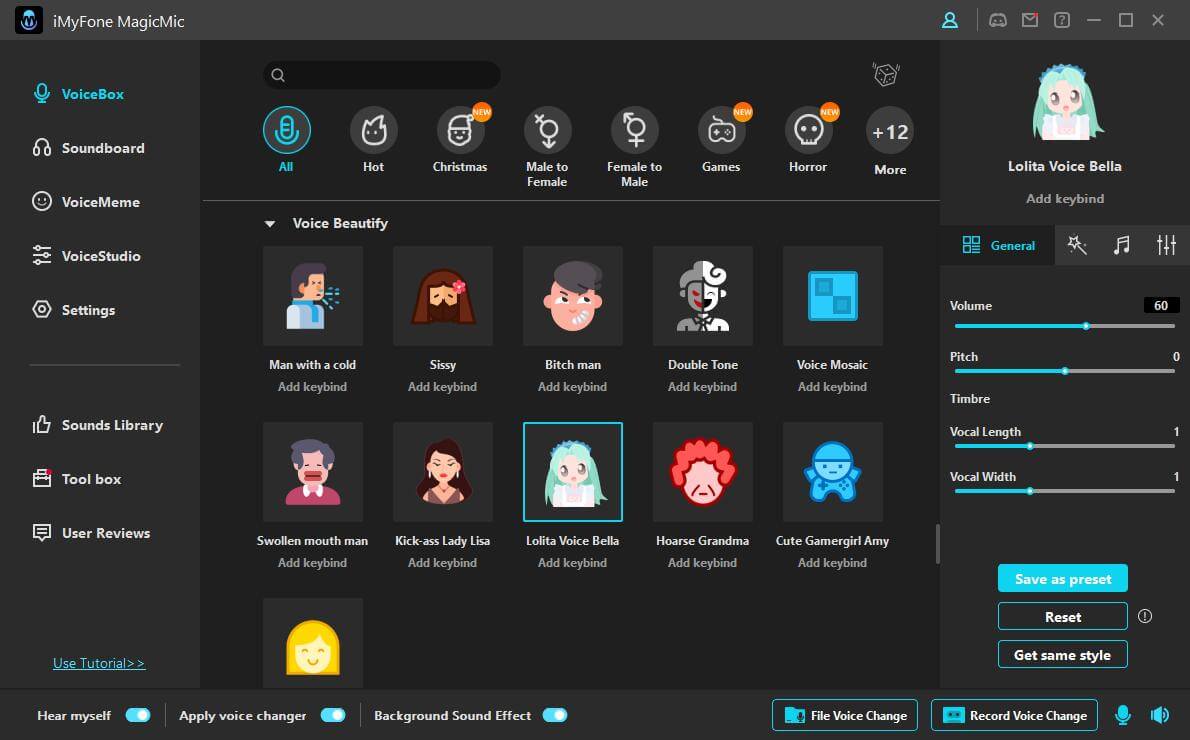 Allows you to customize the voice via the Voice Studio feature

Increase or decrease the pitch of your voice

Adjust the voice parameters.

Control the sound effects' playback via Hotkeys.

Noise reduction helps you enhance the echo and noise Compatibility with different apps like Discord, Skype, or Zoom.

Change your voice in real-time on various online platforms
Why you should choose MagicMic:
Comes up with the simple user interface
Allows you to explore the 150+ voice memes and 400+ voice effects
Use it as a sound emulator directly in games and other applications
Supports the audio file voice change and voice recording
It doesn't take up a lot of space on your PC
New voice filters and sound effects are being introduced every week
User rate: 4.9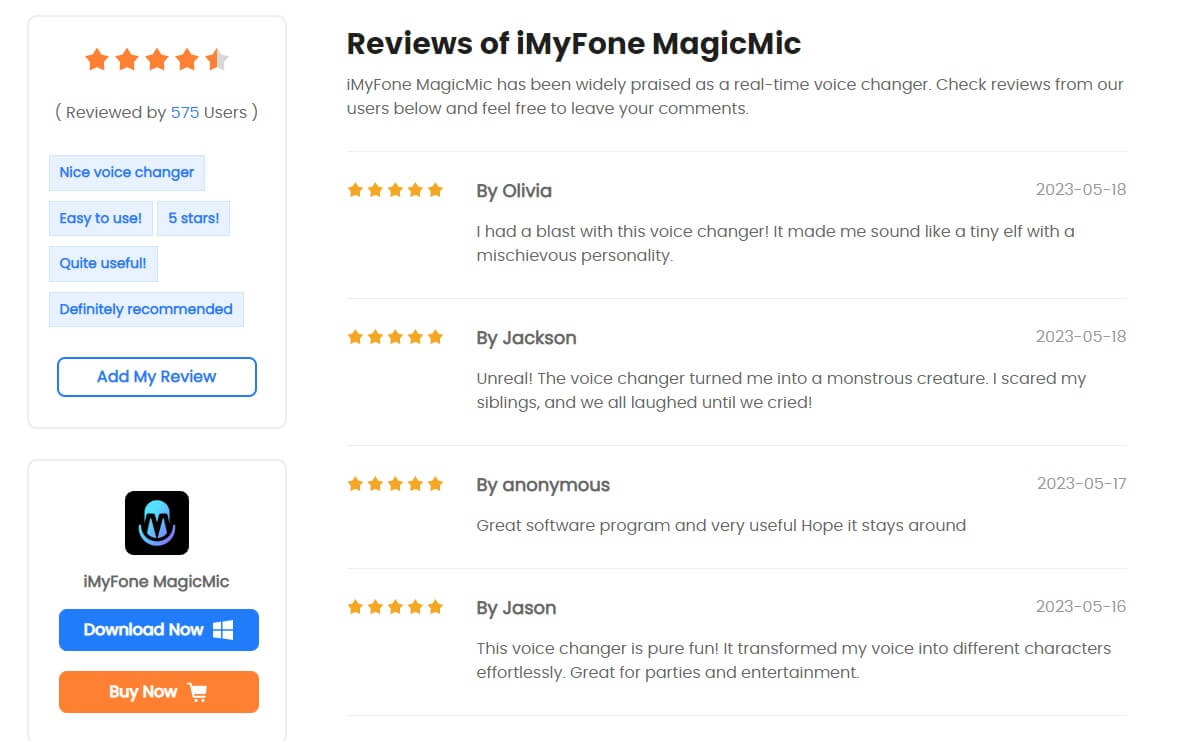 Another excellent Vocaloid voice generator that can allow you to generate the voice of a Vocaloid is MagicVox. Despite being a relatively new voice changer in the market, it managed things quite well over the years.
It is a truly remarkable tool that empowers you to explore multiple voice filters, sound effects, and customization options.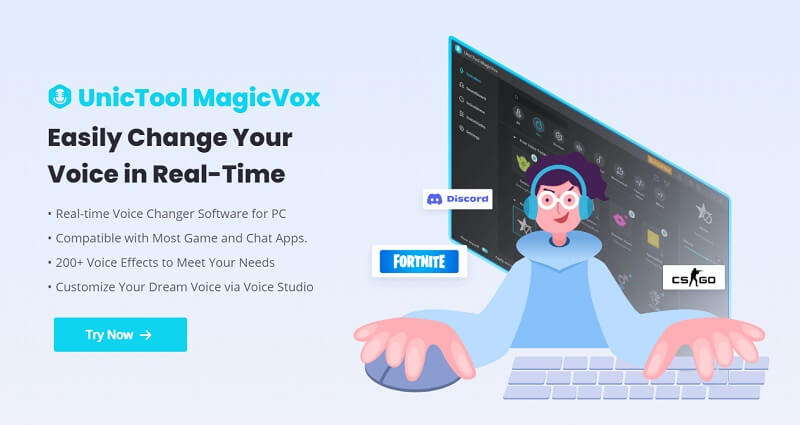 OS:Windows and Mac
Pros:

It comes up with various sound parameters, helping you to generate flawless voice effects.

Easy to use

It comes up with several free voice-changing filters.
User rate: 4.9
How to Make Vocaloid Voice with Vocaloid Generator
If you intend to make your voice sound like a Vocaloid character, follow some tips below.
1. Use similar voice filters :
The Vocaloid voice changer, like MagicMic, comes up with various brilliant voice filters similar to Vocaloid characters. So, if you want to replicate the voice of your favorite Vocaloid character, you'll need to select voice filters similar to Vocaloid.
2. Adjust voice parameters :
Adjusting the voice parameters is essential to ensure your voice sounds like Vocaloid in real-time. You can adjust every voice parameter after visiting MagicMic.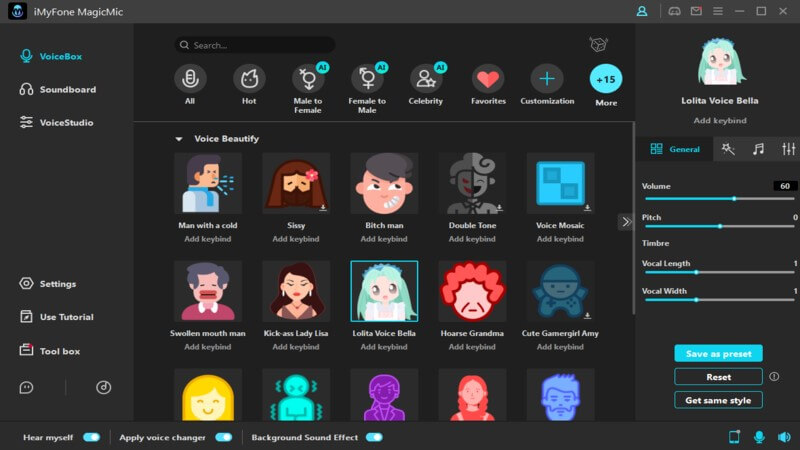 3. Custom voice on voice studio :
More than selecting a voice similar to Vocaloid is required to make your voice sound like that Vocaloid. Instead, you may need to customize the voice following that Vocaloid character you're aiming to sound like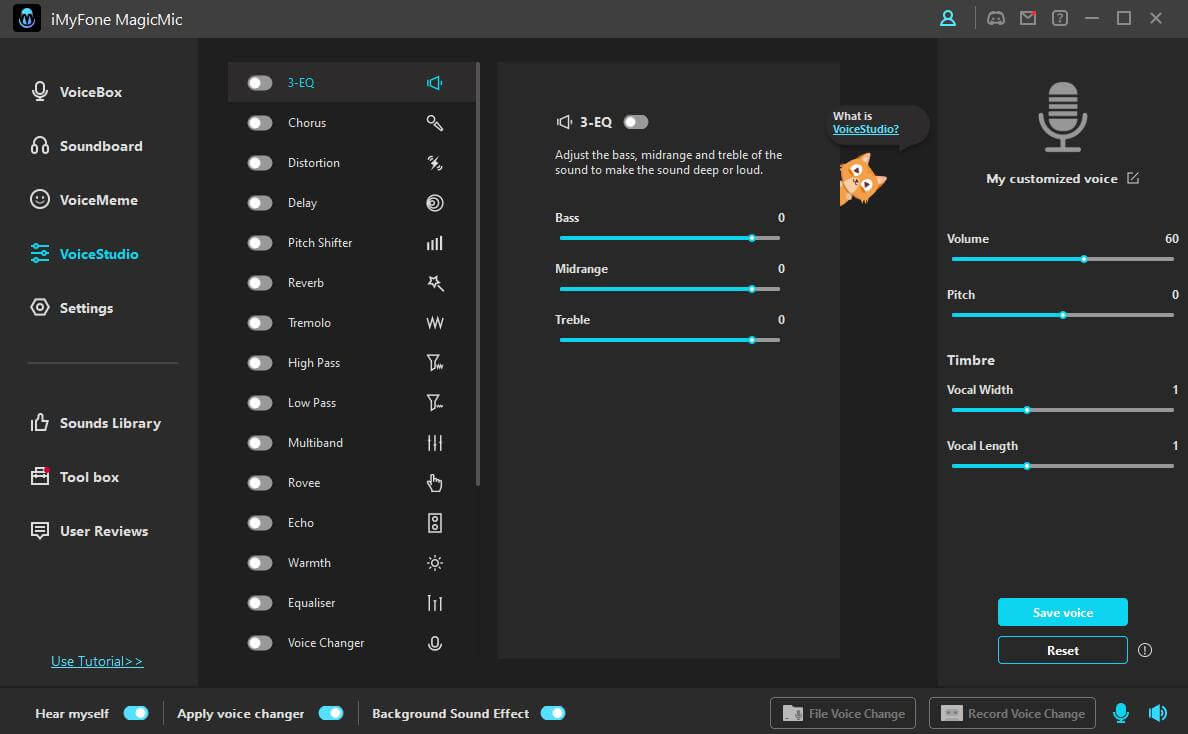 Popular Vocaloid Characters For Voice Simulation
Kaito
You will see few male Vocaloid characters due to lower demand from fans and producers. However, Kaito became famous because of his top-notch and soothing voice. Despite becoming available in the market at the same time as Miku and Luka did, he once used to have rougher pronunciation and voice. Like various Vocaloid characters, the Vocaloid voice generator only offers a few solo songs.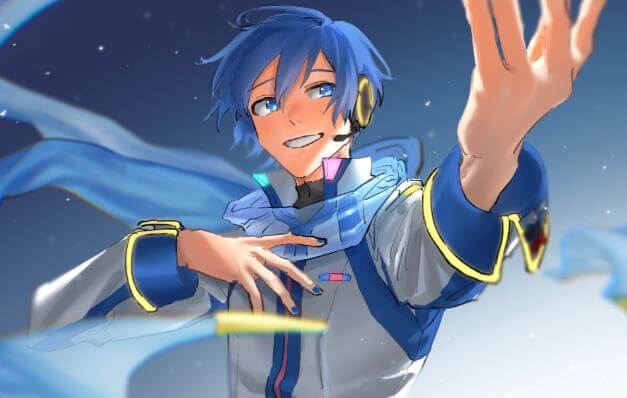 Gumi
Gumi is one of the most popular and aesthetic Vocaloid voice banks voiced by Megumi Nakajima. Her outfit seems to be based on Ranke Lee, a character voiced by Megumi Nakajima. What sets them apart from the rest is the approach to designing her appends.
An append customizes the original voice bank, making it softer, raspier, and more powerful. The Gumi voice maker named her voice various age variants, allowing the users to select an offer or a more mature voiced Gumi.
MagicMic Vocaloid voice changer is highly recommended, enabling you to set the voice filters parameters and customize the voice excellently.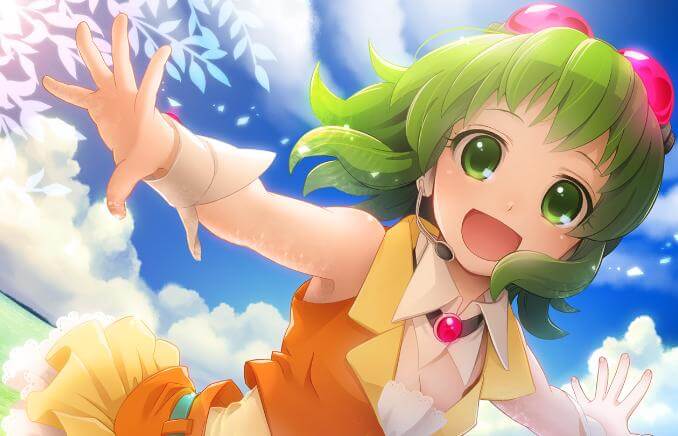 Luka
Megurine Luka is considered one of the most mature Vocaloid voicebanks. She comes up with a warmer and more resounding voice than all the Vocaloid characters. Her songs gained massive popularity from the 2000s to the early 2010s, and the Paparazzi is one of her best songs that remained a top trend for a long time.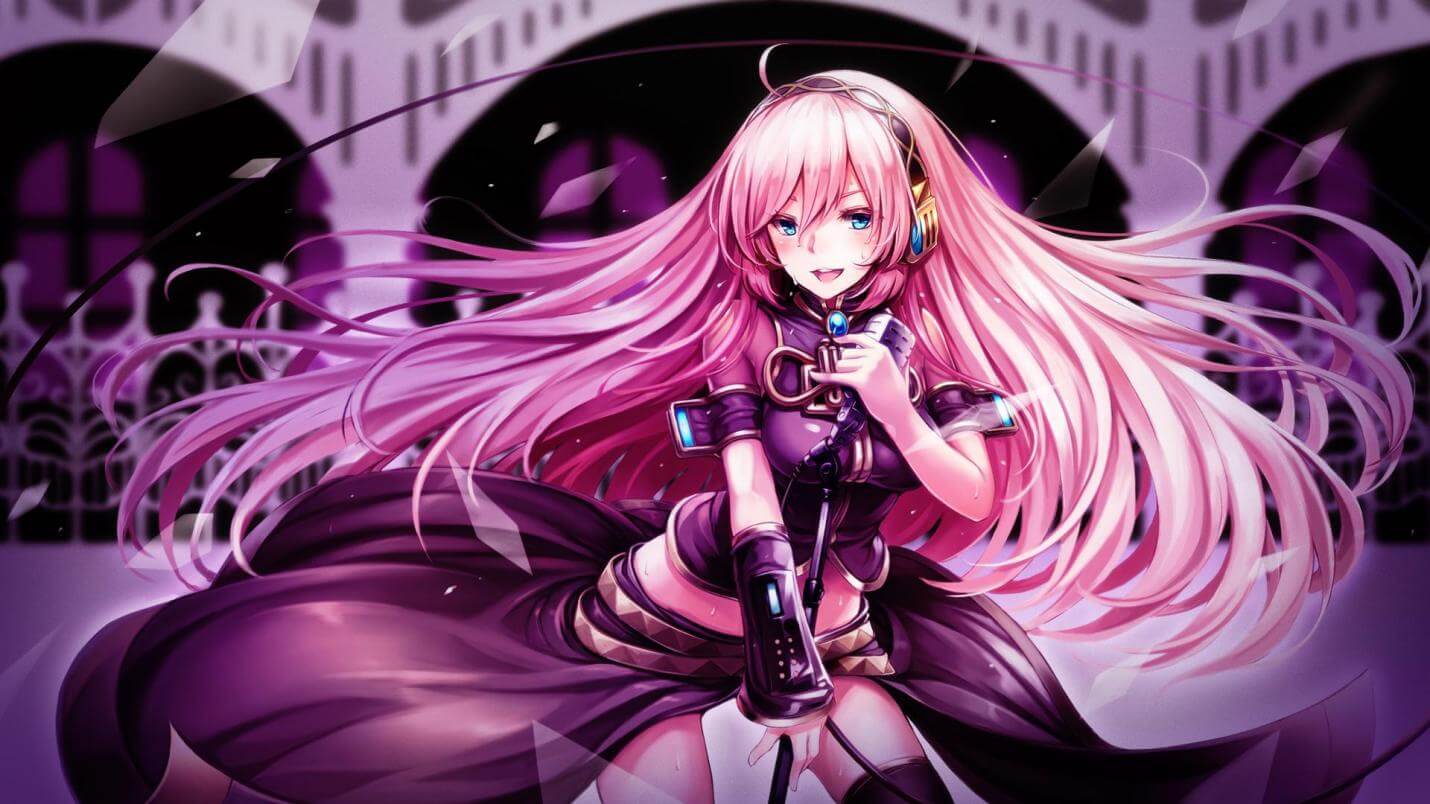 Oliver
It can only happen if you talk about the Vocaloid voice banks and mention Oliver. He has a unique voice helping you attract millions of eyeballs worldwide.
Apart from having a soothing and breathtaking voice, the best thing to like about Oliver is the range and the way he operates. From helping you to listening to soft and innocent music, Oliver will allow you to enjoy your favorite songs, thinking that actual singers are singing the song.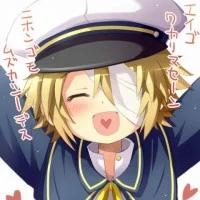 Meiko
Meiko Haigo voiced the Meiko, and the surprising thing about Meiko is that she has not been designed aiming to compete with the Hatsune Miku. However, Meiko still received the vast admiration and popularity of Hatsune Miku. You can name Meiko in the Vocaloid voicebanks having the original songs. She has a pleasing and admirable voice helping you enjoy the music to the fullest.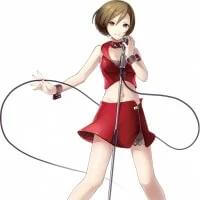 Conclusion
Sounding like a Vocaloid voice generator in real-time live streaming or gaming is brilliant. Luckily, MagicMic vocaloid voice maker helps you to edit your voice in the voice studio, helping you to make the voice sound like your favorite Vocaloid voice character.