In the dynamic world of gaming, the integration of tools like Splatoon voice changers and Splatoon voice generators has introduced a captivating dimension. These innovative technologies allow players to transcend the boundaries of their natural voices, immersing themselves deeper into the vibrant realm of Splatoon.
Let's delve into the ways these tools amplify the gaming experience, providing a fresh perspective on vocal expression within the game.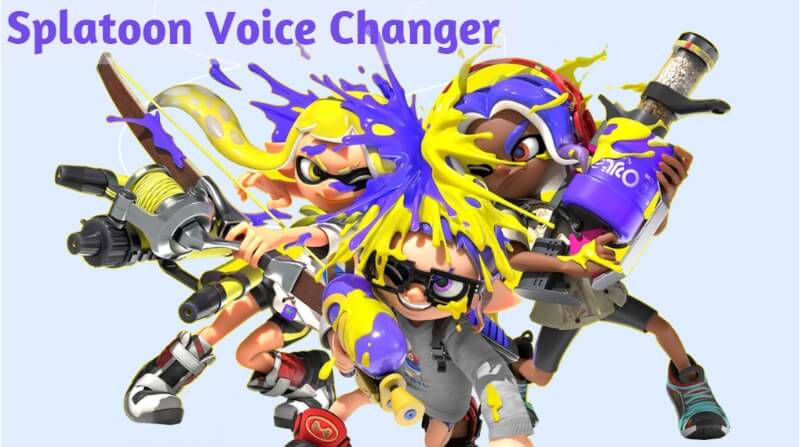 Part 1: Celebrating Colorful Chaos: A Dive into the World of Splatoon
The Splatoon franchise, a third-person shooter video game series by Nintendo, is set in a post-apocalyptic world inhabited by humanoid marine animals. The main characters, Inklings and Octolings, can transform between humanoid and cephalopod forms. They engage in colorful turf wars using weapons that shoot colored ink and hide in their ink-covered surfaces.
The series began with Splatoon on Wii U in 2015, followed by Splatoon 2 on Nintendo Switch in 2017, and Splatoon 3 in 2022. The games have been praised for their style, gameplay, and soundtrack. The series has sold over 28 million copies and has led to collaborations, esports tournaments, manga adaptations, and even holographic music concerts.
Part 2: How to Sound Like Splatoon with Voice Changer?
Magicmic is an innovative real-time AI voice changer for Splatoon. Seamlessly integrating with various applications, it allows users to modify their voices in real-time. This technology brings fun to communication, making conversations unique and entertaining. From teaming up in Splatoon battles to engaging in vibrant discussions, Magicmic adds a playful twist to interactions, letting users sound like characters from the popular video game franchise.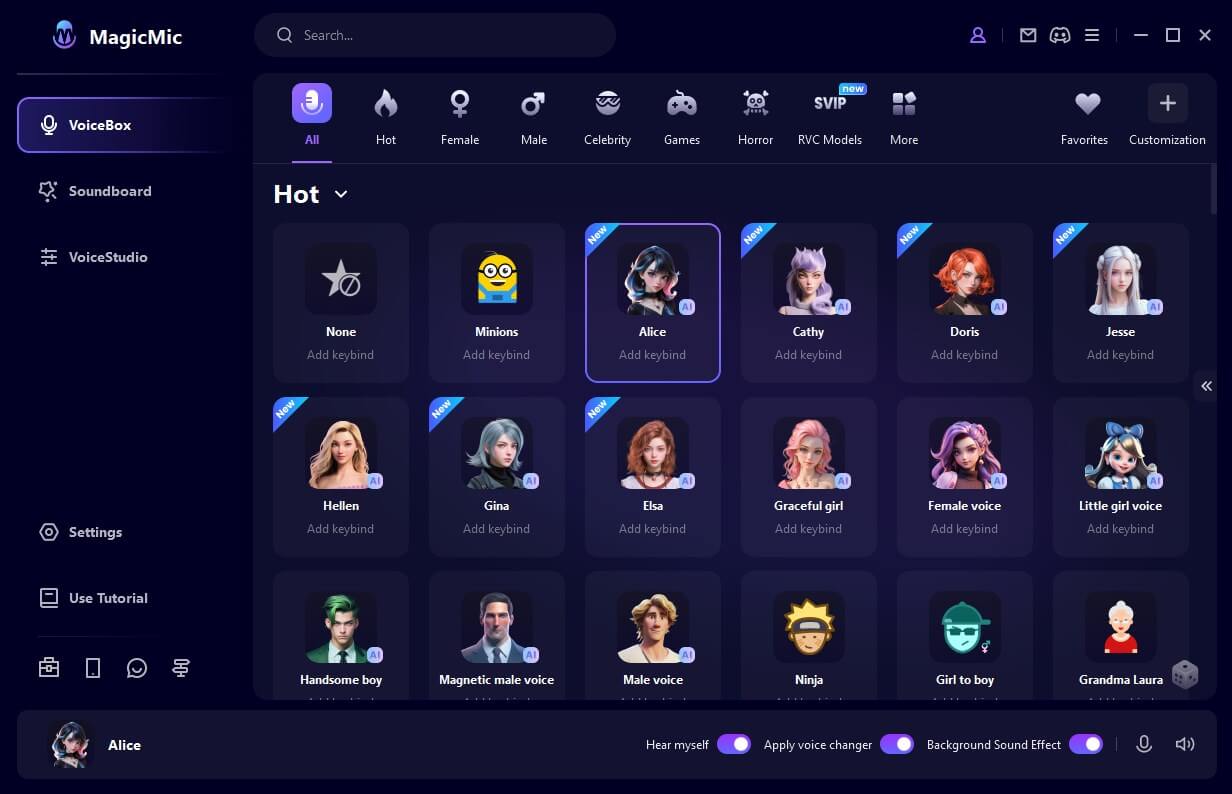 Key features of MagicMic
Splatoon AI Voice Changer
Choose from a vast selection of 250+ voice effects, 600+ soundboards, and 200+ voice memes.

It can amplify the immersion factor, letting players sound like characters from favorite games like Splatoon, Fortnite, Call of Duty, PUBG, adding a new dimension to gameplay.

Offers a diverse range of voice effects, enabling users to transform their voices into various characters and tones.

Provides a user-friendly interface for customizing voice effects

Incorporates keybind controls for swift and easy toggling between different voice effects, enhancing user convenience during real-time conversations or interactions.

Includes noise reduction features that enhance the clarity of the modified voice, ensuring that the chosen voice effects remain clear and distinct.
How to generate Splatoon AI voice with MagicMic?
Step 1: Download and Launch
Download and install MagicMic software. Open the app, sign in with your email.
Step 2: Configure Input and Program Settings
Customize settings: Choose your main microphone as input, enable "Apply Voice Changer," and activate "Hear Myself".
Step 3: Select the MagicMic Virtual Audio Device
Select Voice Changer Virtual Audio Device as input in your preferred app to seamlessly use your modified voice.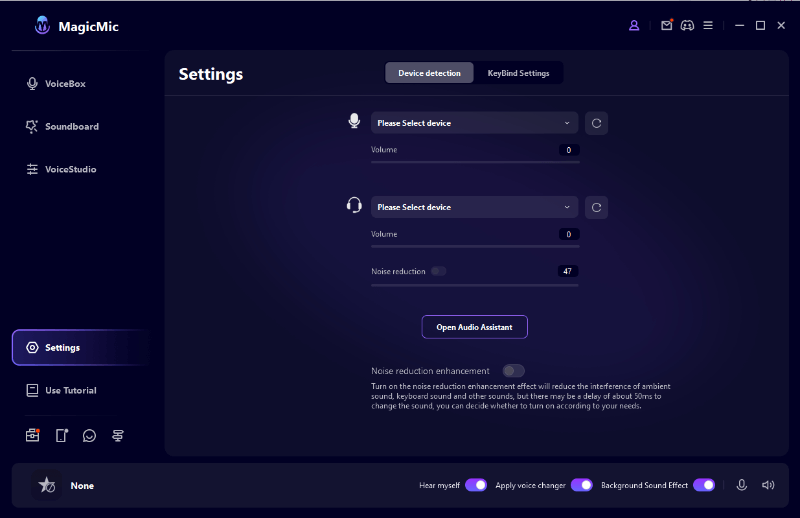 Step 4: Choose Voice and Sound Effects or Create AI Voice
Choose the voice effects in MagicMic. Play around, assign effects to keybinds, and create any Splatoon AI voice that you like, such as Inklings,Shiver,Marina Ida,Frye,Callie,Octoling and more.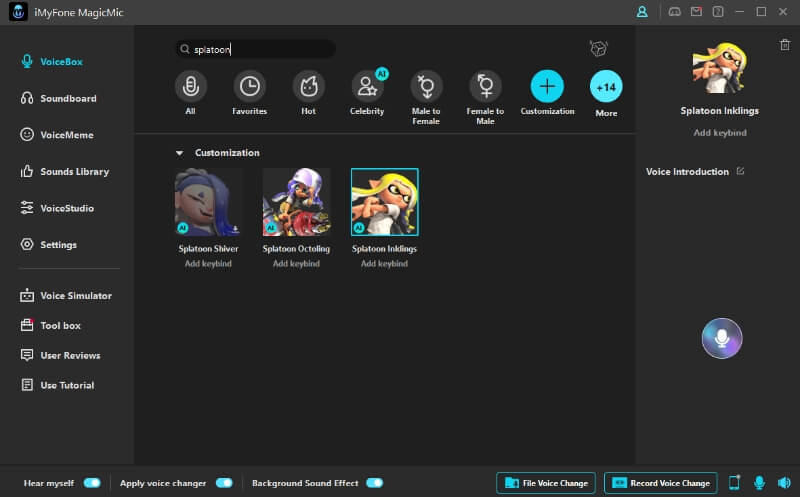 Tips
MagicMic is also a soundboard software that offers Splatoon soundboard capabilities. This unique feature allows users to access a collection of audio clips and sound effects directly from the Splatoon video game franchise. By integrating these iconic sounds into their conversations, streams, or content creation, users can infuse their interactions with a dash of Splatoon's vibrant and recognizable auditory world.
Voicemod voice changer adds a playful twist to Splatoon experiences. With its customizable voice effects, users can transform their voices into characters from the game, elevating immersion and fun during battles. It's an exciting tool for gamers seeking an interactive and dynamic Splatoon adventure.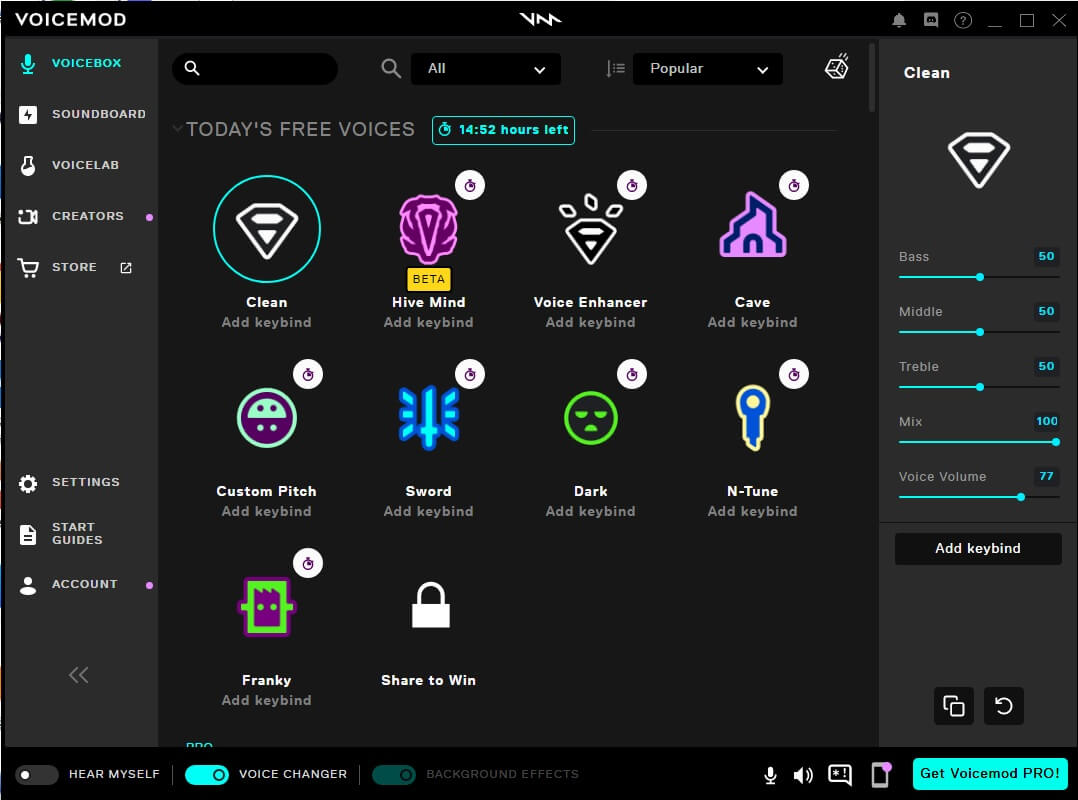 Key features
Offers real-time voice modulation for gaming and entertainment, enhancing user experience.

Wide variety of voice effects, enabling creative and versatile audio customization.

Seamless integration with popular communication software, making it user-friendly and accessible.

Regular updates introduce fresh features, ensuring ongoing enhancement and innovation for users.
How to use Voicemod Splatoon AI voice generator
Step 1: Download and install Voicemod from their official website.
Step 2: Launch the application and select your preferred input and output devices.
Step 3: Browse through the voice effects library, click to apply desired voice modifications.
Step 4: Open your communication software (Discord, Skype, etc.), and your altered voice is ready to use.
Part 3: Get Splatoon AI Voice by Using Voice Generator
If you are looking for Splatoon voice text to speech, VoxBox maybe a good choose. VoxBox is a Splatoon voice generator, employs voice cloning to effortlessly create voices reminiscent of musicians like Inklings, Shiver, Marina Ida, Frye, Callie, and Octoling AI. Utilizing advanced text-to-speech (TTS) tech, VoxBox simplifies voiceovers.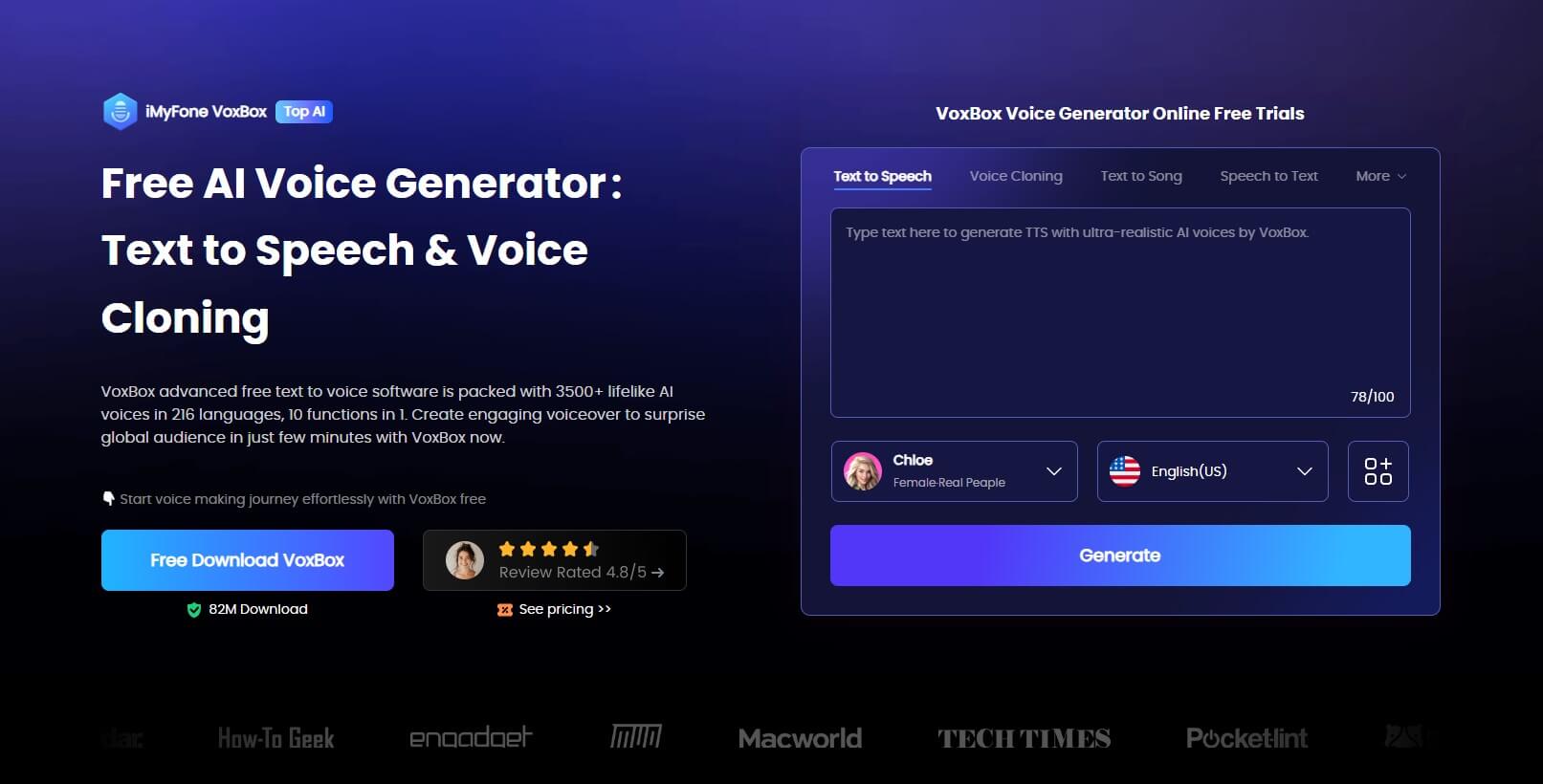 Key features of VoxBox Splatoon Voice Generator
Explore 3200+ voices in 46+ languages for Text-to-Speech (TTS) options.

Create authentic AI voices using voice cloning for natural expression.

All-in-one platform for TTS, Speech-to-Text (STT), voice cloning, conversion, recording, and editing.

Versatility with support for formats like MP3 and WAV.

Enjoy a smooth user experience with user-friendly navigation, security, and fast processing.
How to use VoxBox Splatoon AI voice generator
Step 1: Begin by downloading and launching VoxBox. Choose "Voice Cloning" and upload the Splatoon audio
Step 2: Click on "Text to Speech" in the left-hand menu.
Step 3: Enter your desired text and pick the Splatoon voice you prefer.
Part 4: Splatoon 3: Official Trailer Revealing Release Date for Drizzle Season
In the upcoming Drizzle Season, anticipate the usual influx of new content. Look forward to Crableg Capital and Shipstage Cargo Co. as new stages. For Salmon Run enthusiasts, Salmonid Smokeyard is making a comeback, accompanied by fresh Slopsuits. Additionally, the arsenal expands with the introduction of Dread Wringer and Heavy Edit Splatling weapons. Engage in battles using new Tableturf battle cards and take on novel challenges: "Inkjets for Everyone," "Swim It to Win It," and "Modded Rainmaker Test-Fire."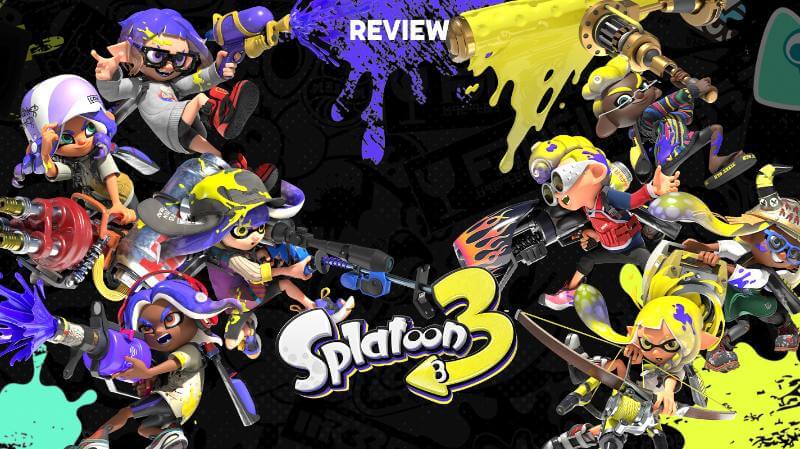 Part 5: FAQs About Splatoon AI Voice
1.Is there voice chat available in Splatoon 3?
Yes, Splatoon 3 features voice chat functionality for communication during matches and battles.
2.Who provides the voices for characters in Splatoon?
Inkling Girl. voiced by Yuki Tsujii.
Inkling Boy. voiced by Yuki Tsujii.
Callie. voiced by keity.pop.
Marie. voiced by Mari Kikuma.
Cap'n Cuttlefish. voiced by Mahito Yokota.
3.Can I use a voice changer in Splatoon games?
Absolutely, you have the option to employ a voice changer, such as MagicMic, within Splatoon games. This versatile tool allows you to creatively modify your voice, adding an extra layer of fun and uniqueness to your gaming experience.
Final words
In conclusion, the evolution of gaming experiences through tools like the Splatoon voice changer and the advent of Splatoon AI voices signifies a remarkable leap in audio immersion. As players wield the power of these innovations, such as MagicMic, the boundaries of self-expression are expanded, breathing new life into virtual characters. The fusion of technology and gaming has paved the way for an exciting future, where the realms of reality and fantasy seamlessly intertwine, giving rise to truly captivating adventures.
Come and try it now!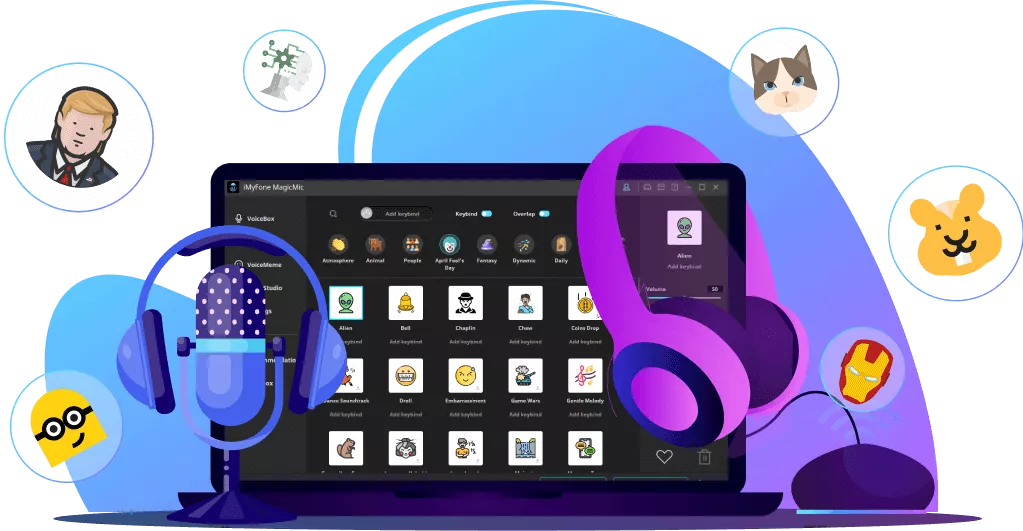 250+ Voice effects for one-click voice changing in real-time.
Huge library with 600+ Voice Effects and 200+ Voice Memes.
Sound emulator in games, live, chatting, online classes, and more.
Voice recording and audio voice changing is supported.
Voice studio lets you create any voice you like.