In the contemporary digital era, memes have become an important part of our online culture. They have gained immense popularity across various social media platforms such as TikTok, Facebook, Twitter, Reddit, and more. Alongside this meme revolution, people have embraced a wide array of humorous memes, including those featuring text-to-speech messages and AI-generated voices!
If you're in search of top-notch TTS meme voice tools and meme AI voice generators for crafting hilarious meme content, look no further. Below, we've curated a selection of the finest AI meme voice generators to help you create and share uproarious TTS memes with your loved ones and friends.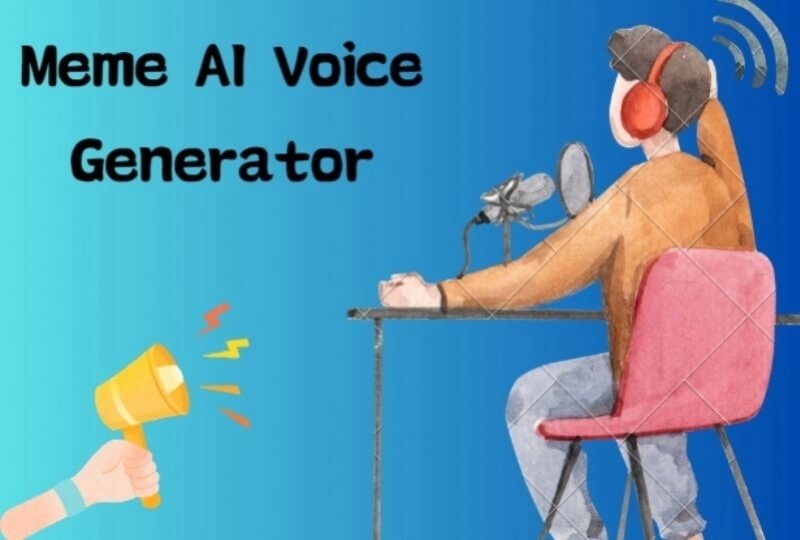 Part 1: Top 5 Meme AI Voice Generators to Make Voice Memes
iMyFone MagicMic distinguishes itself as an exceptional voice changer, renowned for its voice transformations. What sets it apart is its unique prowess as a meme AI voice generator, specializing in crafting voice memes. It extends its voice-altering magic to a wide array of applications and videos, including Skype, Zoom, Discord, PUBG, Overwatch, and many others. Its widespread acclaim can be attributed to its user-friendly interface and a rich selection of voice effects that cater specifically to the creation of captivating voice memes.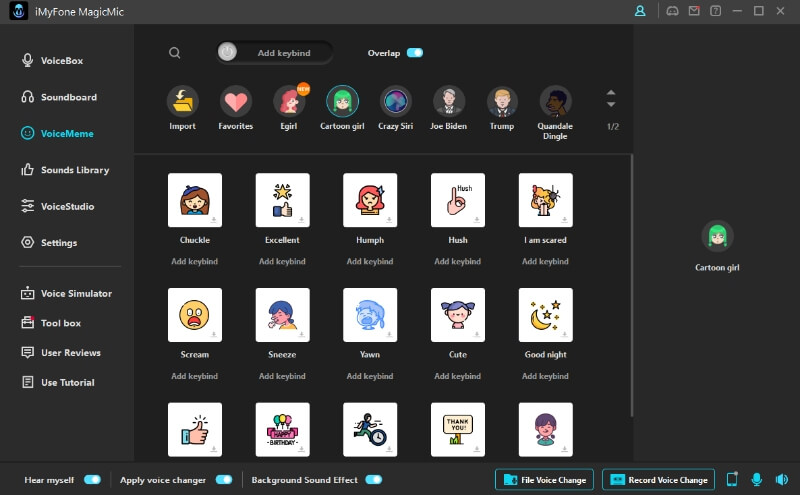 How to use MagicMic to Make Voice Memes:
Step 1: Download the MagicMic software from the official MagicMic website or by clicking the button below.
Step 2:Open the software and select your microphone and headphones. Enable the "Hear Myself" and "Apply voice changer" options at the bottom.

Step 3: On the left-hand side, choose "VoiceMeme" and then select your preferred category and voice memes. For example, you can pick from categories like "egirl," "cartoon girl," "Joe Biden," "Trump," "Quandale Dingle," and more.
Step 4: If you can't find the voice meme you like, you can upload your own. Click on "Import" at the top and select an audio clip from your computer to upload and use.

Step 5: Alternatively, you can visit the "Sounds Library," select the "Voice-meme" category, and either upload your own sound or use voice memes shared by other users. Simply click "use," and they will automatically be added to your "Voicememe" collection.

Key features of MagicMic
meme AI voice generator
Offers 250+ voice effects, 600+ soundboards, and 200+ voice memes for diverse customization.

Real-time, low-latency, high-quality voice change across multiple platforms, including Skype, Discord, Twitch, and more.

Personalize hotkeys for instant in-game sound effect switches.

Effective noise reduction for clear communication in noisy surroundings.

Record and enhance audio from any source to elevate content quality.

Compatible with Windows, Mac, Android, and iOS operating systems.
FakeYou, the cutting-edge TTS voice meme AI generator, excels in creating lifelike voice memes. Leveraging celebrity and character voices, it swiftly generates audio from text input. Harnessing text-to-speech technology and machine learning, FakeYou delivers human-like voice clips with unparalleled ease.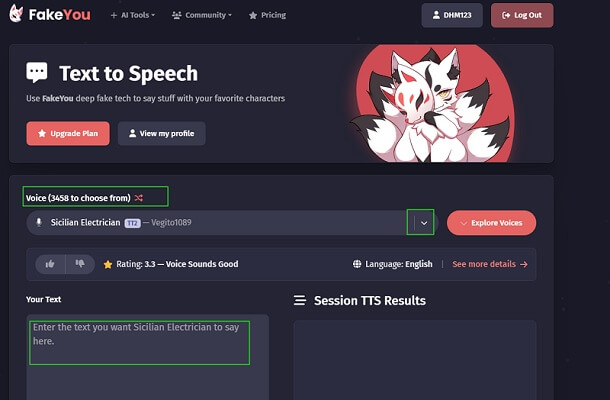 Key features of using FakeYou to make AI voice memes:
Edit and save in popular formats at your convenience.

Vast library, offering up to 2,400 high-quality voices.

Consistent updates enhance voiceover quality.

AI ensures realistic Fake You text-to-speech results.

User-friendly interface powered by AI technology.
Another remarkable AI voice meme generator is Veed.io. It offers lifelike voices in various languages like English, Spanish, Japanese, Portuguese, and many more. With Veed's AI, easily transform text into meme voices within your web browser. Enhance your content by adding sound effects and audio clips from its vast media library. Refine your AI voice meme with its robust editing tools.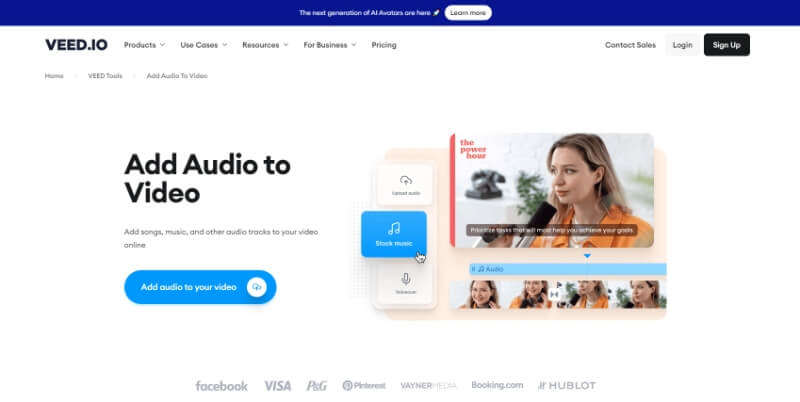 Key features of AI audio meme generator
A diverse selection of customizable voices for a natural-sounding result.

Features for effortless addition of animated text, images, subtitles, emojis, and drawings.

Comprehensive editing tools for refining your AI voice meme or projects.

Extensive collection of templates and resources for inspiration and improvement in AI voice memes.
Voicemod is a versatile voice modulation software that offers a wide array of functionalities. Notably, it stands out as a meme AI voice generator, providing meme enthusiasts with meme soundboards and audio meme capabilities. With Voicemod, you can access over 200 unique voice effects and manipulate your voice in real-time, making it perfect for creating hilarious meme content and sharing it across various platforms.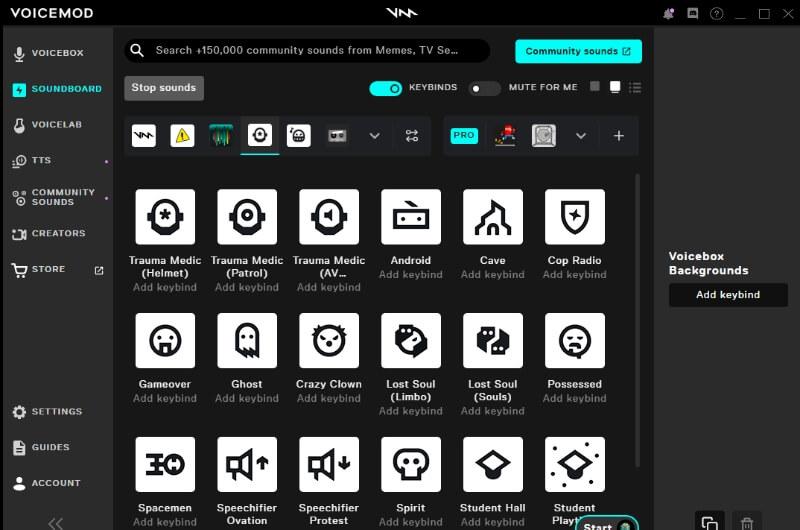 Key features of Voicemod AI meme soundboard:
Voicemod offers a rich collection of voice effects for meme creation.

Instantly transform your voice during calls and while streaming.

Easily create and manage soundboards for meme generation.

Compatible with various communication and streaming platforms for easy meme sharing.
Murf.ai, an another innovative AI meme voice generator, revolutionizes voiceovers effortlessly. This user-friendly online tool transforms home-style voice recordings into studio-quality AI voiceovers for videos, presentations, and text-to-speech applications. With Murf, you can generate ultra-realistic voiceovers and synchronize them with your content.
Featuring a diverse selection of 100+ high-quality voices across 15 languages, it caters to eLearning, YouTube, podcasts, software demos, marketing, IVR systems, audiobooks, games, and more. Murf AI democratizes voice audio, enabling accessible and high-quality voiceovers for all, courtesy of artificial intelligence.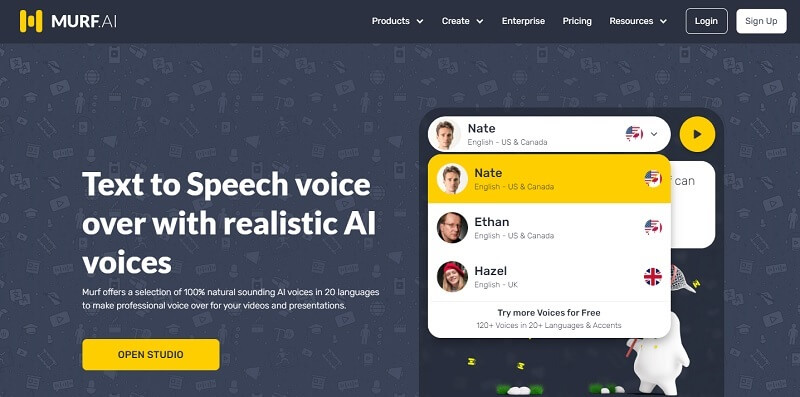 Key features of Murf.ai meme AI voice generator:
Murf.ai empowers users to effortlessly generate amusing AI voice memes.

Transform casual voice recordings into professional-grade narrations for videos, presentations, and more.

Sync your generated AI voiceovers with your videos or presentations.

Access a curated collection of over 100 high-quality voices in 15 languages.
Part 2: What is Voice Meme?
A voice meme is a type of internet meme that predominantly features audio content, such as voice recordings or clips. These voice memes often incorporate humorous or memorable phrases, text-to-speech messages, character impersonations, or other creative voice-related elements. They are widely shared and circulated on social media and various online platforms, similar to traditional image-based memes. Voice memes serve as a means of entertainment, humor, or conveying messages in a distinctive and engaging auditory format. In the realm of internet culture, they have gained popularity as a unique way for individuals to express themselves and connect with others through audio content.
Part 3: The Origins of Voice Memes
The concept of audio memes, while not originating from a single source, emerged alongside the rise of internet culture and the proliferation of social media platforms. Traditional memes have predominantly relied on silent, visual communication through text and images, with platforms like Twitter, Reddit, and 4chan serving as meme hotbeds.
However, the era of audio memes ushered in a new form of cultural currency, where replicable sound units gained prominence as a medium of expression. Unlike their image-based counterparts, audio memes are characterized by their unpredictability and their ability to evoke strong emotional responses. They often feature novel, catchy, or emotionally striking content that resonates with audiences.
Platforms like TikTok have played a pivotal role in popularizing audio memes, making it effortless for users to create and share sound-based memes without leaving the app. The ease of using uploaded sounds on TikTok has contributed to the audio meme's cultural significance in the contemporary internet landscape. Ultimately, audio memes have become a dynamic and influential aspect of internet culture, enhancing the ways in which people engage with and share content online.
Final words
In conclusion, the evolution of internet culture has witnessed the emergence of captivating trends like meme AI voice generators, audio memes, and meme soundboards. Platforms like MagicMic have simplified the creation of audio memes, offering a delightful array of voice memes. As the era of audio memes gains momentum, they have become a dynamic and influential medium for individuals to express themselves, connecting through humor, emotion, and creativity in a world where sound carries as much cultural currency as text and images.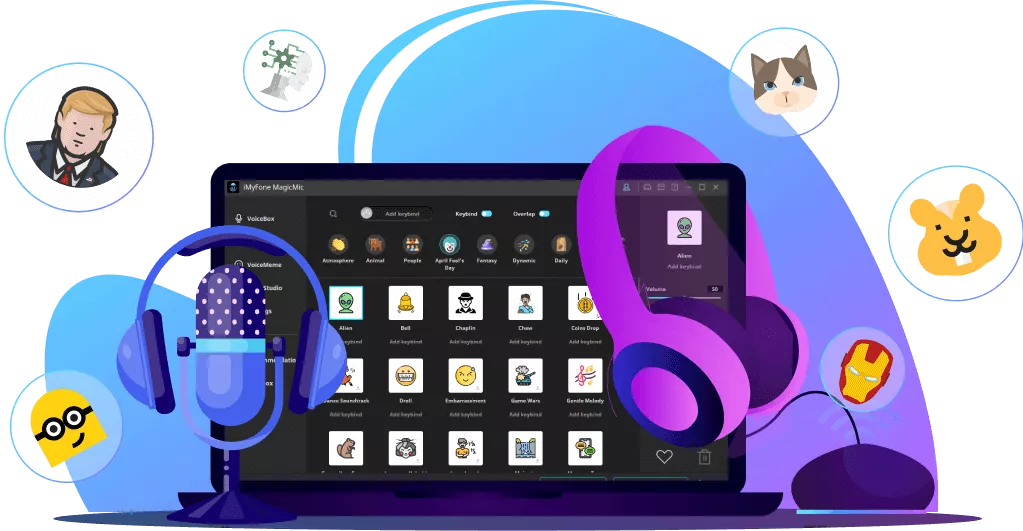 250+ Voice effects for one-click voice changing in real-time.
Huge library with 600+ Voice Effects and 200+ Voice Memes.
Sound emulator in games, live, chatting, online classes, and more.
Voice recording and audio voice changing is supported.
Voice studio lets you create any voice you like.