Are you looking to have some fun with your voice? Look no further! In this blog post, we will explore the exciting world of Indian voice changer and AI voice generator tools. Whether you want to prank your friends or add a unique touch to your voiceovers, these tools are here to help. So, let's dive in and explore the best options available.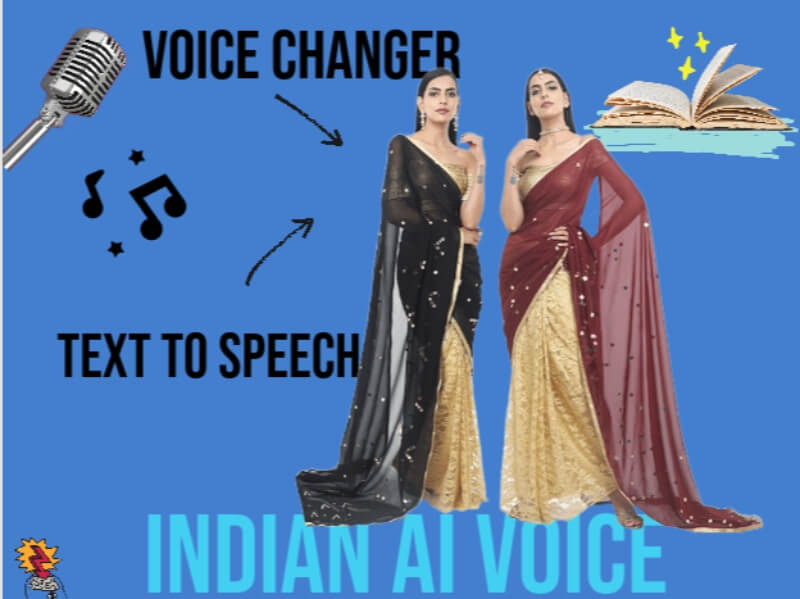 Part 1: How to get Indian Voice with Indian AI Voice Changer?
If you're searching for an excellent Indian Accent voice changer, look no further than MagicMic. This fantastic tool allows you to transform your voice into a captivating Indian accent. Impress your friends with its stunning features, including real-time voice modulation, custom sound effects, and easy control options. With MagicMic, your voice will sound as authentic as it gets!
Key features of MagicMic
Indian AI Voice Changer
It provides 225+ voice effects,100+ AI voice, 600+ soundboard and 200+ voice memes.

Use the built-in soundboard to add funny sounds and audio clips during chats or streams.

Play hilarious sound effects and audio clips during live chats or streaming sessions with the built-in soundboard.

Customize hotkeys for quick access to different voice effects.

Improve audio quality by reducing background noise with noise suppression.

Easily integrate with popular platforms like Discord, Twitch for seamless compatibility.

Capture and modify audio from any app or device on your computer using virtual audio driver.
How to get Indian AI voice?
Step 1: Download and Launch
Install MagicMic software, log in to your account.
Step 2: Configure Input and Program Settings
Choose your main microphone as input, enable "Apply Voice Changer," activate "Hear Myself."
Step 3: Select the MagicMic Virtual Audio Device
Select Virtual Audio Device as input in your preferred app for seamless voice modification.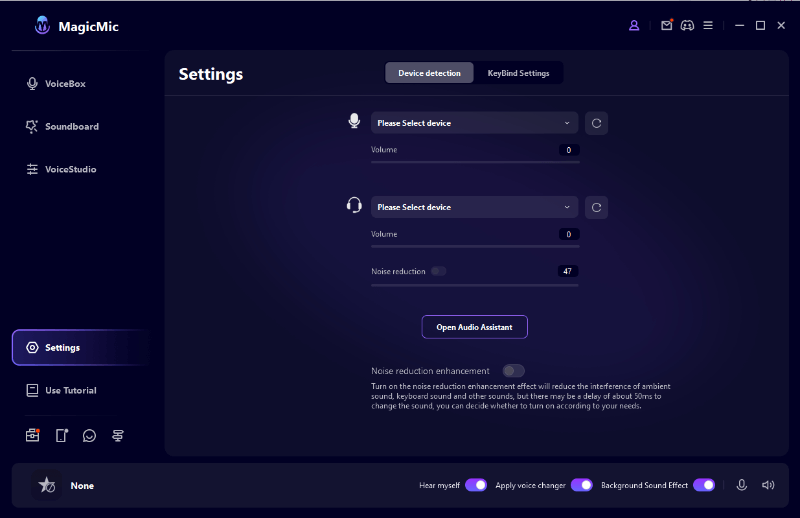 Step 4: Choose Voice or Create AI Voice
Explore effects , assign keybinds, create personalized AI voices, such as Indian AI voice or British accent.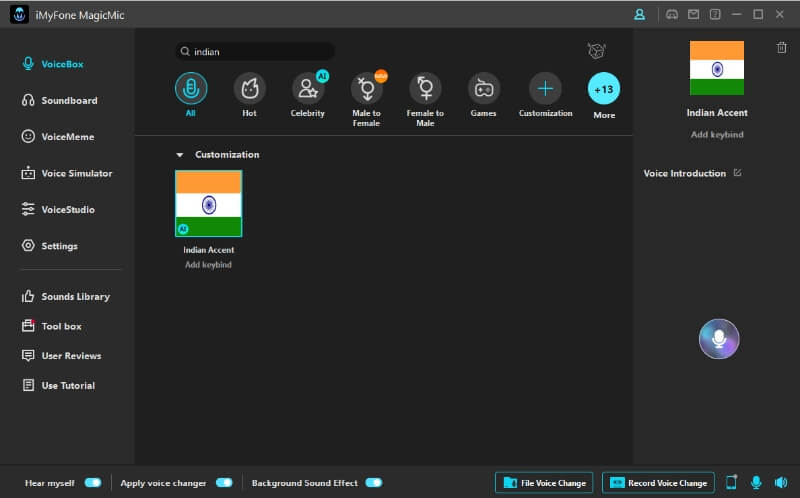 Want to try an Indian voice changer online? Narakeet is the perfect solution for you. This powerful tool enables you to change your voice to an Indian accent effortlessly. With its intuitive interface and advanced voice transformation algorithms, Narakeet offers a seamless user experience. Explore its key features, including a wide range of Indian voice options, adjustable pitch, and easy sharing options.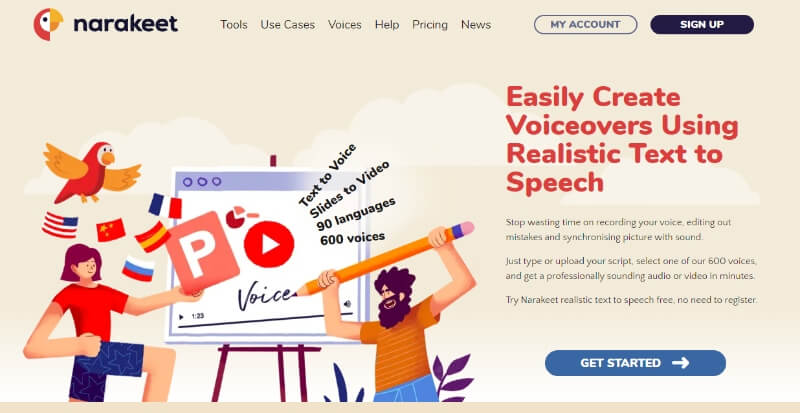 Key features of Narakeet Indian Accent Voice Changer Online
Narakeet allows users to create videos automatically by converting text into engaging animated presentations.

With its powerful text-to-speech technology, Narakeet can transform written content into natural-sounding voiceovers for videos.

Users can choose from a variety of animation styles and templates to bring their videos to life, making them visually appealing and captivating.

Narakeet supports multiple languages, enabling users to create videos in their preferred language effortlessly.
This incredible app allows you to prank your friends by calling them with an Indian accent. With its realistic voice modulation and prank call scenarios, you can create hilarious moments and have a good laugh. Ownage Pranks is your ultimate tool for endless entertainment with its Indian voice changer features.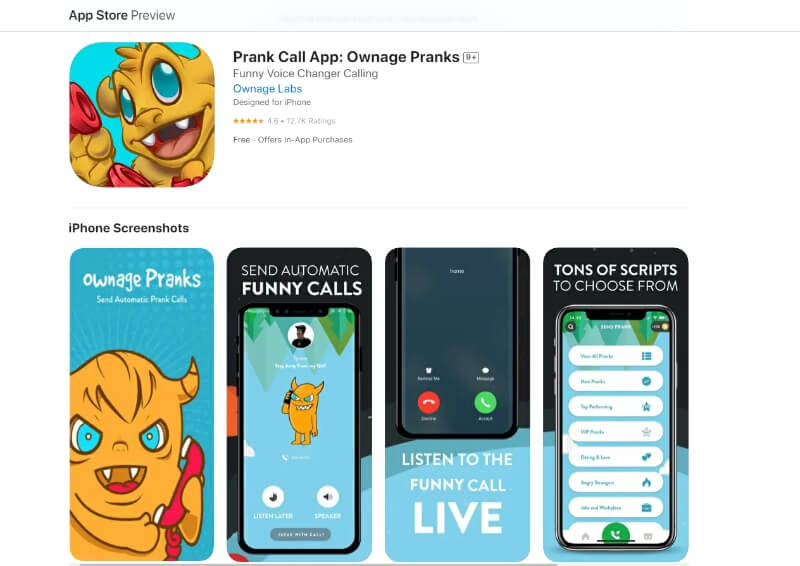 Key features of Ownage Pranks Indian Voice Changer App
Ownage Pranks allows users to make prank calls and record them for entertainment purposes.

Users can choose from a wide range of pre-recorded prank call scenarios and sound effects to enhance their prank calls.

Ownage Pranks offers voice-changing capabilities, allowing users to modify their voices during prank calls for added anonymity and humor.

Users can create and customize their own prank scripts, tailoring the prank calls to suit their desired scenarios and targets.
Part 2: Indian Voice Text to Speech- AI Voice Generator
Turn any text into an engaging Indian voice with VoxBox. This remarkable AI voice generator offers high-quality speech synthesis that sounds incredibly natural. Choose from a variety of Indian accents and voices to give your text a unique and captivating sound.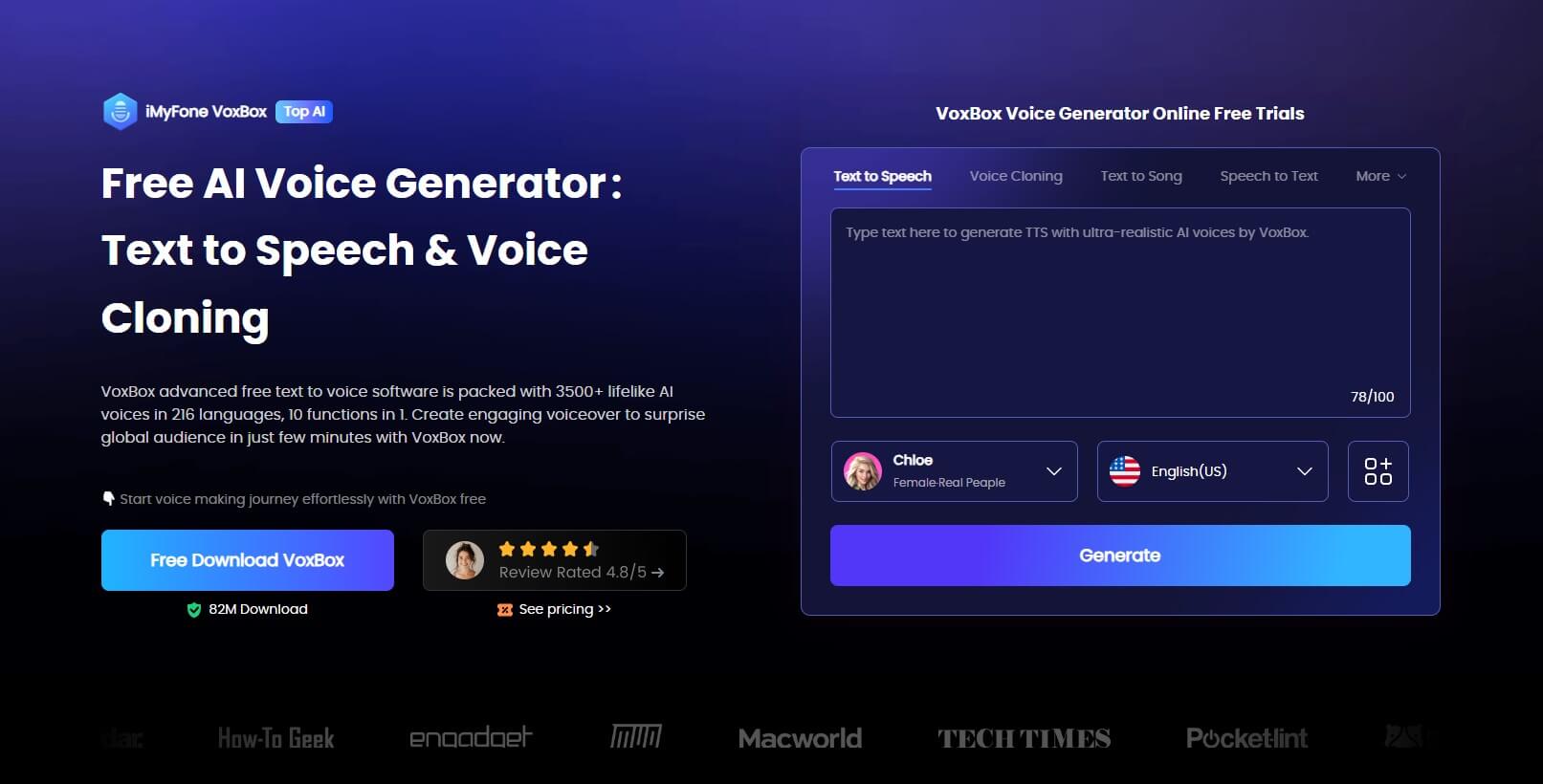 Key features of VoxBox Indian accent voice generator
Access a diverse library of 3200+ AI voices spanning 77 languages and 100+ accents.

Utilize powerful features such as text-to-speech, voice cloning, and text transcription.

Customize your experience with adjustable voice settings like pitch, speed, and volume.

Experience top-notch audio quality with supported formats like OGG, WAV, and MP3.
Speechify is a revolutionary text-to-speech platform that converts written content into lifelike audio. With its advanced AI technology, Speechify offers seamless reading experiences, helping users consume information faster and more efficiently. Whether for educational, professional, or personal use, Speechify enhances accessibility and productivity for all.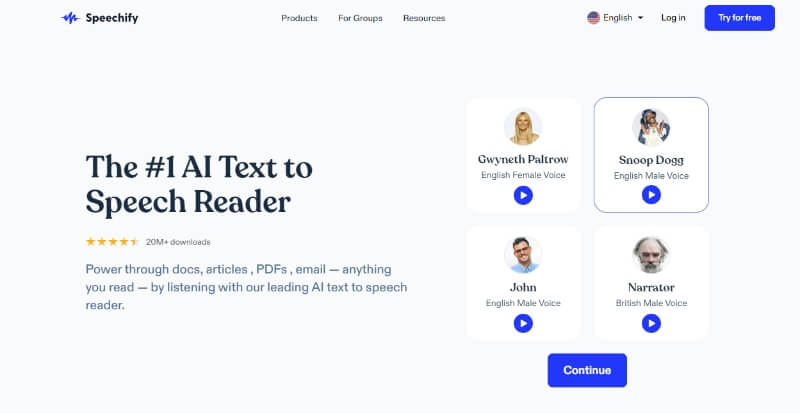 Key features of Speechify Indian voice text to speech
Speechify converts written content, such as articles, books, and documents, into high-quality audio in a natural-sounding voice.

Speechify is available across multiple platforms, including desktop, web, and mobile devices, allowing users to access their content anytime, anywhere.

Users can adjust the reading speed and customize the playback settings to suit their preferences, enabling faster or slower audio delivery.

Users can highlight important sections and make annotations within the app
Part 3: FAQs about Indian AI Voice
What is Indian AI voice?
Indian AI voice refers to the development and implementation of artificial intelligence (AI) technology to create realistic and natural-sounding voices that represent the Indian accent, language, and cultural nuances.
Can Indian voice changer speak multiple languages?
Yes, Indian AI voice changer can be trained to speak multiple languages and dialects prevalent in India, such as Hindi, Tamil, Bengali, Telugu, Marathi, and more. This enhances its versatility and usefulness in catering to the diverse linguistic landscape of India.
Final words
Experience the fun and creativity that Indian voice changer and AI voice generator tools bring to your fingertips. With options like MagicMic, Narakeet, Ownage Pranks, VoxBox, and Speechify, you can transform your voice and texts into captivating Indian accents and lifelike voices. Explore these tools, showcase your creativity, and enjoy a world of endless entertainment!