Whether you're recording a podcast or joining a live broadcast, you'd always want to make your voice sound better and more pleasing to others' ears.
In this regard, you'll need to look for voice changers. Several different voice changers can help you make your voice sound unbelievably soothing. However, it would help if you were careful while selecting a voice changer, as many voice changers are nothing but hoaxes.
However, we'll explore you with some of the best voice-changing options here.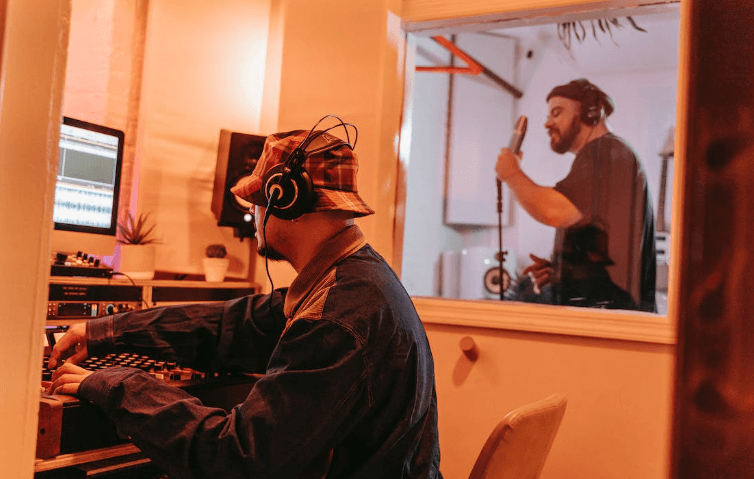 Part 1: How to Make Your Voice Sound Better?
Those who ask how to make my voice better can follow a couple of methods below.
Way 1: Do Vocal Exercise
No research claims that you can completely change your voice's complexion as it is something natural, and you'll have to live with it. However, you can perform some voice exercises to increase the pitch of your voice a bit.
Here's the brief step-by-step guide to doing vocal exercises.
Step 1: Breathe Deeply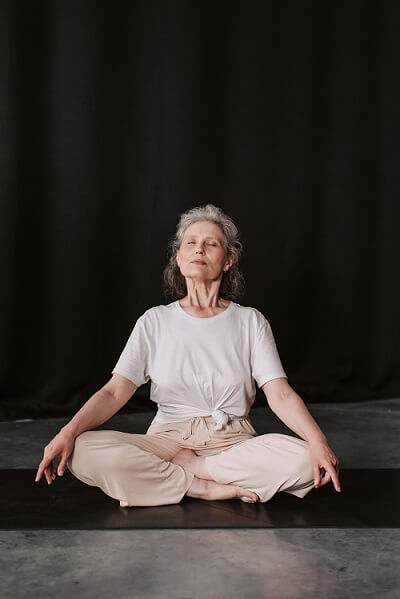 To breathe deeply, you'll need to stand straight and put your hands on your stomach. Now, you'll need to breathe through your nose. Moreover, you'll also need to expand your lungs and abdomen while breathing.
After holding your breath, you can try counting to 10 and then exhale. You can repeat this exercise three to four times to see how it works.
Step 2: Massage your cheek and jaw muscles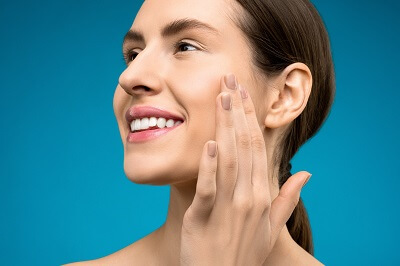 It is a pretty easy exercise as you'll only need to put your both hand on both sides of your face. Next, you'll need to massage your jaw and cheeks muscles slowly.
Doing so can help you loosen your jaw muscles. You can do this exercise for about 25 seconds for a couple of four to five times.
Step 3: Move your Tongue around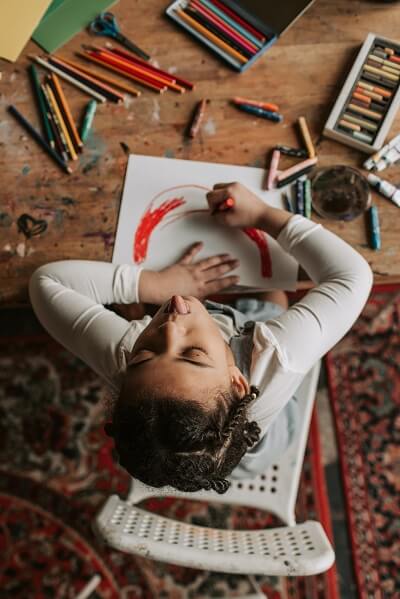 After opening your mouth, you can try swishing your tongue around for eight to ten seconds. You'll need to repeat this exercise a couple of times. This exercise assists you in relaxing and loosening your tongue's back muscles.
Way 2: Use Voice Changer [The Easiest Way]
Unfortunately, vocal exercise can't assist you in getting what you must have been looking for. However, you've got another option in the shape of a voice changer. You can completely make your voice sound better with minimal effort using a voice changer.
Apart from altering your voice, a voice changer also helps you improve your voice's overall quality. Luckily, a voice changer can help you to change your voice or play sound effects in real-time on various streaming and gaming platforms.
Part 2: Amazing Voice Changer with Voice Studio| Custom Your Soundboard
You can't find any better voice changer than iMyFone MagicMic. It is a truly wonderful voice changer that allows you to change your voice in real-time and comes with a pretty easy user interface.
Moreover, it also enables you to play tons of sound effectsduring online games. Surprisingly, MagicMic introduces a new update every week that makes this voice changer flexible and incredible.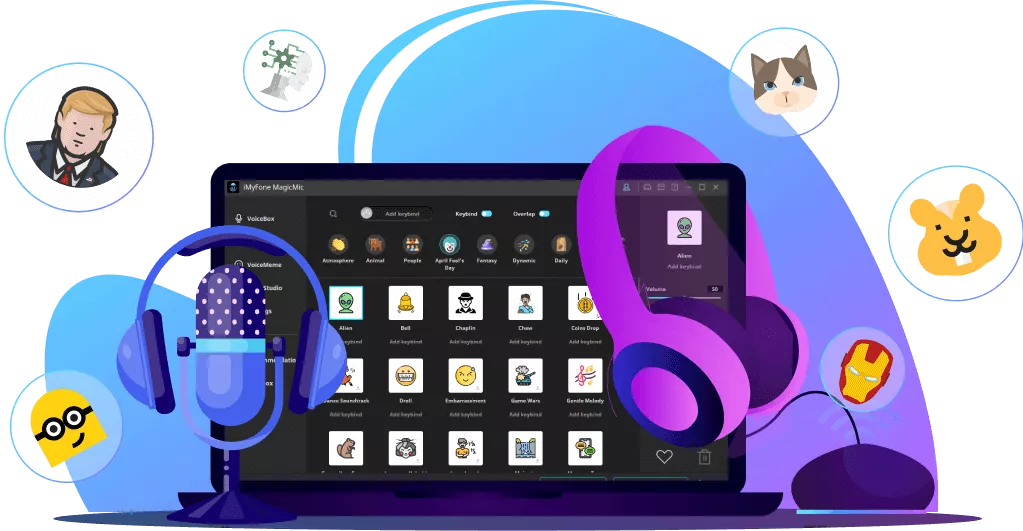 Comes with a Voice Studio feature to customize your voice in real-time.
It takes only 3Mbs space on your PC (Windows and Mac).
Allows you to alter your voice in real-time on various chatting, gaming, and streaming platforms.
You can acquire MagicMic's monthly subscription by only paying 4.95 dollars after a free trial and a much lower price for an annual and lifetime plan.
FAQs about iMyFone MagicMic:
1. Is iMyFone MagicMic free?
Although MagicMic doesn't provide its services for free, you can acquire its testing version. After testing the software, you can then go for a subscription.
2. How to customize sound effects in MagicMic?
Luckily, MagicMic allows you to customize your sound effects. You'll need to select the'' Voice Studio '' option for this. Later, you can customize any sound effect you'd want.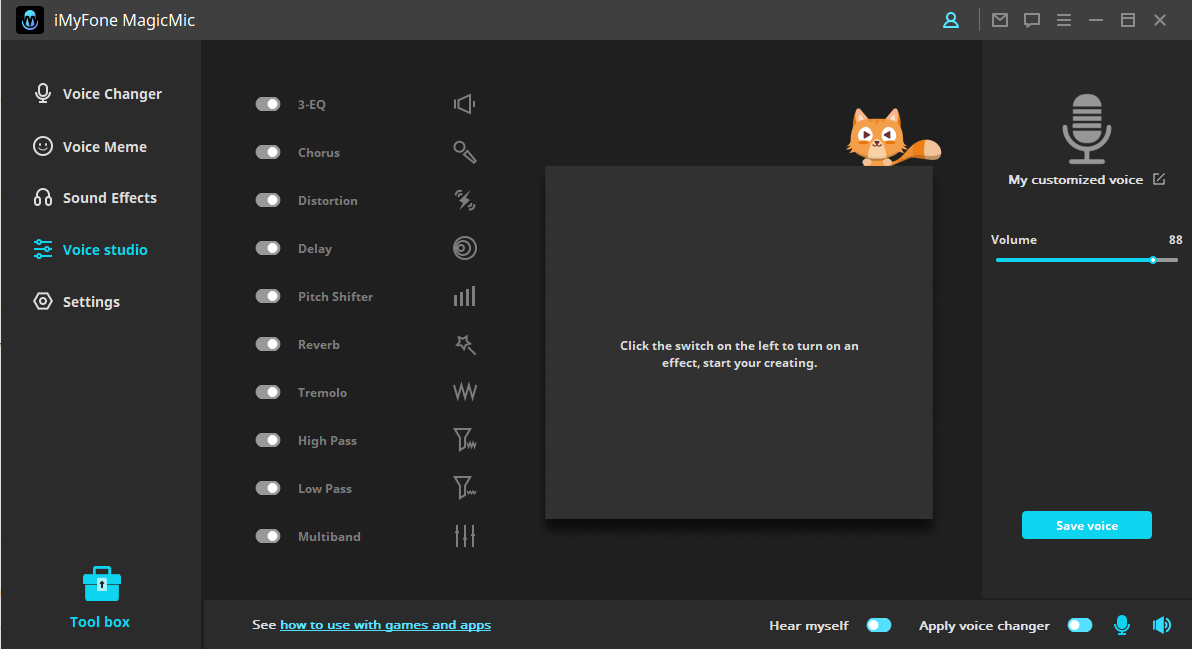 For instance, if you want to increase the pitch of your sound effect, MagicMic allows you to serve your purpose after entering the Voice Studio feature. From there, you can also adjust the volume and base of your sound effect.
The Easiest Way to Custom Soundboard>>
3. Can you import sound files to MagicMic?
Yes, you can now import any music files to MagicMic. The software has introduced the'' Voice Meme'' feature that allows you to import any sound effect you'd want. After importing the sound effect, you can then use it in real-time.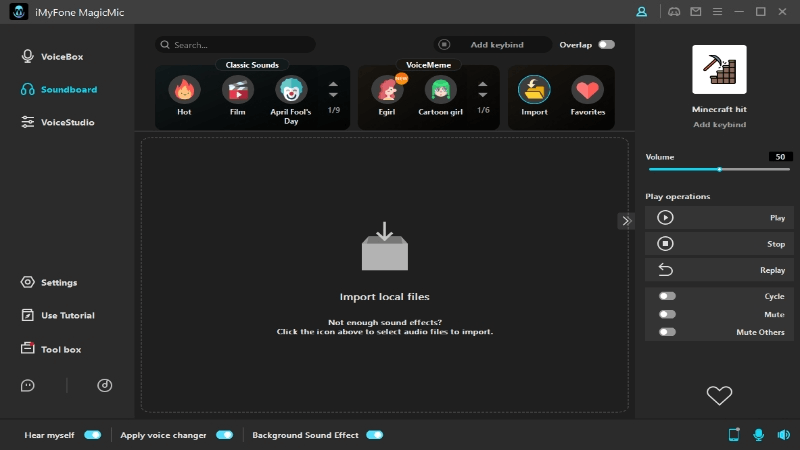 Part 3: More 5 Good Voice Changers for Selection
If you want to know how to make your voice sound better, you can consult Voxal Voice Changer. It is a truly remarkable voice changer offering immense voice-changing services for its users. Surprisingly, it also allows you to alter your voice in real-time while playing an online game or during a live call.
Moreover, Voxal Voice Changer has various prolific voice-changing options like a girl, baby, boy, devil, etc. Many people have been using Voxal Voice Changer in online avatars, games, or podcasts, considering the quality it presents to them.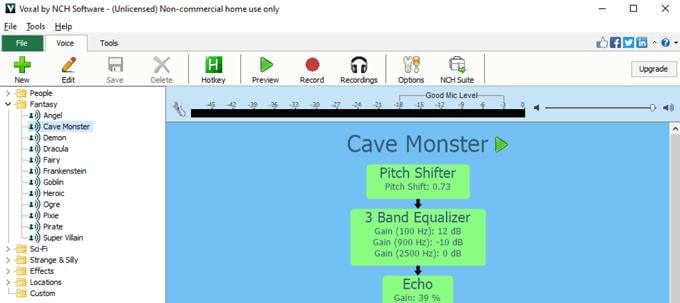 Limitation:

interface is not good-looking.
Price:
19.99$ for commercial use and 14.99$ for home use
If you want to modify your voice in a professional voice changer, you've got quite a reliable option in the shape of Adobe Audition. Using this outrageous voice changer, you can improve the overall quality of your voice, and that's something you won't find in many other voice changers.
You can use Adobe Audition for various purposes like podcasts, voiceovers, and gaming. Although Adobe Audition's interface can be tricky for beginners after gathering prior knowledge, everyone can use it to great effect.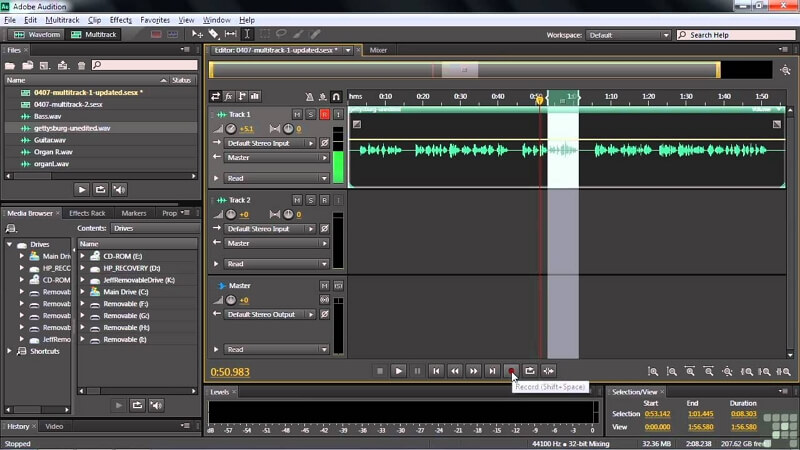 Limitation:

Difficult for beginners.
Clownfish is a pretty yet effective voice changer that can help you alter your voice on many different platforms in real-time. It supports the platforms like Viber, Skype, TeamSpeak, and Discord.
Although its sound features still need to be upgraded but it can still be of huge value to your work.Using Clownfish Voice Changer, you can transform your voice to other character voices like Darth Vader, Robot, Baby Pitch, Male pitch, Alien, etc.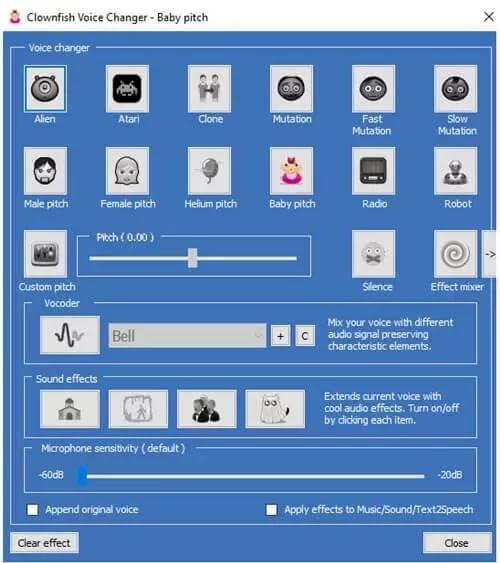 Limitation:

Limited sound features and sound effects.
AV Voice Changer is a marvelous voice changer that makes your voice sound like another person is speaking instead of you. You can make your voice sound like a robot, a child, a woman. AV Voice Changer allows you to use many incredible sound effects and voice options in real-time.This voice changer is powered by virtual audio driver technology and has got everything that takes a voice changer to be a superior gig.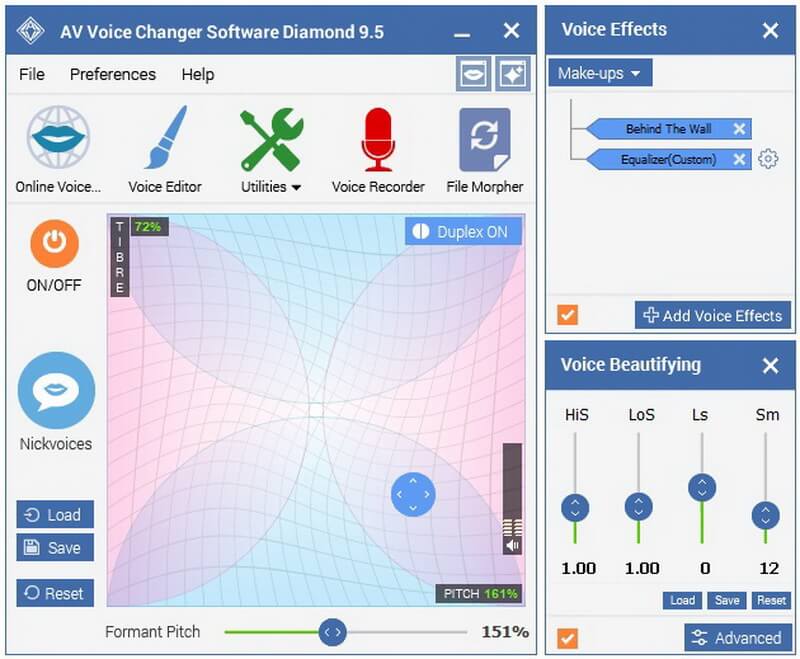 Limitation:

High price
All the voice-changing options it offers you can be used in real-time. Apart from altering your voice, it also allows you to change the pitch of your voice to make it sound better than ever. Luckily, it also integrates with multiple chatting and gaming platforms and It comes with ultra-quiet background cancelation.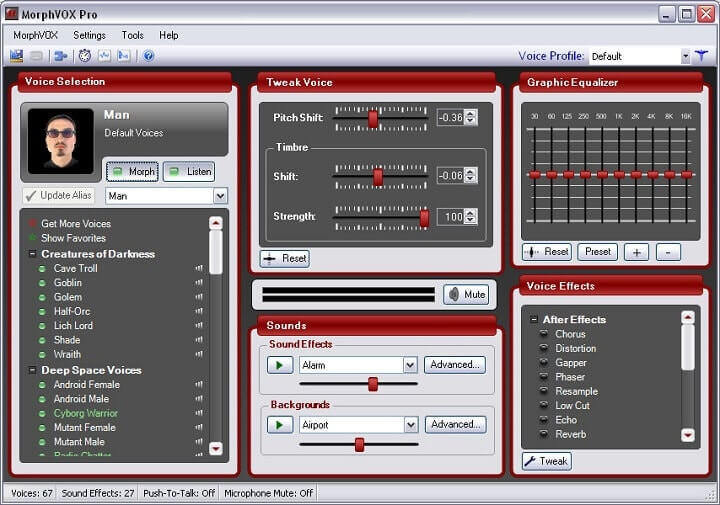 Limitation:

Free trial version comes with limited features while the Premium version is a bit expensive.
Price:
Pro version charges 39.99 dollars.
Conclusion
If you want to change your voice or make it sound sweet, you can take the notes from this article. We've explored the high-quality voice changers that not only help you to change your voice, but they'll also help you to adjust the pitch of your voice.
All the voice changers we've revealed in this article are worth your attention, but iMyFone MagicMic is the most exceptional option.MagicMic comes with fantastic sound effects and brilliant voice-changing options that keep on updating after a week.