Halloween night is right up there with the most exciting and pleasing nights. Almost everyone waits for this night to come so he can enjoy himself with his friends and family. Luckily, you can make your Halloween night more enjoyable and exciting by planning different things for Halloween night.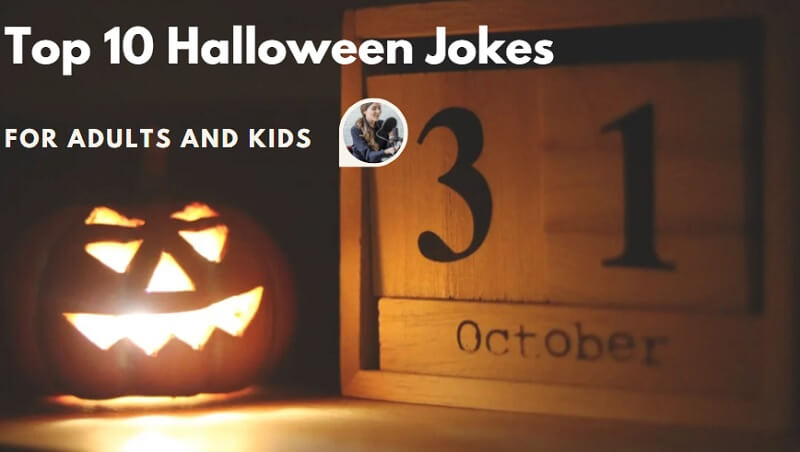 For instance, hundreds of Halloween jokes for adults and kids can make your night memorable. If you don't know about those Halloween jokes, we'll introduce the top 10 jokes in this joke which will help you make the Halloween holiday beautiful.
5 Best Halloween Jokes for Adults
If you're an adult and want to have some fun by cracking Halloween jokes, you can explore the five fantastic Halloween jokes for Adults from this part of the article.
1. What's the favorite dessert of ghosts?
When a human takes a meal, he likes to eat a sweet dish at the end. However, a Halloween joke has been introduced that asks what a ghost's favorite dessert is.
When you ask this question to a person, he won't have any clue about it; he'd probably think that ghosts love blood, so it is their last dish.
But that's not true; a ghost's favorite dessert is screaming as he screams after killing a person and having fun with his blood. So, this joke might be hilarious if you ask multiple people.
2. What would it feel like being kissed or loved by a vampire?
You'd have watched horror movies where a vampire drinks a girl or boy's blood by biting his or her neck.
Hundreds of movies follow the same script where a vampire eats the blood of a human. Surprisingly, there is a Halloween joke that asks what it will feel like when a vampire kisses you.
The word kiss confuses everyone, and no one knows about this scenario. However, the person who cracked this joke would tell others that if a Vampire kisses someone, he will scream due to pain in his neck.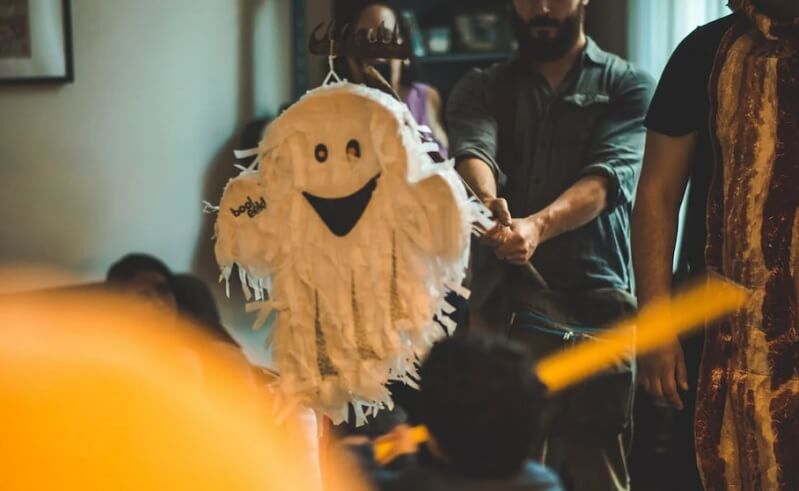 3. Who wins the skeleton beauty contest?
The amount of skeleton jokes you'll find on Halloween night is unbelievable. You'll find various jokes that are related to skeleton.
Another skeleton joke says that if we conduct a beauty contest among all the skeletons, who will win this contest?
If you ask someone this question, he won't know about it. But, the thing is that no one can win the Skeleton Beauty contest as all the skeletons are ugly.
It is that kind of joke that can make anyone laugh crazily, and especially when you crack this joke on Halloween night, the laughter would be even louder.
4. What does a ghost say to another ghost?
Ghosts are a pretty part of human life as you see the prevalence of ghosts in different stories and movies.
Surprisingly, the creativity of Halloween is unmatched as such Halloween jokes have been introduced, which you'd not have anticipated some time ago. A person can ask another person what a ghost says to another ghost.
The person who has been asked this question will think that this question is a bit odd as how would he know about a ghost chirping to another ghost?
But, the answer to this question is that ghosts often ask each other, are these real humans for real?
A burst of huge laughter at that moment will lift the whole room, and you all will enjoy the crazy moment.
5. Why is the graveyard so noisy?
You'd have asked a question regarding the graveyard being noisy on numerous occasions, but a Halloween joke has been introduced on this whole thing.
The joke includes a question that asks why graveyards are so noisy despite no one being there. The answer to this joke is hilarious, as the reason why the graveyard is so loud is that all the dead bodies are sleeping in the coffin that makes the sound.
5 Best Kids Halloween Jokes
Halloween jokes are probably the best thing to happen to this holiday as you can enjoy yourself without thinking about anything happening around you.
Like brilliant Halloween jokes for adults, you can explore several kids' jokes that can lift your kid's mood.
Here's the list of five fascinating, funny Halloween jokes for your kids.
1. Why Skelton isn't afraid of a storm
When a storm arrives, everyone doesn't seem to care about anyone as everyone tends to protect his life. But what about the Halloween joke for kids that say that Skelton isn't afraid of storms?
Interestingly, the joke's meaning is pretty clear, as Skelton doesn't have the energy to move when an emergency arises. This joke might be the simplest, but it brings smiles to many kids.
2. Why are skeletons so calm?
Another Halloween joke that can crack almost every kid is that when someone asks a question about why skeleton is usually so calm, it doesn't seem to be bothering what other people say to him.
The answer to this joke is hilarious as it says that nobody can take a skeleton to the cleaners, as no matter what you say to a skeleton, it won't trigger the skeleton even a tiny bit.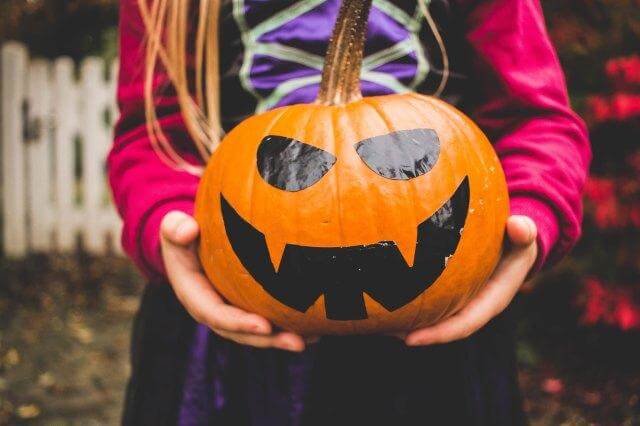 3. Which thing has hundreds of ears?
You'll find hundreds of Halloween jokes that could make your kid laugh so loudly, but a question saying which objects have hundreds of ears is right there, one of the best Halloween Jokes for kids.
When someone asks this question to a kid, the kid shakes their head with his hand having no clue about the question.
But, when a kid knows about the cornfield, where you grow corn, has hundreds of ears but doesn't bother to react, irrespective of how loudly you scream at it, it becomes a moment of joy for your kid.
4. Why do ghosts hate seeing the rain on Halloween?
Halloween jokes for kids keep giving the fun and excitement little kids will like. For instance, another brilliant and insightful kid joke asks why ghosts hate when rain arrives on Halloween.
No kid seems to be answering this question as everyone will be like why would a ghost feel bad about rain?
The answer to this joke is hilarious as it says that the ghost's spirit will turn wet, and he can no longer enjoy the night of Halloween.
5. What happens when a vampire faces trouble with his house?
This Halloween joke is considered one of the best Halloween Jokes for kids. It asks all the kids why a vampire complains about facing the issue with his house.
Kids become pretty nervous answering this question, thinking, why would a vampire need a house?
And it turns out that the vampire has struggled with his grave, which was the issue he was referring to.
Every kid laughs at this brilliant joke and enjoys the Halloween joke to the fullest.
Powerful Tools Make Halloween Jokes Funnier
You can generate innovative ideas to make Halloween night a breathtaking one. For instance, you can add another dimension to your Halloween jokes using the iMyFone MagicMic. Using this tool, you can change your voice in real-time and force others to believe that a monster or ghost is speaking instead of you.
The idea of speaking in a ghost's voice is handy, especially on Halloween, when many people like to share ghost jokes. This way, you can surprise your friends and family and increase the beauty of a wonderful night.
On top of that, MagicMic comes up with sensational voice filters and sound effects to make Halloween night memorable for a long time.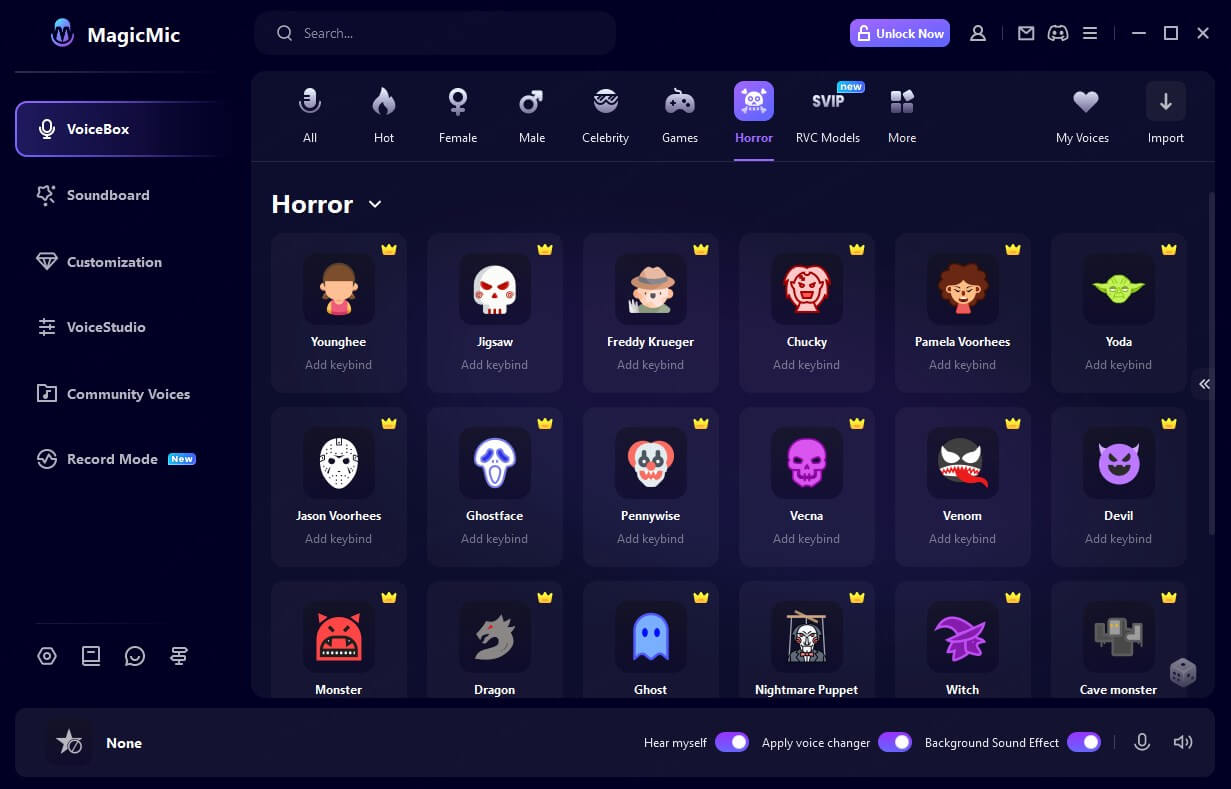 Features:
Offers 300+ in-build sound effects

Assign keybinds for sounds and voices

Play sound effects in various ways, including overlap, cycle, replay, mute

100+ voice filters in real time followed by 150+ voice memes

Import the MP3 sound and apply sound effects

Record your voice and use your favorite sound effects
Scary Voice on MagicMic Scary Voice Changer
Devil, Monster, dragon, zombie, witch, nightmare puppet, ghost, Darth Vader, etc.
Scary Sounds Effects
Ghost sound, film transitions, dramatic horn, warning, tense atmosphere, ghost sound horror laughter, etc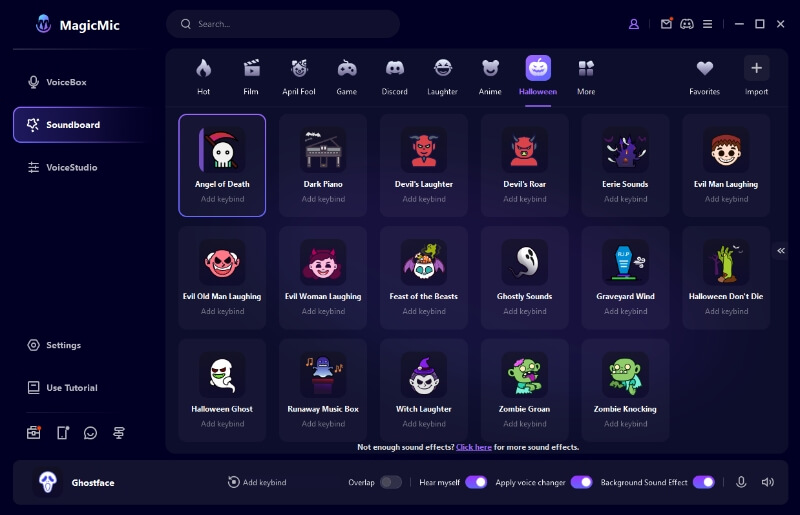 3 ideas to use Magicmic voice changer on Halloween:
1. You can use MagicMic voice in the middle of dinner to prank your friends by playing the ghost sound. Luckily, if you don't want to use MagicMic in real-time, you can record the voice and then apply a voice filter.
2. You're walking with your friends on Halloween night, and you played the monster sound effect using the MagicMic, and everyone was as if someone was approaching them.
3. Your friend doesn't have a girlfriend, and you changed your voice to a female voice to propose to your friend on Halloween to make his night special but later reveal the whole story that it was just a prank.
Final Words
This post reveals the most popular Halloween jokes, and you can use these to make the scenes dramatic and special.
Moreover, you can also use iMyFone MagicMic to prank your friends by changing the voice in real-time on Halloween night.
MagicMic offers a brilliant voice filter and sound effects to make your Halloween night special. It is highly recommended software, and you shouldn't think twice before acquiring the services of MagicMic and altering your voice in real time.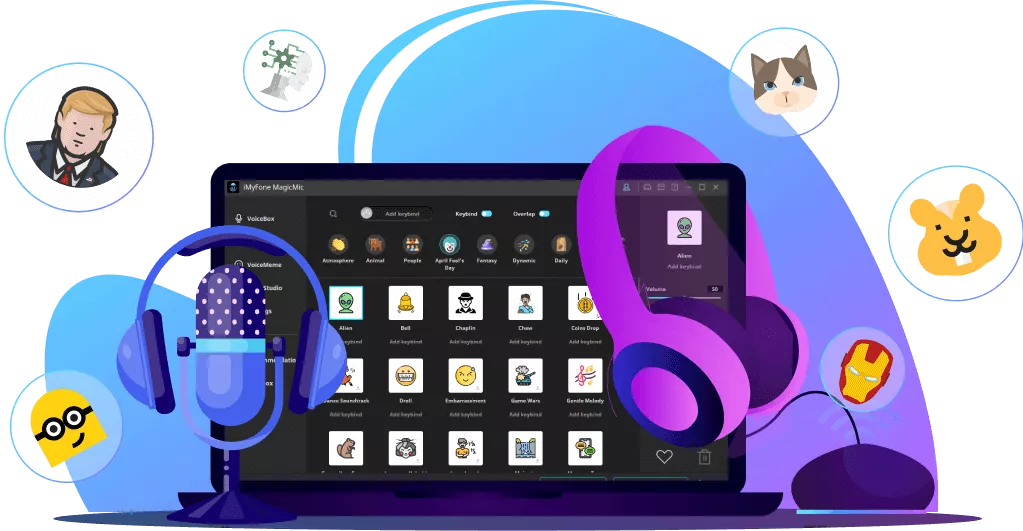 100+ Voice effects for one click voice changing in real-time.
Huge library with 300+ Voice Effects and 150+ Voice Memes.
Sound emulator in games,live,chatting,online class and more.
Voice record and audio voice changing are supported.
Voice studio lets you create any voice you like.