Boy voice changer is pretty famous among top streamers who want their voice to sound a tad more professional. But, it is a lot harder to find good voice changers for boy sound effects, especially for Mac and Windows.
Software we mentioned today should be your first priority for changing your voice to that of a boy during live streaming because the quality of voice effects in these software is very high. Want to know more about what a good boy voice changer actually does? Keep reading.
Part 1: Best 3 Boy Voice Changer for Mac/Windows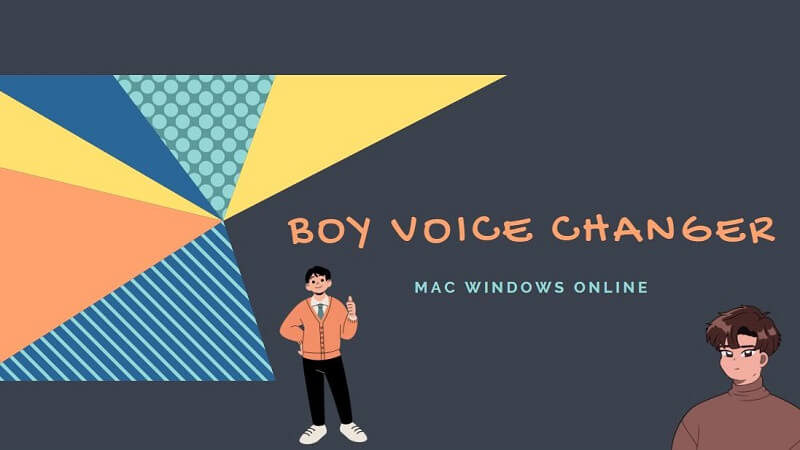 Boy voice changers have overcrowded the online space, but only a few of them are worth all the hype built around them. So, let's find out what the best boy voice changer actually is for Windows and Mac both.
iMyFone MagicMic is one of the finest software for boy sound effects. The software is specifically made for professional streamers and gamers. You can use voice effects and multiple background filters to make your streaming look a lot more fun and realistic.
MagicMic also comes with a voice customisation option along with a library of more than 200 sound effects. People usually pick MagicMic because it is not just professional but also flawless and does not make your PC lag.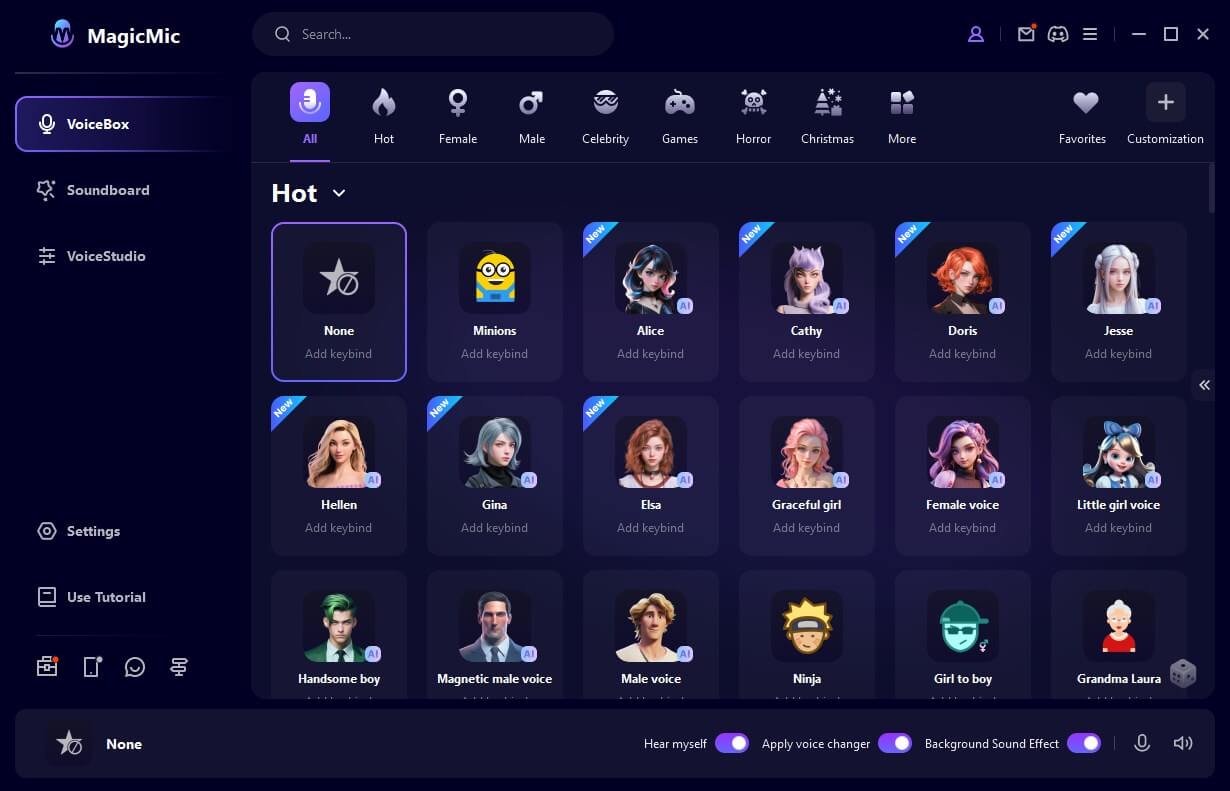 Key Features:
More than 100 voice effects

voice studio for better audio customization

Huge in-build background sounds library
Can add effects in the game in real-time
Keybinds for quick control of voice and sound effects
Can do recording voice change, audio files voice change and real-time voice change
Product Information:
Operating System: Mac and Windows
Voice Library: 100+ voice effects
Price: Free version and Pro version
User Rate: 4.7
Customer Reviews: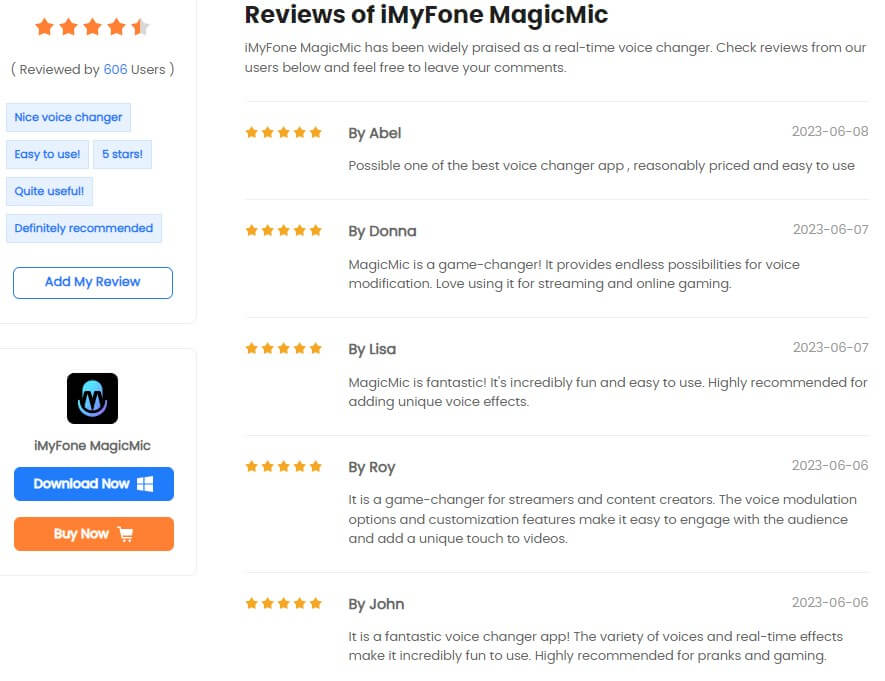 MorphVox Pro is yet another very professional software that is highly compatible with Skype, Fortnite, Discord and Twitch. The thing about MorphVox voice changer is that it cancels your background noise completely and makes your voice sound a lot more professional.
The boy sound effect on the software is of very high quality, and you also get access to free voices and drum rolls. There are also many background filters in the app, but using all these enormous features could be very confusing for some people. It is the very reason why we don't recommend MorphVox for beginners in streaming because it could be very confusing at times.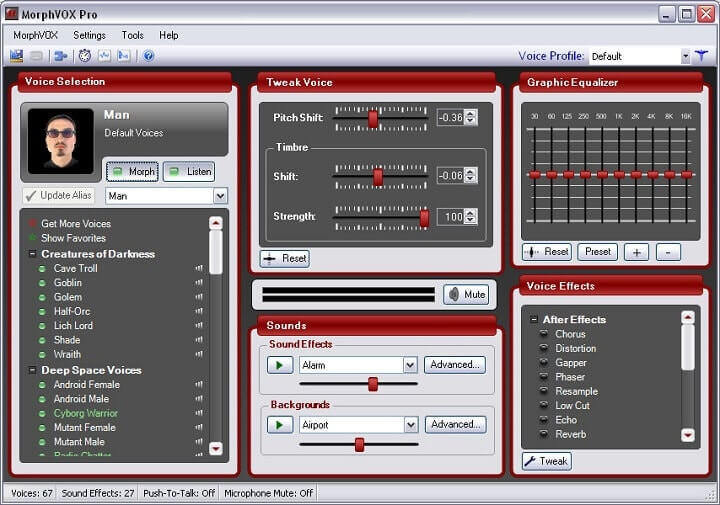 Key Features:
Real-time voice changer during streaming or gaming

Cancels all the background noise

It offers various adjustment sound parameters
You can select to download the voices pack separately.
Product Information:
Operating System: Mac and Windows
Voice Library: 45+ voice effects
Price: 39.99$
User Rate: 4.3
Customer Reviews:
Reviews of this product are not public, read the article about MorphVox Pro reviews.
Voxal is also a real-time voice changer that offers different boy and girl sound effects in high quality. This software is highly compatible with your apps and games, and it also adds background noise to your voice if you want.
You can alter the distortion and pitch of your voice with Voxal, and it also helps with creating your own voice effects in the games. However, Voxal is a rather basic voice changer, and those who play Fortnite-like games might not find it very amusing to use either.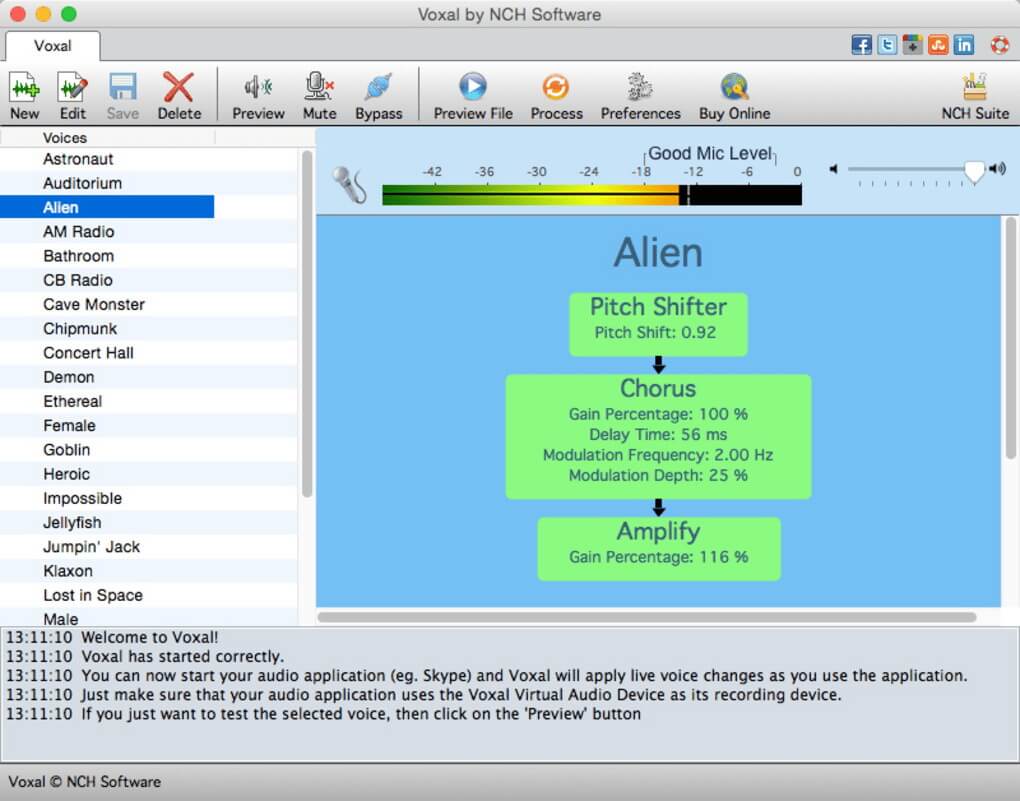 Key Features:
Can add the background noise in your voice too

Hotkey controls of sound effects playback

It comes with background sounds
With in-build sound effects
Product Information:
Operating System: Mac and Windows
Voice Library: 35+ voice effects
Price: Free trial,Homeuse lisence and commercial lisence.
User Rate: 4.1
Customer Reviews: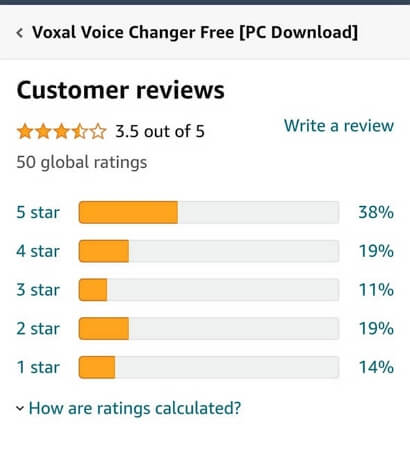 Part 2: Best 3 Boy Voice Changer Online
This online voice changer is pretty convenient as you can just take out your phone or laptop and start recording wherever you want. It does not have the option of real-time integration of voice into gaming, but it does change the voice of your recorded audio.
The Voice Spice site is really easy to navigate, and it is rather simple and very basic when it comes to voice changing. You get a demon voice, a boy voice, along with a robot, squirrel and woman voice too.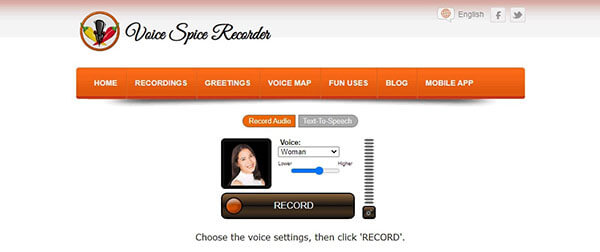 Key Features:
You can alter the pitch of the audio

Helps with recording audio

Changes the voice of recorded audio in no time
Text to speech is available
Product Information:
Operating System: Online
Voice Library: 10+ voice effects
Price: Free
It is also a basic voice changer site where you either upload your audio or record a new one and then add different filters to make your audio more interesting. This site has a lot more voice filters than Voice Spice, and it also is a tad more professional when it comes to sound quality.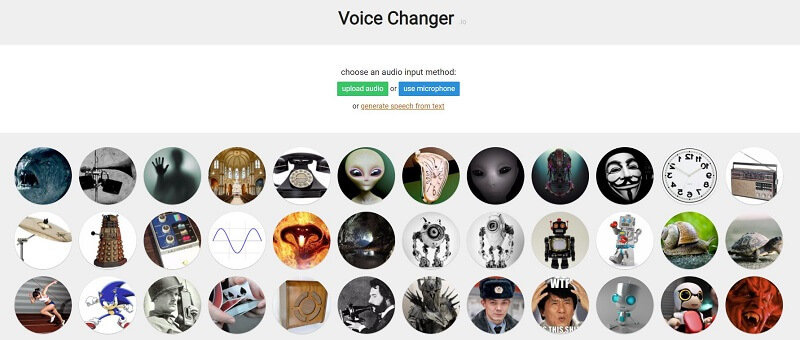 Navigation through this site is also easier than ever, and you can look for whatever sound effect you need quite easily. The site also gives you an option of creating a custom voice while using different voice adjusting features of the site. However, it still cannot compete with the perks of having a voice changing software at hand.
Key Features:
Has options of uploading or recording audio

Has 30+ multiple voice filters

Option for creating a custom voice
Can change voice while recording and audio files
Product Information:
Operating System: Online
Voice Library: 35+ voice effects
Price: Free
This site is perfect to tune your voice, and it is very professional, so if you haven't worked on tuning sites before, you would find it a lot harder to navigate your way through this site. You can change the pitch and tone of your voice in no time.
Also, uploading your audio on the site is also pretty easy, and the only difficulty is the procedure of using the site itself, as it is rather complicated but perfect for professionals.

Key Features:
Offers professional audio tuning

Determines the frequency of tunes

Can be used to tune audios
Can improve the pitch of your voice
Product Information:
Operating System: Online
Voice Library: 10+ voice effects
Price: Free
Conclusion
Boys voice change has suddenly become a big trend in the gaming world, and everyone is endorsing it. But those who are unfamiliar with the top voice effects could often be confused and misguided with what is the voice changer online boy that would work perfectly for them.