Are you intrigued by the distinctive voice of Alex Trebek, the legendary host of "Jeopardy!"? Imagine having the power to infuse your own audio recordings or live streams with the charm and authority of Alex Trebek's voice. Look no further, as we delve into the fascinating realm of Alex Trebek AI voice technology and Alex Trebek voice generator.
In this article, we'll uncover how these cutting-edge tools can revolutionize your audio content, whether you're an avid entertainment aficionado, a burgeoning social media influencer, or a dedicated gamer. Prepare to captivate your audience with the Alex Trebek voice changer.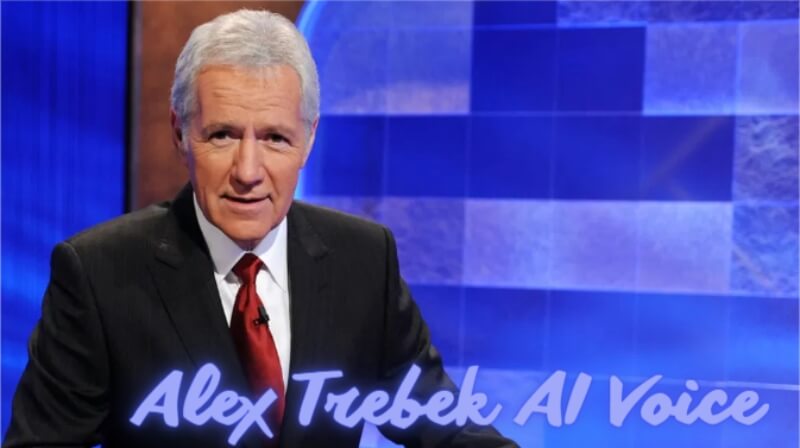 Part 1: Who is Alex Trebek?
Alex Trebek was a Canadian-American game show host and television personality. He gained widespread recognition as the host of the syndicated quiz game show "Jeopardy!" for 37 seasons, from 1984 until his death in 2020.
Trebek also hosted other game shows and appeared in films and TV series. He was awarded the Daytime Emmy Award for Outstanding Game Show Host eight times. Trebek passed away on November 8, 2020, at the age of 80, after a battle with pancreatic cancer.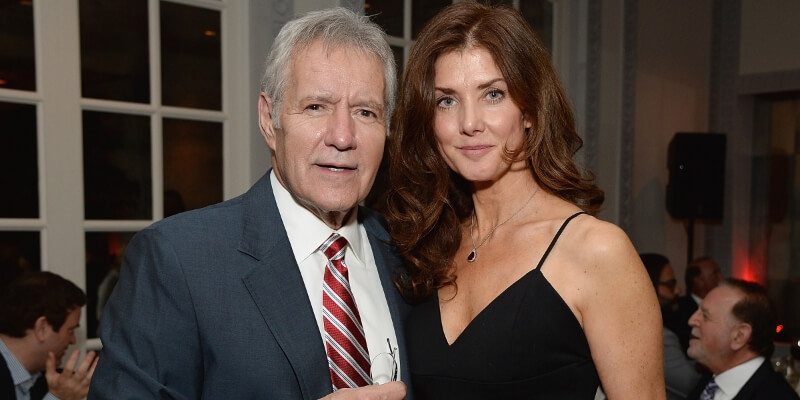 Part 2: Best Voice Changer to Get Alex Trebek AI Voice
MagicMic is a real-time voice changer that now includes the iconic Alex Trebek AI voice. With advanced AI voice technology, it takes your online gaming and chatting experiences to the next level, offering over 250 lifelike voice filters. Beyond its gaming and live streaming applications, MagicMic excels in voice recording and filter usage, expanding its utility across various scenarios. Elevate your interactions with the unmatched versatility of MagicMic and the distinct charm of Alex Trebek's voice.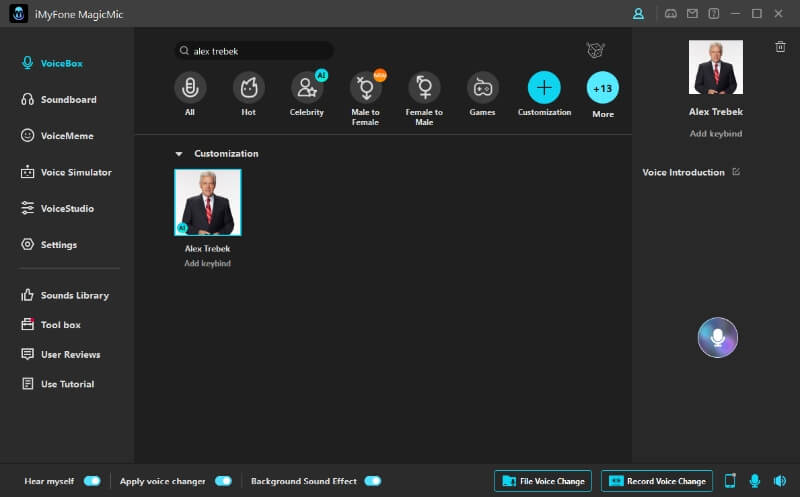 Tips
MagicMic serves as a versatile soundboard, boasting 600+ effects. Users effortlessly play laughter, music clips, and more during streaming and voice chats using easy commands, enhancing interaction.
How to get Alex Trebek AI voice?
Step 1: Download and Launch
Install MagicMic software and log in.
Step 2: Configure Input and Program Settings
Configure main microphone input, activate "Apply Voice Changer," and enable "Hear Myself" for instant feedback.
Step 3: Select the MagicMic Virtual Audio Device
Choose Virtual Audio Device input in your preferred app for voice modification.
Step 4: Choose Voice or Create AI Voice
Customize AI voices (like Alex Trebek AI voice) or select effects and set keybinds for experimentation.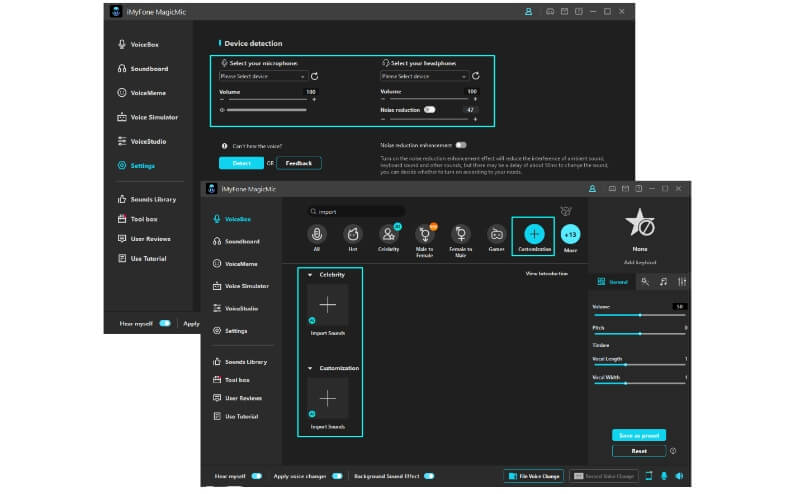 Key features of MagicMic
Alex Trebek Voice Changer
It provides 250+ voice effects,600+ voice effects and 200+ voice memes.

Experience immediate voice enhancement with real-time AI effects.

Immerse in interactive audio with an engaging soundboard.

Effortlessly access desired voice effects using personalized hotkeys.

Enjoy better audio quality with noise reduction features.

Seamlessly integrate with Discord and Twitch and other popular games platforms.

Utilize a versatile virtual audio driver for capturing and transforming audio from any source.
Part 3: How to Create Alex Trebek AI Voice with Voice Generator
VoxBox is an innovative voice generator, showcasing the Alex Trebek voice AI for gaming characters. Boasting 3200+ AI-created voices across 77 languages and 100 accents, VoxBox excels in text-to-speech, voice cloning, and text transcription functionalities.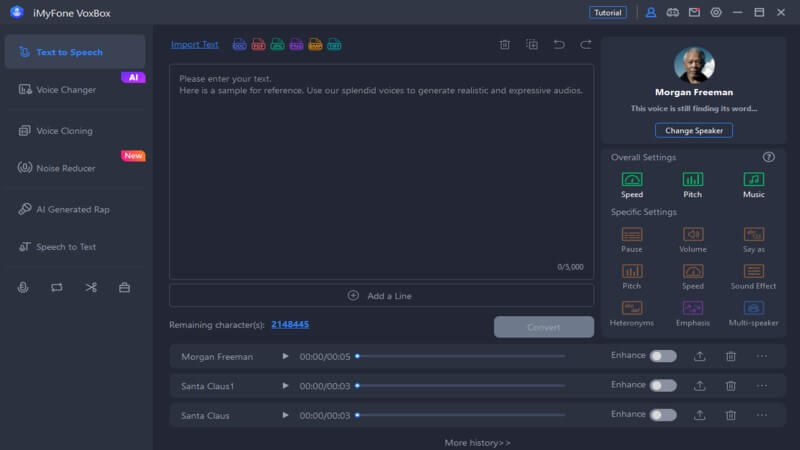 Key features of VoxBox Alex Trebek Voice Generator
VoxBox presents 3200+ voices for various roles, from YouTubers to celebrities.

Encompassing 46+ languages such as Japanese and German.

Choose among 100+ accents like British, Indian, and Hindi.

VoxBox integrates TTS, STT, recording, video conversion, and editing features.
How to use VoxBox Alex Trebek Voice Text to Speech ?
Step 1: Download and install VoxBox software.
Step 2: Discover your desired voice, like "Alex Trebek," in the "Text to Speech" lab.
Step 3: Input text, click "Convert," and VoxBox creates your voiceover.
Step 4: Save in OGG, WAV, or MP3 for gaming, business, or social media use.
Part 4: What is Wrong with Alex Trebek Voice?
Alex Trebek, the long-time host of the television game show "Jeopardy!", was diagnosed with stage 4 pancreatic cancer in March 2019. The treatment for pancreatic cancer can have various effects on a person's health, including their voice. Cancer treatments like chemotherapy and radiation therapy can sometimes cause changes to the vocal cords, leading to hoarseness, changes in pitch, or other alterations in the voice.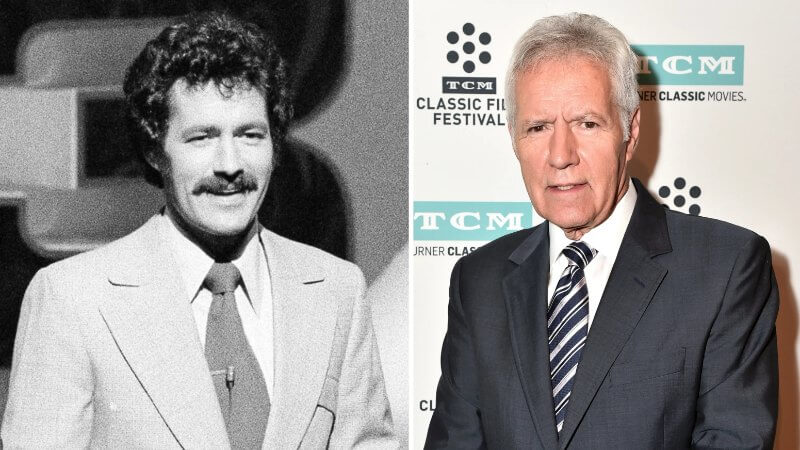 Part 5: FAQs about Alex Trebek AI Voice
1.What is Alex Trebek AI Voice?
Alex Trebek AI Voice refers to an artificial intelligence-generated replica of the distinct voice of Alex Trebek, the renowned host of "Jeopardy!" This technology recreates his voice for various applications, such as voiceovers and interactions.
2.What can I use Alex Trebek AI Voice for?
Alex Trebek AI Voice can be used for various purposes, including voiceovers for videos, audio recordings, gaming character dialogues, and interactive applications.
3.What was the cause of Alex Trebek's death?
Alex Trebek passed away on November 8, 2020, due to stage IV pancreatic cancer. He had been battling the disease for around 20 months before his passing.
Final words
In conclusion, this article sheds light on the Alex Trebek, the esteemed host of "Jeopardy!" His enduring influence, warm demeanor, and extensive knowledge made him an iconic figure in television history. The emergence of Alex Trebek AI voice technology, including the replication of his distinctive voice, offers new dimensions to content creation, gaming, and various interactions. Trebek's memory remains cherished, and Alex Trebek voice generator such as MagicMic and VoxBox serves as a testament to the ongoing exploration of technology's potential in honoring remarkable individuals.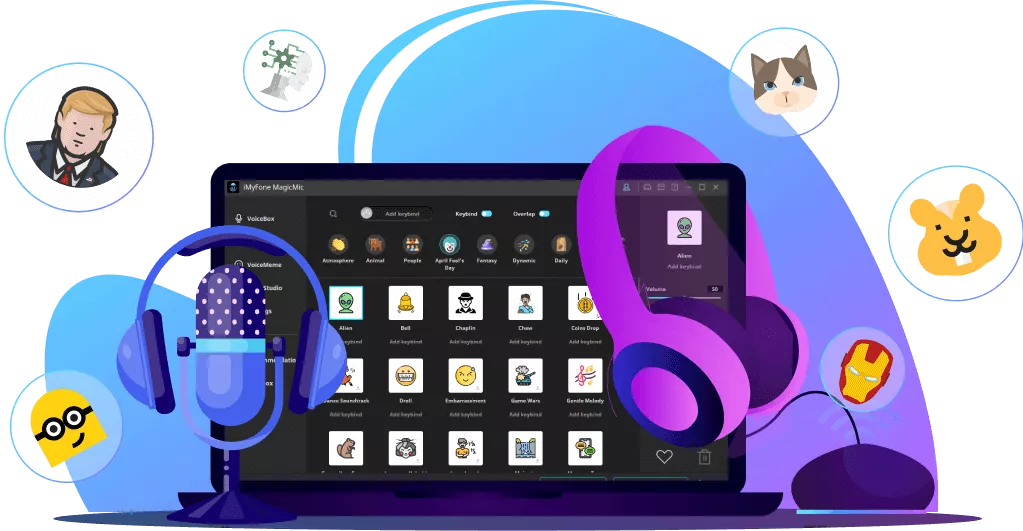 250+ Voice effects for one-click voice changing in real-time.
Huge library with 600+ Voice Effects and 200+ Voice Memes.
Sound emulator in games, live, chatting, online classes, and more.
Voice recording and audio voice changing is supported.
Voice studio lets you create any voice you like.