Cross-posting content on social media is all the rage these days because each platform has its own unique flavor and feel as far as the audience is concerned. While most people are already present on multiple platforms, the kind of messaging used on one social site might not suit another. However, the contrary is also true, i.e. what goes viral on one platform may do equally well on another. This article will show you how to post a Twitter video on Instagram.
Part 1: How to Share a Twitter Video on Instagram
Although Twitter now has a feature allowing you to share Tweets as stickers on Instagram Stories (see next section), this facility is not available for videos specifically. For that reason, you'll need to use a workaround. Of course, you can paste a link to the Twitter video in your IG Stories but it's not really the same thing - that will take them to Twitter instead. What you want is the actual video from Twitter to be playable on your Stories channel on Instagram. The steps for this are shown below:
Step 1. Go to Twitter and copy the URL of the video by right-clicking the video and selecting Copy Video Address.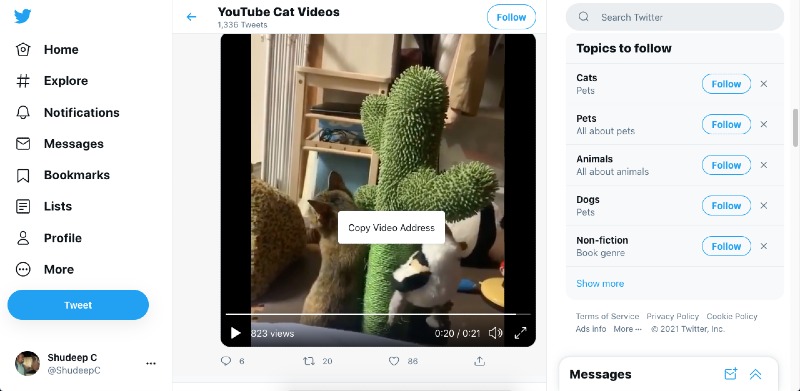 Step 2. Download the Twitter video using an online Twitter video downloading service like TwitterVideo Downloader. Visit the downloader site and paste this URL there. Click Download.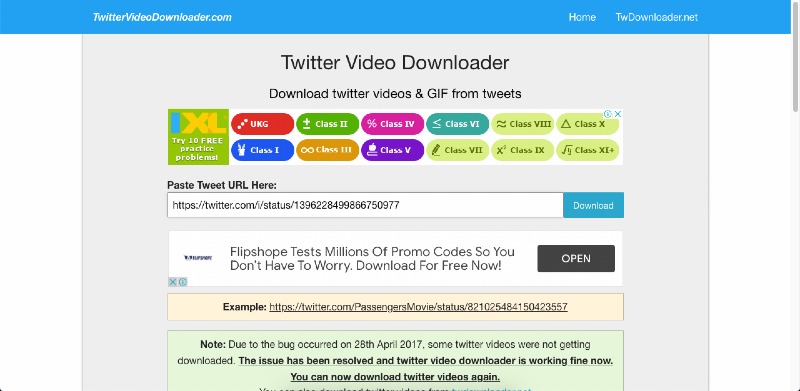 Step 3. Choose your format as MP4. Click Download to save the video to your device.
Step 4. Once you have downloaded the video, you can immediately upload it to Instagram Stories.
If you are going to do this on a regular basis from one particular Twitter account, then it's better to set up a regular posting schedule and automate it with the help of an app like OneUpApp. It allows you to input an RSS feed and then automatically post any content that comes into the feed on your Instagram Stories channel. However, it's a little risky to do this with someone else's Twitter handle because you can't review what's shared, so it could lead to potential copyright violations and other issues. But if it's your own Twitter account, this is a great way to set it up.
Step 1. Go to the rss.app website and create a free account.
Step 2. Create an RSS feed for the Twitter handle in question.
Step 3. Create an account in OneUpApp and input the URL of the Twitter RSS feed.
Step 4. Go to the Dashboard of OneUpApp and click the button called Schedule Post. Then select the option called "Auto-post from RSS feeds."
Step 5. Assign a category to the task and link your Instagram account. Choose the posting schedule and hit the Add button.
Setting it up this way will automatically take everything from the Twitter feed and post it to your Stories section on Instagram. But, again, be careful how you use this method.
Part 2. How To Share Tweet From Twitter To Instagram
As we mentioned, sharing a Tweet is much easier because Twitter already has a feature for this. Here's what you need to do:
Step 1. In Twitter, tap or click the Share icon to share the Tweet.
Step 2. Tap the Instagram Stories menu item underneath it.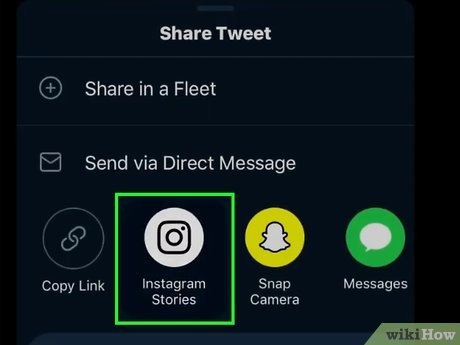 Step 3. This will trigger your Instagram app and create a new Story draft. The Tweet will appear as a sticker that you can resize or reposition. Choose the share settings and hit Post.
This method is obviously easier because it allows you to share any type of Tweet, including images, videos, and so on. But if you only want the content, one of the previous methods is better. Additionally, if you download a video from Twitter before reposting it on Instagram, you can edit it to make it even better. That's what the following section is all about.
Also Read:
How to Download Twitter Video using Shortcuts on iOS、
3 Best Ways to Save Twitter Videos to iPhone
Part 3. Edit Twitter Videos Before Sharing to Instagram - iMyFone Filme
iMyFone Filme is a great video editing tool for beginners. The interface is very user-friendly and there are lots of tools and features that are simple to understand and use right away. In other words, a lot of features with a zero learning curve!
Key Features and Benefits of Using iMyFone Filme

A comprehensive suite of video editing tools for beginners
Easy-to-use tools to add effects, transitions, text, etc.
Fast Video mode to create instance video slideshows from your existing media files
User-friendly UI with a clean and attractive layout
Timeline editing for precise edits
Edit color, saturation, brightness, orientation, offset, etc.
Crop video, pan/zoom, split video, change speed, trim, etc.
Large libraries of transitions, effects, filters, text options, and royalty-free audio
Edit audio attributes like volume, fade-effects, duration, etc.
Wide range of video, audio, and image files supported for input and export
Record a voiceover track
Use the voice-changer when recording audio
Do a screen recording and add it to videos
How to Use iMyFone Filme to Enhance your Twitter Videos
Step 1. Import the video from your phone or desktop by using the various File → Import options for media files… or simply drag and drop it into the Filme interface.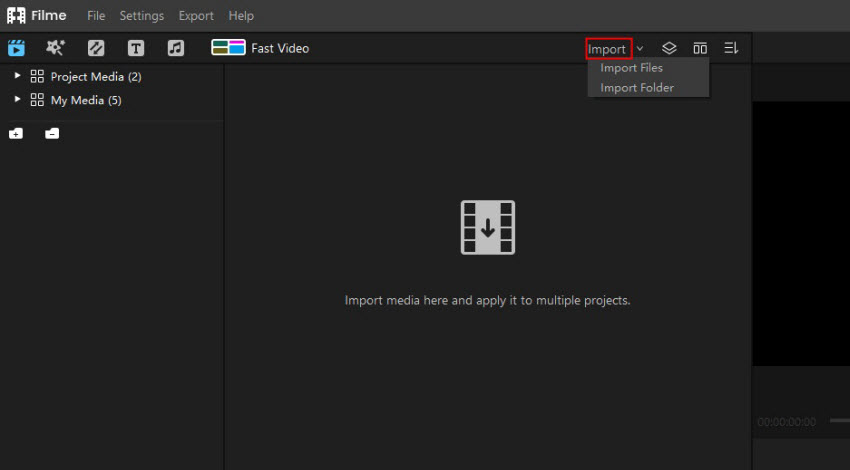 Step 2. Pull the video from the Media Library and drop it into the timeline for editing. You can also click the + symbol in the thumbnail of the video or right-click and choose Add to Track.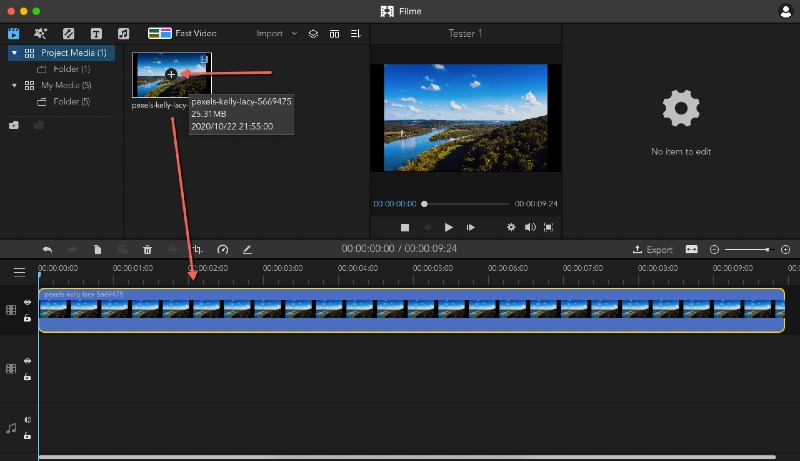 Step 3. Trim, crop, split, and do other edits to remove unwanted parts of the video. Just select the track and click the tool you need. Make your adjustments and you're done!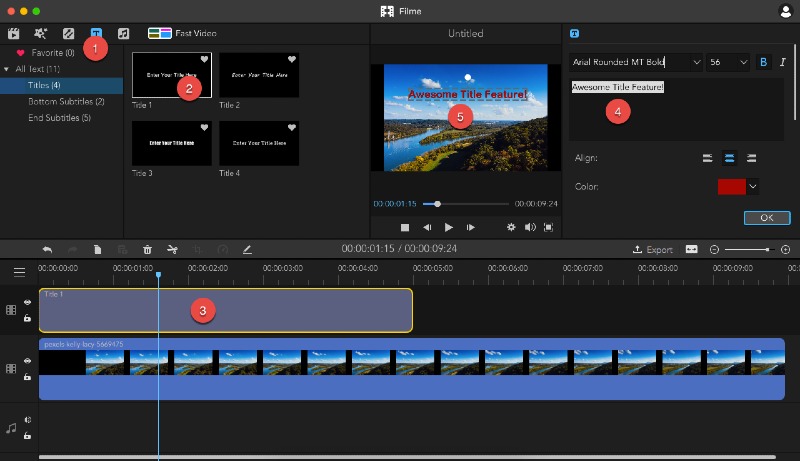 Step 4. Add enhancements using the tools on the top left - audio, effects, filters, and text. Click + to add it to another track or drag and drop next to the video track in the timeline.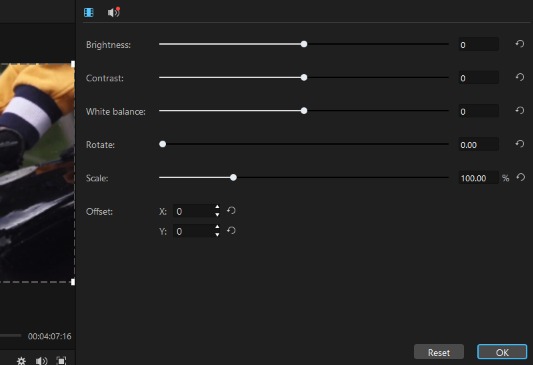 Step 5. Double-click the video to make further edits such as color or brightness adjustments. Click OK in the editing pane when you finish editing.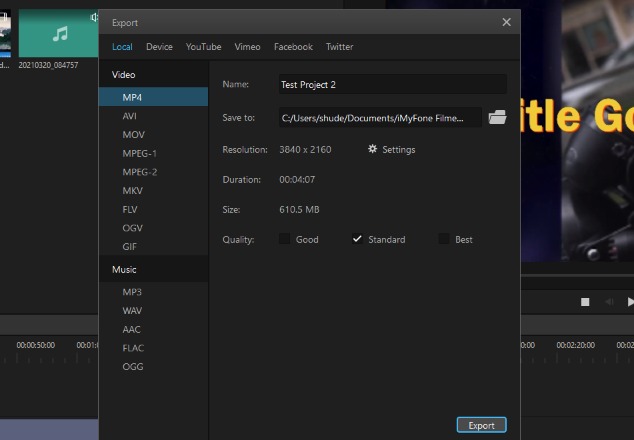 Step 6. Click Export above the timeline or in the File menu to export it to a format of your choice. Advanced settings allow you to define various parameters for the output file.
Final Thoughts
One of the reasons Filme is so popular with Twitter, Instagram, Facebook, and TikTok users is that it allows you to greatly enhance the quality and look of your videos - and all of that without having to know anything about video editing. Even new users can jump right in and play around with Filme's extensive tools and features.
But possibly the best feature of all is the ability to create video slideshows almost instantly using the Fast Video mode. This special feature is equally simple to use. Just pick a theme or template, add your media files, arrange them in the order you want them to play, and create your video slideshow with an appropriate audio track automatically added to it. You can export and re-import it if you want to change the audio track, reduce the volume level, add a voiceover track, and so on.