Downloading a Twitter video is quite simple and only requires a special downloader app that can take the URL and download the video from there. However, on iOS, the Siri Shortcuts app can be used along with a support app called TVDL to trigger a Twitter video download without any extra effort on your part. Once you set it up, it'll be done automatically for you. Let's see how it works and how to set up the Twitter video downloader Siri shortcuts on your iPhone.
Can I Download Twitter Video using Siri Shortcuts on iOS?
Absolutely, but you'll need the help of a companion app called TVDL, short for Twitter Video Download. You will also need to know how to use the Siri Shortcuts app. The Shortcuts app basically allows you to run simple tasks with just a tap. Once you set it up and provide appropriate access to necessary third-party apps such as TVDL, you can do stuff with just a tap or by asking Siri. You can name a shortcut for easy access via Siri. These are called workflows, and they can be something as simple as this:
Action 1 can pull up a maps app to guide you home from the office

Action 2 could be to notify your family members of your time of arrival

Action 3 might be playing your favorite music channel or playing a podcast you regularly listen to
All these actions are done by simply saving the shortcut with a name like 'home routine' and then saying "Siri, Home Routine" when you want the workflow to run.
So, can you download Twitter videos using the Shortcuts app and TVDL. Yes, you can. But before we get into the process, let's take a closer look at the TVDL app.
The minimum resolution for Twitter videos is 32 x 32 and the maximum resolution is 1920 x 1200 or 1200 x 1900. Supported formats are MP4 and MOV on the Twitter mobile apps and, on the web, MP4 with H264 format with AAC audio. if you have the demand to resize the twitter video or change twitter video format,i would recommend to download iMyFone Filme on PC, Filme can trim your video to suitable resolution or change your twitter video format to AVI,MP4,MOV,MPEG,MKV format etc. Filme can upload your edited video to other social platform like TikTok,Facebook,Vimeo,YouTube with single click. Download iMyFone Filme on PC now.
Also Read:
3 Best Ways to Download Video from Twitter DM >>
How to Download Twitter Video & GIF on iPhone usingShortcut
Video Tutorial
Text Guide
Step 1: The first step is to make sure you have the Shortcuts app installed on your iPhone. You can get it directly from the Apple App Store on your device.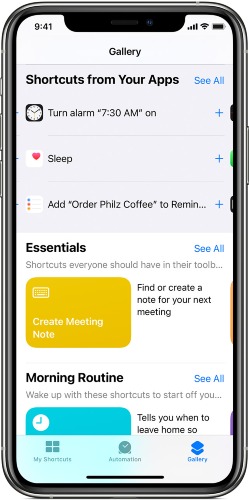 Step 2: Next, on your iPhone's browser, go to https://www.tvdl.app/ and tap the Get the Shortcut button there. You can also tap on one of the links at the top of the page to get a different version.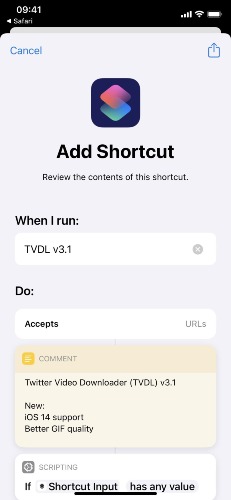 Step 3: You will be taken to the Shortcuts app, where your device will display information about the TVDL Shortcut. In the description, you'll see "Add Untrusted Shortcut" - tap that. You won't generally see any error message but if you do, go to Settings → Shortcuts and tap the "Allow Untrusted Shortcuts" switch to toggle it to the On position.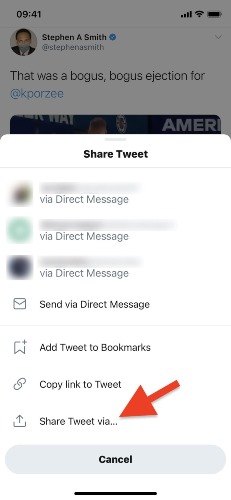 Step 4: You can now go to the Twitter video you want to download and tap on Share, which you'll find on the bottom right. On the Share sheet, tap on Share Tweet via… and then tap on one of the TVDL options.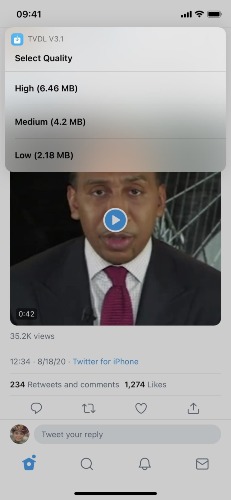 Step 5: When you do this the first time, you'll need to grant access to a third-party API, your Twitter account, and your Photos app to save downloaded videos and GIFs. Do this now and also select the quality of the download. Once you do that, the video will be downloaded to your Photos app.
Step 6: To use this with Siri, find TVDL in the Shortcuts app and tap + to Add to Siri. Give it a name. Next time, when you want to download a video, just say "Siri, [name of shortcut]"
Although it looks like a lot of effort, everything you do is just a one-time activity. Once it's all set up, you'll be amazed at how easy it is to just tap or ask Siri to run the shortcut. And TVDL makes it all possible. You can now do this whenever you see a video or a GIF on Twitter that you absolutely must have on your device so you can either use it elsewhere or share it at leisure when friends and family.
Also Read:
Best Twitter Video Downloader App >>
How to Save Twitter Video to MP3 >>
Benefits of Twitter Video Downloader Shortcut
How does it work? TVDL uses the share sheet of Twitter's sharing options on your iPhone to decode and download the video in question. It requires certain permissions to run, which you'll only need to do the first time around. It supports downloading both videos and GIF files from your Twitter feed. TVDL is available in different versions. If you're running iOS 12 on your iPhone, you can download TVDL v12.3.3. If you have upgraded to iOS 13.x or iOS 14.x, you can use TVDL v3.1 or TVDL v3.1 Default Max Quality. In case you're worried about it being a third-party app with security issues, you can even view the source code since it is an open-source application. Some of the key features and benefits are listed below:
Features
Open source and free

Simple set up in the Shortcuts app

One-time permission requests

Customization options available
Pros:

Takes seconds to set up a shortcut on iPhone

Free to use, including for HD video quality downloads

Supports up to iOS 14 and high-quality video downloads from Twitter

Download the app securely from iCloud
Best way to Edit your Downloaded Twitter Video - iMyFone Filme
If you're going to be using the Twitter video elsewhere, we suggest that you first edit it using a robust desktop editor like iMyFone Filme. But don't worry about the hassle of transferring data from your iPhone to your PC - iMyFone Filme has a built-in import function to help you move media from your phone to your desktop with a cable or even wirelessly.
Why is iMyFone Filme the Best Twitter Video Editor for Desktop?
Once you see the feature list, that question will be answered in full!
Features of iMyFone Filme
Extensive video editing tools - crop, trim, split, merge, multi-track (picture-in-picture), pan and zoom effects, control color, brightness, and contrast, control audio levels, add fade effects for audio, change the speed of the video playback (slow-mo and fast-mo), and much more.

Equally extensive add-ons - mute current audio, add new music or a song track, add filters and other effects, add text embellishments, and do much more to enhance the appeal of the video you want to share with others.

Intuitive UI and easy navigation - find what you need instantly and take control of the video editing process like a professional, even if you have zero experience.

Convenient import options from phone to desktop (wired and wireless)

Huge variety of output formats with advanced video, audio, and image settings.
It's easy to see why iMyFone Filme is the best video editor for Twitter videos, other video content, audio tracks, images, and more. There's even a Fast Video mode where you can choose a template (theme), choose several media files such as videos, photos, and images, and put background music to create an instant video slideshow.
How to Edit a Twitter Video in iMyFone Filme
Step 1: After creating a new project in Filme, click the File → Import menu option and select wired or wireless transfer from your iPhone. Hook up your lightning to USB cable if you're choosing the wired option or set up wireless transfer as shown on your screen.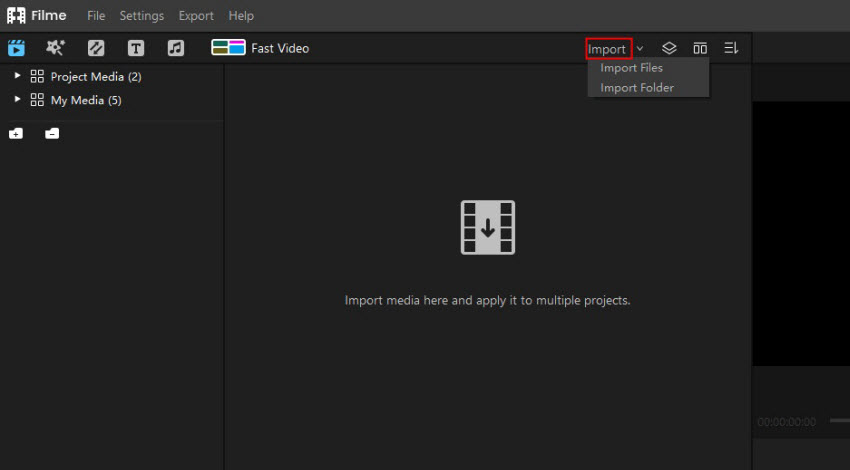 Step 2: Now bring the video into the timeline for editing. To do this, click the + in the middle of the video thumbnail or just double-click the thumbnail.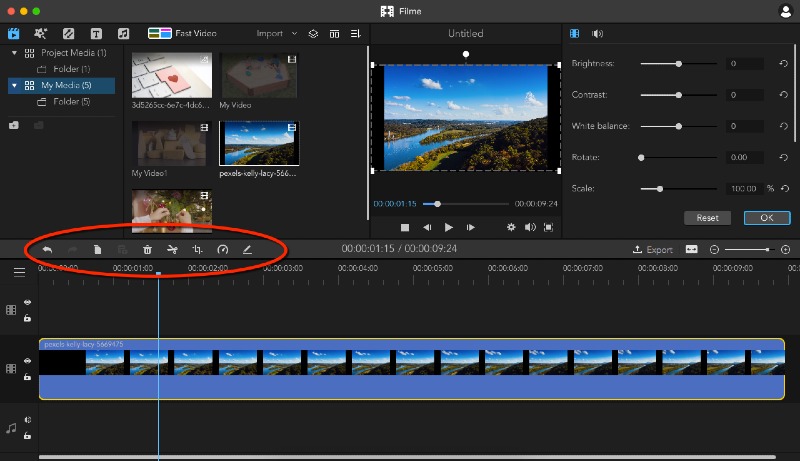 Step 3: In the timeline, select the video track and you'll see all the editing features enabled in the toolbar right above it. This includes splitting, cropping, speed change, etc. Trim the video by dragging the trim handles on either side of the clip to make it shorter.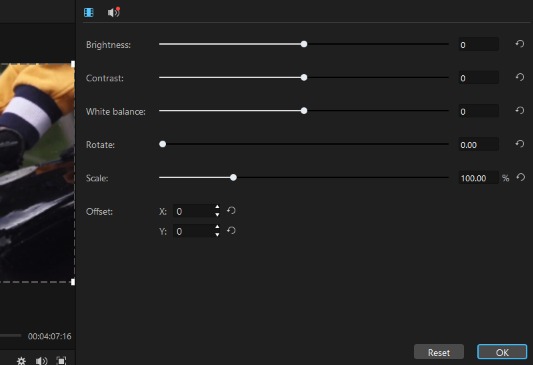 Step 4: You can also double-click the video clip in the timeline to open the editing pane in the top-right side of your screen. Here, you can change the orientation, offset, brightness, contrast, color, and other parameters. Click OK on the bottom-right of the edit pane when you're done.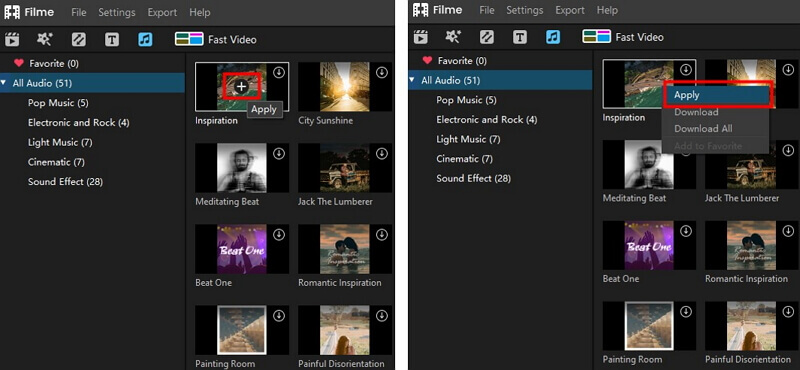 Step 5: Next, you can use the toolbar options at the top to add filters, text, audio tracks, and so on. Each one will trigger a new window where you can choose, download, and apply content to the video. They'll be added to a new track and you can align it to sync with the content in your video.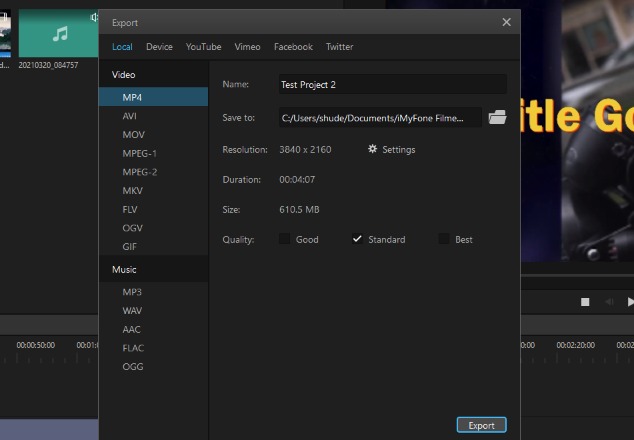 Step 6: Finally, click the Export button at the top or above the timeline to save the video to your desktop. You can transfer it back to your phone for sharing.
Final Words
Before you share any Twitter video, make sure you're not violating anyone's copyright. Modifying a video posted by someone else may or may not be allowed depending on various factors. Be careful whenever you do this. If you're confident that you can use the modified content, go ahead and play around with iMyFone Filme to see what an amazing transformation you can achieve even for simple videos. And last, but not least, only download videos that are already in HD quality. If not, there's not much you can do to enhance the basic clarity of the content.