Given that the Tweets with video content get at least 10x more engagement, it's no surprise that it has become a go-to platform for sharing videos. But lately, users are complaining about the unacceptable/degraded Twitter video quality once it's uploaded.
To help our readers out, we'll explain various workarounds you can rely on to post the highest possible video quality to obtain the best results.
Let's find out how!
Part 1. Why does Twitter Ruin Video Quality
If you want to improve twitter video quallity, i would recommend iMyFone Filme, Filme can edit your video with high resolution and export video as 4K HD video, and upload to other social platform like twitter, facebook, youtube with single click, Download iMyFone Filme now.
If we look into Twitter's policy and rules for video content, it explains why an increasingly number of users are asking why the video quality becomes so terrible after it's Uploaded on Twitter. Unfortunately, IT's OFFICIAL.
Just like most social media platforms, Twitter implements severe video compression levels and automatically compresses your video while it's uploading.
We have done a comprehensive research and found out the below reason responsible for the Twitter video poor quality even when its size is less than 512MB:
1. Enhance User Experience
Twitter automatically optimizes your video to enhance user experience as not all users in the world have a fast internet connection. A high-quality video means more bandwidth and more size.
For this reason, Twitter compresses a video so your friends with a poor internet connection could also quickly upload or watch the video without getting frustrated.
2. Poor Speed of Your Internet
Since the last few years, many online services including Twitter have been adopting a responsive approach to provide video quality based on the internet connection of the users. Depending on your network's strength, the platform automatically sets the optimized video quality
So, if your Wi-Fi connection is poor or data saving mode is enabled, Twitter will reduce the video quality after uploading by default.
3. Your Video is Non-Optimized
Twitter has set in place strict specifications for video content. So, if your video is well-optimized and sticks to Twitter's video requirements, then Twitter is not going to "reduce its quality."
But for videos having inappropriate formats and resolutions or time periods, Twitter will compress the video making the quality horrible.
4. Video is Corrupt
If the video you want to upload is corrupt, infected with a virus, or already blurred, then its quality is bound to degrade.
Part 2. Tips for Improving Twitter Video Quality
Now that you know the main reasons why does Twitter lower video quality, it's necessary to guide you on how to fix Twitter videos. Fortunately, there're tons of techniques you can rely on to improve Twitter video quality.
Below are some of the proven ways you can follow to upload the best quality videos:
1. Choose the Best Video Format – MP4
Make sure you upload the video in the most impeccable format. Though Twitter supports MP4, MOV, and H264 format with AAC audio, it officially recommends users to post a video in MP4 format to get the best results.
2. Have A Strong Internet Connection
A stable internet connection with a fast playback speed is a must to post the best video quality for Twitter. Else, Twitter will automatically compress the video and make the quality horrible.
Make sure you have a strong Wi-Fi connection with exceptional bandwidth while uploading video to get the best results. It's better to check your internet's bandwidth through the Internet Service Provider for confirmation.
3. Meet Twitter's Video Requirements
As mentioned earlier, Twitter 'optimizes' your video if it doesn't meet its requirements. Users need to consider the following specifications before uploading a video:
The minimum resolution of video is 32 x 32 and the maximum is 1920 x 1200. Go for the highest resolution to get Twitter high quality video.
Video's length should be no more than 141 seconds.
The aspect ratio can vary from 1:2.39 to 2.39:1. The greater the aspect ratio, the better the video quality.
The maximum frame accepted by Twitter is 40 fps and the maximum bitrate is 25 Mbps. To get the best results, convert the video to the best possible frame and bitrate.
Also Read:
Top 4 Ways to Compress Video for Twitter
How to Increase Your Twitter View
Top 6 Twitter Video Converters in 2021
Part 3. Edit and Adjust Video Specs to Look Good on Twitter
If you are looking for the most efficient and advanced video editor to improve video quality Twitter, then iMyFone Filme is your perfect choice. It is a state-of-the-art platform for editing Twitter videos and fix their quality as you want.
This full-featured video editing tool has an intuitive interface which makes it a useful option for even novice users to edit Twitter videos like a pro.
Key Features of Filme

Below features justify why iMyFone Filme is the best Twitter video editor:

Can adjust Twitter video specs with one click.
Fix blurry Twitter videos
Multiple editing modes to improve Twitter video quality
Offers thousands of new and exciting effects to add to Twitter videos
Multi-layering of videos
Easily adds text to Twitter videos
Adjust style and atmosphere to fix all kinds of issue in your Twitter videos
Unlimited video effects and themes
All basic video editing features including rotate, crop, trim, split, and so on
Detach audio from Twitter video
Advanced fast video mode
Pros of Filme

Easy to use for not-so-tech-savvy users

Impressive recovery of Twitter videos

Compatible with all formats

Small in size yet very powerful in functionality

Instant preview of effects while editing
Here's how you edit videos and adjust video specs to export better quality video using iMyFone Filme:
Step 1
After downloading and installing iMyFone Filme, launch it on your computer.
Step 2
Use the Import Media option to browse and load the Twitter video into the program.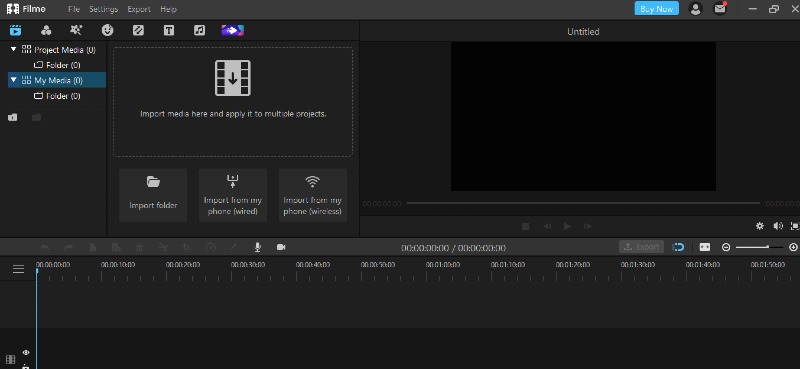 Step 3
Click on the "+" sign on the Twitter video to load it to Filme's timeline at the bottom tab.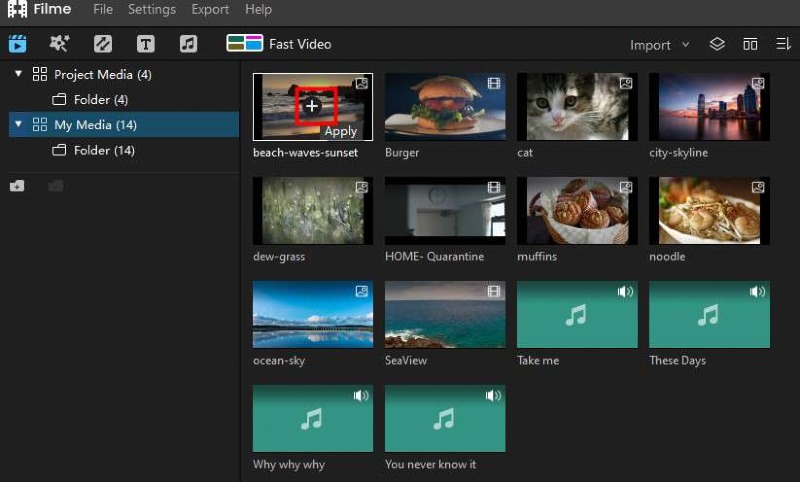 Step 4
Click the video in the timeline to select it. Now, hit on the Play Settings icon (the gear) at the bottom-right corner to open up the Play Settings window.
Tweak with the Aspect ratio, Resolution, and Frame according to your needs and hit Ok.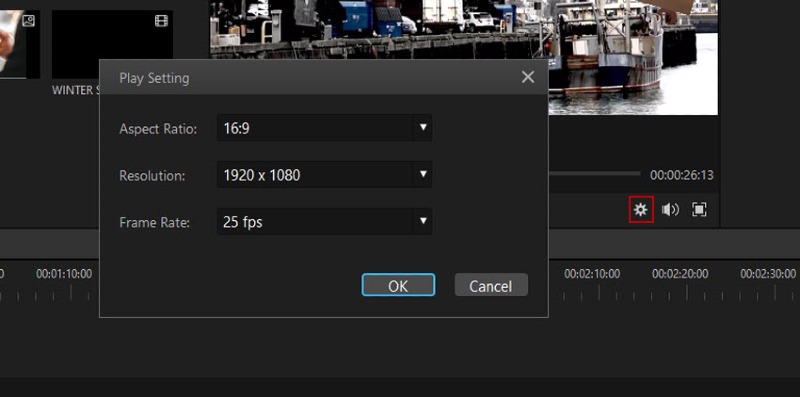 Step 5
Now, click on Export > Export Video at the top tab to download the final product to your computer.

That's how simple it is to improve Twitter video quality using iMyFone Filme. Try other stellar video editing features it offers to make your video cool and splashy.
If you're still having any confusion in using various features of this software, watch this video to clear up your doubts.
FAQs
This section will answer some common queries of users pertaining to the issue at hand.
1. Why are my Twitter videos not uploading in full HD?
Full HD or FHD is a very common display resolution of 1920 x 1080 – which means it meets what Twitter expects. Below are the reasons why you're unable to upload in full HD:
• Weak internet connection
• Its size is more than 512 MB
• Video's length exceeds 141 seconds
All you need is to change Twitter video quality using an authentic video editor like iMyFone Filme.
2. How do you upload high quality videos to Twitter?
To upload video in the best possible quality:
• Make sure you have a strong internet connection
• Your video is in MP format
• It meets all the Twitter video upload requirements
Part 4. Conclusion
Coming to the end, this blog post has answered in detail: why does my video quality go down on Twitter ? Using the tips mentioned above, you'll face no difficulty in uploading the best quality videos on Twitter.
As you're creating video content, your best bet will be to mix it up and that's where iMyFone Filme becomes your ideal choice. It helps you edit and optimize Twitter videos with just a few clicks.