Video content has become the most preferable type of content shared and viewed on Twitter. But many users are still in the dark about what are the best Twitter video render settings.
Lucky for you, adjusting the Twitter video settings to get the best possible video quality isn't as complicated as you might think. This tutorial will talk you through the best video settings for Twitter, along with how to render and edit Twitter videos in several popular editing tools.
Part 1. What are the Best Video Settings for Twitter?
if you want to export high quality HD video for twitter by video editor, i would recommend iMyFone Filme, Filme can make cool videos and export video as 4K HD, Filme has the best 4k HD support. you can upload edited video to facebook,vimeo,youtube with single click. Download iMyFone Filme below.
Whether you are posting videos on Twitter for brand awareness or promoting your business or simply for fun, always aspire for high-quality video content to enhance the viewing experience. A good-quality video has more visibility and clarity and is bound to gain more traction.
Given this, it's essential to understand the Twitter video upload requirements, so you could optimize the videos before uploading. Let's dive into the best Twitter video settings:
1. Best Video Resolution
Twitter lets users post videos of resolution between a minimum of 32 x 32 to the maximum of 1920 x 1200.
The recommended video resolutions are:
• 1280 x 720 (landscape)
• 720x1280 (portrait)
• 720x720 (square)
• For advanced use, it's 1280 x 1024
2. Best Video Format
Video format plays a key role in determining video quality. Though Twitter supports MP4, MOV formats, the most recommended video format is MP4 with H264 Codec and AAC audio codec.
MP4 is a gold standard for uploading high-quality videos on Twitter and almost all editing software allow you to export a video file in MP4 format.
Also Read:
[Solved!]Twitter Video not playing on Chrome/Android/iPhone?
How to Post Long Videos on Twitter - A Complete Guideline
How to Convert Twitter Video to MP4?
3. Best Aspect Ratio
The aspect ratio of a Twitter video can be in the range of 1:2.39 to 2.39:1. Opt for a higher aspect to get the best results. Twitter recommends users to use any of the below two aspect ratios:
• 16:9 (landscape or portrait)
• 1:1 (square)
4. Twitter Bitrate and Frame Rate
The maximum frame accepted by Twitter is 40 fps and the maximum bitrate is 25 Mbps. To get the best results, use:
• Frame Rate - 60 FPS
• Bitrate – 5 Mbps minimum
Make sure Twitter's video size is less than 512MB and its length is no longer than 140 seconds.
Part 2. Best Twitter Video Render/Export Settings in Editing Software - Ultimate Guide
Now that you know the best Twitter video settings, let us discuss in detail how can you render your Twitter videos and export settings in the 4 most sought-after video editing tools.
1. In Sony Vegas
Sony Vegas is a pro video editing software that lets users render Twitter videos with just a few clicks. Check out yourself how to Twitter video settings Sony Vegas:
Step 1
Go to the Explore tab and import the Twitter video you want to render.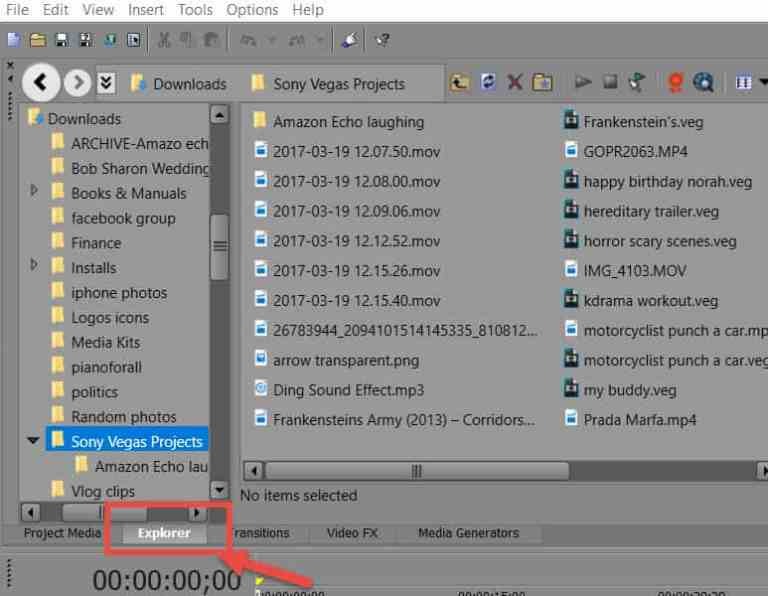 Step 2
Hit on the Video Properties icon and go to the Video tab.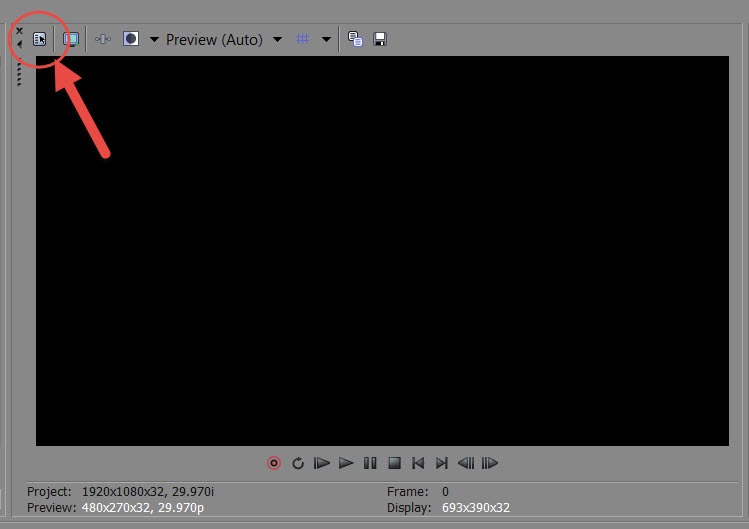 Step 3
Now, change the video settings as shown in the figure: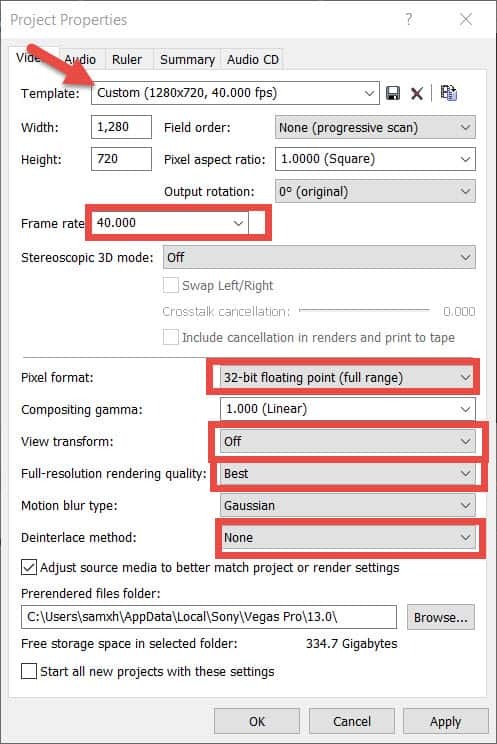 Step 4
After that, go to File > Render As and choose the Internet HD 720p template. Hit Customize Template.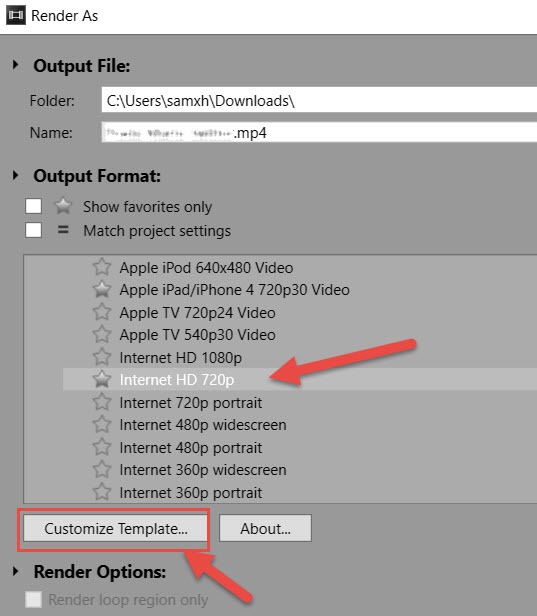 Step 5
On the rendering settings window, make the changes as shown in the figure.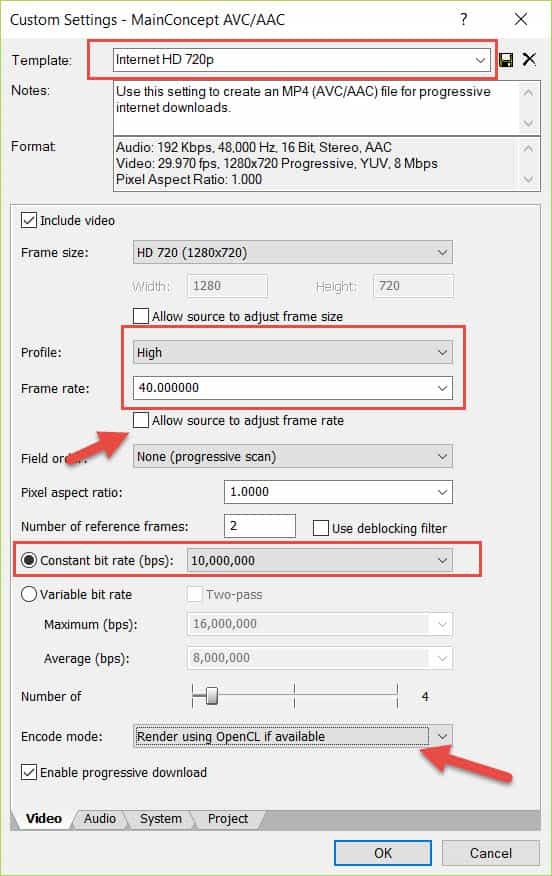 Step 6
Hit Ok and the program will Render your Twitter video
2. In Adobe Premiere
Adobe Premiere is one of the most advanced and powerful video editors that you can use to export Twitter videos. It includes two export presets for Twitter videos that you can use and adjust as you want.
Here's how you use this software:
Step 1
Under Adobe's video drop-down list, select the Twitter 720p HD preset.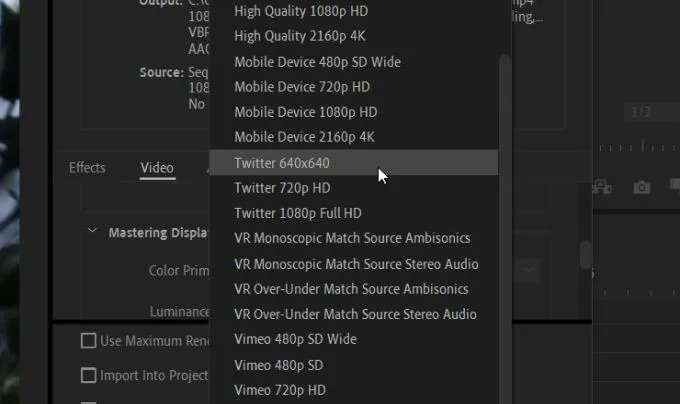 Step 2
Now, change the bitrate encoding to "VBR, 2 pass" and set Target Bitrate and Maximum Bitrate as following.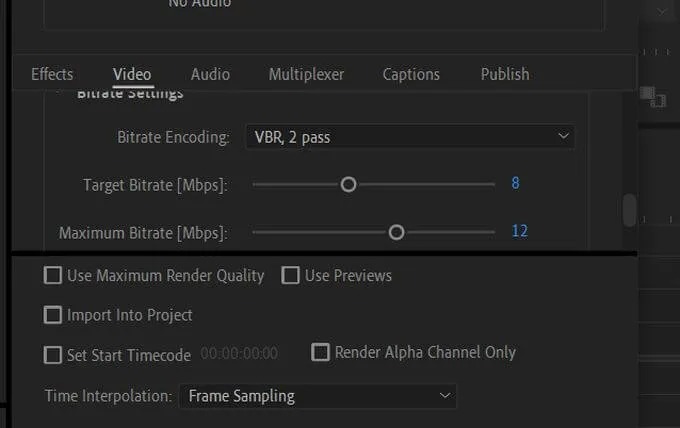 Step 3
Now, navigate to Export > Twitter to upload this video directly on Twitter.
3. In After Effects
Another popular software to render and export Twitter videos is After Effects. Note that this tool doesn't render a Twitter video directly to MP4 file format and you have to use another third-party software to do that:
Here's how you do it:
Step 1
Download and install Adobe Media Encoder.
Step 2
Launch After Effects and use the Composition tab to choose the Twitter video you want to render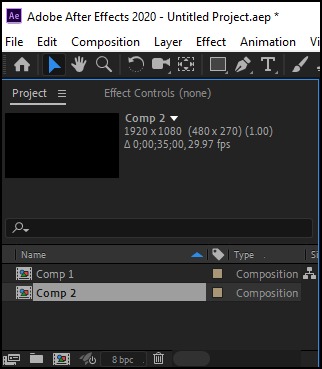 Step 3
Now, go to File > Export > Add to Adobe Media Encoder Queue…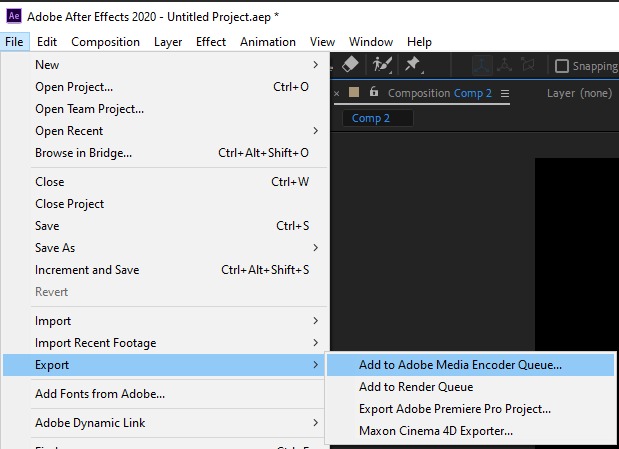 Step 4
Adobe Media Encoder will start and show your composition on the main interface.

Step 5
Under the Export tab, set the format to H.264 and then, confirm the following settings.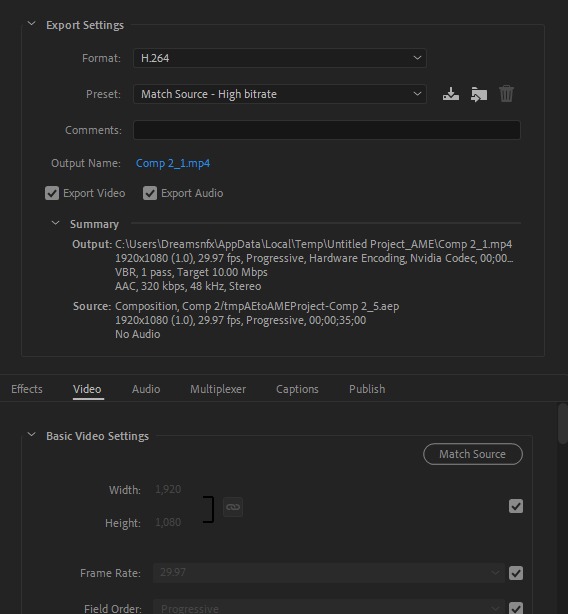 Step 6
Finally, hit on the Green Start icon to render the composition to MP4 format.

4. In Blender
Blender is an open-source 3D content-creation program that lets users render and edit Twitter videos with ease.
To render your Twitter video on Blender, all you need to do is adjust the settings as shown in the figure below:
Part 3. [Editor's Choice] Edit and Render Video for Twitter - iMyFone Filme
The aforementioned 4 tools have limited editing and rendering features and their interface is too complicated for novice users. That's why we present iMyFone Filme which is a professional and most advanced tool to edit and render videos for Twitter.
With just one click, users can export Twitter videos in MP4 file format using Filme.
Key Features of Filme

Below features justify why iMyFone Filme is the best Twitter DM video editor:

Render Twitter videos quickly
Multiple editing modes to improve Twitter video quality
Unlimited video effects and themes
Multi-layering of videos
Easily adds text to Twitter videos
Adjust style and atmosphere of videos
All basic video editing features including rotate, crop, trim, split, and so on
Detach audio from Twitter video
Advanced fast video mode
Pros of Filme

Easy to use for not-so-tech-savvy users

Compatible with all formats including MP4

Light in weight and doesn't slow down your computer

Instant preview of effects while editing
Here's how you edit and render a Twitter video and adjust its export settings for Twitter uploading using iMyFone Filme:
Step 1
Once downloaded, install and launch iMyFone Filme on your computer.
Step 2
Use the Import Media option to load the Twitter video into the program.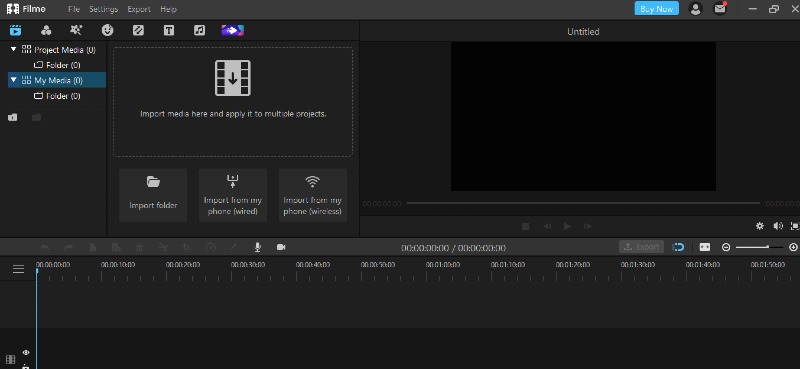 Step 3
Now, click on the "+" sign on the video to load it to the timeline at the bottom tab.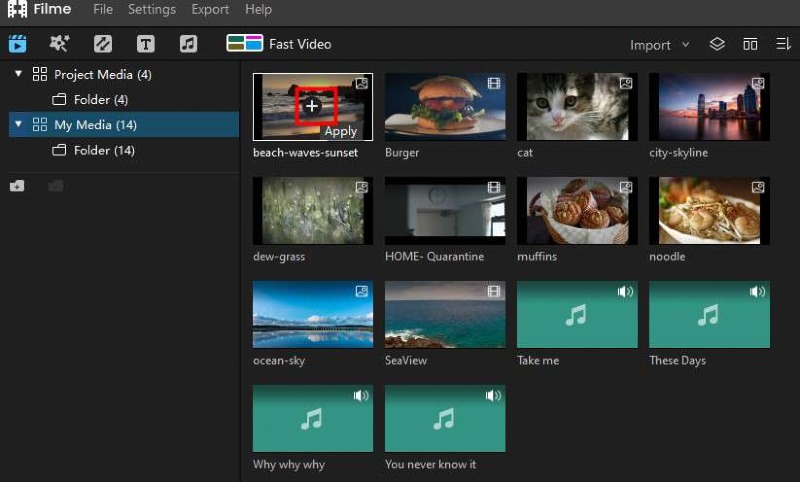 Step 4
When the video is in the timeline, you can easily edit and render it. To adjust its Play Settings, click on the Play Settings icon (the gear) at the bottom-right corner
Here, set the settings as shown in the figure.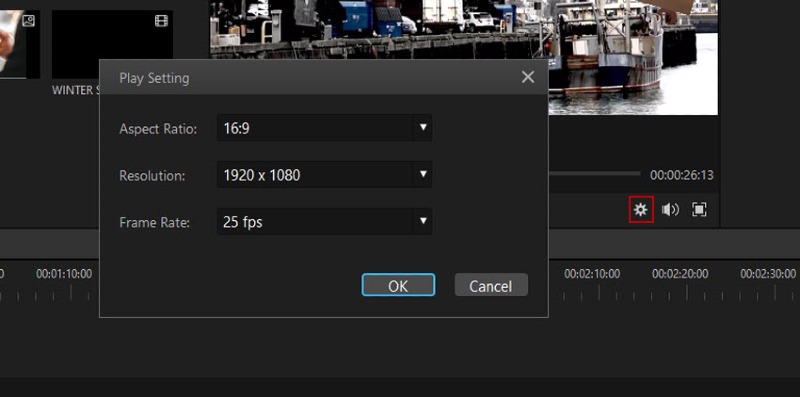 Step 5
Now, click on Export to open the Export window. Set the video quality to "Best" and choose the MP4 format from the left tab. Hit on Export to save it on your computer.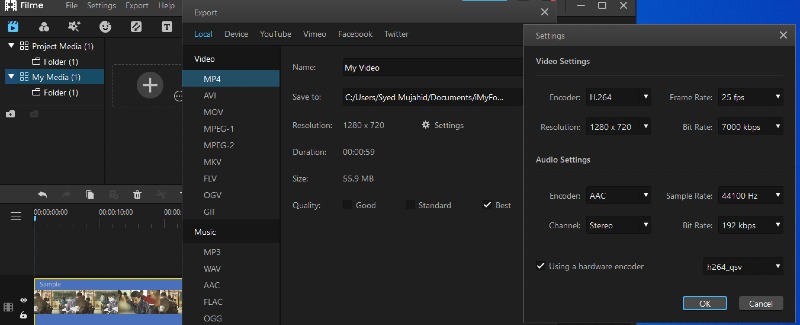 If you're still having any confusion in using various features of this software, watch this video to clear up your doubts.
Part 4. Comparison and Conclusion
Hopefully, this article has helped you understand what are the best video settings for Twitter. It provided a step-by-step guide on how can you edit and render the video for Twitter using several powerful editing tools.
Choose the tool that meets your requirements but we recommend users install iMyFone Filme to set the best video settings for Twitter without any technical hassle.