We all know that chrome book is a two-in-one while running on Google's Chrome operating system. But it may come with some difficulties when it comes to the screen recording on your chrome book. The below-mentioned screen recording tools not only help you with inefficient screen recording but also are free from java plug-ins which are not supported by chrome book. However, some of these might be available for free, while the others can be attained by spending some cash.
Category:
Part 1. 5 best screen recorders for Chromebook
Screencastify is a free chrome extension that resides in your browser. It is a simple video screen capture software program for Chrome. It not only offers you the simplest way of recording and editing but also allows annotating, storing, and sharing video screen captures. You can also use a particular tab or the complete desktop within just a click on the button, that too with your entire experience being synced with the G-suite. The lite version of this software can be used for free, however.
Of its many pros, few are:

Through its extension, this application can be added to the chrome browser.

Provides an easy sharing of live screens among team members for training and presentation services.

It's a simple Chrome plug-in with brilliant ease of use
Unfortunately, the extension of this application is not available for popular browsers like Mozilla Firefox. It is only available for chrome.
Pricing: The price for screencastify starts at $49.00 per user, per year. It does not offer a free trial.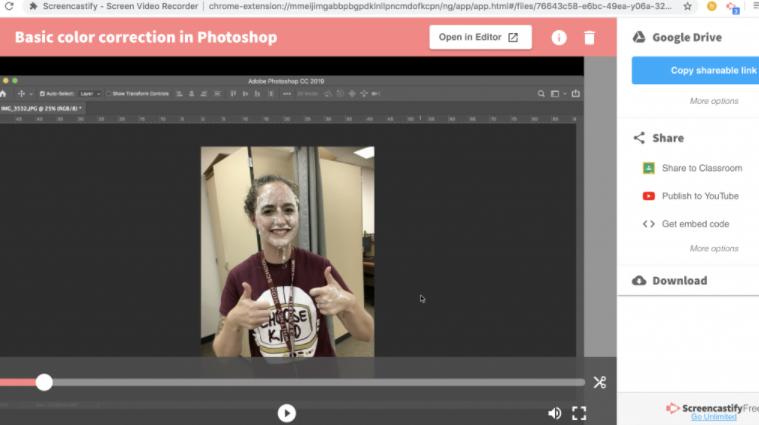 Openvid screen recorder is a free Chrome extension that provides a service for recording videos of your webcam, browser tabs, application windows, desktop, or any combination of these. The capturing process is quite simple and straightforward. By clicking on the Openvid button, you will choose what you want to record and after a brief countdown, you will be off. You can then resume and postpone capture as required, and tap the Openvid button again when you are done. It offers an easy way of recording videos for your chrome book.
Of its many advantages, some are as follows:

Helps to communicate complex matters e.g. computer screen sharing in the simple form

Enables creating videos easily for the clients that will allow them to understand things beautifully

It has a simple, easy-to-use interface and also stores videos on its online portal.
Pricing: But it is not for advanced editing and like anything, there is a paywall too.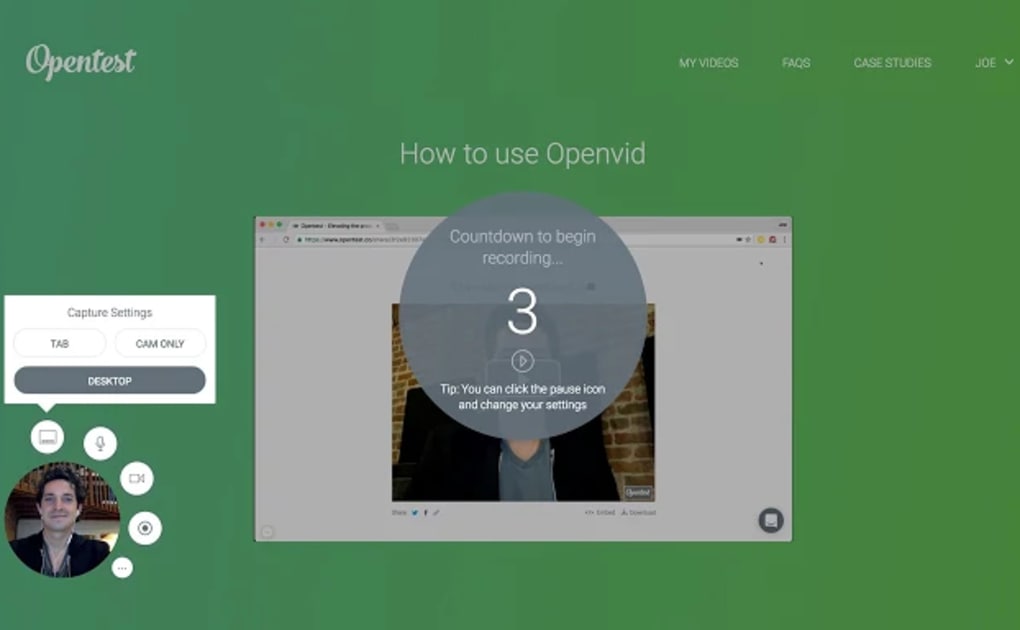 One of the excellent screen-recording extensions is Loom. Loom helps you in instantly recording your screen and sharing it across different platforms on the internet. It can be used to create tutorial videos that can be shared quickly with your employees or your customers, to explain a particular concept. A distinguishing factor between the loom and other screen recorders is that Loom's Pro subscription is free for teachers and students.
Some of the advantages of using loom are:

Has unique enterprise plans for large companies

You can record anything you want on your screen using Loom

Its editing panel helps you in making quick edits to make your videos more engaging.
Once recorded, the editing options are only limited to trimming besides working only on devices that support Chrome extensions. This adds to the cons of the screen recording tool.
Pricing: It costs around $8-$10 monthly for a business. The cost varies accordingly for the enterprise.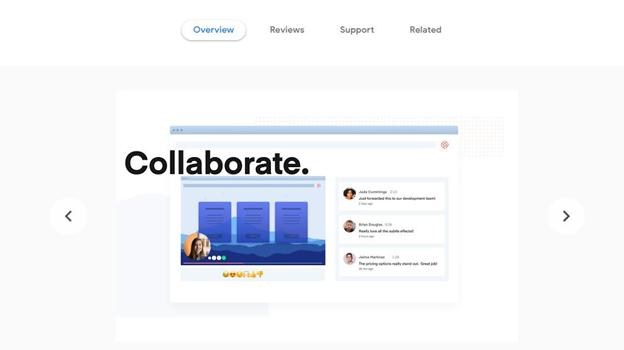 Clapboard helps you record professional-looking videos with pitch-perfect sound. It not only helps you in your internal team interactions but also in creating tutorials for your customers. Moreover, it can help you record screens to save different situations. It is a great tool for creating videos and screen recordings in no time. Clapboard also allows users to record screens and capture footage using the webcam simultaneously. While closely monitoring its performance, the tool also generates a shareable link at the same time that you can use to share your videos across different platforms.
Some of its advantages are as follows:

Using the shareable link you can share your videos on different platforms

You can also add annotations and Click-to-Actions (CTAs) for your videos

It creates instant thumbnails for your videos using the "Edit" feature of Chrome book.
Once recorded, the editing options are only limited to trimming besides working only on devices that support Chrome extensions. This adds to the cons of the screen recording tool.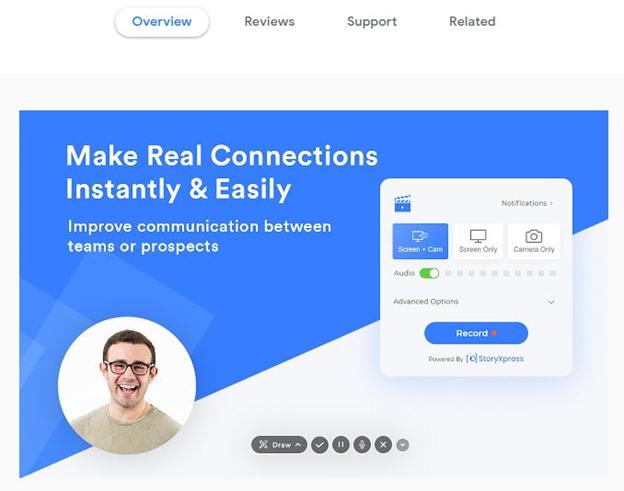 It is an Online Screen Capture and Video recording communication tool that lets people communicate with their customers and team members effectively over video. Fluvid comes with an array of options to make your videos more creative and engaging for your customers or students. Using Fluvid, you can run streams directly to a platform of your choice while saying goodbye to all your streaming hassles. This will help you take your creator's journey to the next level. It is one tool with countless uses.
Some of its advantages are as follows:

Secures your recordings with password protection feature

Provides advanced video analytics

Offers social publishing and streaming besides crop and trim and drawing tools.
However, it is only limited to laptop and desktop users, and analytics are only limited to video views.
Pricing: Fluvid pricing starts at $8.00 per feature, per month. Besides offering a free trial, it also offers a free version.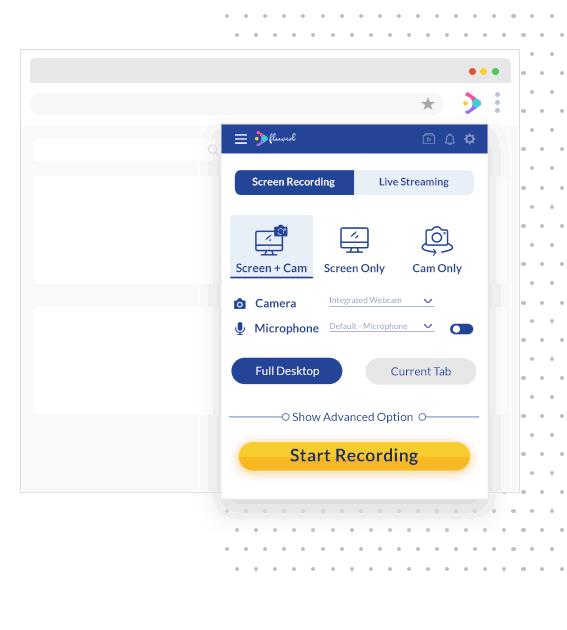 Nimbus is another screen recorder tool used to screen captures the entire web page or any portion of it. You can easily edit screenshots and record screencasts alongside recording video straight from your monitor. It allows you to edit the screenshots in an extremely user-friendly interface. It is also useful for capturing the entire window of the browser, and then for capturing the browser window of some other programs.
Some of its advantages are:

Offers you swift uploading and sharing of your work

Allows you to capture web pages with only one click

Allows you to record and annotate
It however offers limited file format support.
Nimbus has several pricing plans based on your teams.
Pricing: Free for individuals.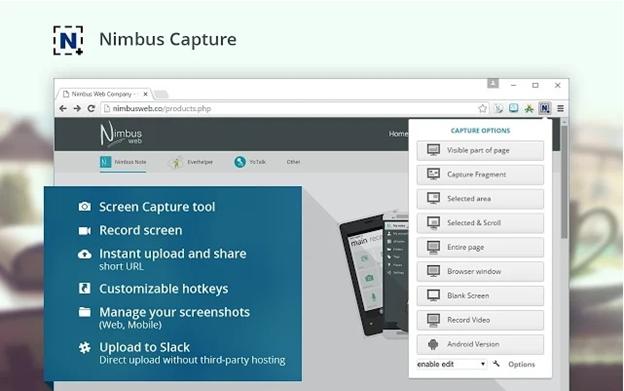 It enables you to record your screen in just one click. You will also be able to keep a track of who watches the video. ViewedIt allows you to communicate with anybody through video, thus breaking down the communication barrier. It makes it as simple as talking to someone by giving you access to one-click screen recording and simple video sharing in social and email and notifications if people view your videos.
Pricing: Free tool for all users.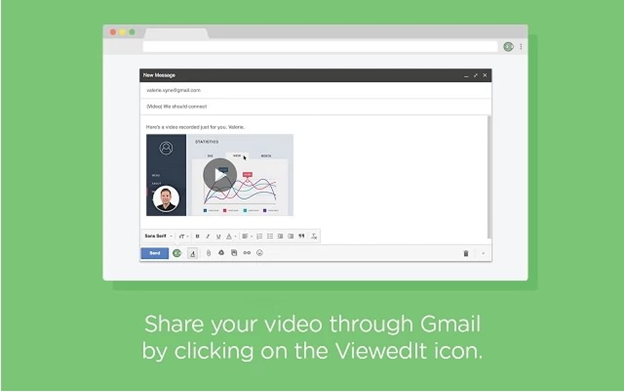 Panopto is an online video platform built for everyone. It provides universities and businesses an easy, reliable solution for managing, streaming, and recording videos. It offers safe and sound recording of videos with great efficiency. It serves as a great online teaching platform in many countries and is also trusted by many.
Some of its advantages are:

Offers secure portal for hosting and sharing all your video content

Has live streaming software for broadcasting secure video streams at scale

Has a unique search engine for finding any word mentioned in any video.
However, the Panopto recorder software can be a little bit buggy and simplified.
Pricing: Pricing for Panopto goes around $14.99 per month for individuals.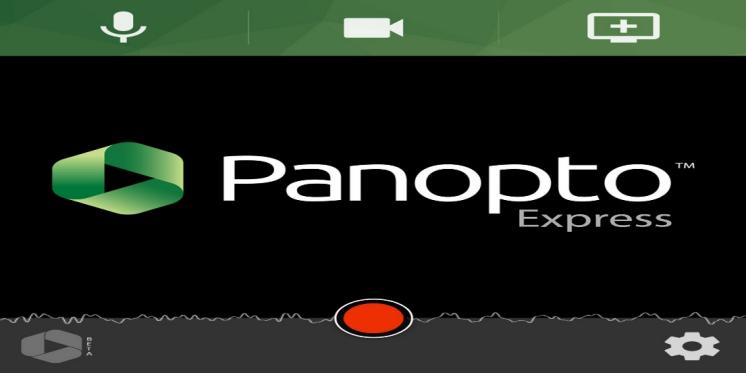 VEED is one of the easiest ways to record and capture your screen online. It is also one of the best online video editors. For using it, you need first select your layout and then click the red button to start recording. You can playback your recording to review or edit it. It is super easy to cut and trim your videos to the perfect length for any social media platform with VEED.
Some of its pros are:

You can add YouTube videos straight from their URL with VEED.

There is no loss in quality

Allows for subtitling, editing, effect/text encoding, and other advanced features.
It can be a little time-consuming when trimming the videos.
Pricing: It charges $18.00 per month for an individual.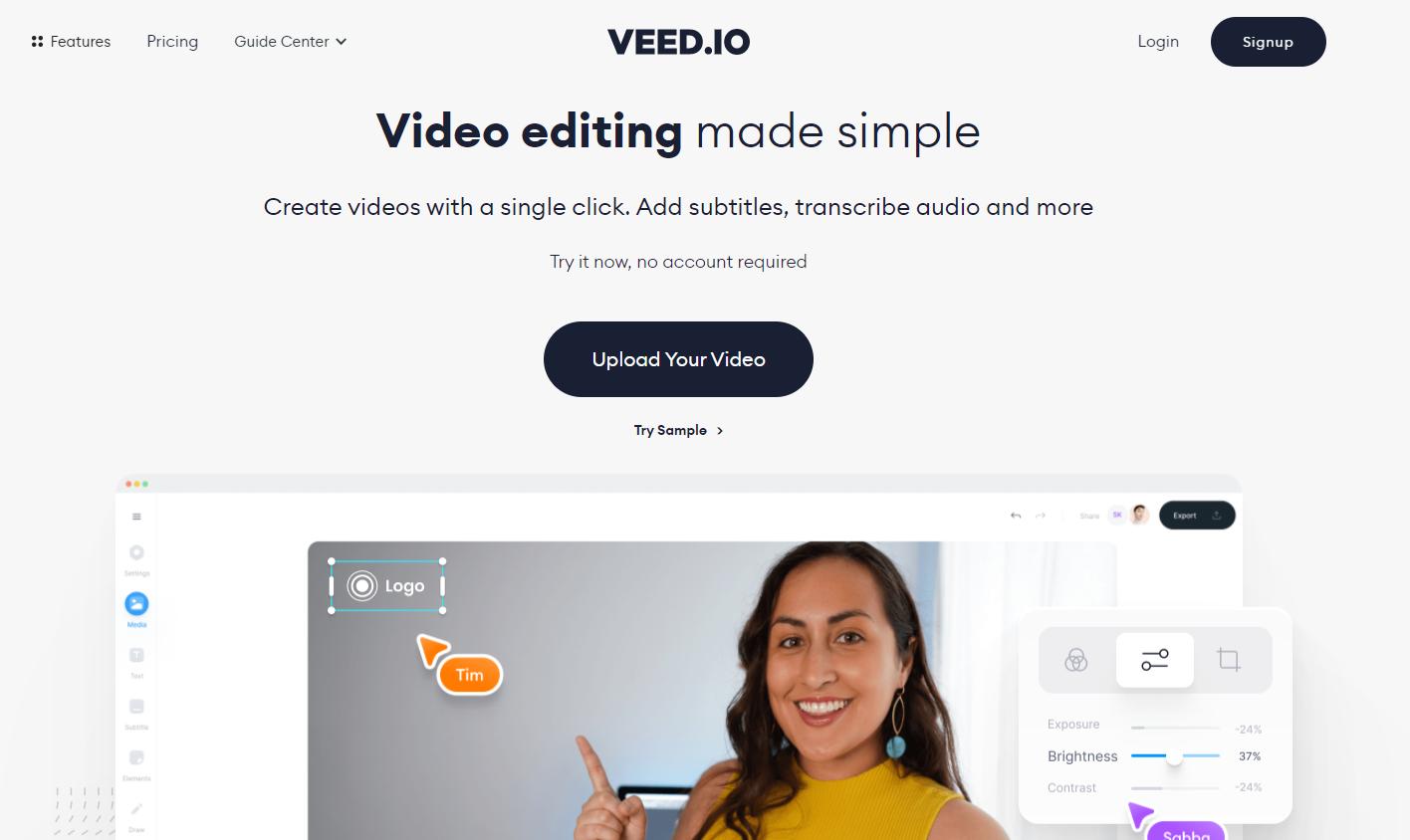 It is a free app that helps you record screen activities without any hassles and save them as HD videos. Besides recording the screen, it can also record audio from the mic and synchronize with screencast videos. Unlike other screen recording tools, it does not limit what or how long you record and hence allowing you to entire TV shows or class lectures for later use easily.

Ultra Simple Recording

Flexible screen Capture

Record anything on the screen.
The above-described video recording tools are by far the most efficient ones. These will not only help you enjoy your chrome book but also enable you to interact with your community in the best possible way.
Pricing: It is completely free to use with no time limitations, paywalls, or watermarks.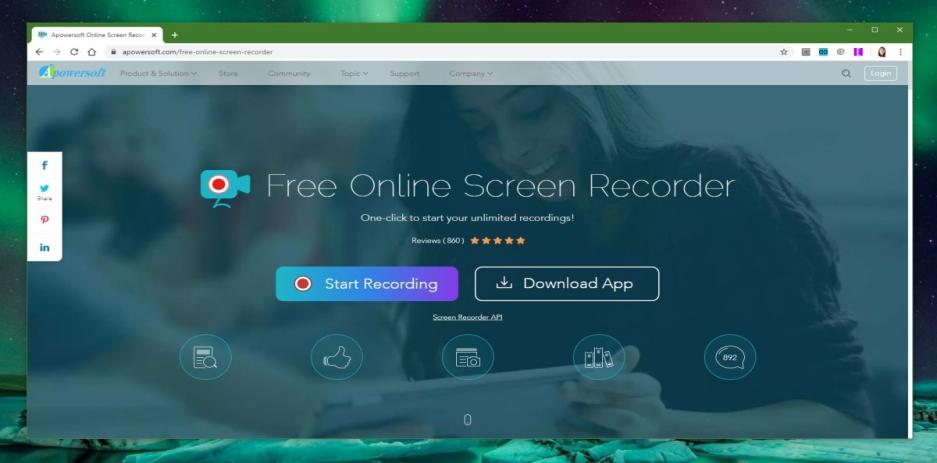 Part 2. iMyFone Filme - best video editor and screen recorder for Win & Mac
This video editor makes it easy for you to come up with creative and quick slideshows. A place where you can record, capture and edit videos and images simultaneously. It enables you to tell your digital story in a few clips. Add music or edit images, it is just a matter of minutes and you are ready to present unparallel artwork.
Some basic features of iMyFone Filme are
Allows you to edit with Fast Video mode.

Multiple effects and features

Cool text effects

Free audio files and music
It has over 35 million satisfied customers and almost 4 million downloads. It is used by prominent media houses due to its unique and user friendly functionalities.
It comes in two versions, one is for mobile while the other one's for desktop. This cost-effective tool is appreciated by most of the people who belong to the digital design world.