How to screen record on Snapchat is a new question introduced. Some people are properly aware of how to screen record Snapchat android, whereas many do not know how it works.
In this article, we will tell you how to screen record Snapchat. And also answer the most frequently asked questions related to the screen recorder android Snapchat feature.
How to Screen Record on Snapchat on Android
To use Android's screen recorder:
Android consumers can reach the control panel by opening the snap they want to screenshot, then pulling it down from the top of their tablet. Swipe to find the Screen Record feature and press the record button. After a timer, you will have successfully shot a snapshot of the Snap-on on your screen.
A screenshot warning will not appear if you tap the stop icon to end the video. As of December 2020, this workaround on Android is still functional. Only when you are in the middle of watching a snap do you start a screen recording, so it's vital to decide whether or not a snap is worth recording before you open it.
This is how to screen record on Snapchat on Android and iOS devices.
Step 1: Turn on the feature
All you have to do is turn on the screen recording feature (from the notification shade in Android and Notification Centre in iOS).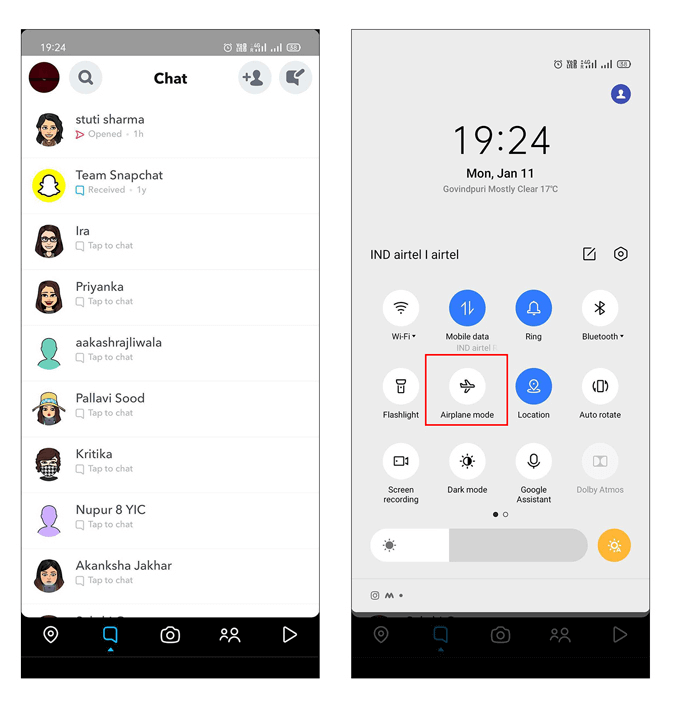 Step 2: Open the capture:
If you have done that, the phone will begin capturing, and you will need to go to the Snap chat app, open the clip you want to save, and then pause the recording once it is over.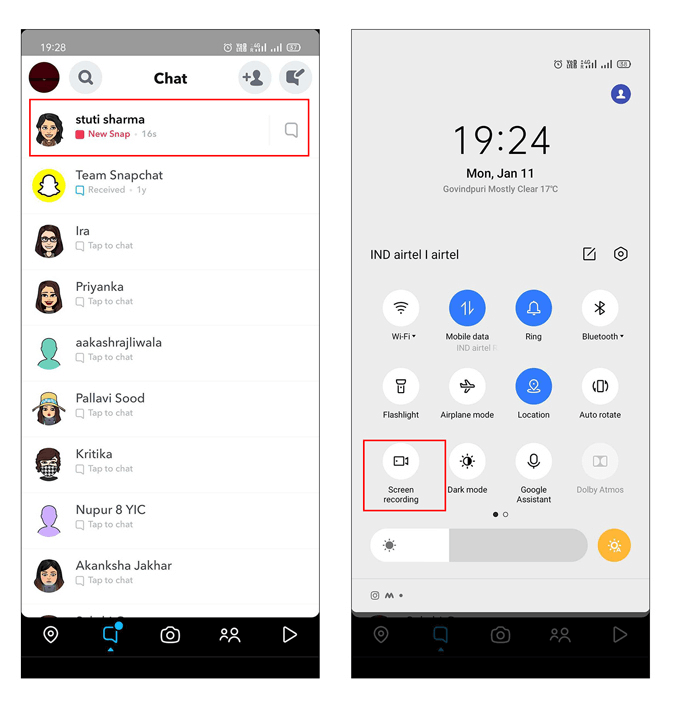 Step 3: Crop it:
After that, all you have to do is crop out the unwanted video or trim the video on snapchat according to the need, and retain the result you wanted.
Notes:
Be aware that if you screenshot/record the photo/video of the sender, the sender will receive a notification.
You should screen capture material of the correspondent if you are using an older version of the software screen record snap chat android, secure assurance that they won't be aware of your illegal activities.
Before you attempt it on your Photo, try it on another friend's (someone who doesn't mind if you take screenshots). There was plenty of third-party screen record snap chat android applications and even some shortcuts in Android's app launcher before Android 10.
How to Screen Record on Snapchat on iPhone
Step 1: Go to control settings.
Go to Control Center, then Configure Controls in Settings. A list of functions that your iPhone will execute would appear.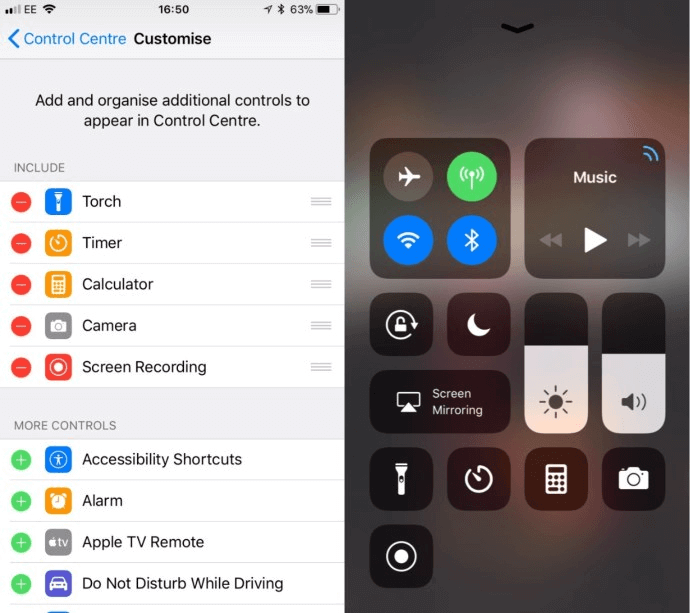 Step 2: Turn on screen recording.
Look at them until you come across a tiny red circle button marked "Screen Recording." To add it to the list of Control Facility, tap the tiny green cross (a red button will appear to the left), and you are done.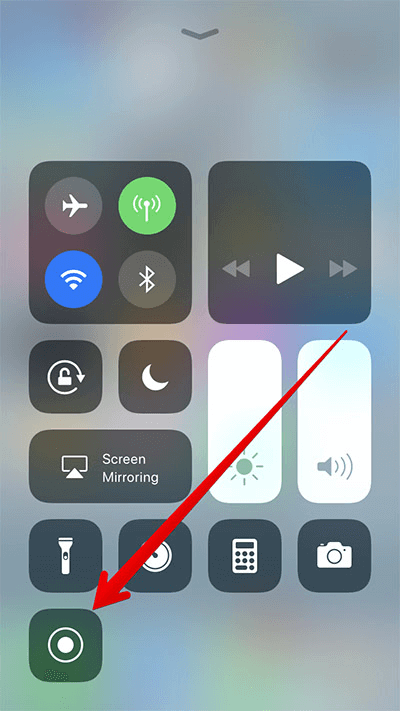 Step 3: Get the capture.
Tap the button with two vertical lines. See bottom left of the screenshot on the right to start screen capture.
iPhone screen recording + screen mirroring
This approach will seem pointless given how fast and convenient the current screen recording method for iPhone is, but it is included if Snap chat closes this gap in the future. From there, it's as simple as mirroring your iPhone screen and screen capturing.
Using a technique known as jailbreaking, older iPhone models can be released from the software cage that Apple so carefully builds for its devices.
An iPhone that has been given this level of freedom will run applications from beyond the Apple network, including those that can take screenshots without being noticed by Snap chat.
However, because the newest iPhone models cannot be jailbroken, there is no simple software to bypass the Snap chat encryption on the latest iPhone models.
You might also want to read:
How to Reverse a Video on Snapchat >>
Best All-in-One Screen Recorder & Video Editor on Desktop iMyFone Filme
The answer to the question, how to screen record Snapchat on Android is, with the help of iMyFone Filme. This fantastic screen recording app not only allows you to record but also allows you to customize the records to your preference.
The greatest feature is that you can edit the videos for snapchat right away or later if desired. iMyFone Filme has a large number of themes and models to help you with video editing. To give you a clearer understanding of how iMyFone Filme functions, let's start with its features and benefits.
Key features and advantages
Easy interface

It has a simple user interface that can be used without causing extra stress. This design is also good for learners.

Dual-functioning

iMyFone Filme has a dual-function feature that helps you to capture the screen while still editing it.

Free to use

iMyFone Filme comes with free designs and models and does not require any extra fees. As a result, you can easily obtain these models and prototypes at no cost.

Instant preview option

You can open your recording right away with iMyFone Filme. This allows you to watch your video at 20+ fast video mode at 0.1X to 16X resolution, in both slow-motion and fast speed as soon as you complete it.

Audio supported

The audio supporting function in iMyFone Filme enables you to add sound to your screen recordings, which improves viewer involvement. It also offers 50+ audio and editable soundtracks.
How to Record Your Screen using iMyFone Filme?
Watch this video to learn how to use Filme to screen recording:
Using iMyFone Filme to record the screen is a quick procedure with just a few steps. There are some of them:
Step 1: Record Your Video with 3 Clicks
To use iMyFone Filme to record your screen, you must first unlock your phone. Then go to the app or website where you want to record your screen and press record. Now, press the recording button to begin the recording. If you've collected all of the data you want, press the stop button to end the recording.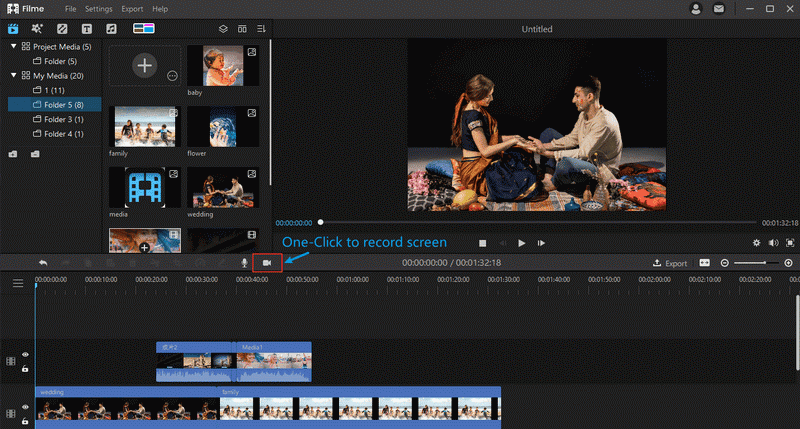 Step 2: Get the Video in Your Media Library at Once
To view your saved images, go to the media storage. Both of the recordings are immediately saved there.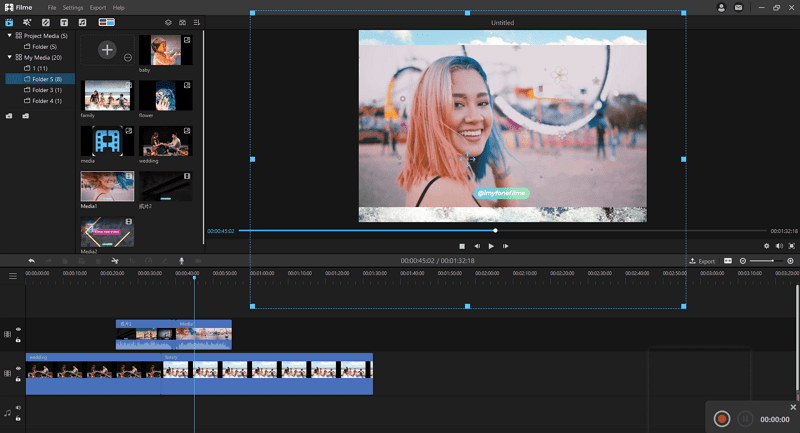 Step 3: Cut the Videos, add filters, and add music and text
You can crop, clip, apply a filter, and add a theme to your recordings using iMyFone Filme. It has 110+ transitions and 170+ filters. You may also alter the font type and shade used in the recordings.
Step 4: Export and Share your slideshow in Mp4 format
From the media storage, export the stored recordings in MP4 format to your tablet or other online web applications.
Frequently Asked Questions
1. Does The Screen Record Function Really Record Picture/video Without Notifying The User?
Yes, according to the current policy of the Snapchat screen recorder android feature, the screen record function really records both pictures and videos without notifying the user.
2. Is It Illegal To Screenshot Someone's Snapchat Content?
Yes, it is morally wrong to take screenshots of someone's Snapchat content. But we can't call it illegal in all cases. The legality of Snapchat screenshots depends on the situation or the purpose for which the screenshot is being taken.
Suppose the purpose is to show minors exploitation or people's extortion (taking an image of the other person without their consent and threatening them to fulfill your demands).
If someone is planning to do so, then he might prepare himself for getting banned by Snapchat. It will also result in the deactivation of your content for violating Snapchat's privacy.
3. Can I Delete A Snap After Sending It?
Yes, you can delete a snap after sending it. To do this, open your Snapchat, go to the messages, and press on the snap or message button for a few seconds. This will open a pop-up menu in front of you, which will have the option to delete.
Tap on the delete option. Snapchat will ask you to confirm your action. As soon as you confirm the delete action, the snap will disappear.
Everything is good if the other person has not opened Snapchat yet. But if that person has opened Snapchat, viewed the snap, and taken a screenshot, then even deleting the snap won't help.
4. Why Does Snapchat Include Screenshot Notifications?
With the passages of time, the screen notifications feature of Snapchat is becoming more updated. On iPhone, users are instantly notified when the other person takes his screenshot during the FaceTime call.
The reason behind updating these features with time is to strengthen internet privacy and take care of people's personal stuff. Though Snapchat can not prevent the other person from taking the screenshot, it automatically signals the user when someone takes his screenshot.
5. What Are Other Alternatives To Record On Snapchat Without Them Knowing?
The other alternatives that you can use to record on Snapchat without them knowing are using another phone or taking the help of any Third-Party app for completing the recording task. This is the best solution for people who ask can Snapchat detect screen recorder android.