Now, you may need to rotate or flip YouTube Video to the right/ left 180 degrees or 90 degrees. After turning your YouTube videos, you can make your video appropriate to watch without any fuss.

In this guide, we'll give helpful insight information to rotate a video on YouTube. You'll also get to know about some courageous video editors to serve your purpose.

Among them, iMyFone Filme, an all-in-one video editor, is outstanding in various aspects, to help you not only flip video fast, but also edit video fabulously to share on platforms like facebook, vimeo, youtube with single click. You can download iMyFone Filme on PC to create stunning videos for Tik Tok, Youtube, Instagram and amaze your friends and fans.
Using YouTube Video Editor to Flip or Rotate YouTube Videos
You can rotate or flip YouTube videos by using a built-in editor of YouTube. It doesn't take much of your time, but you'd need to follow some simple steps to put everything in order.
Step 1: Register your account
First of all, register your YouTube account and log in to that.
Step 2: Press Dropdow
Navigate to your profile, and you'll see a dropdown located there. Click on it and proceed further.
Step 3: Search for a video.
After clicking on the dropdown menu, you need to search for a video you want to rotate. You can search for any video you want.
Step 4: Hit Edit
After finding the video, you need to press the'' Edit'' button option there. You can see that button under your video's thumbnail.
Step 5: Select Enhancement Tab
Navigate to the Edit section and select the Enhancement tab from there.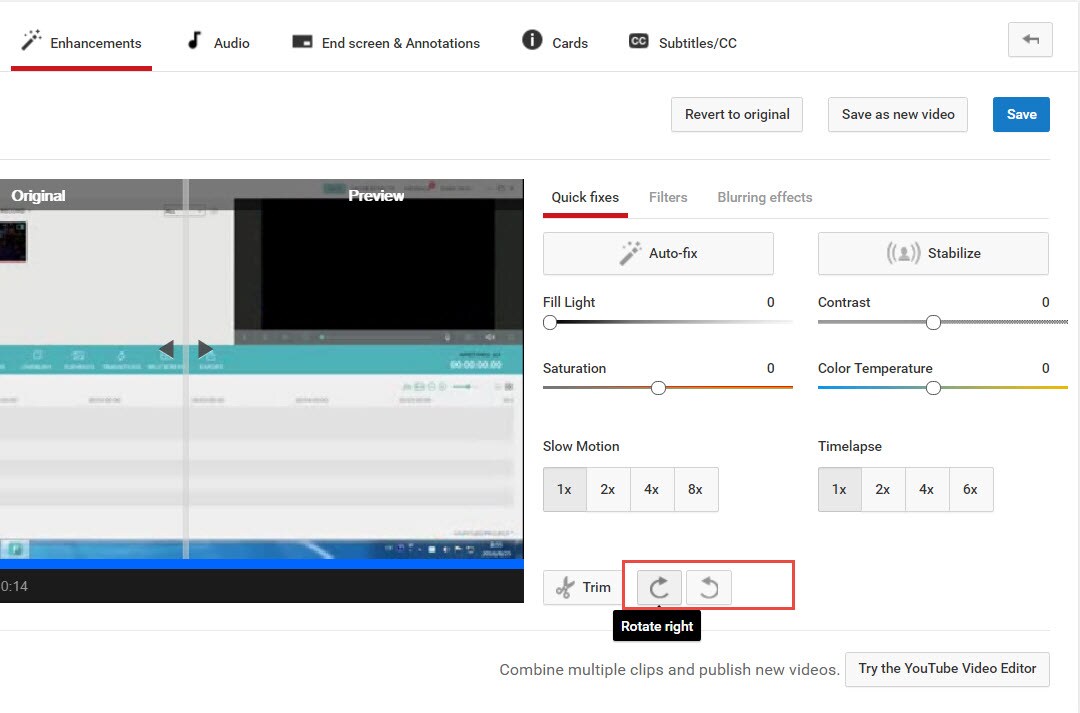 Step 6: Rotate right or left.
After opening the Enhancement tab, you can see two options rotate right or rotate left.
Suppose you want to rotate your video to the left, press Rotate Left.
And if you're going to turn your video to your right, you can click Rotate Right.
Step 7: See the results
After rotating the video, you can see the results.
Part 2: Best Video Editor to Flip Youtube Videos-iMyFone Filme
Your wait ends here because iMyFone Filme offers you professional and advanced features to play with. Filme has emerged as one of the best video editing tools in the present era.
Features
Easy to use

One thing is for sure when you acquire the services of iMyFone Filme, you'll get a pretty smooth interface with it. You don't need to master the art to explore its features. It gives you proper guidance to get used to it.

Fast Video and Audio Mode

Another thing that might fascinate you is the opportunity to utilize 20+ Fast video modes and 50+ Audio modes.

Transitions and Filters

You can also explore Filme's 110+ breathtaking transitions and over 170+ mind-blowing filters to make your content top-notch.
Step 1: Import a file
After starting a new project, you need to import a video you want to edit.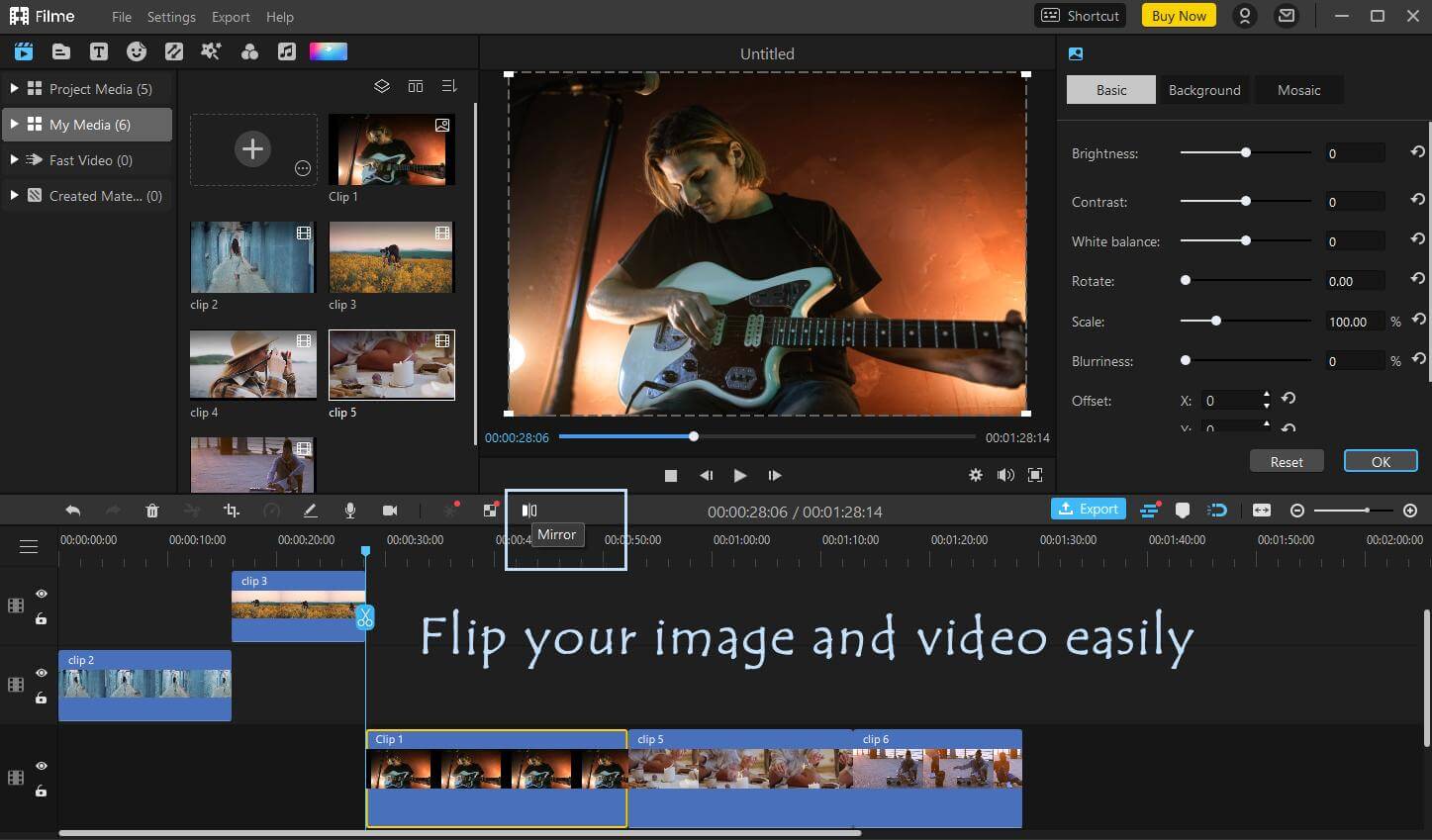 Step 2: Drag to your timeline
After importing a video clip, push it to your timeline and proceed further.
Step 3: Flip Your Image by Clicking Mirror Button
Click on the Mirror Button on the selection bar to flip videos within seconds. Or rotate your videos by dragging the slider on the right.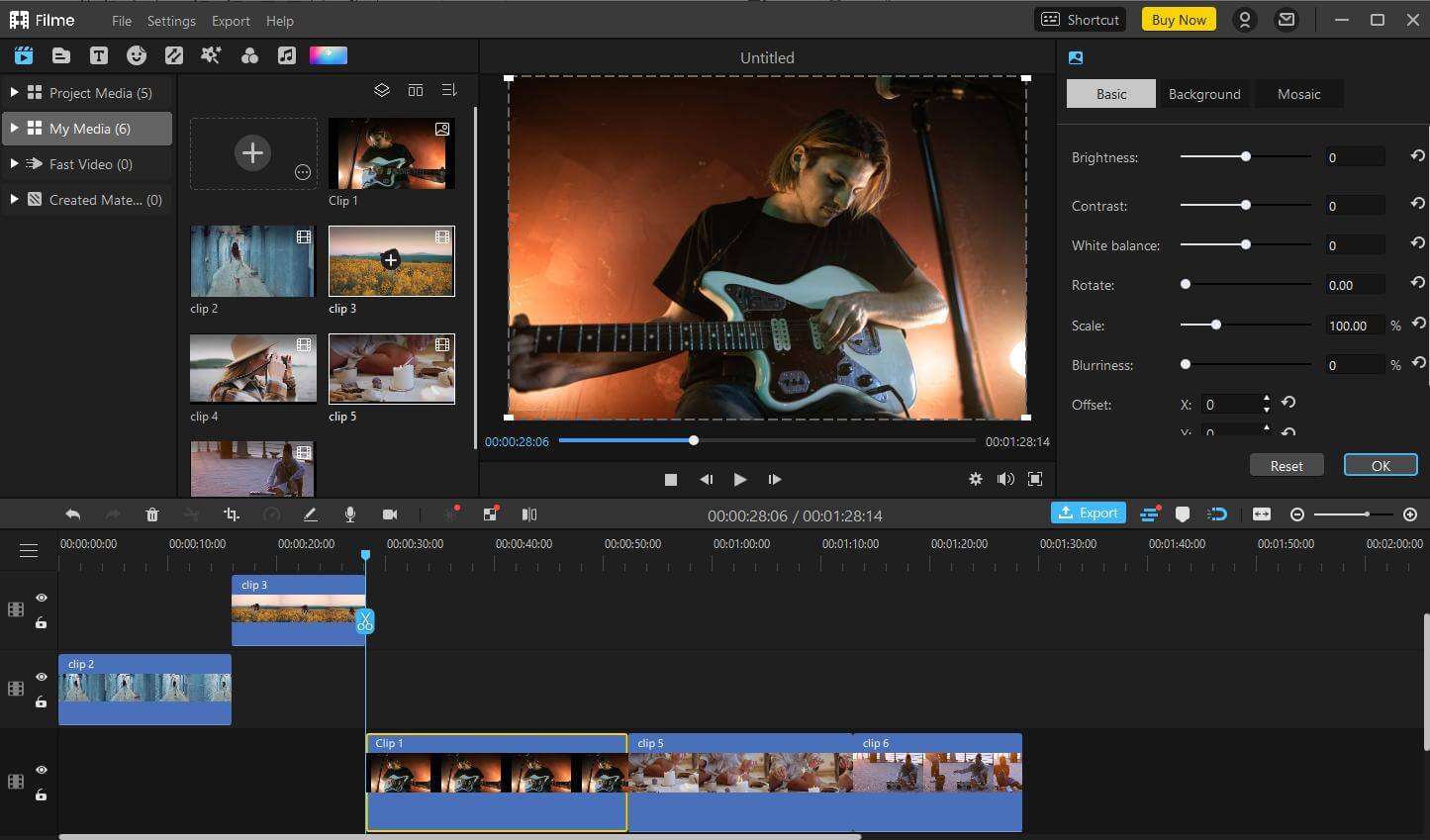 People Who Liked this Content Also Liked
Top 5 Video Flippers to Flip a Video and Photo Online Fast in 2021 >>
How to Flip a Selfie Video? [Online/ Win/ Mac/ Android/ iPhone] >>
6 Easy Ways to Rotate Video on iPhone >>
Part 3: Rotate YouTube Videos with YouTube Video Editor Alternatives
Before uploading your video to YouTube, you need to rotate it if needed. There are various rotating video editors available that can serve your purpose beautifully.
1. Window Movie Maker
Window Movie Maker is a fascinating editor that can rotate your video with great effect. And you don't need to buy any premium version to serve your purpose because it is available for free.
Besides turning your video, Windows Movie Maker can also edit your content and make it worth talking about. Using this tool, you reverse flip and mirror videos with ease. Furthermore, it also lets you use some advanced features.
For example, you can add prolific transitions, appropriate filters, and themes to make your video look professional.
And if you want to rotate your video, you only need to follow a couple of basic steps. It tells a lot about Windows Mover Maker's interface, which is pretty easy to navigate.
Step 1: Download Windows Movie
If you're a Windows user, you don't need to install Windows Movie Maker on your computer. If you're not a Windows user, you'd have to download Windows Movie Maker on your computer and launch it.
Step 2: Import a video
After launching the application, you need to select a file from your PC gallery and import it into the Windows Movie Maker's interface.
Step 3: Select Rotate Button
Press the video, and you'll see two rotate options on your left side. Click on Rotate Left if you want to rotate a video to your left. And select Rotate Right to turn it to the right side.

Step 4: Save File
After making all the changes, you need to Save the video.
Sony Vegas Movie Studio
Sony Vegas Movie Studio is one of the video editors that offer smooth and reliable services to users.
What a user wants from a video editor?
Indeed, he wants a video editor to make his content unique and fascinating. And guess what! Sony Vegas Movie Studio seems to be living up to the expectation of all the users. Apart from its video editing skills Sony Vegas Movie Studio can rotate or flip YouTube videos with minimal effort.
Step 1: Press Square Box
Open the video and hit the square box.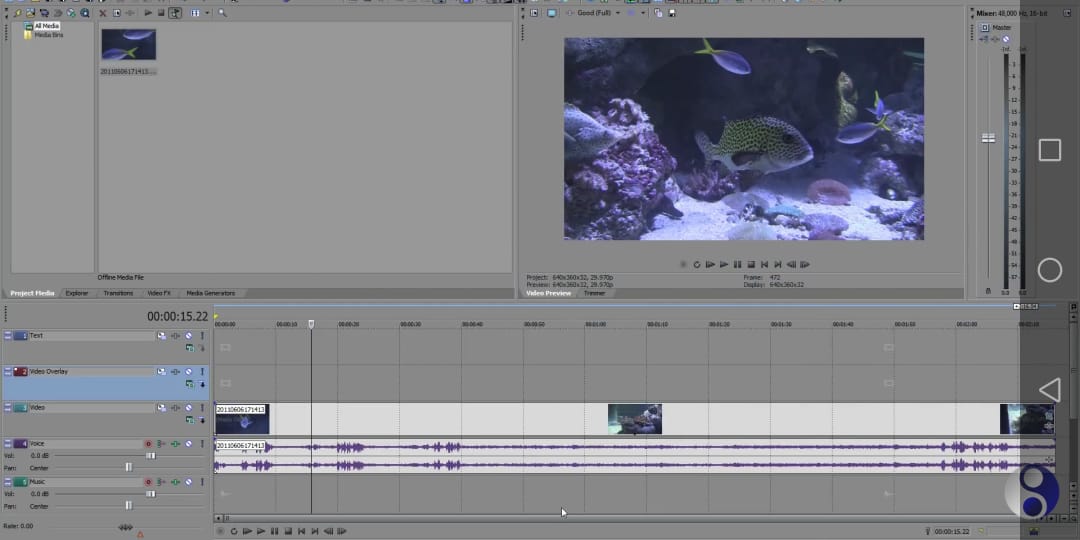 Step 2: Look for Slider bar
You'll see a slider bar after the appearance of the pan pop-up.
Step 3: Rotate options
You'll see different options at the slider bar: position, keyframe inter, and rotation.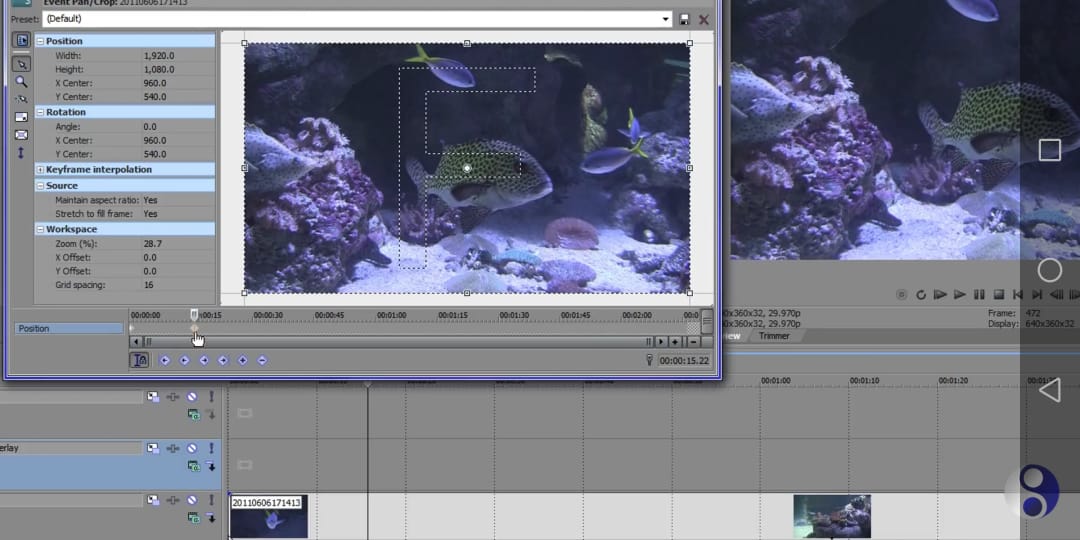 Step: Give an angle

Now, you need to enter the angle at which you want to rotate your video. After doing it, you need to click Enter to turn your video at your preferred angle.
Adobe Premiere
If you're looking for a particular video editor with advanced, professional, and essential features to easily accessible, Adobe Premiere has to be one contender for this purpose. It is versatile and dynamic software that fulfills the user requirements with ease.
Using this software, you can add great advantageous effects to your video and make it worth remembering. Apart from its video editing abilities, Adobe Premiere can change the angle of your video in the best possible manner you'd have ever imagined. It makes all the things look easy and smooth.
Step 1: Luanch Adope Premiere
After installing Adobe Premiere, you need to launch it on your computer.
Step 2: Import a video
After starting a new project, you need to import a video that you'd like to rotate at any specific angle.
Step 3: Push video to the timeline
In this phase, you need to drag your video towards the timeline. After, you need to access Effects Control Lab.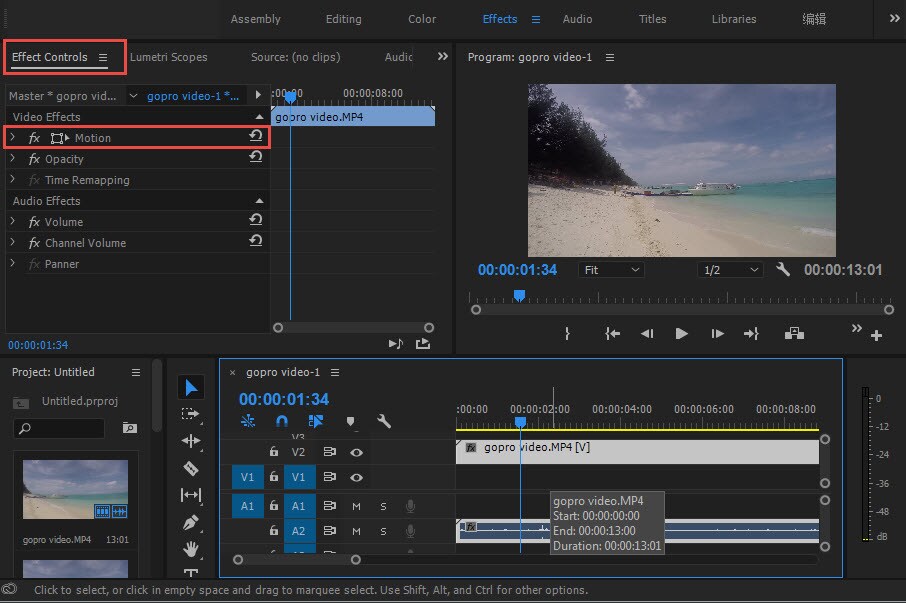 Step 4: Option for rotation
After navigating to the Motion option, you need to look for rotation options there.
Step 5: Rotate your video.
Now, you can rotate the video at any preferred angle.
Part 4: FAQ of How to Flip or Rotate Youtube Videos
1. Why should you rotate YouTube videos?
Sometimes when you upload a video to YouTube, it doesn't seem good enough to watch it from a typical angle. This inconvenience might be because you accidentally clicked it at the wrong angle when you were shooting the video.
And when you upload it on YouTube, it gives a bad experience for the users. So what do you need to do now? You only need to import it on any video editor and rotate it to an angle that can make sense. And you also need to check the fact to which degree your video will be perfect. Now, you decide whether you want to rotate it in 90 degrees or 180 degrees.
2. Can I flip YouTube videos on Android?
Tablets and Android devices offer an automatic option that can help you to rotate videos. You only need to enable the option by default. For this purpose, you'll need to navigate to settings and press the Screen Rotation button option. You can turn on the automatic rotation option from there.
Final Words
Rotating YouTube videos to make them watchable is a new norm nowadays. You can serve your purpose by using YouTube built-in option.
However, it carries some downsides for its users. If you want to look for some other options, then some appropriate options are available in the shape of Adobe Premiere, Sony Vegas Movie Studio, and Windows Movie Maker.
All these options are worth your attention, but we recommend iMyFone Filme for a better and fast experience. Using iMyFone Filme, you can edit your YouTube content and rotate it on your preferred angle without any trouble.