Now, you may need to rotate or flip YouTube Video to the right/ left 180 degrees or 90 degrees. After turning your YouTube videos, you can make your video appropriate to watch without any fuss.

In this guide, we'll give helpful insight information to rotate a video on YouTube. You'll also get to know about some courageous video editors to serve your purpose.

Among them, iMyFone Filme, an all-in-one video editor, is outstanding in various aspects, to help you not only flip video fast, but also edit video fabulously to share on platforms like facebook, vimeo, youtube with single click. You can download iMyFone Filme on PC to create stunning videos for Tik Tok, Youtube, Instagram and amaze your friends and fans.
Using YouTube Video Editor to Flip or Rotate YouTube Videos
You can rotate or flip YouTube videos by using a built-in editor of YouTube. It doesn't take much of your time, but you'd need to follow some simple steps to put everything in order.
Step 1: Register your account
First of all, register your YouTube account and log in to that.
Step 2: Press Dropdow
Navigate to your profile, and you'll see a dropdown located there. Click on it and proceed further.
Step 3: Search for a video.
After clicking on the dropdown menu, you need to search for a video you want to rotate. You can search for any video you want.
Step 4: Hit Edit
After finding the video, you need to press the'' Edit'' button option there. You can see that button under your video's thumbnail.
Step 5: Select Enhancement Tab
Navigate to the Edit section and select the Enhancement tab from there.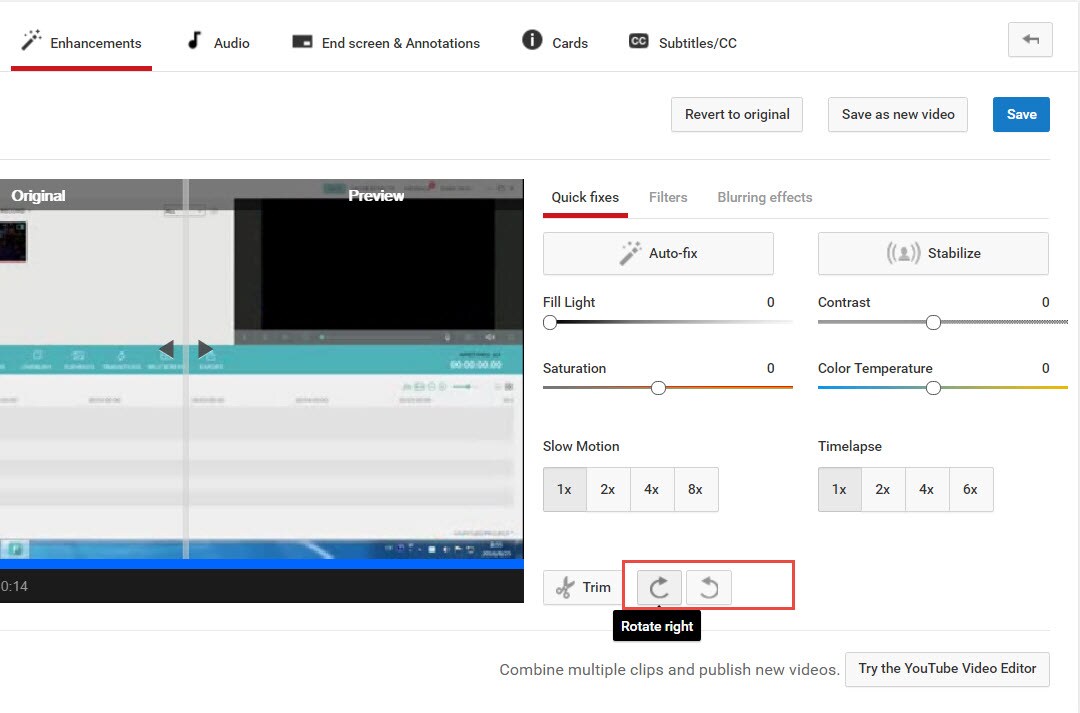 Step 6: Rotate right or left.
After opening the Enhancement tab, you can see two options rotate right or rotate left.
Suppose you want to rotate your video to the left, press Rotate Left.
And if you're going to turn your video to your right, you can click Rotate Right.
Step 7: See the results
After rotating the video, you can see the results.
Part 2: Best Video Editor to Flip Youtube Videos-iMyFone Filme
Your wait ends here because iMyFone Filme offers you professional and advanced features to play with. Filme has emerged as one of the best video editing tools in the present era.