We all use YouTube as one of the main video sharing platform nowadays. One of the applications it can have is to share presentations with your friends and colleagues so they can see at any moment. To prepare this presentation video, you can make a YouTube video with PowerPoint. If you already have all the presentation then this will be an easy process of edition.
That is why we will explain how to create a YouTube video with PowerPoint. Learn step-by-step how to create videos without requiring any other tool. If you want to improve your presentation videos, we will also offer some recommendations that will be useful to you.
How to Make a YouTube Video Using PowerPoint
If you want to learn how to make a PPT video for YouTube while only using PowerPoint as tool, then you will require some previous preparation beforehand. The challenge you will face it you use this method is that to make a YouTube video with PowerPoint you can only record your presentation. The recording process is a rudimentary tool that does not offer editing tools.
If you are willing to prepare all your presentation video this way, then here is a five step tutorial on how to make a PPT. for a YouTube video:
#Step 1 - Prepare an engaging presentation
This is an essential part of the process since the presentation will work as the visual content for your video. You can use templates available on PowerPoint for free or search online for templates to download and use.
Using a template for your presentation will save you time while at the same time you ensure that your presentation video looks professional and structured. If you add transitions and animations on your presentations, they will add motion to your video. Try to take advantage of these motion elements to keep your audience attention.
#Step 2 - Prepare your narration script
As we mentioned earlier, the process to make a YouTube video with PowerPoint requires a one-time recording of your presentation. That is why you can save a lot of recording time if you prepare a script with all your presentation beforehand.
To prepare this script, you can add notes located at the bottom of each slide with all the information you need to say respectively. Only you will be able to read these notes. Practice your presentation and make sure all your explanation sounds fluid.
#Step 3 - Time to record your presentation
Once you are pleased with your presentation and your narration, then it is time to start the recording. At this point you will make the video of your presentation. To start recording, click on the "Slide Show" tab in the Set Up group of your menu at the top of the screen.
Then, select from which point you would like to record by choosing "Start Recording from Beginning" or "Start Recording from Current Slide". Finally, click on "Record Slide Show". You can use Narrations and laser pointers to improve your presentation video. Click on Start recording and start all your presentation. Once you are done, click on "End Show"
#Step 4 - Save your recording as a video
Now your recording is ready and you can preview it. If you like the recording, you can save the process as a video. To do this, on the File menu click on the "Save & Send" option. Then, click on the option "Create a video"
You can adjust the video quality by clicking and adjusting the "Computer & HD Displays". Then name your video, set the save location, and save the process. The video creation can require several hours depending on your computer resources, recorded video length, and video quality.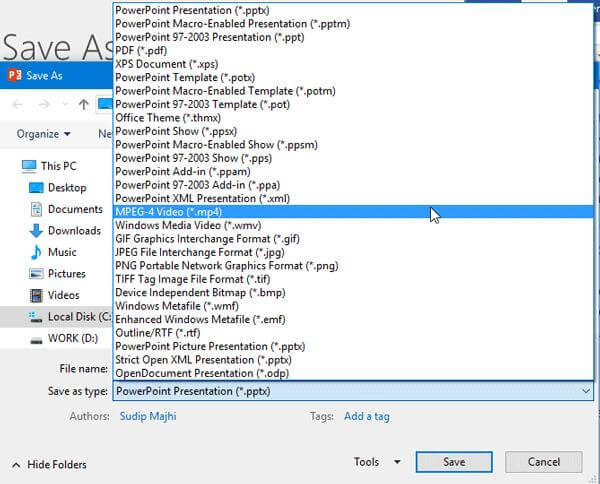 #Step 5 - Upload your presentation video to YouTube
Once the video is created, it will be saved on the designated save location on your desktop computer. You can proceed and upload the video to your YouTube account and share it with all your contacts.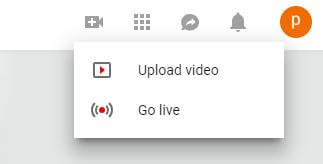 Limitations of Making YouTube Video Using PowerPoint:
As we mentioned, using only PowerPoint to make your YouTube videos can be a complicated process since it will only record your presentation. This does not include any editing tools and can be a tremendous challenge. Imagine yourself preparing a long video and get interrupted midway by a phone call or someone distracting you. This could be really frustrating and time consuming.
Another disadvantage is that the video created is limited to the mp4 format and is poorly optimized. That will cause the video file to be enormous and hard to upload to YouTube or any other platform.
How to Create a YouTube Video Using Best Video Editor - iMyFone Filme
All these issues can be solved if you use a video editor to solve your doubt of how to make a PPT. for a YouTube video. Video editor interface can be intimidating, especially if you are a beginner at using these tools. However, there is no need to worry. We want to recommend you a video editor tool that will facilitate all the process: The video editor iMyFone Filme.
You can download for free the trial this tool at the official iMyFone Filme website. This video editor has different modes that can facilitate the process of creating the presentation, recording the video, and editing the final media. We will explain into detail each mode and what they can offer to you:
Solution 1: Quickly Create a YouTube Video with Fast Video Mode in Filme
Filme offers a Fast Video Mode that prepares templates you can use to create a video within minutes. This way, you can prepare a video without needing to use a PowerPoint presentation. You can use the asset library included with the program for free. This library includes video clips, music, and pictures you can use for your video. Here is how to use it:
Launch the iMyFone Filme program.

Proceed to select the "Fast Video" option located at the upper left of the screen, near the Media Library.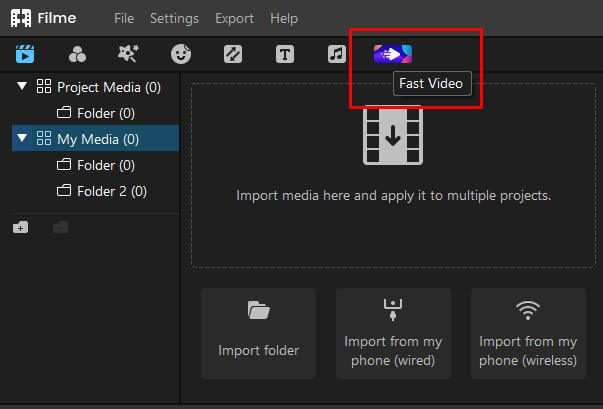 A template list will display. You can choose among a list of different categories like Education, Travel, Business, among others. Confirm your category selection and proceed.
Adjust the video with all the information from your presentation. Edit it until you like the outcome.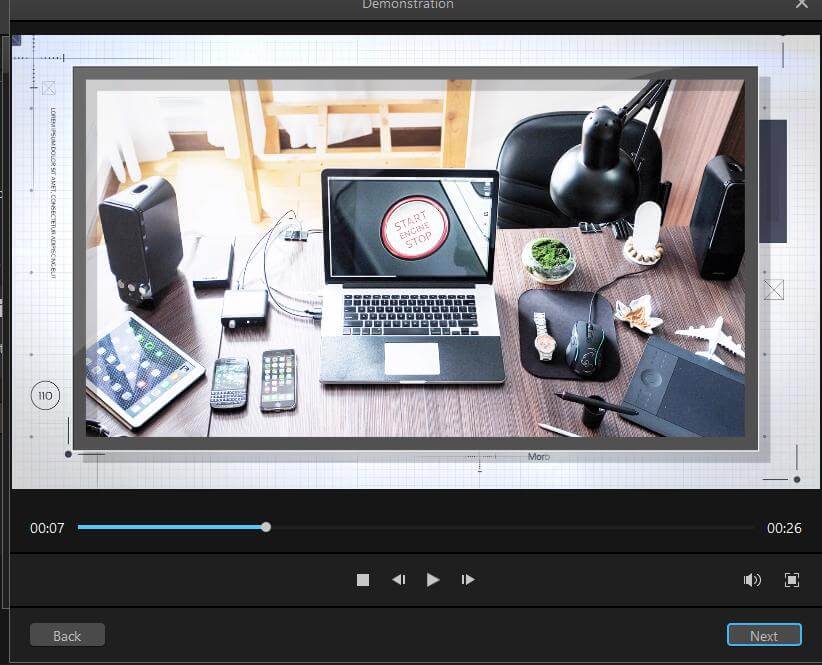 Once your video is done, click on the "Import" option. You are free to save the video on your computer or upload it to YouTube right away.
Solution 2: Edit Your Video Using Filme
You can use Filme for further editing needs. It offers shortcuts to pause your presentation recording at any moment. You can as well adjust the part of your screen that you are recording. You might as well prepare multiple recordings and edit them together Here is how you can use this solution:
Launch the iMyFone Filme editing tool.

Proceed to click on the screen recording option.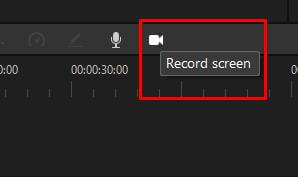 Now, you need to adjust the screen area you will use to record your presentation.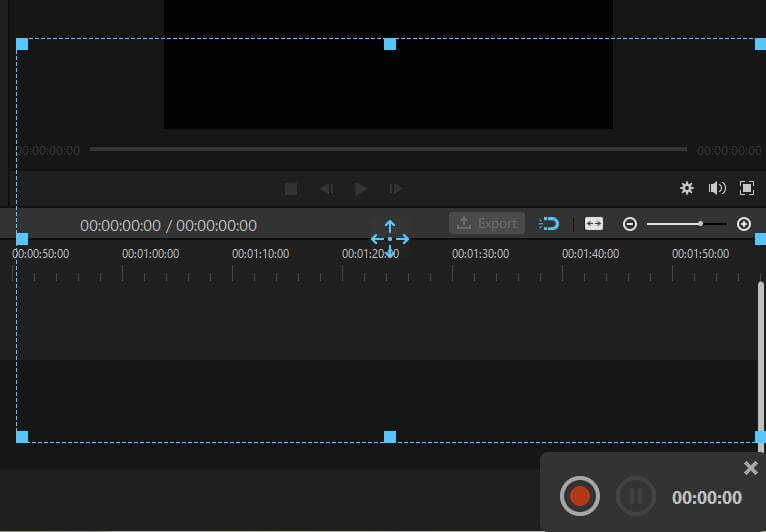 Press on the red button to start recording your presentation. You can record your narration right away or add it afterward.

Edit your recording with all the editing tools available. You can add text, tittles, and stickers to improve your presentation. You might as well add smooth transitions between each video clip of your presentation recording.

You can always see the preview of the video. Once you like the outcome, click on the Export option. You can adjust the video quality and format. You might as well upload it directly to your YouTube account.
Solution 3: Directly Convert Your PowerPoint Presentations into YouTube Video
There is a third alternative you can use if you need to learn how to create a YouTube video with PowerPoint. You can directly convert your PowerPoint presentations into videos using Filme. Once the video is optimized and edited, you can upload it to YouTube directly.
If you prefer this alternative, you are free to adjust the content with all the tools available in iMyFone Filme. This can be the right solution if you already tried recording with Powerpoint but need to edit the video. Here are the steps to use this solution:
Launch the iMyFone Filme editing tool. Make sure you have the latest update.

Click the "slides to video" button.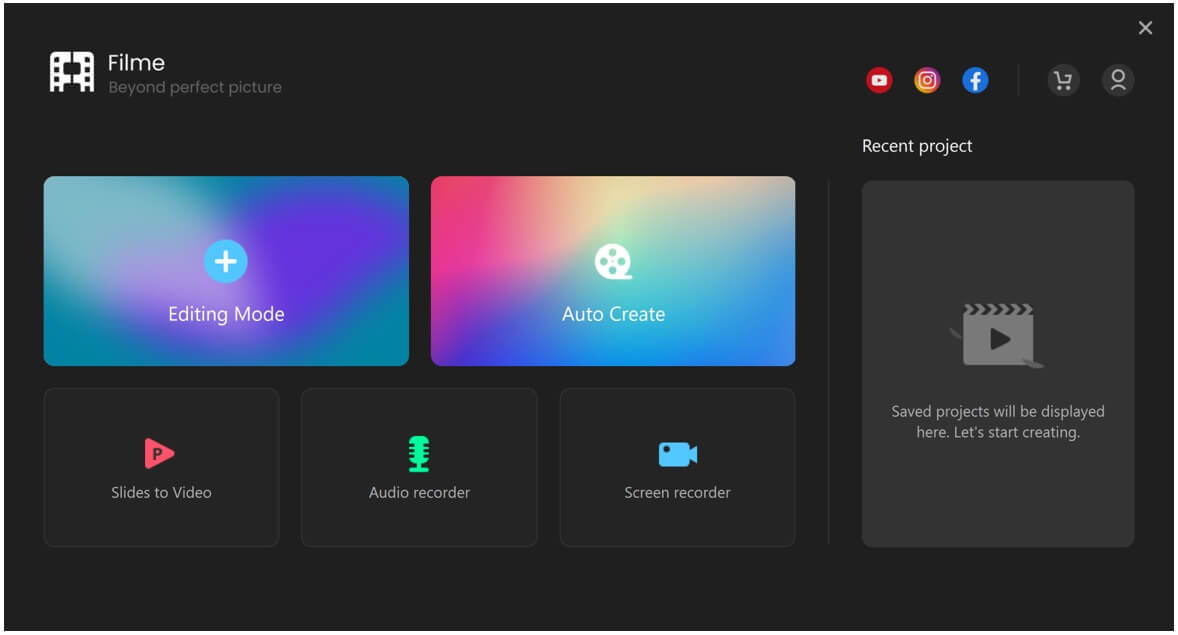 Then you will see the + button. Select it to import your PowerPoint presentation.
Then click the "Convert" button and wait for it to finish.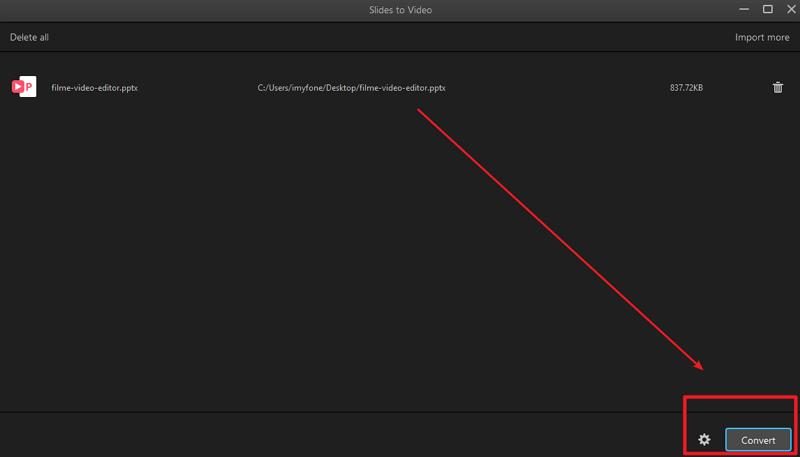 When all is done, click on the export option. A menu of settings will open up, you can adjust the video name, format, and quality. You are free to upload it to your social media or YouTube.
Top 3 Tips for Making A Good YouTube Video
PowerPoint presentations are an excellent tool to share information with colleagues and clients. However, creating a PowerPoint presentation and recording a YouTube video are two different activities. If you want to make a YouTube video with PowerPoint, you need to keep the presentation attractive for your viewers.
This requires offering a proper visual and narration content on your video. But then how to make a PPT. for a YouTube video that engages your audience? Here we will share some tips to help you improve your video.
Keep the slides visual simple
You want to keep your viewers' attention, but using overloaded visuals on your presentation could have the opposite effect. Using slides that are saturated and confusing will frustrate your audience and they will lose the interest on your video.
To avoid this, try to use few images on each slide. Try to focus on one principal element each slide and complement them with other elements that are secondary. Leave enough blank space to keep a high readability.
Use a presentation template that matches your topic
You can use a template to keep a nice aesthetic on your presentation. Yet, the template you choose needs to be adequate for the topic you will make your presentation about. For example, you need to use a presentation with neutral colors if you want to keep a serious and professional appearance for your video.
Also, remember the color psychology while choosing your template colors. If you want to use a logic topic, then blue is a right choose. For inspiring presentations, green and yellow are nice alternatives. And so on.
Adapt the content to your audience
Part of learning how to create a YouTube video with PowerPoint is to learn how to adapt your content based on the audience. If you are preparing content for a group of customers, then you need to make the information as simple as possible. Yet, if you are preparing a meeting presentation for your work, then you will need technical information. A good strategy is to think about what your viewers need to know.
Conclusion
It can be convenient to learn how to make a YouTube videos with PowerPoint, since PowerPoint is a common tool that you will have available in almost any Windows desktop computer. If you need a short presentation, it can save your time and serve as a quick explanation for your colleagues.
Yet, if you require longer presentations, you should consider using another tool or a video editor like iMyFone Filme. This will help you save recording time, improve your video quality, and enable new formats and quality setups for your final video.