Do you know how to rotate a video on iPhone? It gets really irritating when you struggle with portrait or landscape frames while filming. But it shouldn't be a worry anymore, as in this article we'll be discussing about 6 easiest and simplest ways that can help you in rotating a video on iPhone. These methods mentioned in the following can solve this issue in a few minutes.
Part 1. Rotate Video on iPhone Built-in App:
Don't want to download any tools to rotate videos on iPhone? Well, iPhone has free built-in apps like iMovie and Photos App that can help you to rotate your videos easily. Continue the reading to know how.
1

iMovie - iOS (iOS 12 or Earlier)
iMovie is a very handy editing app for all the iPhone users out there. It offers quick and easy tools that can be used by everyone. You can easily trim, rotate or flip your video clips by clicking a few options. Follow the steps mentioned below to rotate your video on iMovie:
Step 1: Rotate your clip clockwise or anti-clockwise by using the tips of your fingers on iMovie.
Step 2: Open your original video or iMovie and scroll on the timeline till the clip that you want to rotate appears on the screen.
Step 3: Now, move your thumb and finger in the twisted direction to rotate the video as per your choice.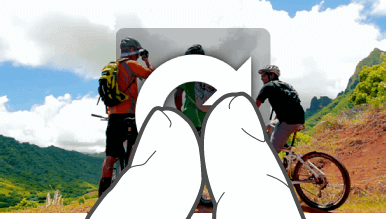 Step 4: You can repeat this step until you get your desired orientation.
Pros:

It can fix a shaken video.

You can easily add texts and credits.

You are allowed to change the audio over a particular music trip.
Cons:

Only available for Mac and iOS.

It cannot be used for professional purposes.
Step 1: Open the Photos App and tap the Albums tab in it.
Step 2: Now, Scroll below to the Media Types and choose Videos.
Step 3: Choose the video that needs to be rotated.
Step 4: Click on edit and tap on the cropping icon.
Step 5: Keep tapping the rotation icon until your videos gains a desired position.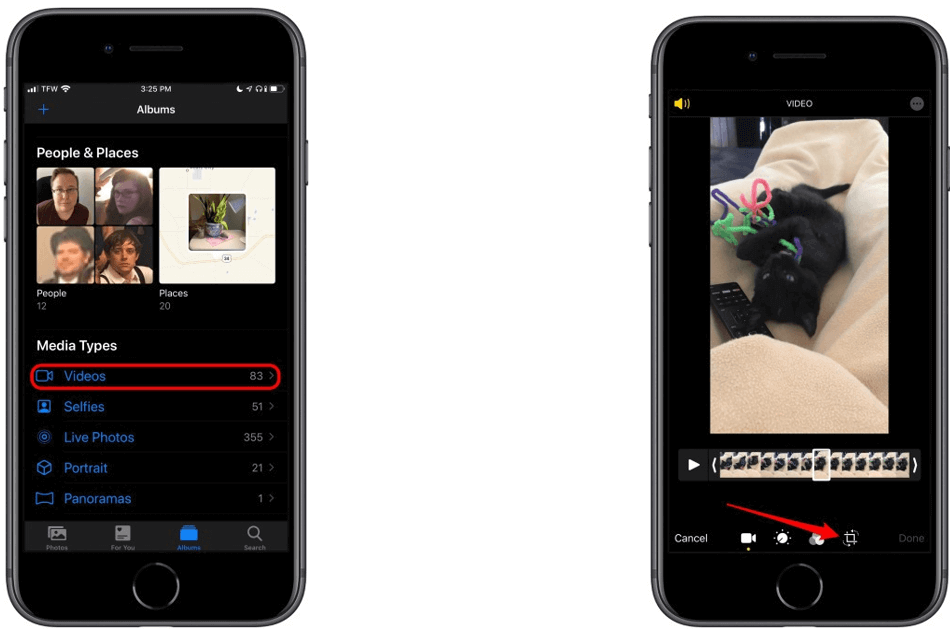 Pros:

It has a user-friendly interface.

It creates an album automatically.

The basic video editing effects are quite cool.
Cons:

This editor does not support panorama stitching.
Part 2. Rotate Video on iPhone with Third-party App
So, do you want to experience something new while editing your videos with apps apart from iMovie and Photos App. Here are some of them that are not manufactured by Apple but you can rotate your videos taken on iPhone with these apps mentioned below:
It is one of the very important third-party editing software that can be used with an iPhone for rotating or flipping your photos and videos directly on your device. This app works as an extension in your Photo albums and can export the edited videos directly in your albums too. It can rotate video for YouTube, Facebook, Instagram that easily. Follow the steps given below to rotate your video:
Step 1: Launch your video in this third-party app.
Step 2: Click on the pointer and move it till the point that you want to rotate.
Step 3: Now choose any arrow with the mentioned directions at the top row.
Step 4: Click on your required degrees and directions and wait for the rotation to complete.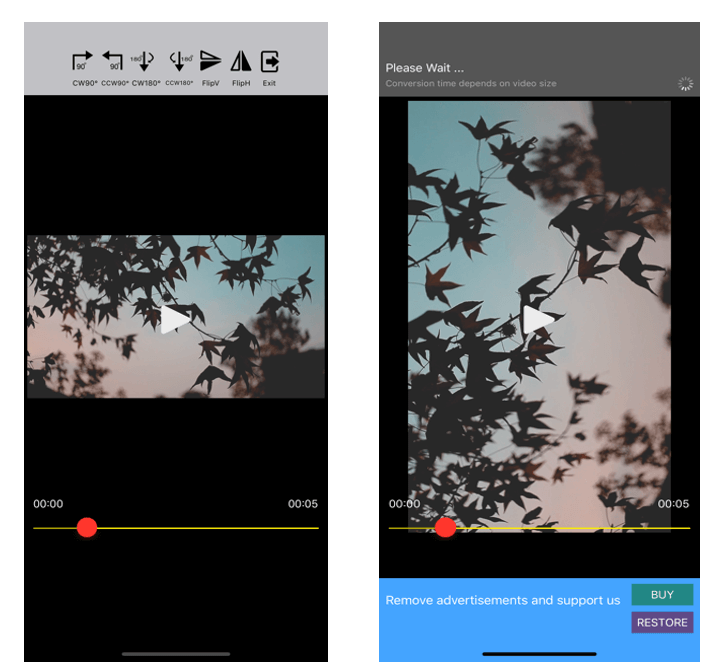 Pros:

Apart from rotating, you can also add a mirror effect by flipping it horizontally.

You can add a funny look to your video too by moving it upside down with the rotator.
Cons:

It might get slow at times.
This third-party app doesn't focus only on rotating and flipping because it has some other advanced features too that will help you to edit your video for iOS. You can rotate your video with this app to any angle by you must follow step-by-step instructions for this process. Here are some of its most important features:
It can control the speed of your video.

You can add multiple themes with it.

It has a bunch of transition effects and animation styles for adding a dramatic effect in the video.
Follow the steps given below to rotate your video with KineMaster:
Step 1: Launch KineMaster in your phone and create a new project in it.
Step 2: Include a solid color background.
Step 3: Now add your video as a layer.
Step 4: Select the layer and use your two fingers to rotate the video as per your choice and requirement.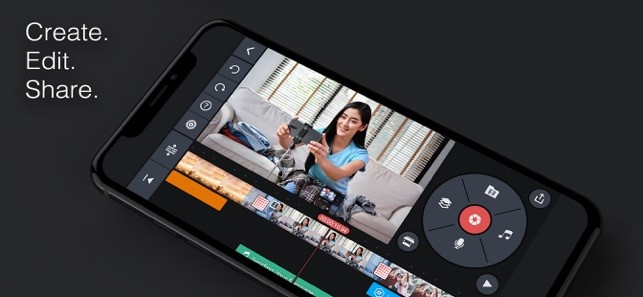 Pros:

It is a user-friendly mobile editor.

It allows real-time recording.

It consists of easy and flexible adjustment tools.
Cons:

Its watermark doesn't go away in the free version.
Part 3. Rotate Video for iPhone - Filme Video Editor
Although there are a number of various video editors for iPhone out there, but you should experience iMyFone Filme, too. It can rotate video on Windows and Mac easily. It is a multi-functional video editor and you can easily rotate your videos with it to exact angles.
You can tell your story with Filme by creating a smooth and creative slideshow. Also, you do not need any technical knowledge for editing your video with it. It lets you perform basic functions such as split, rotate, adjust speed, etc.
iMyFone Filme Key Features:

Fast Video Mode - Its fast video mode creates video slideshow with music in just 1 click.

Full-featured basic functions - You can editing videos such as trim/cut, crop and split in a few seconds.

Advanced editing functions - You can easily add multiple cool transitions, cinematic titles and multi-layer in your videos.

Easy to use – No requirement for technical knowledge.

Wide format support – You can edit and save your videos in various formats.
Pros:

It is easy to use with user-friendly interface.

The running is smooth during the editing process.

It is friendly both for beginners and professionals.
Cons:

Only available for Windows for now.
Watch this video to learn how to use Filme to edit videos:
Although Filme is only available for Windows for now, but users must be glad to know that Filme Mobile version is soon going to be launched in September that is just a few days away. To avail Filme for free, you need to grab this opportunity of promotion. Open the link mentioned below to know more about the promotion: