Many people wonder if there is any function to record PowerPoint presentations, among them one of my favorite is to record a presentation with Zoom. Also when record a presentation with Filme I really like it because I can edit it right after recording the presentation since Filme is also a video editor. So as you can see we have several options for this and in this post I am going to explain step by step all these options so we can learn how to record a presentation with zoom.
Part 1: How to Record A Presentation with Zoom
Zoom is a video conferencing tool which has 2 main platforms, the web with a local desktop client and a mobile application that allows users to meet online, with or without video. In the desktop app, Zoom supports two recording services: local recordings and cloud recordings. Local recordings are available for free and paid subscribers, while cloud recording is automatically enabled for all paid subscribers.
Now let's get down to business. As long as you are a host, or the host has granted you permission to record the meeting in progress, there is a "Record" button at the bottom of the screen. There, let's start recording a Zoom meeting.
Step 1: Join a meeting call, at the bottom right of the screen click the Record button. Continue by selecting to record to this computer or record to the cloud.

Step 2: Select Record on this computer. The recording process will start with a small Recording... label in the upper left corner.
Step 3: Record the meeting for as long as you need. Or, you can use the Pause and Stop buttons that appeared during the recording. If you choose Pause, the current recording will be labeled as Paused Recording and you can resume it at any time. If you choose Stop, the recording will stop immediately, displaying a pop-up window telling you that "the recording file will be converted to mp4 when the meeting ends".

Step 4: By default, all recordings will be placed in a Zoom folder located in the following file path on these devices
Except for the default location, you can also find recorded videos by navigating to the Meetings section of the application and then to the Recorded tab, or click the gear icon on the home screen, open Settings, and then click the Recording tab in the left pane, where you will find the recording location for zoomed videos. You can also change the default location to anywhere you want on the same site.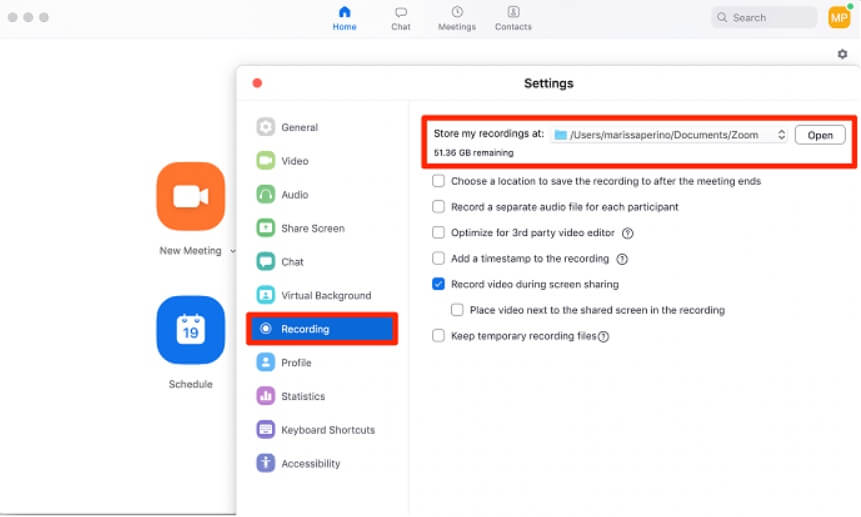 Step 5: You can share your local recording with others by uploading it to third-party cloud storage, content/learning management or a video streaming service such as Google Drive, YouTube or Vimeo.
Part 2: How to Record A Presentation with Powerpoint Internal Function
Many people wonder if PowerPoint has an internal function to record both video and audio presentations and the answer is yes. How to record a presentation with PowerPoint Internal Function in a series of very simple steps is presenting bleow.
Step 1: You must open your PowerPoint presentations which you want to record and once opened you will have to click on the "Insert" button on the top left and then on the right of all the options that appear when you click on "Insert" on the right hand side you will see an option that says "Screen Recording", press this button.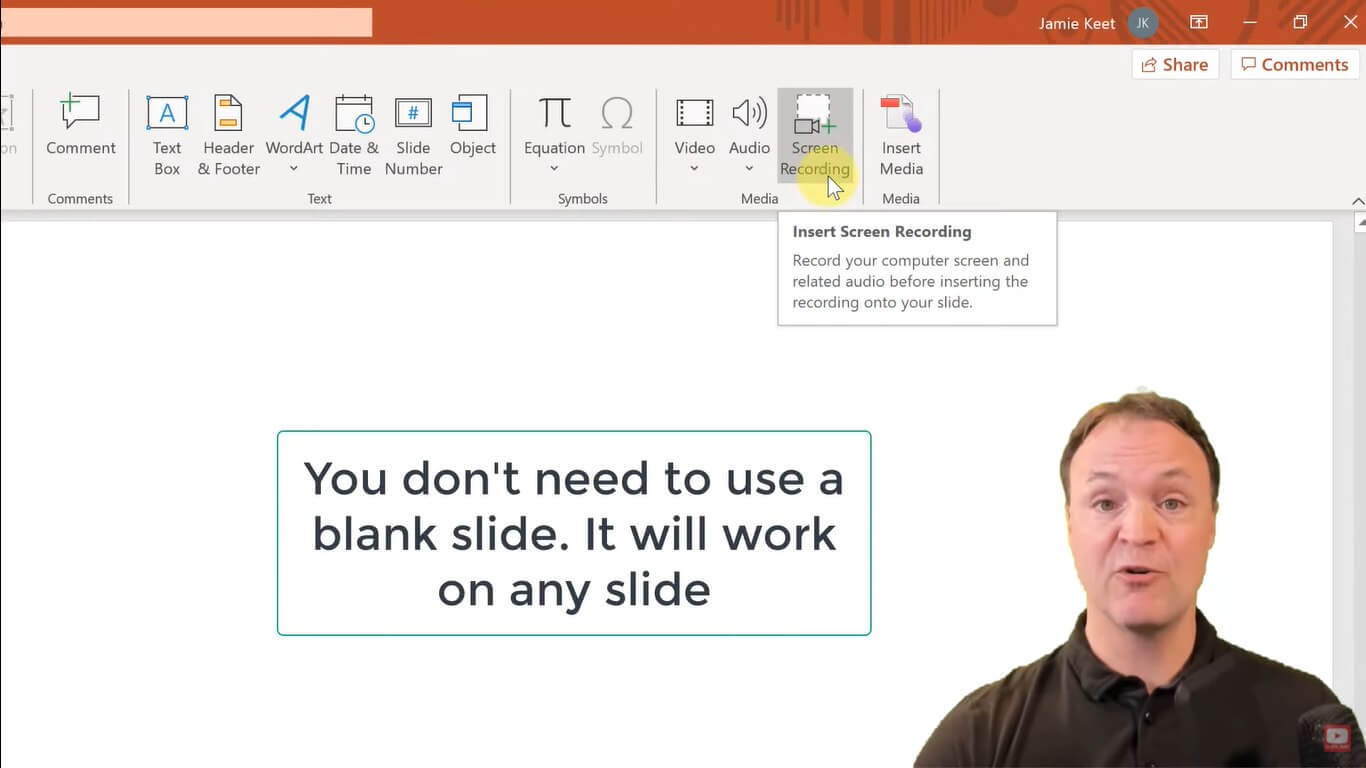 Step 2: Now a small window appears with several options.

Step 3: The first thing to do is to click on the "Select Area" button and select the area you want to record.
Step 4: Press the "Audio" button and make sure it is checked.
Step 5: To start recording just click on "Record" and you can start recording. To end the recording click on the button to the right of "Record", the button called "Stop".
Part 3: How to Record A Presentation with Filme
Filme is a kind of video editing tool with lots of powerful functions that contains the function of recording screen which can be used to record a presentation as well.

iMyFone Filme
Step 1: Click on the downloaded file, an installation window will open, follow the steps until it is installed.
Step 2: Once Filme is open you will see the program with different options, you must click on the square where it says "screen recorder".
Step 3: At the bottom right of your screen you will see a rectangle with a red button, when you want to start recording press it. To stop recording just press F7 (you can also change it in the "Shortcuts" section). Once the recording is finished with F7, the Filme Editor will open.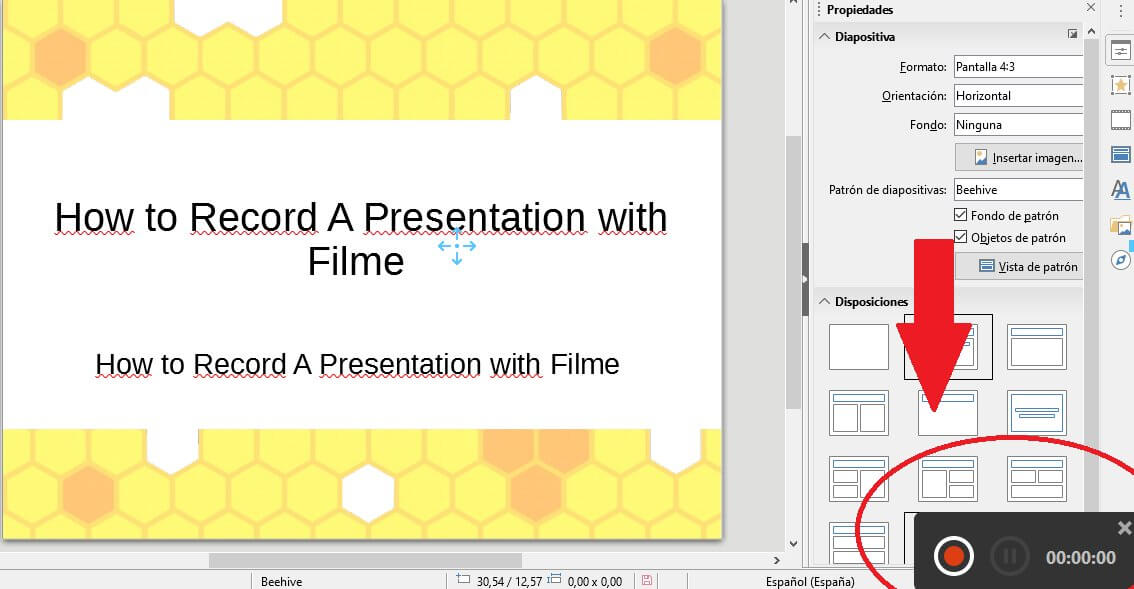 To stop recording just press F7 (you can also change it in the "Shortcuts" section). Once the recording is finished with F7, the Filme Editor will open.