Linkedin Video ads is a promotional content format that plays before, during and after in LinkedIn feeds. Video ads can be created within the campaign manager and posts can also be sponsored with videos from the user's LinkedIn page. It is a convincing way through which users can reach a professional audience. It is somehow useful to construct leads,share content and for online acknowledgement etc.
Part 1: What is Linkedin ?
LinkedIn is the world's largest professional network having 150 million experts all over the world. LinkedIn only focuses on the user's professional specification instead of asking for personal details like other social channels. In LinkedIn, users share data about work experience, corporations, abilities and every day working activities etc.
LinkedIn allows their users to create their own personal ID. Even non-existing members become a part of this network. This online social network will connect users to real-world professional relationships. LinkedIn is basically an opportunistic platform ,where users can gain knowledge from professionals, acquire opportunities to guide generations and ameliorate their social networking skills.
LinkedIn is for every individual who is intended to start their professional life more in a serious way, looking for new opportunities to develop their careers and to interface with different experts. Regardless of whether the user is a marketing chief at a significant organization, entrepreneur who runs a small or local shop ,or even a student searching for their first source of income after completing their bachelors.
LinkedIn is like a major virtual networking event where people proceed to meet different experts face to face ,share their ideas, talk about what they want to do and also trade business cards. People can also consider LinkedIn as the high-tech platform equivalent to attending customary networking events.
Part 2: Types of LinkedIn Video Ads
Sponsored content
One of them is sponsored content. These sponsored ads, no matter whether or not users are scrolling on their cellphones or on their desktop, display up over the audience's LinkedIn feed. To differentiate these commercials from everyday content they are labeled as "promoted". These sponsored ads are also called native ads or local ads.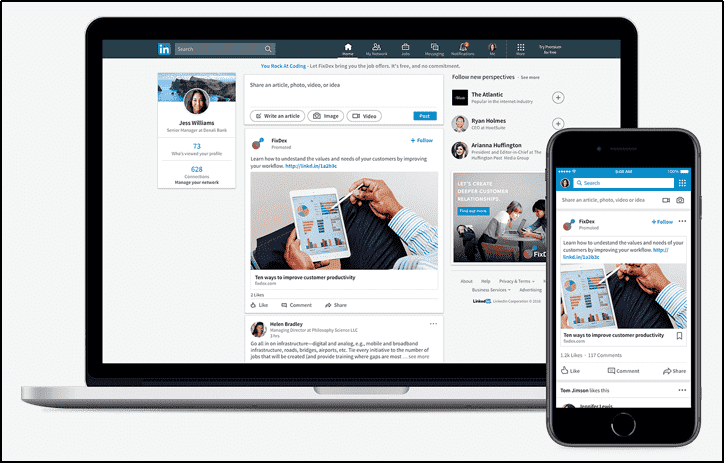 Sponsored messaging
Sponsored messaging are the informational or native ads, displayed for the users as a part of marketing or recruiting campaign. There are two types of sponsored messages: message ads and conversation ads
Text Ads
Text ads appear at the top right of user's LinkedIn feeds on their desktop. Leads are one of the main digital marketing products. 58% of marketers say that it improves lead generation so if users want to reach strong leads with professional demographics, text ads are a good choice. LinkedIn text advertising can be helpful in launching a wide-range network at a minimum cost.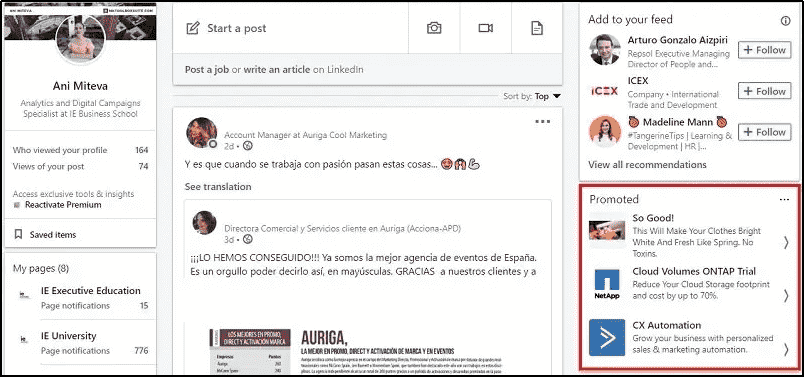 Dynamic Ads
In LinkedIn dynamics ads are shown in the right segment. These commercials interact with their audience through personalization. Personal information such as photo, name and title of job are displayed as soon as a dynamic ad appears in a member's feed. By changing settings users can also hide these personal details.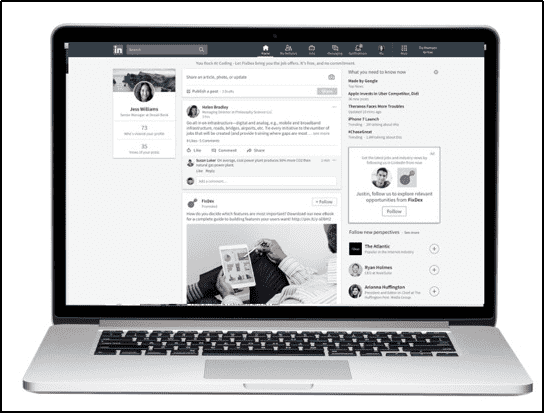 Awareness Ads
These ads are the best choice to seek attention from the audience. You can gain more followers, views and engage with more people with the help of these impression based campaigns.
Consideration Ads
Consideration ads are all about bringing new audiences to the entrepreneur and building strong relationships with them . This is what you might call the driving force behind discovery, connecting with customers, or marketing in the middle of the channel.
Carousel Ads
To spread awareness of product and brand, LinkedIn carousel ads use a series of sliding cards. The key point here is the use of powerful images for the reader to scroll through for more information. Major goal of carousel ads is mainly awareness of their products, engagement, and lead generation.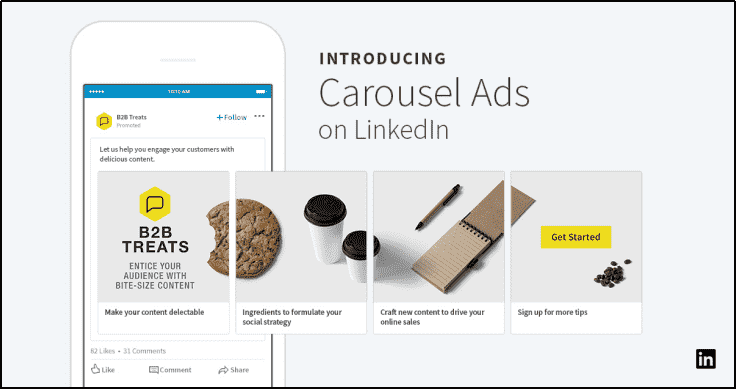 Part 3: How to Start Your Linkedin Video Ads
Step 1
●After logging into the LinkedIn account. Click on the "advertise" option at the top right side of the home page.

●If a user already has a campaign manager group then select that group otherwise create a new group.

●Select on campaign, then click on "create campaign".

Step 2
●In the next step , select the objective that best fits your goals.

●Now select "audience target". It's important for the users to understand the forecasted results.
●Click on the audience section and press the drop down arrow and then click on "saved audience", to apply a saved targeted template.
●If a user wants to upload a company or contact list he/she can also apply "matched audience".
●From the ad format section select the video ad the user wanted to add.
●After the completion of objectives and ad format, the "LinkedIn audience network" in the placement section will be enabled.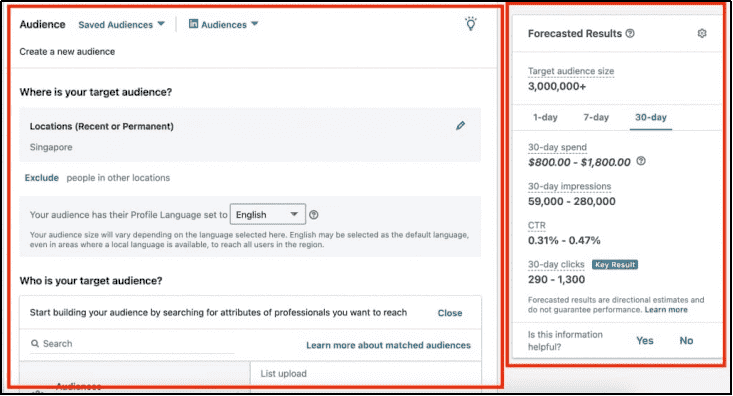 Step 3
●Fill the budget & schedule and bidding section.
●In conversion tracking(optional): If users have only one conversion then it will automatically be selected in their campaign but if they have several conversations at a time, 5 conversions will automatically be selected judging on which conversion is mostly used or recently updated.
●Then after completing all sections. Click on the next button and save data from the confirm save popup.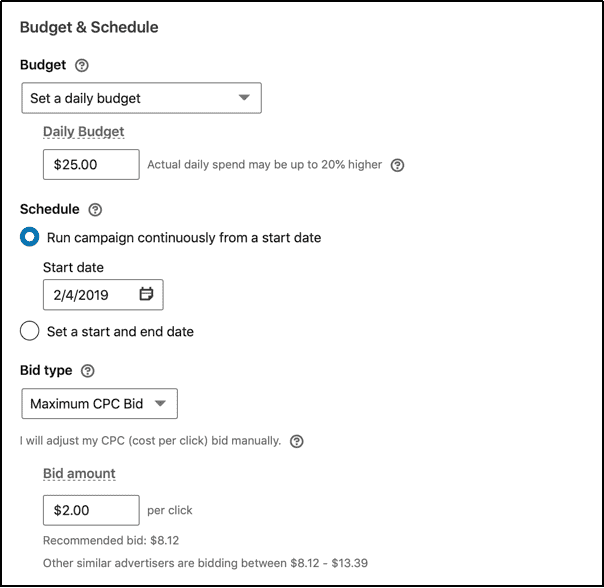 Step 4
●From the "ads in this campaign" section, select create new ad or browse existing content.
●For browsing existing content, click on checkbox and then in top right of the page there user will see sponsor button. Click that button.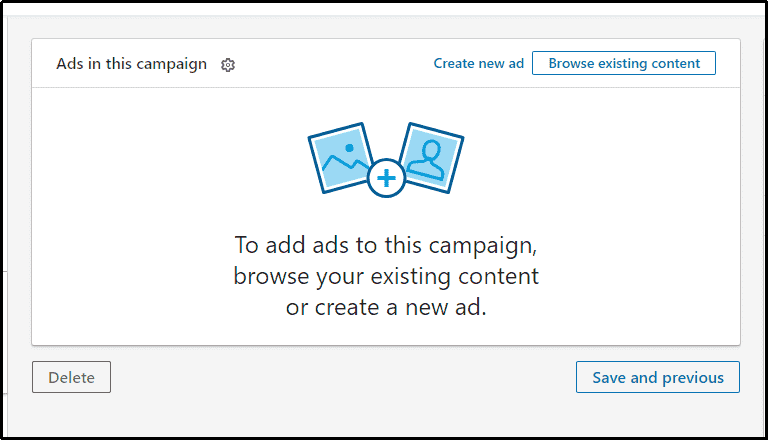 ●If you want to create a new ad. select create new ad button, complete the section and then press on "create"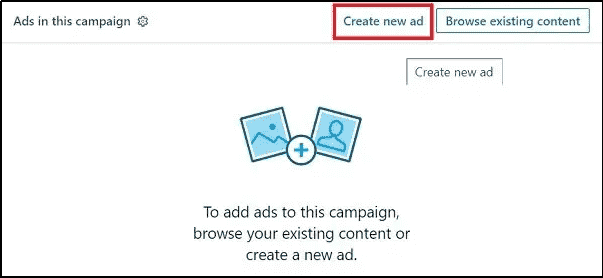 Step 5
●The next step is to review campaign
●Your information and details have to be correct in order to launch your campaign.
●If you find something incorrect you can make changes according to that by clicking the previous button at the bottom of the page .
●After reviewing the campaign, click launch campaign and then ad will start.
Part 4: LinkedIn Video Ad Examples
This video clip is the best example of a Linkedin video. The interaction between people and animated characters is perfect. The objective of this video is to provide viewers with a detailed introduction.
Part 5: A Great Video Tool for Your Linkedin Video Ads
Everyone wants a tool which is efficient and won't waste their time. Filme is the best choice to create linkedin video ads. It saves users time and makes video creation and editing easy by improving Linkedin video ad dimensions. Users can make a video in just a few minutes. It's functions make it incredibly easy to handle every type of video related content. Linkedin video ads can be created as well as edited by this software which makes them more amazing and interesting. Filme satisfies Linkedin video ad requirements by adding music, filters, effects and graphics. Following are the basic professional features that make it best among all video makers for the innovative creation of videos.
This video creation software has a large number of benefits and a wide range of functions. By using these functions users can crop,trim and split their video ads on Linkedin whenever and however they want.