A sophisticated voice synthesis program called "text to speech" reads both written and digital text aloud. Everyone uses the application, from professionals and students to young children and adults, and it offers a variety of use cases. And nuance text to speech is a very common answer for all that.
The use of text-to-speech software is very beneficial for the blind and those with learning disorders like dyslexia. Additionally, the software aids users in breaking down linguistic barriers and learning new languages.
Today we are offering a comprehensive overview of well-known Text to Speech programs like Nuance text-to-speech, including features, costs, and comparisons. So, without any further ado, let us check them out.
Part 1: All Things you Need to know about Nuance Text to Speech
With the help of neural network algorithms, Nuance's Text-to-Speech (TTS) technology produces a tailored, human-like user experience. Any consumer self-service application can be improved with branded, high-quality audio.
The lifelike voices provided by Nuance Vocalizer are educated on your usage case and dialog and have the same fluidity of speech as real agents. Vocalizer uses cutting-edge text-to-speech tech based on neural networks that recur to produce a voice that sounds far more human.
The caller experience is consistent across all IVR and mobile platforms thanks to Nuance TTS, which gives your brand a distinctive voice. Your brand doesn't need to employ, brief, or record vocal talent in order to say anything you want it to say when you need it to.
The customer experience is improved with Nuance Text-to-Speech capability, which has been honed over 20 years and enables more human, tailored interactions.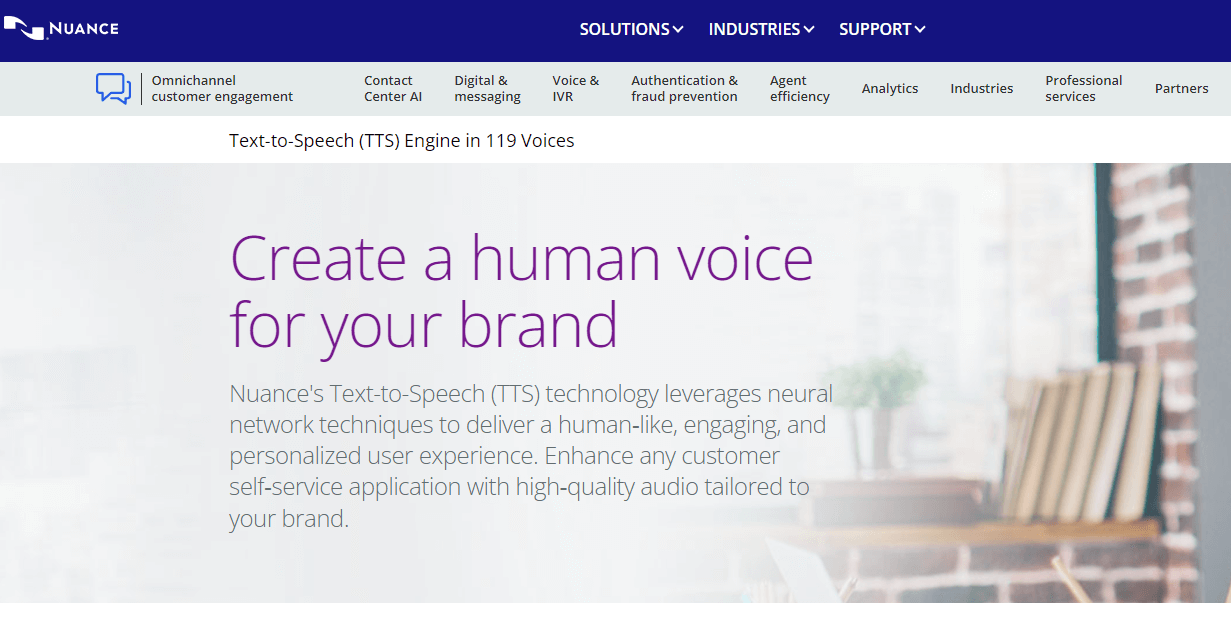 Key Features:
Enhanced caller experience.

Cost savings from automating more calls.

Control and flexibility in application updates.

Set your brand apart with a personalized voice experience.

API.

Adjust Speaking Rate / Pitch.

Audio Optimization.

Custom Lexicons.

Different Voice Choices.

Multi-Language Support.
Pros:

Excellent API integration.

Multiple voice choices.

Creating amazing brand voice lines.
Cons:

Not a beginner-friendly solution.

Can cost a massive deal.
Pricing:
The good news is all the purchases are one-time for their lineup. However, they can get pretty costly.

For the home version of windows, you have to pay 200 USD. For both the professional and legal versions, it will cost 500 USD.

Voices & Languages: 119 Voices with 30+ languages to choose from.

Platform & OS: SASS, Windows, IOS, android.
Voices & Languages:
119 Voices with 30+languages to choose from.
Voices & Languages:
119 Voices with 30+languages to choose from.
Part 2: 6 Best TTS Alternatives to Nuance Text to Speech
Voxbox is now an amazing text-to-speech generator available to Windows users. It's a desktop application that produces excellent voice and straightforward text-to-speech recordings.
It gives the user a selection of voice options. Enter the text there, then choose "create" from the submenu. After that, the speech can be exported directly to a computer.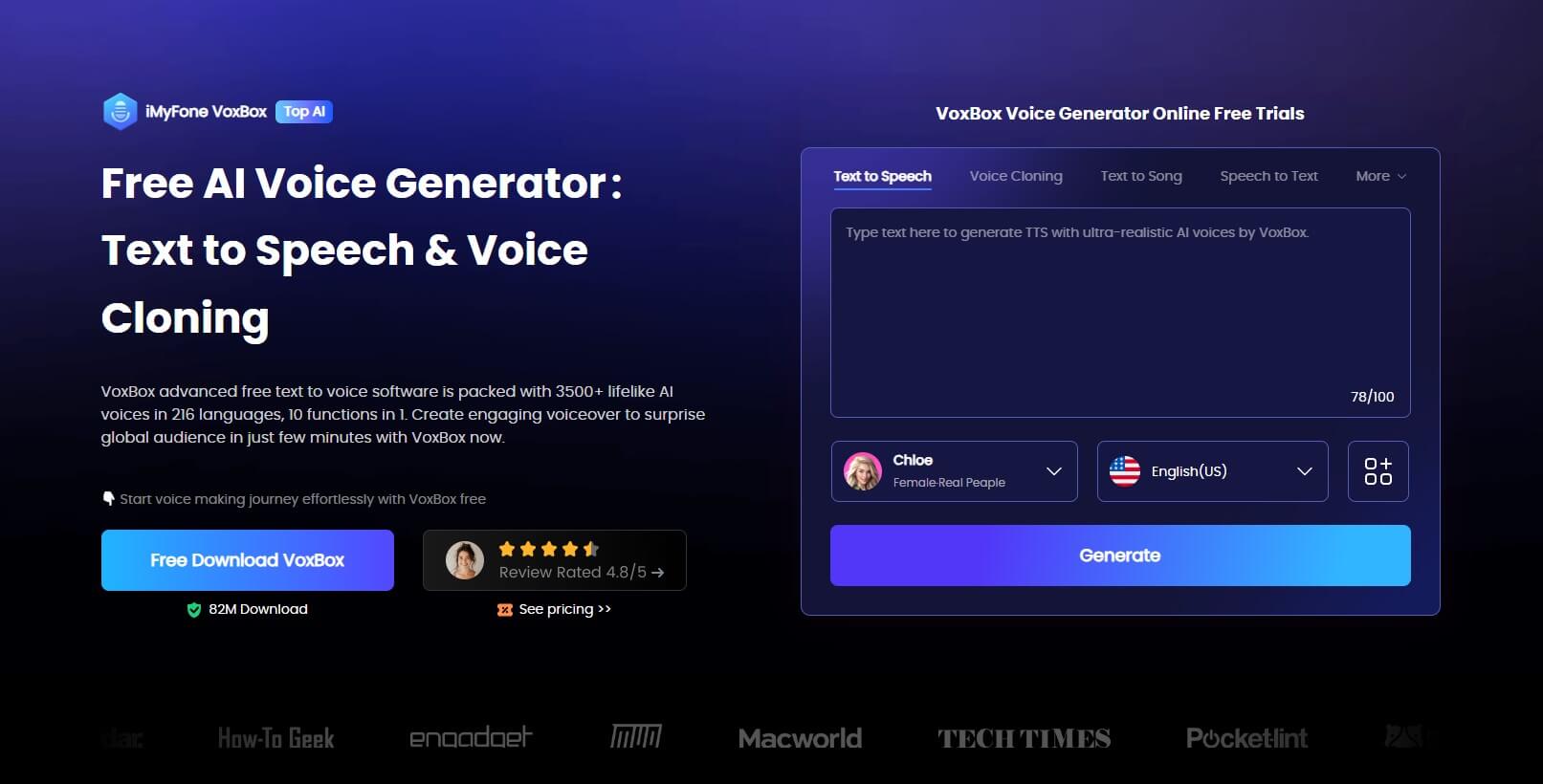 Tips
No voice artists are needed, and no recording equipment is needed. You can easily convert your text to speech and voice using the
TTS Voice Gnerator
iMyFone VoxBox
! Download it and try it out for free now!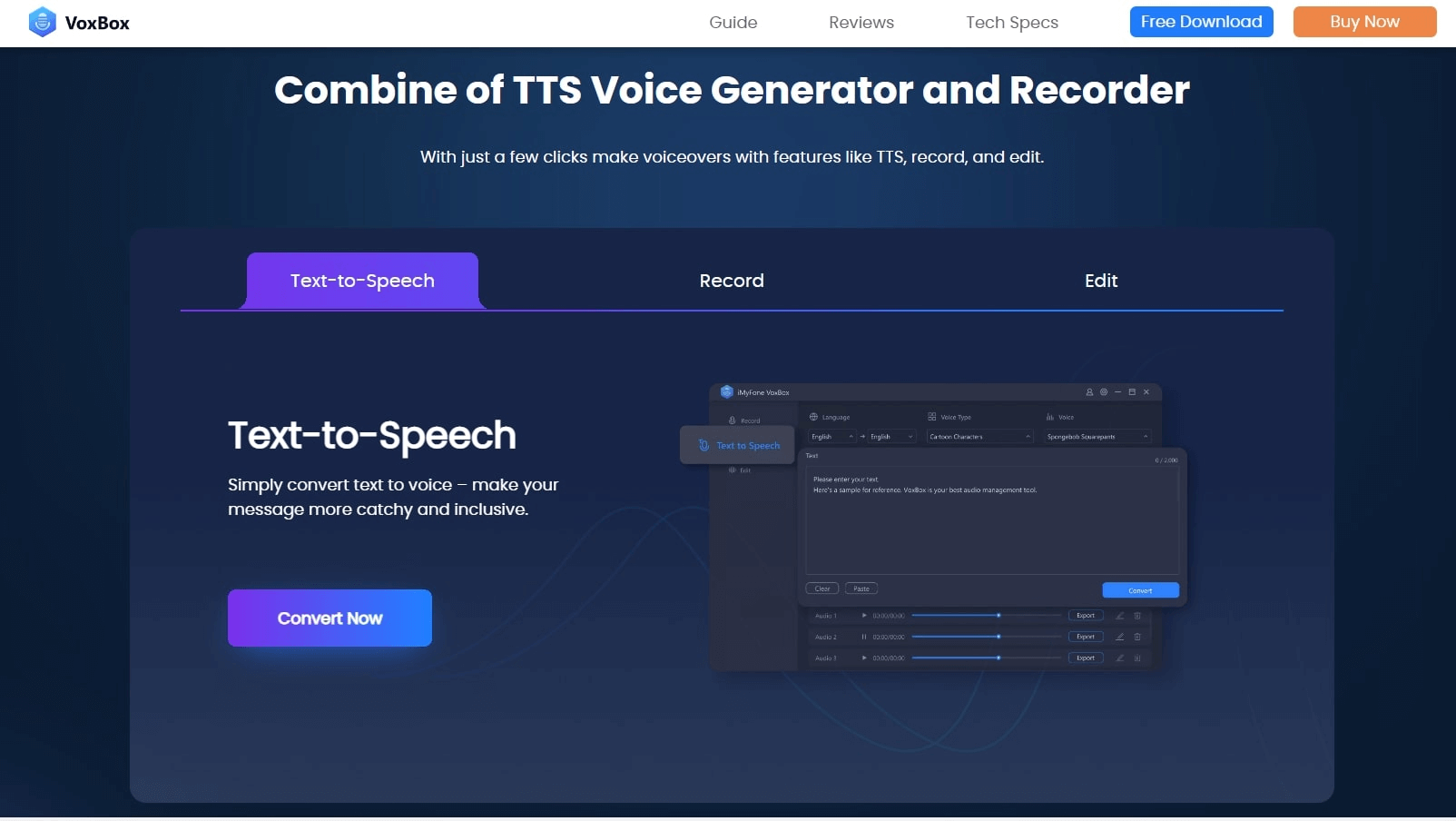 Key Features:
The voxbox text to speech software supports 22+ distinct languages, and users can pick from a variety of natural voice options.

Voxbox will produce a voice in your language of choice for any content you submit.

After that, by storing it in a form that is allowed, you could share the generated voice with coworkers, colleagues, or individuals studying a foreign language.

You may effortlessly listen to any of your favorite novels or papers on the fly using the web-based VoxBox program.
Helps you communicate with your foreign business relationships by removing linguistic hurdles.
Offers over 3200+ distinct voices of well-known actors, singers, characters, and more.
Have more than 22 distinctive country accents to add flavor to the track.
Pros:

You can use the software to cut, trim or even add any recorded clips.

You can use the software to cut, trim or even add any recorded clips.

Simple to use interface; usually Require little to no instruction to get started.

Before buying the complete product, you can test the free version.
Cons:

Has a 2000-character cap.
Watch this video to learn more about the Best Nuance Text to Speech Alternative VoxBox:
400 neural voices in 140 languages and dialects can engage audiences worldwide. With extremely emotive and human-like voices, you can give text readers and voice-activated assistants a life of their own.
Numerous speaking tenors are supported by neural text-to-speech, including screaming, whispering, newscaster, customer service, and happy and sorrowful emotions.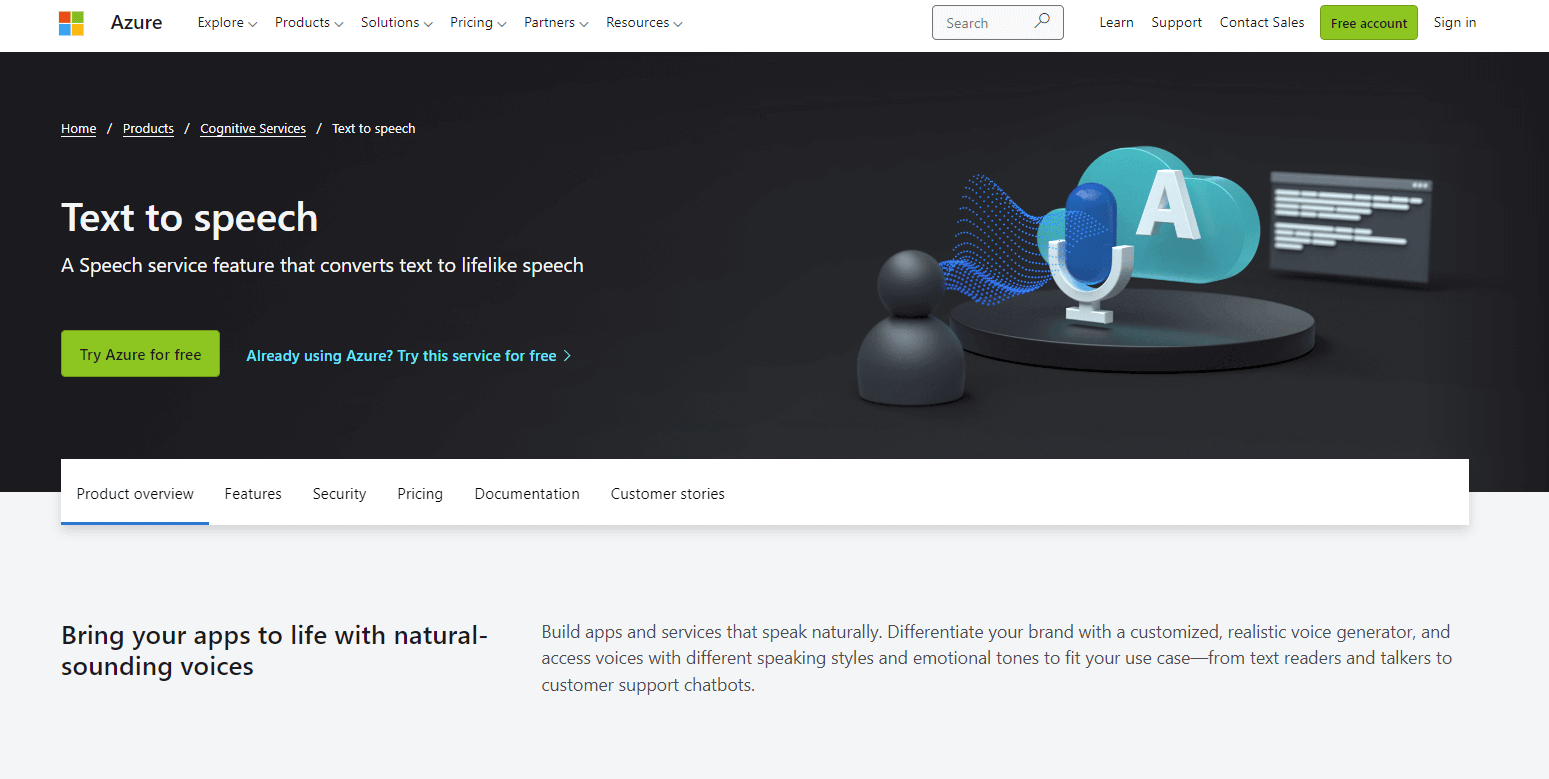 Key Features:
Text-to-talk with fine-grained audio.

Adaptive deployment.

Customizable voices for text-talkers.

Lifelike artificial speech.
IBM's natural language processing machine is called Watson. It fuels a number of AI-based business solutions, like as Watson Speech to Text and the renowned question-answering supercomputer (opens in new tab). In this review of Watson Speech to Text, we'll examine at one of the greatest speech-to-text programs available today, which is great for anyone who needs to convert audio to text on a large scale.
Its availability as an API, in contrast to most other speech-to-text programs, enables developers to integrate this into voice control systems and other applications.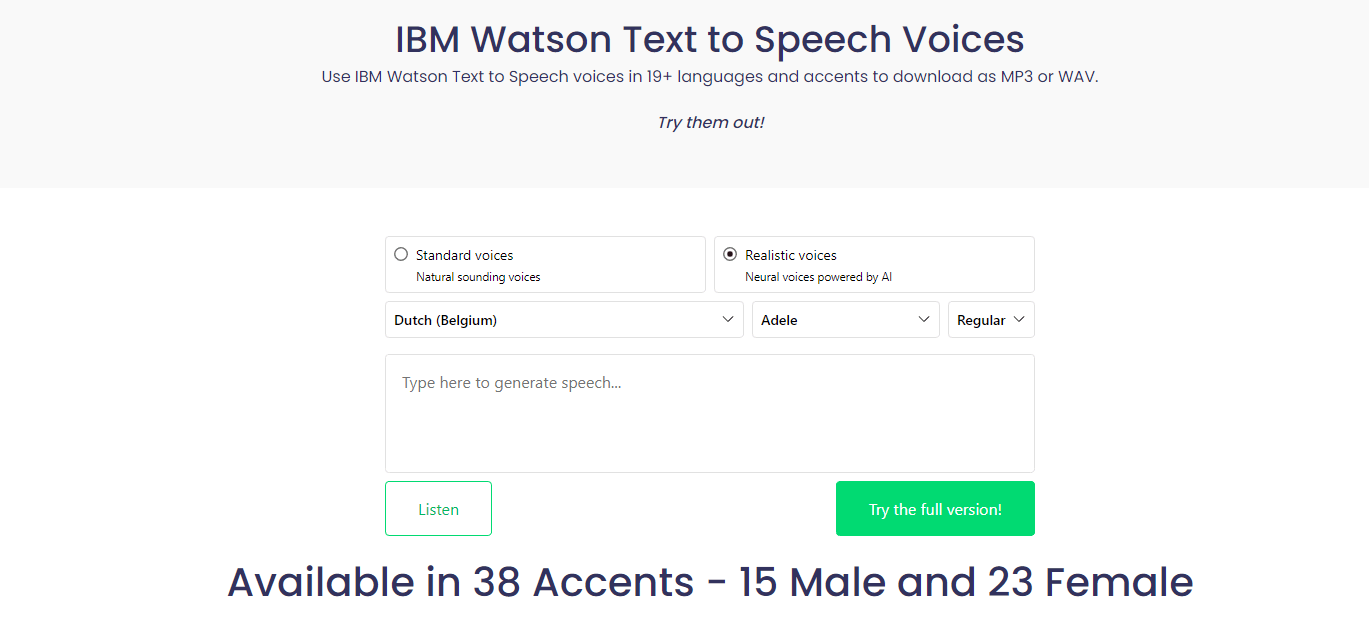 Key Features:
Boost customer engagement and experience.

Both on-premises and cloud implementations are available.

Automate our organization's demands and transactions.

Recognition of voice.
All generated voices are crystal clear and sound natural.
For companies, small-medium organizations, and independent video producers wishing to create incredibly realistic voices across all ages, languages, and dialects without having to pay pricey voice actors, Murf AI is an essential tool.
There is no need to incorporate a third-party application because this feature-rich platform gives you all the resources you need for voice production, including the option to sync voiceovers with video presentations.
Murf Studio makes it simple to create and edit voiceovers; tasks that once required hours, days, or even years to complete are now completed in a matter of minutes.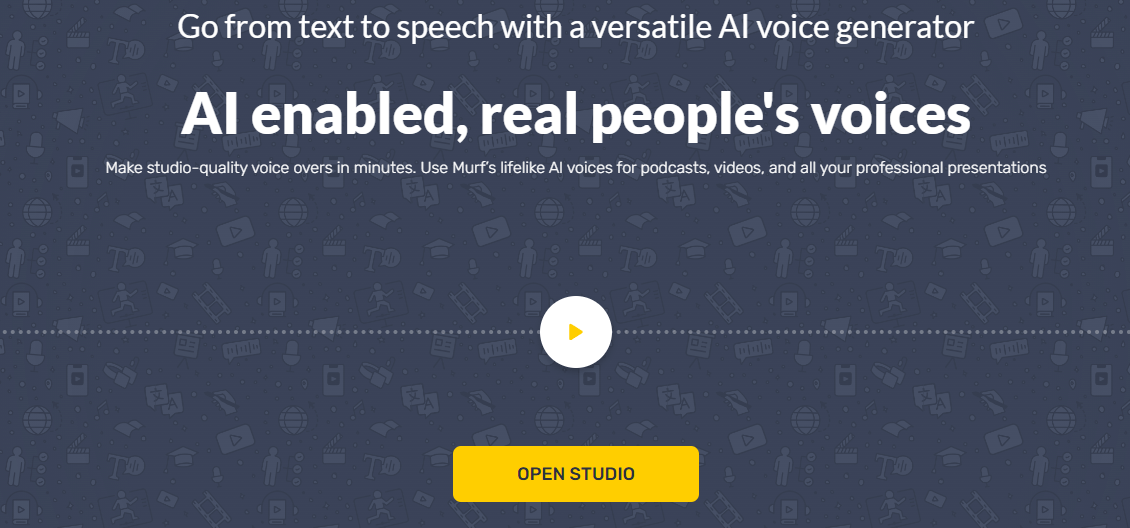 Key Features:
It has grammar support.

Convert a human voice into a voice.

Instant voice-over and video creation are Possible.

Download and Export.
Google Cloud Text-to-Speech is indeed a sophisticated platform that lets you translate text into a voice using an API supported by Google's AI technology. It enables you to engage users with the voice user interface on your gadgets and applications. You may tailor your message to the user's speech and language choices using Google Cloud Text-to-Speech.
You may create speech synthesis with human-like intonation using Google's cutting-edge technologies. The API generates voices that are very similar to human quality thanks to DeepMind's speech synthesis capabilities.
Using this platform, you may develop your own unique voice to represent your business across all customer touchpoints, as opposed to using a standard voice used by many businesses.

Key Features:
Custom voice.

Voice and language selection.

Wavenet voices.

Text and SSML support.

Pitch and speaking rate tuning.

Volume gain control.
With the help of the service Amazon Polly, you may turn text into realistic speech and develop new types of speech-enabled goods and applications. With the use of cutting-edge deep learning technology, Polly's Text-to-Speech (TTS) service creates human speech that sounds natural.
Along with Standard TTS voices,Amazon Pollynow provides Neural Text-to-Speech (NTTS) voices, which use new machine learning techniques to bring advanced increases in speech quality. Two speaking idioms are supported by Polly's Neural TTS technology.

Key Features:
Easy to use API.

Wide Selection of Voices and Languages.

Adjust Speaking Style, Speech Rate, Pitch, and Loudness.

Synchronize Speech for an Enhanced Visual Experience.
Part 3: FAQs about Nuance Text to Speech
1. Is Nuance text to speech safe?
Nuance tts is completely safe to use and trusted by thousands of loyal customers worldwide.
2.What is Nuance Vocalizer?
With less expense and bother than employing voice talent, Vocalizer is a full, enterprise-ready text-to-speech production engine that enables highly personalized, human-like consumer interactions.
3. Which is the best alternative to Nuance Text to Speech?
There are plenty of options on the market, but we highly suggest you to check out VOXBOX for its amazing sets of features.
4. Is there a program that converts text to audio?
Voxbox is now an amazing text-to-audio generator available to Windows users. It's a desktop application that produces excellent voice and straightforward text-to-speech recordings.
Conclusion
Nuance text-to-speech is one of the leading TTS solutions that offers great features. That being said, with extreme price levels and a lack of support, many people look for alternatives. And that is where VOXBOX comes into play.
As one of the leading TTS solutions today, VOX offers a wide range of features. Multi-language support and so much more. So download it right away for any for your future text to speech endeavors.