In today's digital world, the need for high-quality and natural-sounding text-to-speech solutions has never been greater. That's where Brian text to speech comes in. With its advanced AI technology and wide range of voices, Brian offers a seamless and effective way to convert text into engaging audio content for various applications.
Tips
Listen to the Brian Voice Generated by VoxBox.

Part 1: Best Brian Text to Speech Voice Generator to Make Brian Voice
iMyFone VoxBox is a cutting-edge tool that combines Brian text-to-speech technology with advanced AI voice cloning capabilities. With VoxBox, users can generate lifelike and customizable Brian voices, enabling them to create engaging audio content with a unique touch.<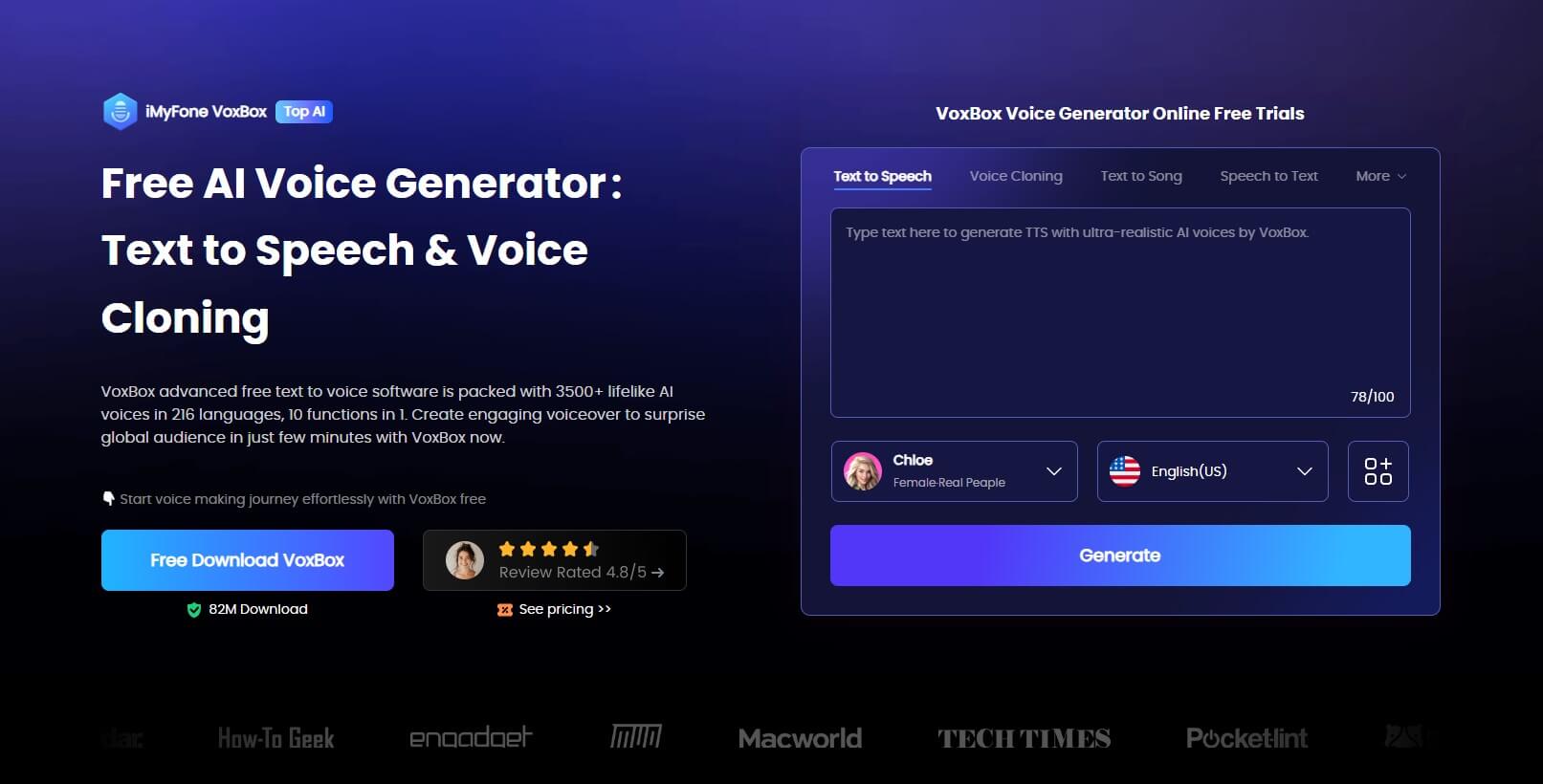 How to Make Brian AI voice:
Step 1: Download and install VoxBox on your device to get started.
Step #2: In the Text-to-Speech section, choose the Brian voice option and enter the desired text for conversion.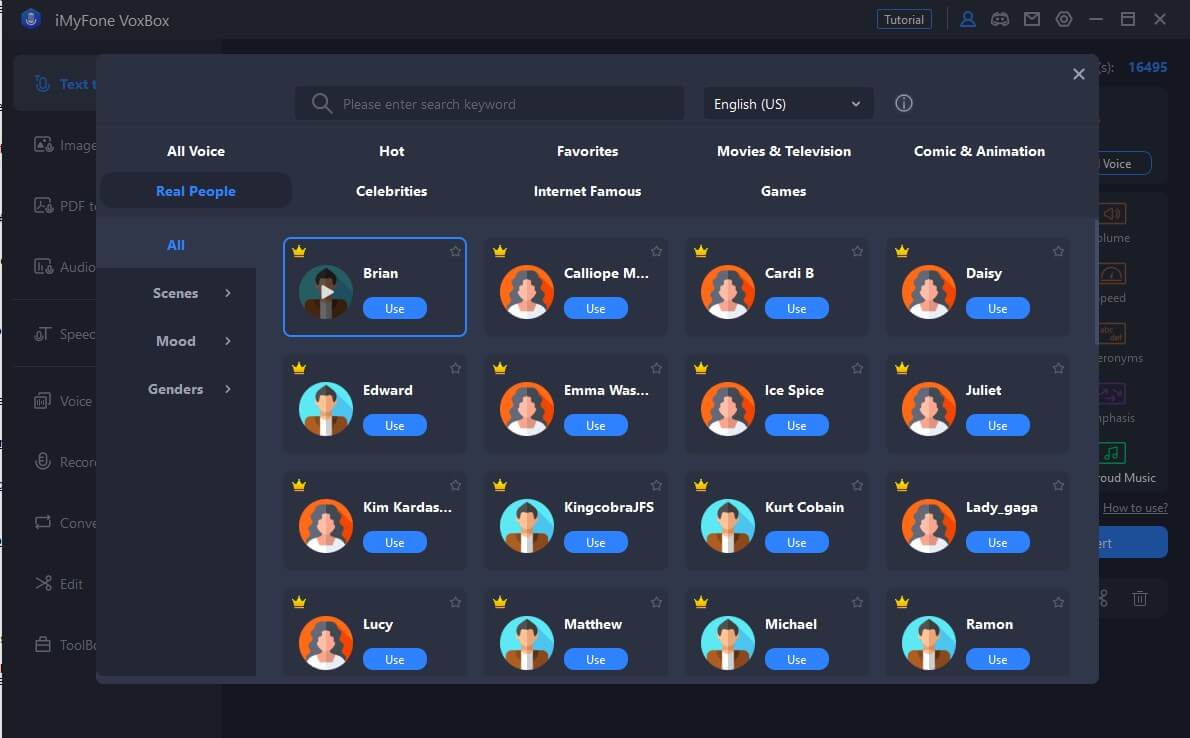 Step #3: Click the "Convert" button, and VoxBox will quickly transform your text into speech. Save the generated audio for future use.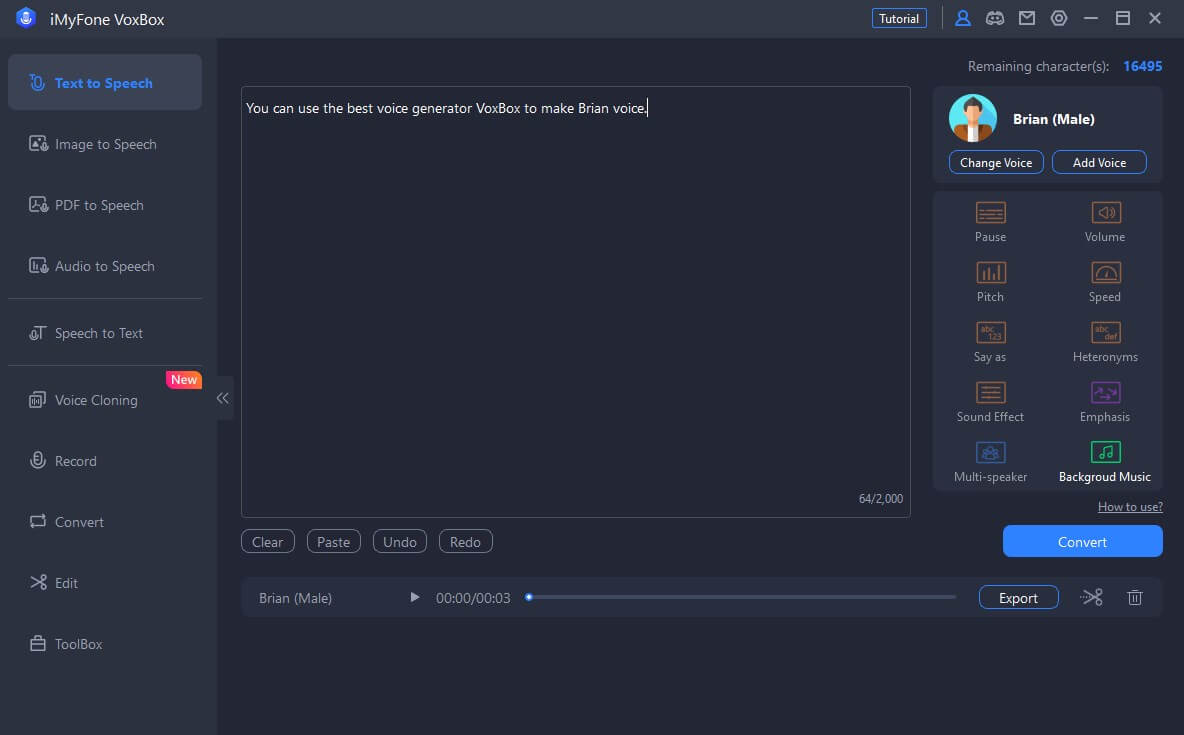 Key Features:
Access a diverse catalog of over 3200 high-quality voices such as Eric, Sarah and more.

Generate text-to-speech results in 46+ languages from around the world.

Customize your audio with 100+ accents to add a unique touch.

Explore a range of functionalities, including voice generation, speech recognition, voice recording, converting, editing.

A remarkable AI cloner to gain Brian voice.

Fine-tune your audio with adjustable speed, pitch, and volume options during text-to-speech conversion.

Apply to your videos and audiobooks or podcasts.
Watch the video below to know more about Brian Voice Generator
Part 2: Other Powerful Text to Speech Brian Tools for You
Amazon Polly offers a Brian text-to-speech voice that provides natural and lifelike speech synthesis. It supports multiple languages and is widely used for various applications, including voice-over work, interactive voice response systems, and more.

Key Features:
Amazon Polly utilizes advanced deep learning technologies to generate high-quality and natural-sounding speech.

It supports a wide range of languages, including English, Spanish, French, German, Italian, Japanese, and many more.

With Amazon Polly, you can customize various aspects of the speech output.

Amazon Polly employs neural text-to-speech (NTTS) technology, which generates more expressive and deep voices like Brian.

Integrates with other Amazon Web Services (AWS) offerings, such as Amazon S3, AWS Lambda, and Amazon CloudFront.

Supports Speech Synthesis Markup Language (SSML), which allows users to add additional markup tags to control the pronunciation, intonation, and other aspects of the speech.
Acapela Group provides a Brian text-to-speech voice generator that delivers high-quality and expressive speech. With customizable accents and pronunciation options, it offers a versatile solution for creating engaging audio content.

Key Features:
Offers a wide selection of high-quality voices in various languages, accents, and age ranges. This allows users to find the perfect voice to match their specific requirements and target audience.

The voices provided by Acapela Group are designed to sound natural, with intonation and inflection that closely resemble human speech.

Users can adjust parameters such as pitch, speed, and emphasis to achieve the desired sound and match the specific context of their application.

Acapela Group offers developer-friendly tools, APIs, and SDKs that facilitate easy integration of their text-to-speech technology into different applications and platforms.

Provides voice branding services, allowing businesses to create a unique and recognizable voice for their brand.
Part 3: FAQs about Brian Text to Speech
1. What is Brian Text to Speech?
Brian Text to Speech is a cutting-edge technology that uses artificial intelligence to generate human-like speech from written text.
2. How can I use Brian Text to Speech?
To use Brian Text to Speech, you can simply input your text into the software or platform that supports it, and Brian's voice will convert the text into spoken words.
3. Can I use Brian Text to Speech on different devices?
Yes, Brian Text to Speech is typically available on various devices, including computers, smartphones, tablets, and smart speakers, depending on the platform or software you choose to use.
Conclusion
In conclusion, Brian text to speech is a valuable tool that meets the growing demand for realistic and versatile audio content. Whether it's for educational purposes, multimedia production, or accessibility, Brian's advanced AI technology and diverse voice options make it an ideal choice. However, for those seeking additional functionalities like VoxBox is highly recommended, offering a comprehensive suite of features to enhance your audio creation experience.