Video game AI voice generator is of great use both for the development of games and for the crowd who like to play games. It enables developers to create characters from different backgrounds and cultures. Whether it's a bravado pirate, a majestic mystical wizard, or a quirky robot with a penchant for humor, the AI voice generator conjures a voice that perfectly matches the character's personality.
Additionally, they are catalysts for game accessibility and inclusivity, providing audio descriptions, subtitles and translations in real-time, ensuring gamers of all abilities and language preferences can fully enjoy games. This inclusivity enables a wider audience to participate in the game world, fostering a more diverse and vibrant community.
In this article, we will introduce best 5 video game AI voice generators and teach you how to generate video game text-to-speech voice easily.
Part 1: Best Video Game AI Voice Generators With TTS For Voiceovers
Let's explore best video game text to speech voice generators to make AI voice to promote your gaming experience.
1.VoxBox - Video Game Text to Speech & Voice Clone
VoxBox stands as a formidable video game AI voice generator, equipped with robust text-to-speech and voice cloning capabilities. Its versatility shines through in multiple ways: it offers access to an extensive library of over 3200 sounds for crafting immersive game narrations and supports the customization of your voiceovers.
Recognized as the best video game AI voice generator, VoxBox features a wide array of voices, including those of real individuals, celebrities, and virtual characters, even popular video game character AI voices. You can even employ your beloved in-game characters for dubbing, elevating your gaming experience and enhancing concentration during gameplay.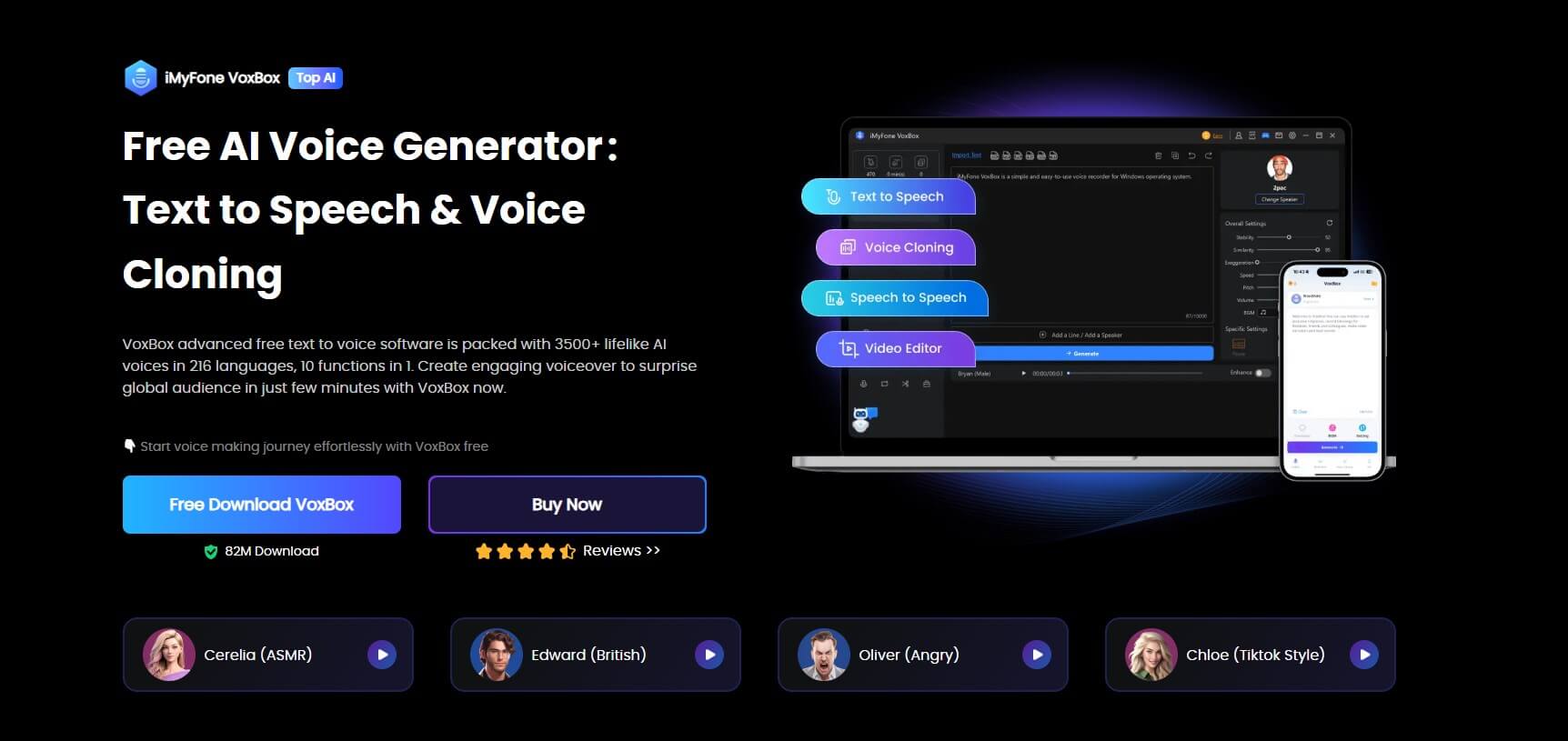 Free To Get Video Game AI Voice Via TTS:
#Step1: Download and install VoxBox on the web, then open it.
#Step2: Navigate to "Text to Speech," and click on "Change Voice." From there, select the voice option you preferred according to the voice types.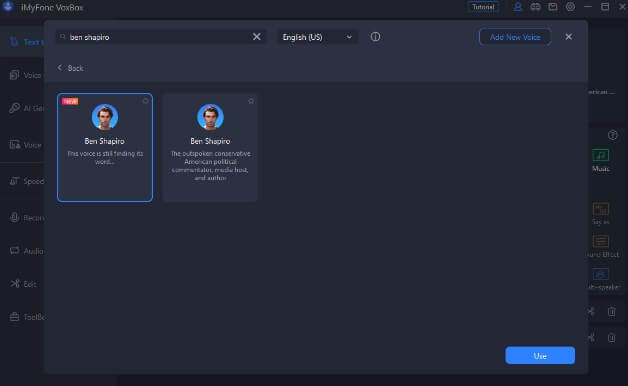 #Step3: Next you can convert the text and generate dubbing for your games.
Key Features:
Most voice filters to choose from including numerous video game characters.

Provides the ability to generate professional narrations for games.

Access over 3200 voice models with 77+ languages to make voiceover.

Complimentary 2000 characters for a trial for video game text-to-speech.

Comprehensive features: voice generation, cloning, recording, conversion, and audio editing.

Flexible output audio file formats.
Resemble.ai is your premier online video game AI voice generator, enabling game developers to create immersive, dynamic, and character-driven voices for their virtual worlds. With its advanced cloning engine and flexible API, you can directly select existing sounds from its sound library or leverage its cloning capabilities to easily create unique sounds and integrate them into your gaming experience.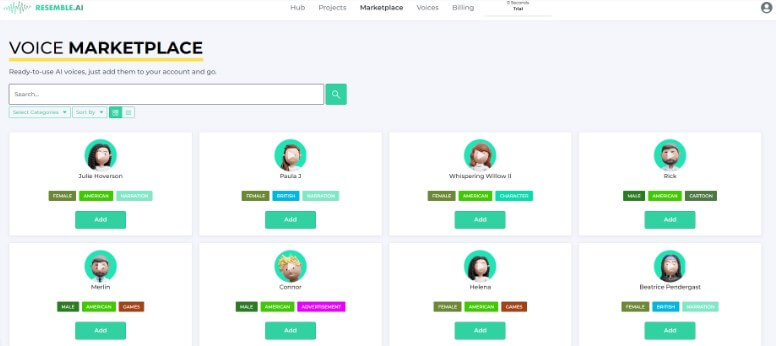 Key Features:
Real-time voice generation.

Craft voices tailored to your characters.

Offers an API into your workflow.

Easily clone voices from existing audio.

You can play audio directly from the Editor and link it to assets in your scene.

Voice cloning is not free.
Play.ht is another online AI video game voice generator we will recommend for you. With Play.ht AI voice cloning and text-to-speech capabilities, you can effortlessly create top-tier voices for your characters, elevating your games, cartoons, and movies to a new level of immersion. You can take full command of speech nuances to craft the perfect voice performances that captivate your audience via Play.ht which covering a number of character voices.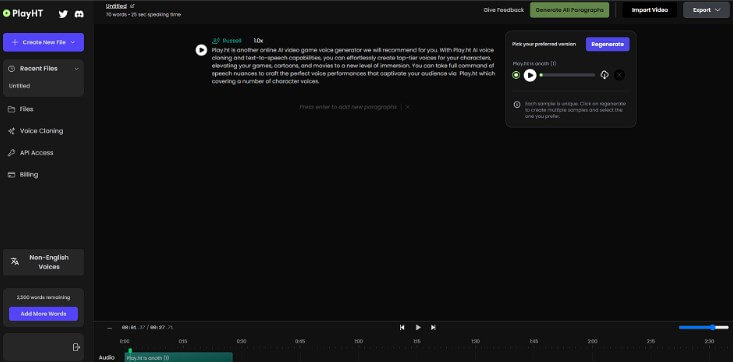 If you just get video game text-to-speech voice, then first you should log in with your account and enter the tts interface, and choose which voice you like then generate and edit the AI game dubbings.
Key Features:
2,500 words remaining for beginners.

Supports to import videos and add voiceover audio.

Output your character's voice in global languages.

Apply to various cases including business.

You can access voices using Playht's API.
Part 2: Top Video Game AI Voice Generators To Change Your Voice
This part you will learn several voice changers to transform your sound into video game AI voices when playing games.
MagicMic stands out as a real-time AI voice changer software tailor-made for video gamers, providing an extensive collection of 600+ soundboards and over 225 voice effects. Specifically designed for video game enthusiasts, Magicmic offers a diverse selection of soundboards featuring character voice lines and game-related sound effects.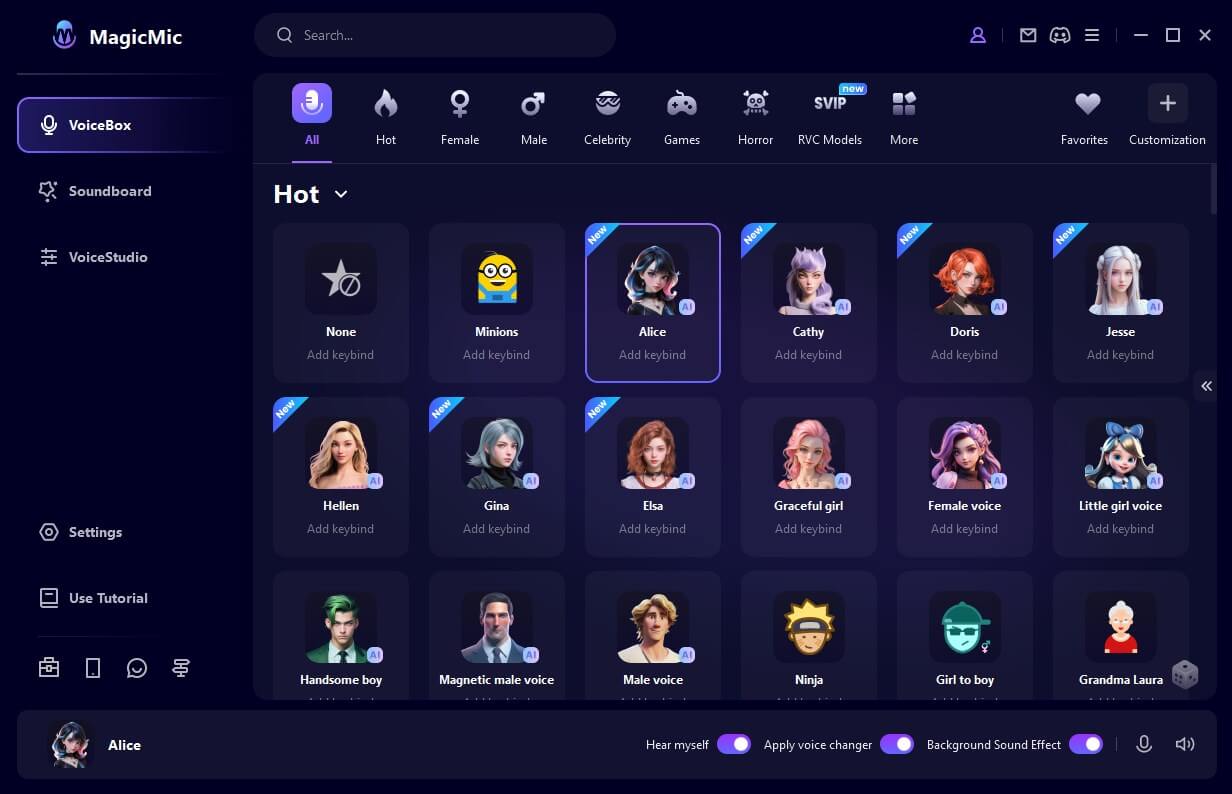 Key Features:
Instant feedback during gameplay through real-time voice-changing.

250+ voice filters, 600+ sound effects, and 200+ voice memes including PJSK, Apex Legends and more.

Small CPU usage during your gaming sessions.

Fully compatible with communication platforms such as Discord, Skype.

Customize your gaming experience with configurable hotkeys.

User-friendly interface for all gamers.
For video gamers seeking real-time voice modulation, Voicemod is also an ideal video game AI voice generator. This versatile and dynamic tool enables the transformation of both male and female voices into an array of captivating alternatives. Voicemod seamlessly integrates with a wide range of chat and streaming software, including Discord, Twitch, VR Chat, and Skype. You will improving your gaming interests by applying voice changes in popular live games.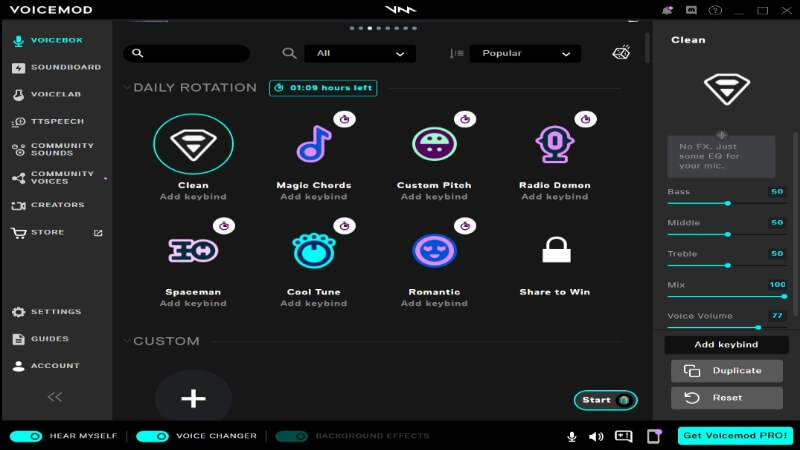 Key Features:
Provides diverse voice effects and personalized configuration choices.

Set key bindings for instant access to your favorite sounds.

Comes with about 80 voice filters.

Voice editing features provided.
Part 3: FAQs about Video Game AI Voice Generator 2023
1.What are the applications of a video game AI voice generator?
Video game AI voice generators are used in game development to create voiceovers for characters, NPCs (non-player characters), and in-game dialogues. They can also provide real-time voice modulation for player communication in multiplayer games.
2.Is a video game AI voice generator compatible with popular game development platforms?
Most video game AI voice generators are designed to be compatible with common game development platforms and engines, making it easy for developers to integrate them into their projects.
3.What are some popular video game AI voice generators in the market?
Popular video game AI voice generators include VoxBox, Resemble.ai, PlayHT, and Voicemod, among others. The choice of generator depends on specific project requirements and features needed.
4.What types of games benefit from video game text to speech?
Video game TTS can benefit a wide range of games, including RPGs, adventure games, interactive fiction, and games with extensive dialogues or text-based interactions.
Conclusion
In conclusion, video game AI voice generator not only enhance storytelling but also democratize game development, making high-quality voiceovers accessible to creators of all scales.
VoxBox is a perfect voice generator with its extensive library of over 3,200 voices, support for 77 languages, and the ability to create custom voiceovers for all gamers. Its text-to-speech and voice cloning capabilities ensure that your characters and narratives resonate with players.