For the creation of a realistic and seamless voice, picking the best voice over generator is essential. A voice over generator can be used to produce voiceover work for your videos and convert blog content to podcasts, videos, and much more.
This detailed buying guide will help you select the top ai voice over generator. You may save time and avoid spending any time in front of a mic with the aid of these text-to-speech technologies. The environment for voice creation has undergone a significant transformation as a result of recent advances in AI. Nowadays, it might be challenging to distinguish between an actual human voice and an AI voice.
Here is our top 4 list in 2022. So without any further ado, let us dive right in and check them out.
Part 1: Top 4 Voice Over Generator
iMyFone VoxBox is now an amazing text to speech generator available to Windows users. It's a desktop application that produces excellent voice and straightforward text-to-speech recordings. It gives the user a selection of voice options. Enter the text there then choose "create" from of the submenu. After that, the speech can be exported directly to a computer.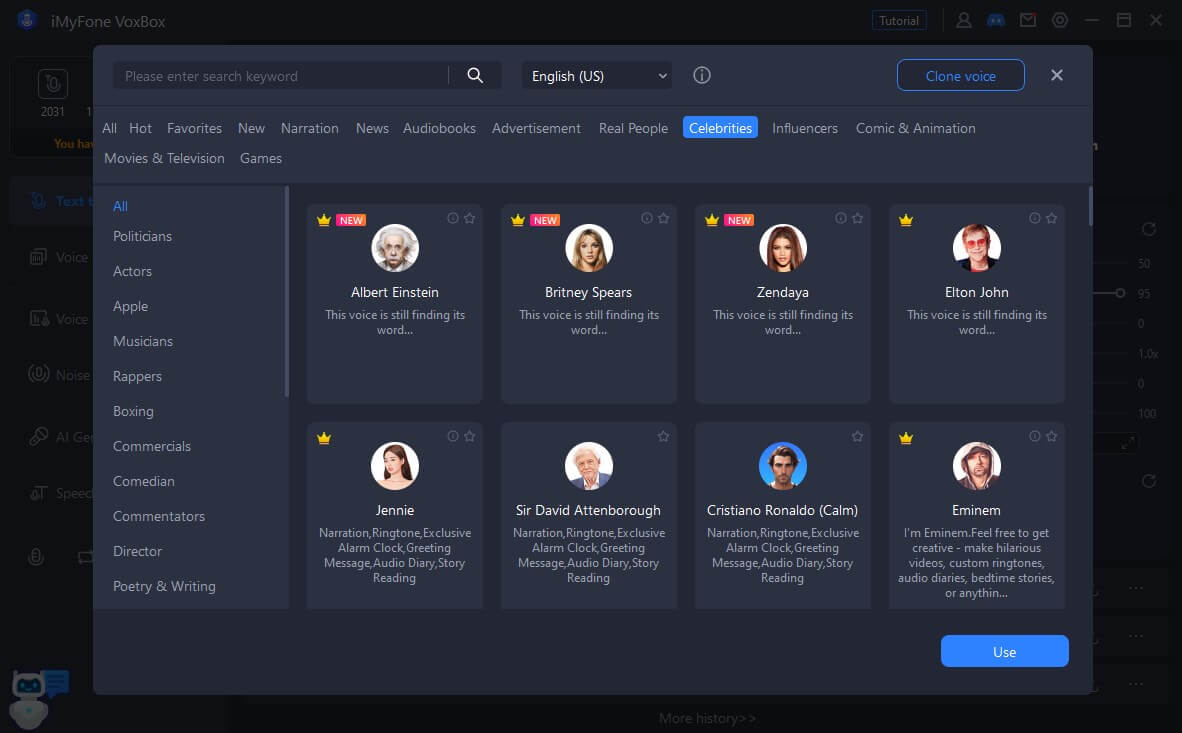 Key Features:
3000+ voices like rappers, YouTubers, cartoons, celebrities, etc.

11 global languages like Spanish, Japanese, British.

25+ Country accents like a British accent and a Hindin accent, etc.

4-in-1 software of voice record, generate, convert, and edit.

It allows you to export different audio files in multiple formats all at once.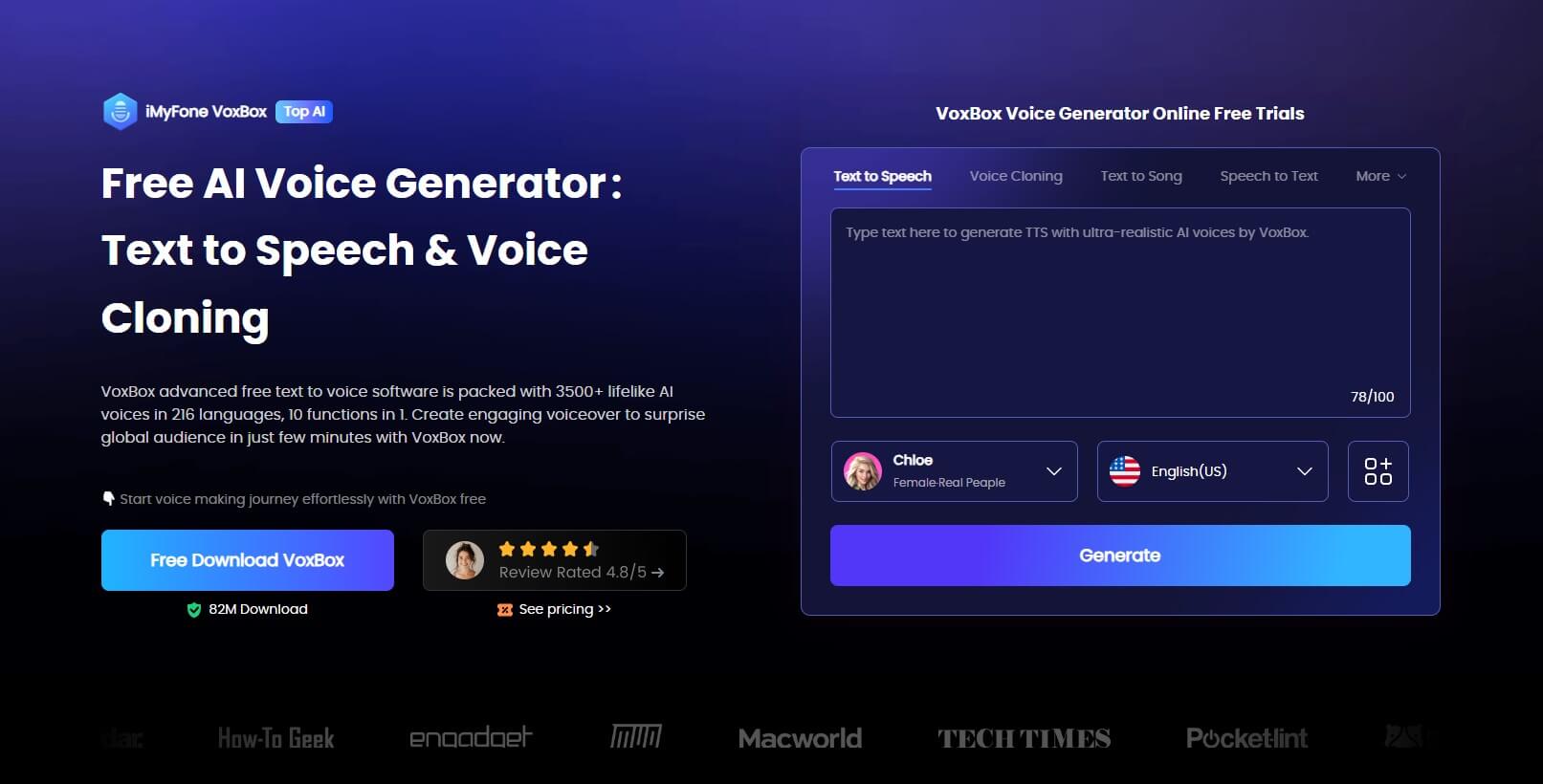 Pros:

You can use the software to cut, trim or even add any recorded clips

Simple to use interface; usually Require little to no instruction to get started.
Cons:

Only Windows
Try it Free
Speechify is another famous text-to-speech reader that ranks in the top 10 TTS tools all around the world by winning the hearts of more than 20 million users. It allows users to get their desired words in speech using top-ranked voices in a very simple way.
Key Features:
Receive IVR Text-to-Speech to Speech TTS IVR Prompts can be quickly created and downloaded in most major languages.

Create illustrative IVR prompts using free software development tools.

VoiceOver SDKs - Our Free Open-Source Textual to Speech (TTS) and Automated Speech Recognition (ASR)voice-enabledu voice-enable mobile applications.

Cloud and Customized Integrated Solutions, Hosted and Integrated TTS Service Voice Recognition and Text to Voice Customized Embedded, Internet, and SAPI Solutions for ANY Devices or Use Scenario

Automatic Speaker Detection and Text to Speech SDK, APIs TTS and ASR.

Speech API supports Speech Recognition in More Than different Languages and Natural Text-to-Speech conversion.
Pros:

Excellent features for the tech savvy.

Completely open sourced.

Voice enables ASR

Cloud and integrated solutions.
Cons:

Needs for you to sign up before using.
The voice-over app you need for everything! Utilize our collection of more than 200 human-like voices in 50+ languages to produce jaw-dropping voiceovers!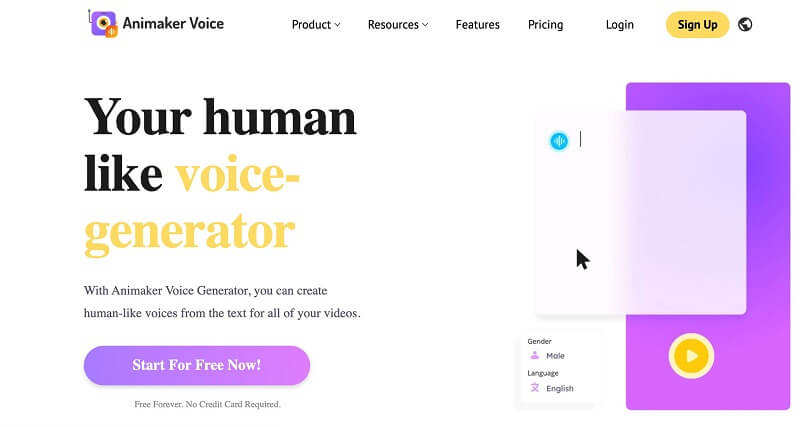 Key Features:
With the help of sophisticated voice controls, you may give every word more emphasis or a different tone, as well as adjust the voice over's loudness, speech rate, pitch, and other features.

Break- With the help of this tool, you may add pauses between words in the voice-over output.

Breath- You can add real breathing noises to your voice over text-to-speech using this function.

Whisper- By using this option, you can change the voice over from being spoken normally to a whisper.

Emphais- You can choose to increase or decrease the stress on a word or phrase with this tool.
Pros:

Control every aspect of your generated voice from the speech, break to even the pitch.

As real as it gets.

Can be used to make YouTube, branding, wishes, explainer, and other videos.
Cons:

Only downloadable format is mp3.
Speechify is the route to go if you're seeking for a more recent program that allows you access to real-time speech with authentic-sounding voices. One of the best programs is this one. This program, which utilizes the most recent AI technology, is accessible on all significant platforms, allows you exposure to a variety of languages, and offers a variety of voices.
Test out the Speechify Voice - activated generator. Change your voice and pace to fit your needs after you type or copy your text. The finest free voice generator is this one. A simple premium upgrade is available for premium features.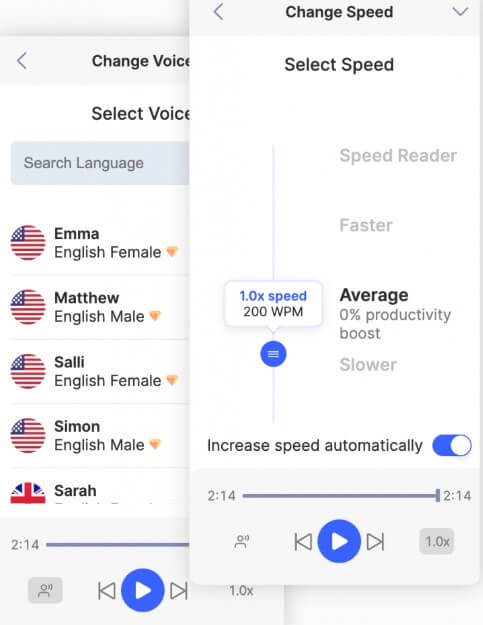 Key Features:
Artificial intelligence-generated natural human HD voices increase the enjoyment and delight of listening.

60+ languages are instantly translated.

High-quality text extraction using cutting-edge OCR technology and deep learning.

There is no speed limit; to save money and be more effective, listen at up to 900wpm!

VIP assistance is available whenever you require it from the Speechify team.
Pros:

Supports iOS, android and even has chrome extension.

Listen at any speed you want.

Can be used on any text anywhere on the web.
Cons:

The extension can feel a bit complicated.
Part 2: Comparison of Top 4 Voice Over Generator
Product Name
Platform
Languages
Voices
User rating
Price
iMyFone VoxBox

Windows

11 global languages

3,000+ voices

4.8

1-Month/$19.95

1-year/$24.95

Lifetime/$59.95

Speechify

Web based

60+

/

4.8

1-year/$139

Animaker

Web based

50+

200+ Voices

4.7

Voice Pro: $19/Month

Animaker Pro: $49/Month

iSpeech

Web based

24

male & female

4.7

Contact them
Conclusion
The topic of the top 4 text-to-speech voice over for you has been covered today. From the official iMyFione website, you can download the iMyFone VoxBox program and try out all the other incredible sounds.
The software is incredibly user-friendly, has a ton of capability, and, most significantly, lets you download a trial edition before committing to a full purchase.
So, with that said, have a fun recording and get VoxBox text to speech software right away.
Try it free
Watch this video to learn more about the Best TTS Tool iMyFone VoxBox: