If it is possible to create free text-to-speech dubbing for your videos with voices in multiple languages and accents. There should be no quicker way to test the timing and impact of a voiceover script. Just log in, register an account, create generated voiceovers, and use them for your videos, test projects, or storyboards.
Today we will introduce 4 of the best voiceover generators with AI to improve productivity, reduce costs and increase efficiency for enterprises.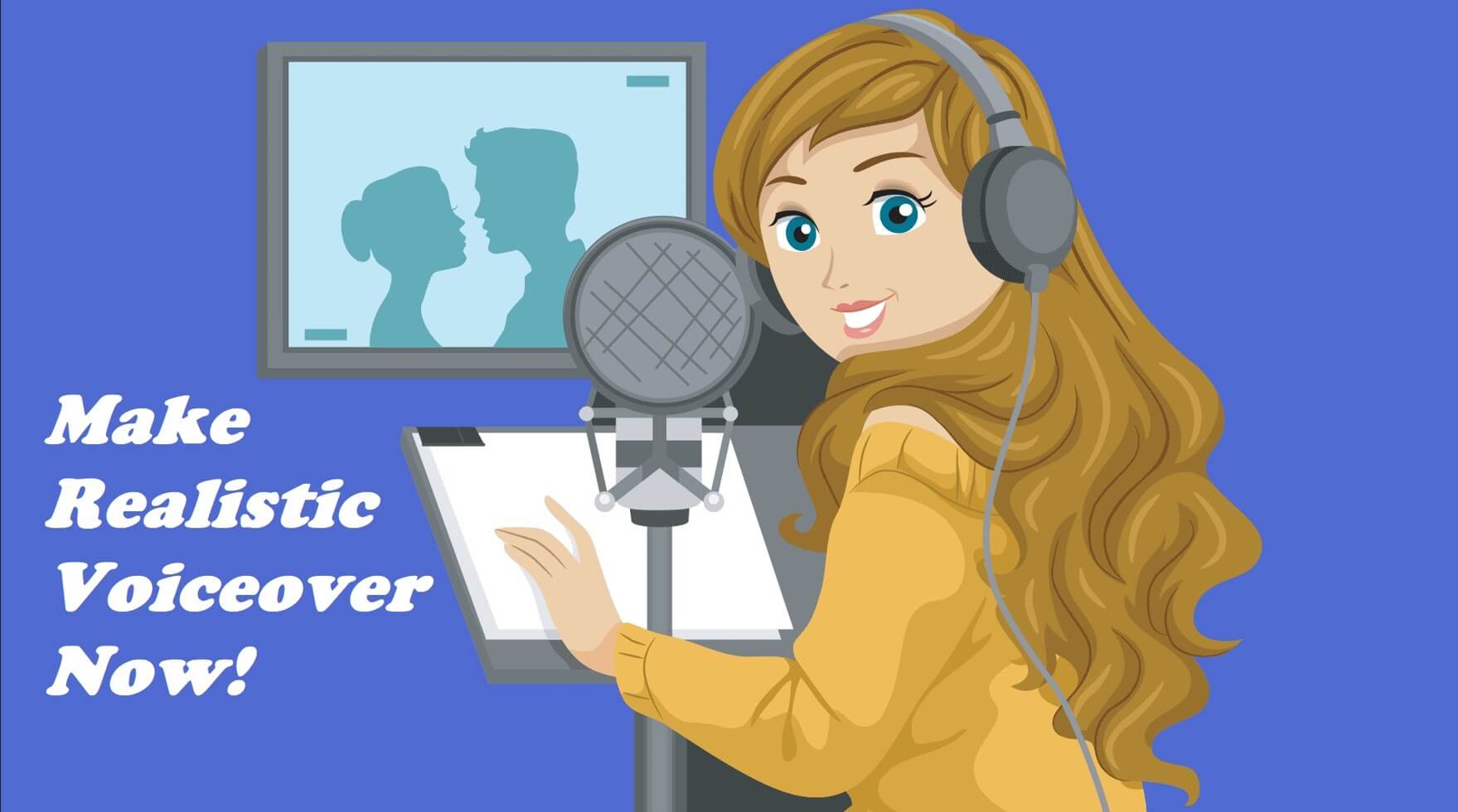 Listen to the natural and realistic voiceover

Part 1: What is Best Voiceover Generator?
AI voice is on the way, if you are a creator who is preparing a bunch of Instagram videos? Maybe you're a brand planning to strategically launch ads and memes for TikTok. Voiceover generators make it easier for you to do this, so how to decide on the best voiceover generator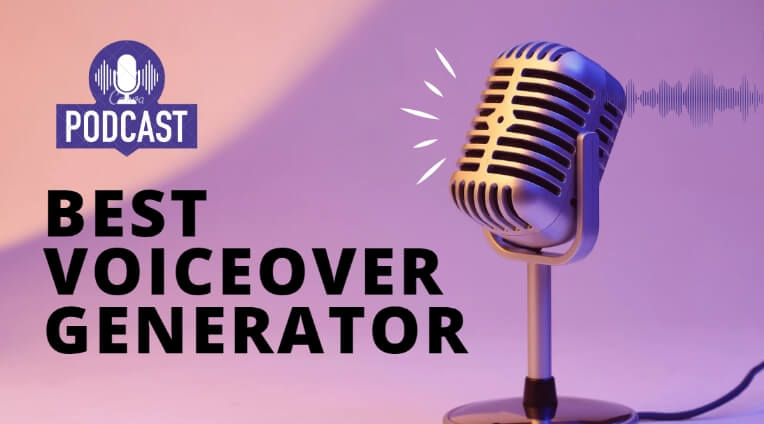 Here are the main features of the best voiceover generator:
Voice Quality and Variety: The best-in-class voiceover generator provides high-quality, natural voices in a variety of accents, tones, and styles to suit different content needs.
Language Support: It should support multiple languages to ensure your voiceover can meet the needs of global audiences.
Customization options: The ability to adjust parameters such as pitch, tempo, accent and tone allows you to fine-tune the sound to match the context of the content and the desired emotional tone.
Intonation and naturalness: Generated speech should have appropriate intonation and natural pauses, so it doesn't sound robotic.
Cost and plans: Pricing should be reasonable, with options for different usage levels and subscription plans.
Custom Voice Creation: Some advanced generators allow you to train custom voices, which is especially useful for brand consistency.
Sample Playback: A feature that allows you to listen to available voice samples can help you choose the right one for your content.
Part 2: Top 4 Voice Over Generator(Free Included)
List of Comparison of Top 4 Voice-Over Generators
In this part, we will show the best 4 voice-over generators (free), you can choose the most suitable one according to your needs to create audio for your content
Product Name
Platform
Languages and Accents
Custom Voice Creation
Sample Playback
Price
Customization options
iMyFone VoxBox

PC and Mobile

77+

Yes

Yes

1-Month/$15.95

1-year/$44.95

Lifetime/$89.95

Yes

Speechify

Web based

60+

/

No

1-year/$139

No

Animaker

Web based

50+

No

No

Voice Pro: $19/Month

Animaker Pro: $49/Month

Yes

iSpeech

Web based

24

No

No

Contact them

Yes
iMyFone VoxBox is an amazing voiceover generator via text-to-speech available to users. It's a free voice-over generator to some extent that produces excellent voices and straightforward text-to-speech recordings. It gives the user a selection of voice options. Enter the text there then convert it, after that, the speech can be exported directly to a computer and you can make your own voiceover.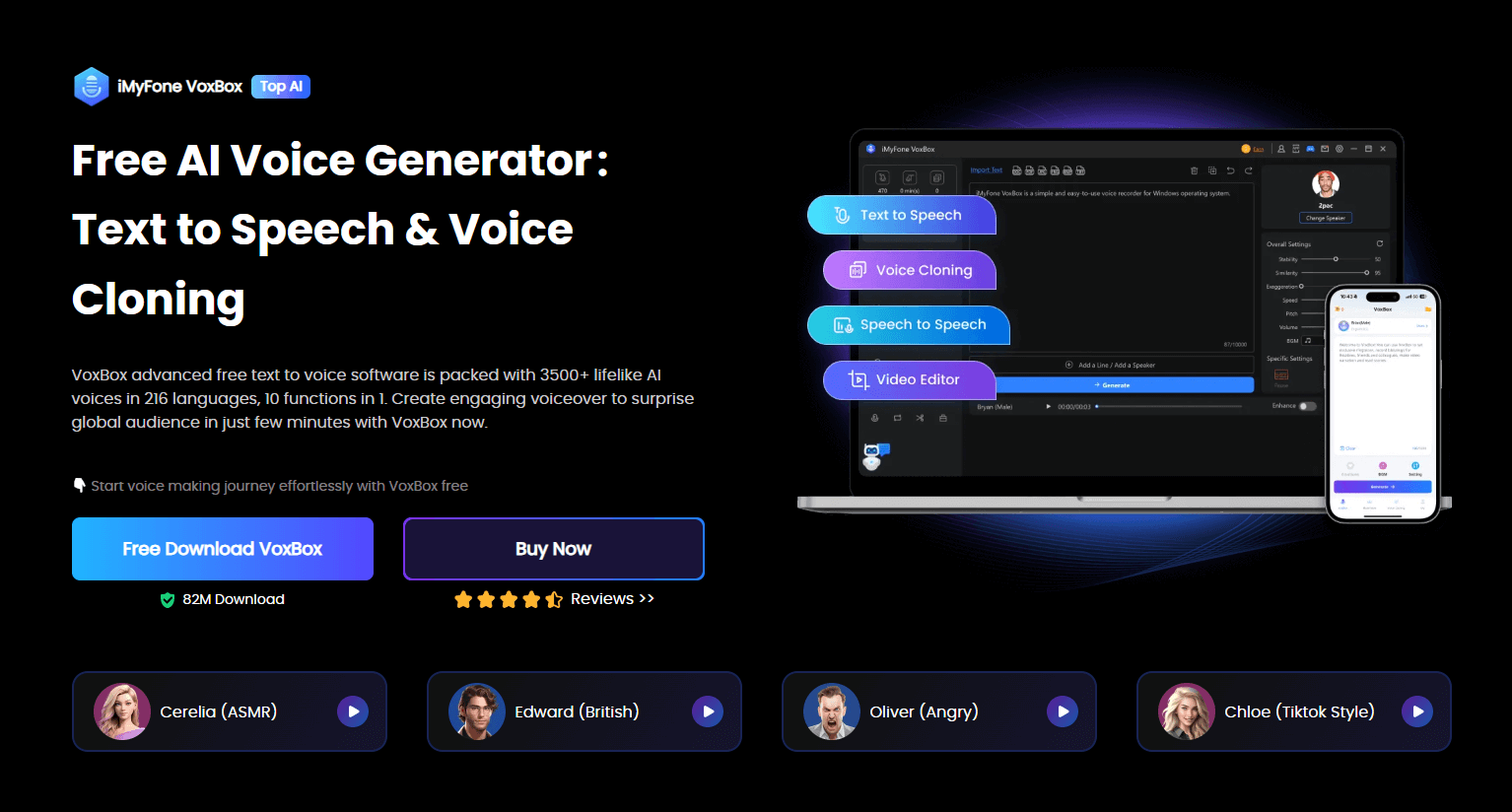 Key Features:
A great voice over generator offers 3200+ different types of funny voices like Goofy, Elmo to create voiceovers.

100+ languages and accents for text to speech

Supported custom voice cloning for voiceover

Adjustable options include speed, emphasis, volume, sound effects, etc.

It allows you to export different audio files in multiple formats all at once.
Pros:

It supports four versions of Windows, Mac, iOS and Android.

You can use the software to cut, trim or even add any recorded clips

Simple to use interface; usually Require little to no instruction to get started.

The resulting voiceover will generate within few seconds.
Cons:

You need to install by yourself.
iSpeech is another famous text to speech voiceover generator that ranks in the top 10 TTS tools all around the world by winning the hearts of more than 20 million users. It allows users to get their desired words in speech using top-ranked voices in a very simple way.
Key Features:
Receive IVR Text-to-Speech to Speech TTS IVR Prompts can be quickly created and downloaded in most major languages.

Create illustrative IVR prompts using free software development tools.

VoiceOver SDKs - Our Free Open-Source Text to Speech (TTS) and Automated Speech Recognition (ASR)voice-enabledu voice-enable mobile applications.

Automatic Speaker Detection and Text to Speech SDK, APIs TTS and ASR.

Speech API supports Speech Recognition in More Than different Languages and Natural Text-to-Speech ai voiceover.
Pros:

Excellent features for the tech savvy.

Completely open sourced.

Voice enables ASR

Cloud and integrated solutions.
Cons:

Needs for you to sign up before using.
The voice-over app you need for everything! Animaker allows to utilize our collection of more than 200 human-like voices in 50+ languages to produce jaw-dropping voiceovers!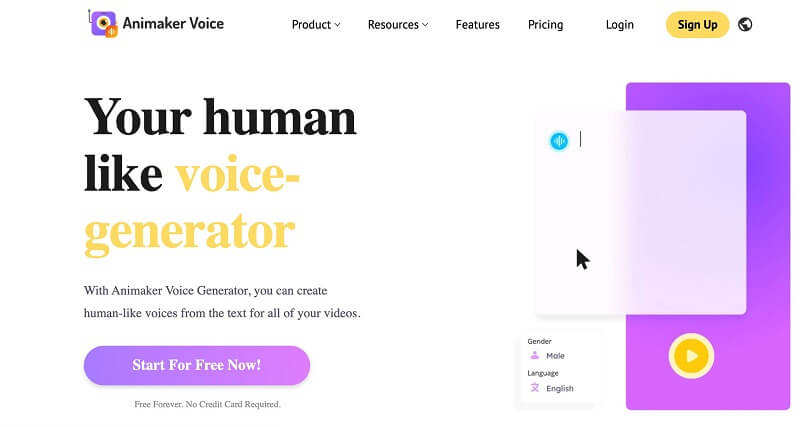 Key Features:
With the help of this tool, you may add pauses between words in the voice-over output.

You can add real breathing noises to your free voice over text-to-speech using this function.

By using this option, you can change the voice over from being spoken normally to a whisper.

You can choose to increase or decrease the stress on a word or phrase with this tool.
Pros:

All kinds of voices like singers, presidents, and so on.

As real as it gets.

Can be used to make YouTube, branding, wishes, explainer, and other videos.
Cons:

Only downloadable format is mp3.
Speechify, an activated AI voice over generator, is the route to go if you're seeking for a more recent program that allows you access to real-time speech with authentic-sounding voices. This program, which utilizes the most recent AI technology, is accessible on all significant platforms, allows you exposure to a variety of languages, and offers a variety of voices.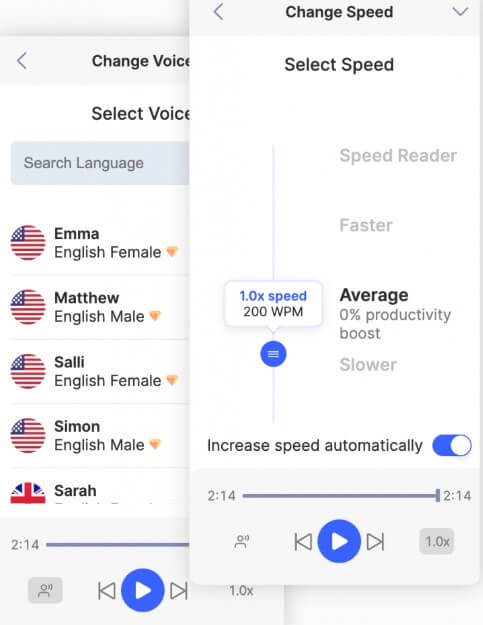 Key Features:
Generated natural human HD voices increase the enjoyment and delight of listening.

60+ languages are instantly translated.

High-quality text extraction using cutting-edge OCR technology and deep learning.

There is no speed limit; to save money and be more effective, listen at up to 900wpm!

VIP assistance is available whenever you require it from the Speechify team.
Pros:

Supports iOS, android and even has chrome extension.

Listen at any speed you want.

Can be used on any text anywhere on the web.
Cons:

The extension can feel a bit complicated.
Part 3: Hot FAQs about Voice-Over Generator
1.What languages is the text-to-speech voiceover generator available in?
Arabic, Bulgarian, Catalan, Chinese, Croatian, Czech, Danish, Dutch, English, Estonian, Finnish, French, French, German, Greek, Gujarati, Hebrew, Hindi, Hungarian, Indonesian, Irish, Italian, Japanese, Korean, Latvian, Lithuanian, Malay, Maltese, Marathi, Norwegian Bokmal, Polish, Portuguese, Romanian, Russian, Slovak, Slovenian, Spanish, Swahili, Swedish, Tamil, Turkish, Ukrainian, Urdu, Vietnamese, Welsh.
2.Can we use the voice-over generator for free?
Yes, VoxBox - voiceover generator has a free trial, you can free start 2000 characters for text to speech make a realistic voiceover
Conclusion
The topic of the top 4 text-to-speech voice over generators for you has been covered today. From the official iMyFione website, you can download the iMyFone VoxBox program and try out all the other incredible sounds.

The software is incredibly user-friendly, has a ton of capability, and, most significantly, lets you download a trial edition before committing to a full purchase. So, with that said, have a fun AI voice over and get VoxBox text to speech software right away.