If you prefer to write shorter paragraphs or hate typing out page after page, then the Rev speech to text speech recognition tool is the best feature you can use to save time. You don't need to prepare documents or projects requiring writing or typing when you can do it with speech.
There are a few best tools that will give you an edge in writing any short or long document, and you don't have to worry about mistakes you might be making, as the Rev speech to text tool will do it for you. That's how good they are.
Part 1: What is Speech-to-Text Technology and Its Benefits
It is a relatively simple process as you need to speak to your microphone, and it will automatically write down what you are speaking in text. This technology has a few other names with which you might be familiar such as "Speech-to-text," "Dictation," or "Voice-to-text."
We have had dictation features for a long time on our smartphones and computers; both Apple and Microsoft give us system-level dictation, which works phenomenally well. You can find the most common feature in your smart device, or you can even get paid for other complementary features.
If you want to type into a document, you can simply do it using your voice command through the "Speech-to-text" feature.
Here are some excellent features of the speech-to-text tool.
Benefits of Speech-to-Text

Easy for the communication.

Write as fast as you speak.

Zero chance of error in your document.

No need to worry about dictation or grammar mistakes.
Part 2: What is Rev Speech to Text and its Product Details?
Rev is a transcription service that converts your audio content into text. Anytime you speak, you are only speaking while Rev speech to text creates written content.
For example, you can use transcription to create subtitles or closed captions for your videos or any content that uses text as a priority. Furthermore, you can generate transcription that you can share from podcasts or YouTube videos; you can utilize those transcriptions for better editing or create more enhanced content for your audience.
Reasons Why Chooese Rev Speech to Text:
You can get 99% accurate closed-captions/subtitles.

Take advantage of your insights from audio hours and reach out to more audiences.

Can upload media in both format audio and video.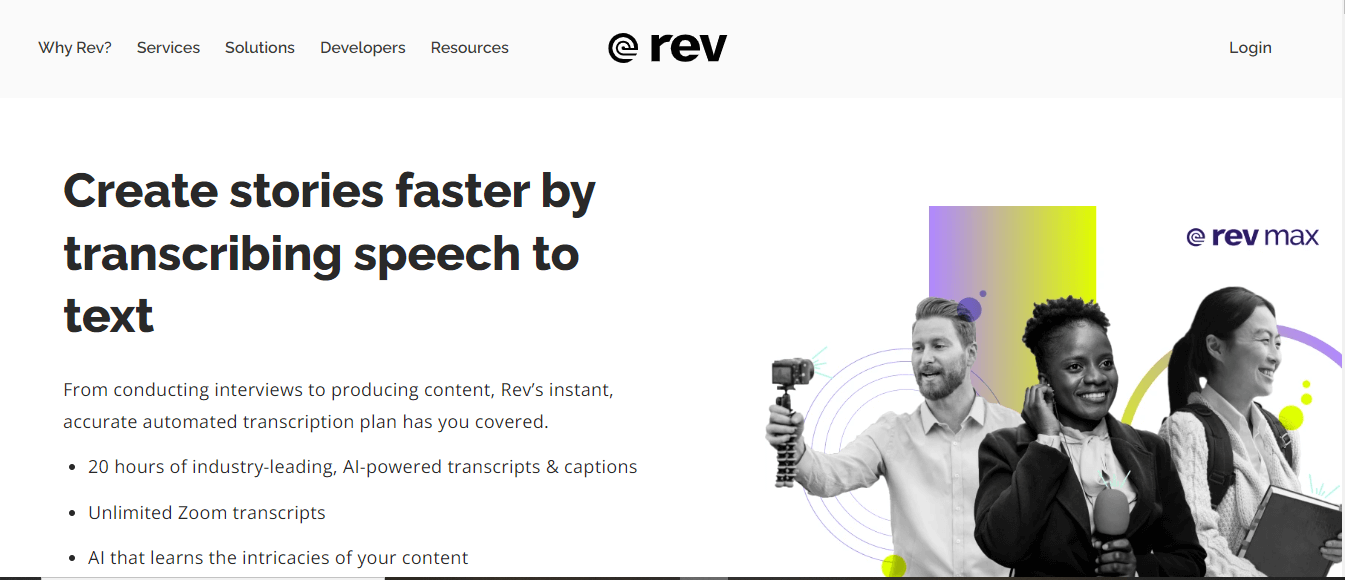 Advantages:

The UI is straightforward to use.

You get customer support in real-time.

Rev speech to text has almost all the features you can expect in any speech-to-text tool.
Disadvantages:

It can be expensive for small scale business.

Some audio files are extracted in poor audio quality.
Pricing:
Audio & Video Transcription – $1.50 per minute.

English Closed caption – $1.50 per minute.

Global Subtitles – $5-12 per minute.
User Comments:
User rated the Rev 4.5/5.
Part 3: Another Excellent Alternative to Rev Speech to Text
The best alternative to Rev speech to text is VoxBox; let's find out about its great features and why it suits you best.
When it comes to using speech-to-text tools, iMyFone VoxBox is the most trusted tool to create transcripts of your work and closed captions of any video. You can create a new file or even upload the pre-recorded file, and VoxBox will help you extract text from the audio formats.
Vox Box uses highly intelligent AI to generate closed captions in any global language. There are more than 46+ languages you can use to generate transcripts.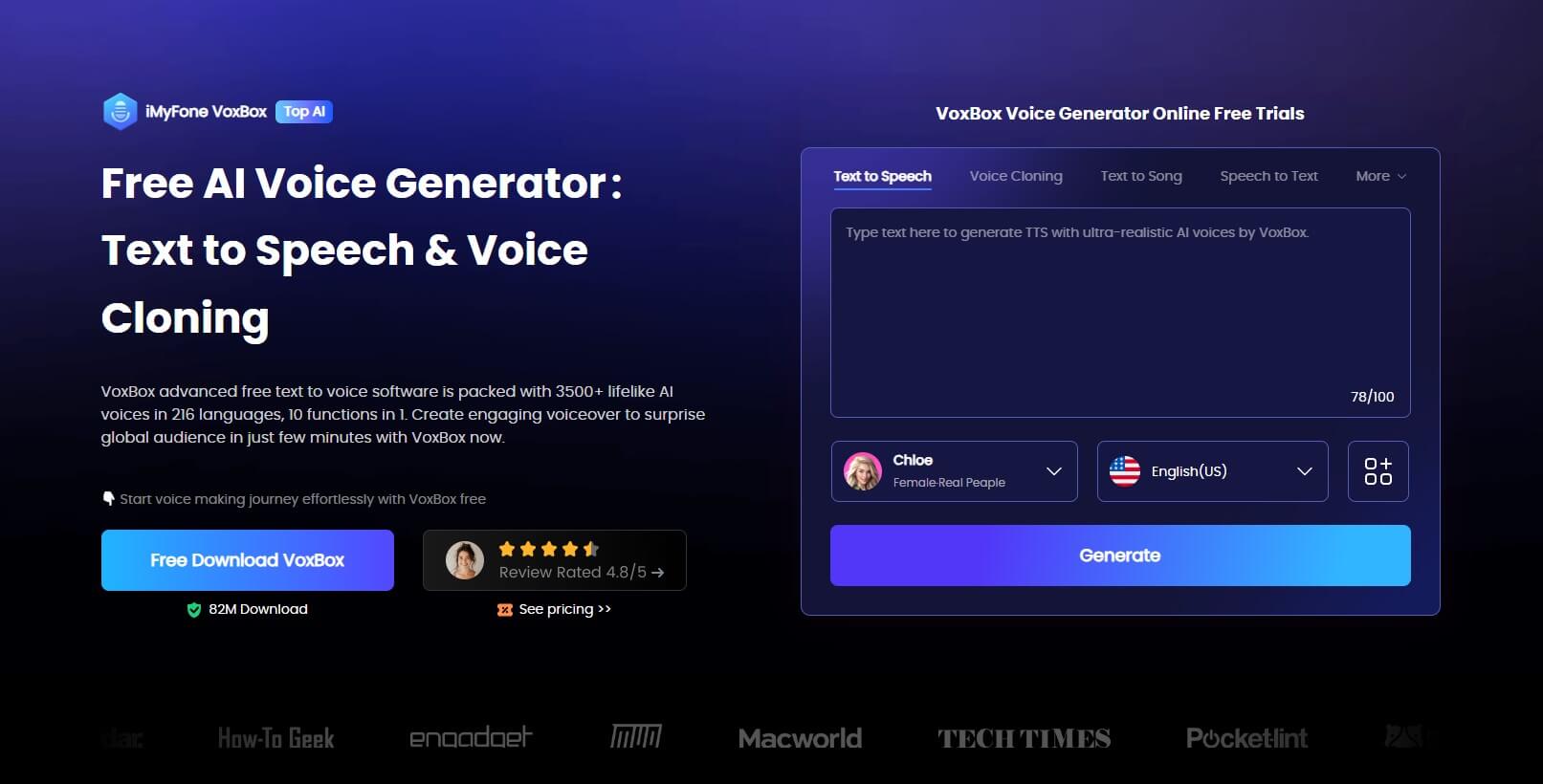 Key Features:
You have access to more than 3,200 voiceover skins.

Supports 46+ languages support.

Have the ability to convert the file into TTS, audio, or video.

Allow users to record live audio and convert it into text.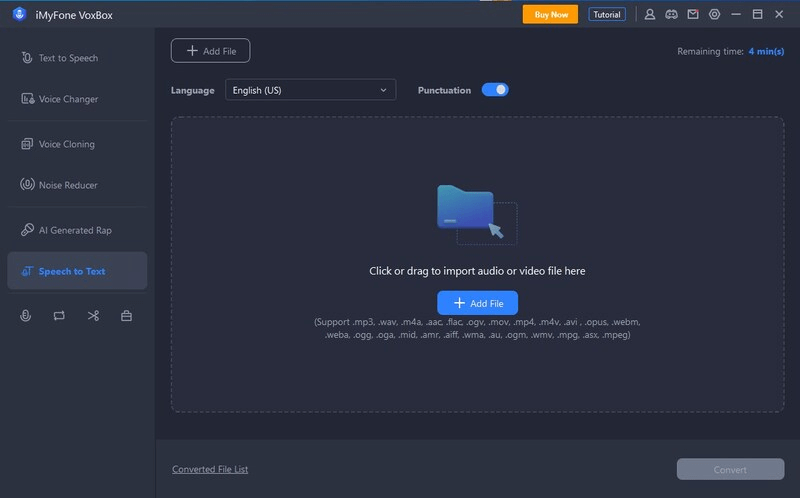 Pros:

The interface is straightforward to use.

Supported by the latest Windows version.

Customer support is always active to help you out.

Have the ability to import or export HD-resolution video.
Cons:

It can be expensive for the small solo business.

Sometimes files crash during export.
Pricing:
Quarterly $14.95.

Yearly $39.95

Lifetime $79.95.
Watch this video to learn more about the Best Speech to Text Voice Generator VoxBox:
Part 4: Online Speech to Text Alternative to Rev Speech to Text
Here is another outstanding tool you can use in place of the Rev speech to text alternative.
One of the best tools to change your voice into text. Speech notes.co provides you with the feature of speech to text in real-time. The UI is simple and easy to use, making it a fantastic Rev speech to text alternative.
All you need to do is focus on your ideas and thoughts, speak what comes into your imagination, and let Speechnotes.co take care of rest. The AI is so powerful that it will write all the context error-free and gives you the best possible experience.
Key Features:
It is purely a web-based version and works on any HTML5-supported browser.

The UI is very easy no need to go through any tutorial.

Supported by any latest browser.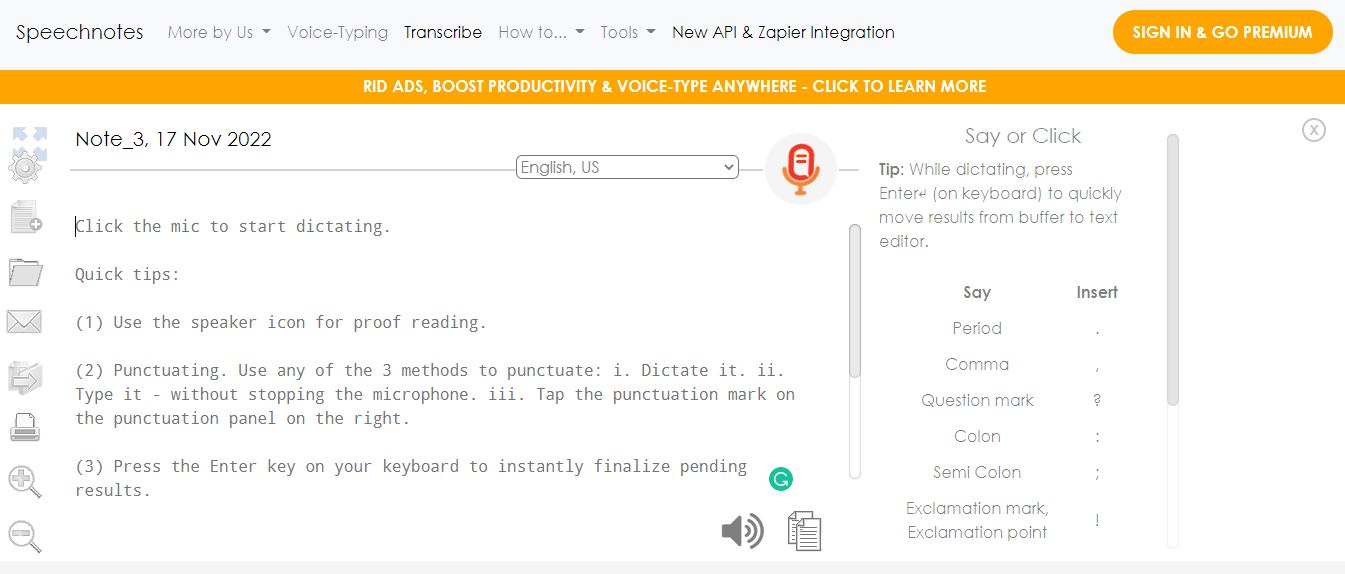 Pros:

Gives you 90% accuracy.

Have the latest text in-built dictionary.

One clicks speech to text enablement.

No need to download the app or install it on your system before use.
Cons:

Sometimes delay in converting your speech to text.

You may experience some incorrect sentences or words in real-time.
Operating System:
Web-based "Supported by latest updated version.

Very cheap, cost of $0.1 per minute, because it is a new service.
Part 5: FAQs About Rev Speech to Text
1. What Can Rev be Used for?
Rev speech to text is a top-rated speech to text tool that can help you convert your words and imaginations into words and readable documents.
2. Is Rev a Good Tool, and is it Safe?
Rev is the most used speech to the text tool, and one of the best things about Rev speech to text tools is that they don't require you to install any third-party app before using Rev speech to text. Furthermore, they are strictly dedicated to their privacy policy; they don't share their customers any sort of detail with any other firm.
3. Is there any Speech to text Alternative to Rev?
Yes! There are many different speeches to text tools instead of Rev, but if you are searching for something that can give tough competition to the Rev speech to text and should be equal or have more features than Rev, we recommend you try iMyFone VoxBox. This is the only tool that can be best if you look for the finest alternative to Rev speech to text.
Conclusion
In this article, we have discussed a few outstanding speech to text tools that can help you write about the things you think and speak in the easiest method. In all fairness, you should try iMyFone VoxBox. It has impressive features, good UI, support for many languages, and even one of the best TTS, all in a single package.