Snoop Dogg, a renowned rapper and cultural icon, is known for his distinctive voice, which has a unique sound and style. Many fans are interested in copying his voice to play pranks on their friends or use it for voiceovers in YouTube videos or TikTok content.
In this article, we will introduce the top three AI voice generators capable of replicating Snoop Dogg's voice. By exploring the capabilities of these Snoop Dogg AI song generators, fans and content creators can unlock new possibilities and infuse their projects with the unmistakable charm of Snoop Dogg's cover song.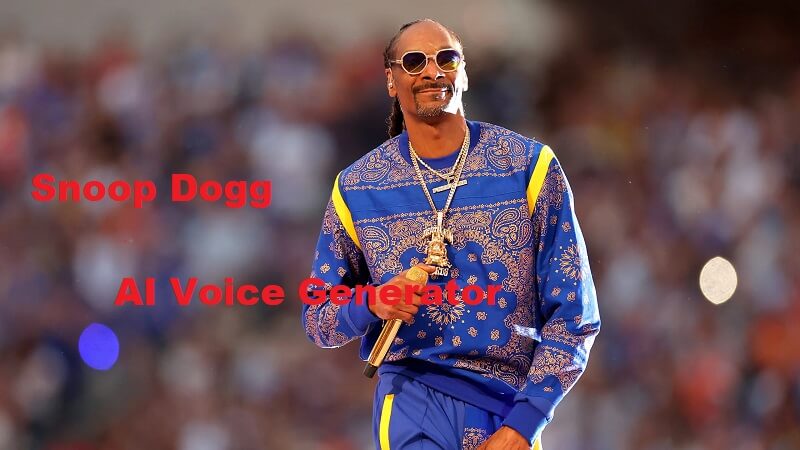 Bonus Tips
To gain a deeper understanding of using AI singing generators for creating
human-like songs
, listen to this audio to feel the capabilities and potential applications of these technologies in achieving authentic singer or rapper voice synthesis.

Part 1:Do You Know Who Snoop Dogg is?
Snoop Dogg, is an American rapper and producer from Long Beach, California, known for his distinct, deep-toned hip hop flow and his collaborations with numerous iconic stars. He has released more than 17 studio albums, including his landmark 1993 debut Doggystyle, and most recently his gospel-inspired album Bible of Love in 2018. He has accumulated numerous accolades over the years, from a Grammy Award in 2004 to becoming a double MTV VMA winner in 2008.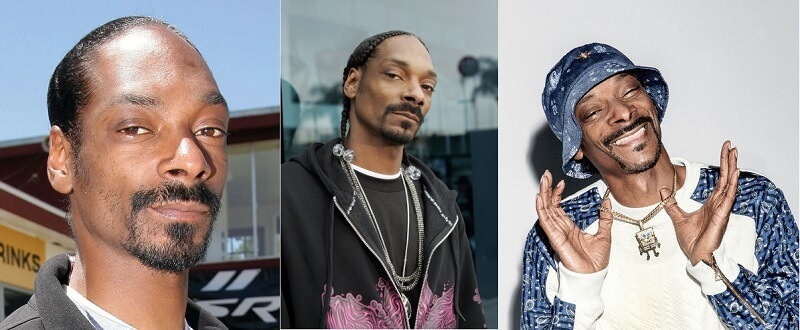 Recently, there has been a lot of buzz surrounding the use of AI technology to replicate Snoop Dogg's voice. In this article, we'll explore how this technology works and how it's being used to revolutionize the music industry.
Part 2: Get Snoop Dogg AI Voice By TTS Voice Generator & Cloning
AI technology has come a long way in recent years, people could use text-to-speech tech to generate realistic & natural voiceover, and moreover with voice clone tech, it's now possible to replicate a human voice with astonishing accuracy.
iMyFone Voxbox is an advanced voice generator & cloning developed by iMyFone. It has multiple powerful functionalities that include text-to-speech, voice cloning, text transcription, and video conversion.

With a simply steps, you can generate Snoop Dogg's unique voice. First, download and install VoxBox. Next, select "Rappers" on the Voice Type and you'll be able to view all available voices - Give it a try and experience the power of voice synthesis!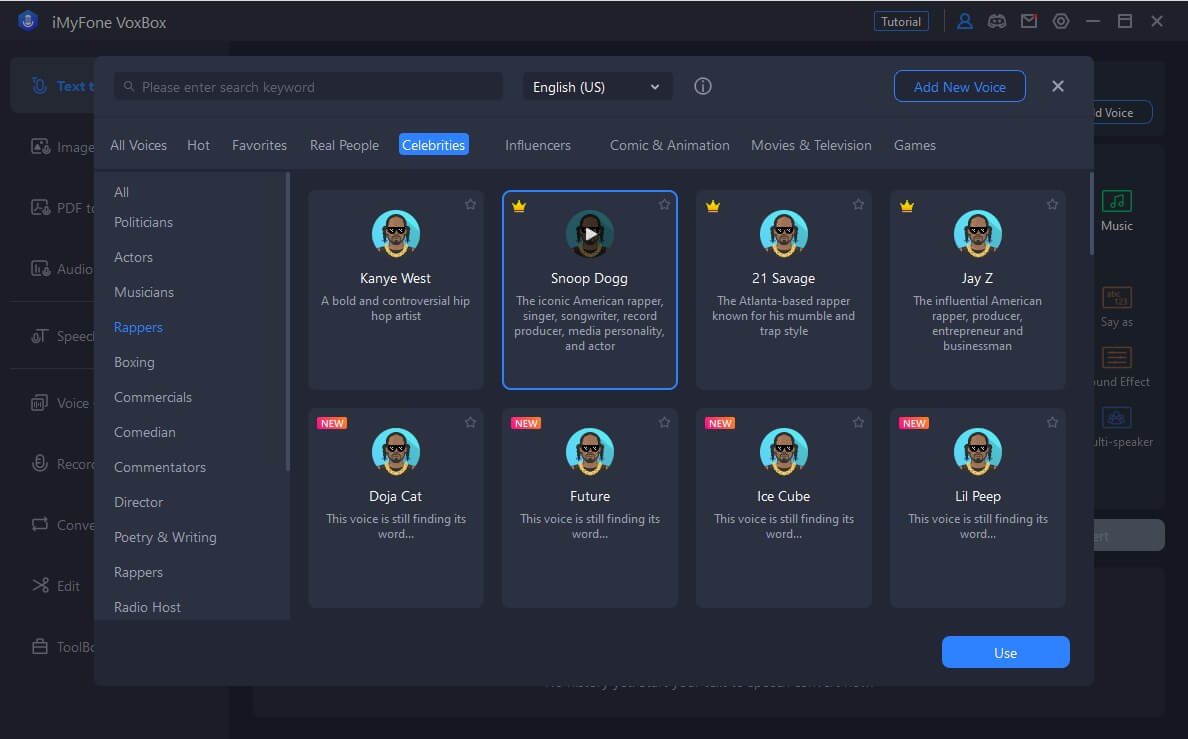 Features:
Not only AI-generated Speech, but also RAP,Song,etc.

3200+ voices & 46+ languages for dubbing

100+ native tones make voiceover for the video to engage the interest of your fans.

Supported customized high-quality overdubbing.

You can edit the audio you generate and also supported convert the formats that you want.

Also supported voice notes.

User-friendly interface, safe, easy-to-use.
Bonus Tips
Watch this video to learn more about using
AI voice generators
to make rapping.
2) Resemble.AI
Another use avanced AI voice cloning & AI text-to-speech tech is Resemble AI. They have developed a system that can replicate any voice, including Snoop Dogg's. The system uses deep learning algorithms to analyze audio recordings of Lamar's voice, and then generates a synthetic voice that sounds almost identical to the real thing. This technology has many potential applications, including in the music industry.
Features:
Supported dubbing, speech-to-speech, audio editing.

Supported custom AI Voices

12 minutes to create AI Voices.

Provide high quality audio
Part 3: New Way | Cover Song Generator Get Snoop Dogg AI Song
1) AI Cover Songs
The generated cover versions produced by AI Cover Songs are remarkably faithful to the original performances, thanks to the advanced deep AI technology powering the platform. The attention to detail and the ability to capture the subtle nuances of the original vocals result in cover songs that sound incredibly authentic.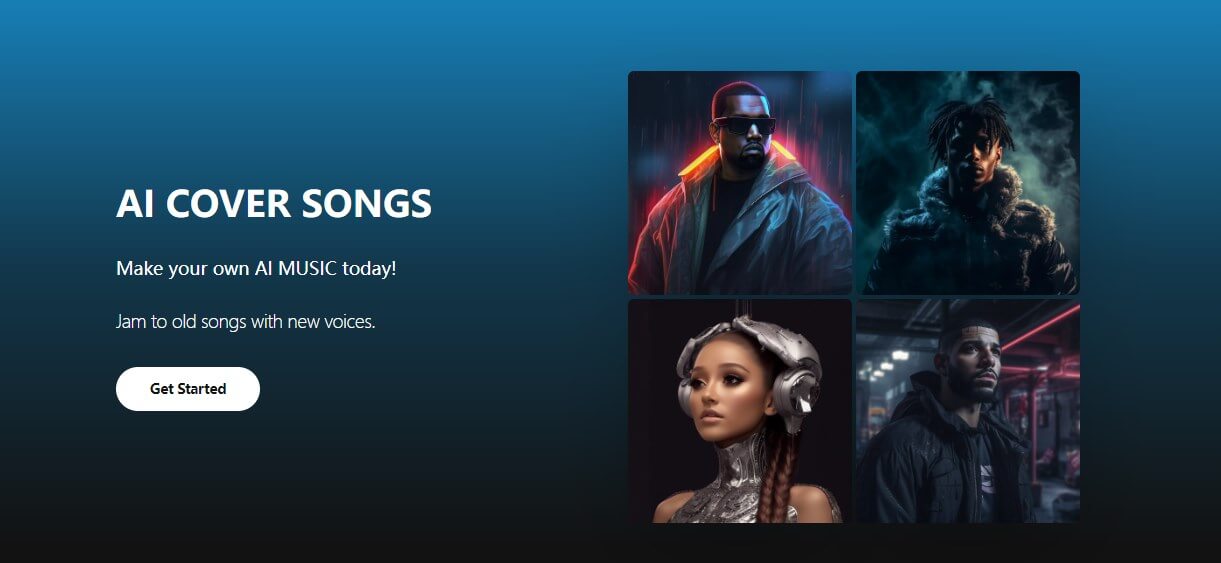 Features:
Get a custom AI cover song with your choice of Kanye West, Drake, or Ariana Grande's voices.

Receive the final cover song in .mp3 or .wav format. Embrace their iconic styles and nuances for a truly unique musical experience.

Please respect copyright laws when using AI-generated cover songs. Let's create something extraordinary together!
Part 4: Bonus Tips Get Snoop Dogg's Iconic Voice with Text to Song
Another way is being used is to create virtual concerts and performances. With the ongoing pandemic, many artists have turned to virtual concerts as a way to connect with their fans. By using synthetic versions of Lamar's voice, a virtual concert can be created that sounds like a real live performance.
This technology has the potential to revolutionize the way we experience music.but The synthesized voice generated by the software may not be able to capture all of the nuances and emotions of the artist's actual voice.
Now, there have more software also push using AI generated music, Voicemod has a new tech about "Text-to-Song", and the Uberduck.AI also has feature about AI generated Rap, However, as the technology continues to improve, we can expect to see even more realistic and accurate representations of Snoop Dogg's voice in the future.

Part 5: Hot FAQs about Snoop Dogg AI Song
1.Can I listen to Snoop Dogg's AI Song?
Yes, Snoop Dogg's AI Song is available for listening. It can be streamed on various music platforms, including online streaming services, where it has been released for public enjoyment.
2.What is Snoop Dogg's AI Song?
Snoop Dogg's AI Song is an AI-generated music track created in collaboration with Snoop Dogg, where artificial intelligence algorithms analyze his musical style and produce a unique song that captures his signature sound and characteristics.
Conclusion
Text-to-speech & voice cloning technology is revolutionizing the way we replicate the voices of our favorite artists. By using the AI voice generator & cloning software, anyone can generate a realistic and authentic representation of Snoop Dogg's voice or other rapper voices. and in fact, This technology has many applications in the education industry or social meida, people use it to make dubbing for their content.
Finally, we have discuss 3 software to make Snoop Dogg AI voice, but I'd recommend iMyFone VoxBox, which is cheaper, but provide better use experience, and which would prefer to suit presonal.