It's popular to use the soundboard for Halloween pranks or choose your favorite voice skins to play games like Phasmophobia, Rocket League, Rainbow Six Siege, Valheim, Rust and others. Or use it for social apps like Discord, TeamSpeak, or Zoom calls.
But what if Looking to add a little personal touch into a soundboard? In this article would told you a way of how to qucikly make a soundboard.
Part 1: Why Konw How to Make a Soundboard is So Popular?
Soundboard has been becoming pretty popular over the few years. Using a soundboard can help you have fun with your friends and family members.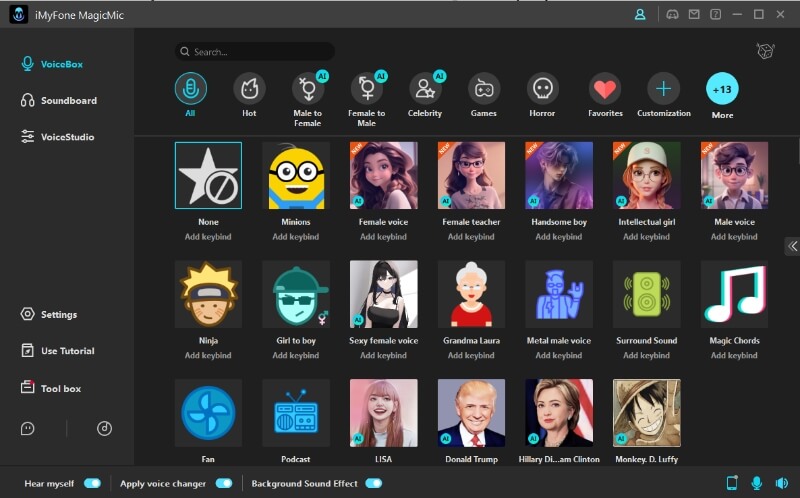 Many people ask about the exact meaning of soundboard. In soundboards, you'll find the voice of many celebrities and politicians across the world. Whenever a star presents a hilarious moment during a show or speech, people create the soundboard by using that hilarious moment.
Fowllowing the number of people who use soundboard tends to be increasing day by day. people trend to create fully unique, customizable online soundboards fro themselves.
Features:
Soundboard helps you turn dull time into an enjoyable time.

It is a pretty creative idea to make anyone fool.

If you want to prank your teachers and friends, you can play the soundboard, and everyone will think as if the celebrity has reached them.

You can turn a dull moment into a hilarious one using a soundboard.

You can play soundboard on multiple platforms like Skype, Streamlabs,Zoom,Discord, CSGO, Twitch, etc.
Part 2: Steps of How to Make a Soundboard
If you're looking for a way to create your soundboard, we've something special for you. Navigate to the next part to know how to make your soundboard.
1. How can I create a soundboard?
You can take the services of 101 soundboards for creating your soundboard. It is a great website that allows you to download millions of sound effects easily. The best thing about the 101 soundboards website is its ability to enable you to create your soundboard.
Moreover, 101 soundboard comes with many prolific soundboard categories, meaning you've got the luxury to select a sound category you'd like to download sound effects from.
Surprisingly, it offers a pretty slick user interface, allowing you to explore its features with minimal effort.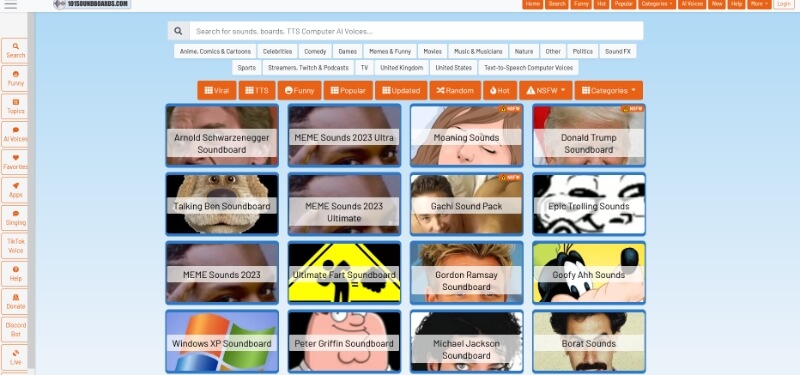 Features:
By visiting the 101 Soundboards website, you can create your soundboard in multi audio formats as it is compatible with various popular audio formats.

101 Soundboards is a sensational soundboard maker that enables you to stop or resume the creating soundboard process whenever you'd want.

It offers you an opportunity to download countless terrific sound effects after signing up with the account.
Steps of creating soundboard using 101 Soundboards
Step 1: Visit 101 soundboard
First of all, you'll need to visit the 101 Soundboards website. Later, you'll need to create an account on the website. After giving all the essential information, you'll be able to log in to the website.
Step 2: Select "Add New Brand"
Now, you'll need to navigate to the My Soundboards option and hit Add new brand option from there.
Step 3: Upload a sound file
You'd have recorded your voice using a sound effect in a voice changer. All you need to do is upload that audio file to the 101 Soundboards interface.
Step 4: Hit Request Transcription
After uploading your sound file, you'll need to select the "Request Transcription" option. Doing so will send a request to 101 Soundboards to label your soundboard. After having your soundboard labeled, you can use it on any online platform you want.
2. How do I edit sound files before uploading?
If you want to modify your sound files before uploading them to 101 soundboards or other websites, you can serve your purpose by using an online audio editor.
Part 3: Excellent Software of How to Make a Soundboard-MagicMic [Editor's Choice]
You shouldn't look beyond iMyFone MagicMic if you're to select a voice changer. Besides being an affordable voice changer, MagicMic sets its status pretty high by providing remarkable services.
It comes with 100+ voice-changing features, including Chipmunks, Robot Voice, Minions Voice, Radio Voice, etc. In addition, you can also explore over 500+ mind-blowing sound effects using MagicMic.Moreover, MagicMic allows you to alter your voice while chatting with your friends on different platforms. In addition, you can also play sensational sound effects when playing an online game.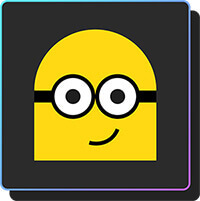 Features:
MagicMic allows you to change your voice in real-time by playing a lot of stunning sound effects.

It supports multiple popular audio formats.

It keeps on regularly updating to enhance the user's experience.

MagicMic is a lightweight yet pretty professional voice changer.

It allows you to create your unique soundboard with voice studio function.
Pros:

you can explore 100+ unbelievable voice-changing features.

Easy to use.

It comes with the free trial version

It doesn't take a lot of space.
Conclusion
You can take the critical information from this article as we've explored answer of how to make a soundboard. Creating a soundboard isn't a tricky task, as you can get your job within a few steps.

iMyFone MagicMic is a significant voice changer that can serve your better than you expect. Thus, MagicMic is highly recommended for you.