Adobe Premiere Pro is a video editing application through which you can produce broadcast-quality and high-definition videos. It allows you to conveniently add graphics, audio, or text to your videos in a variety of ways. The best part is that it works on most operating systems, so you can use it no matter which OS you use. Videos come in various formats, and different people have different needs. Therefore, not everybody works with the same video format all the time.
While it is a very useful application, the question arises: Does Premiere Pro support MKV? In this article, we will talk about whether it supports MKV or not and what alternatives are available?
Part 1. Does Premiere Pro Support MKV?
Matroska files or MKV files are multimedia container formats. Therefore, they can incorporate video, audio, and subtitles into a single file. MKV files are not a format. They essentially contain various formats such as H.264, MP3, MP4, or WMV. The thought behind making MKV was to make it future-proof. This means that these files would not become outdated. Unfortunately, MKV files are not an industry standard. Hence, not all media players and video editing applications support them.
Sadly, Adobe Premiere Pro does not support MKV files. This means that you can't open an MKV file in the application. Unfortunately, this obstacle can really hinder your work. Therefore, you have to find a way to work around this problem. To import MKV files to Adobe Premiere Pro, you have to find a way to convert them into a codec that it can edit. Here is how you can convert MKV to MP4 in Premiere Pro:
Step 1: Find a suitable convertor. A converter can help you convert your files from MKV to formats such as MP4 or H264 etc. There are a few online options available that can help you to do that. After conversion, it will be easy to import files to Premiere pro. This way, you can edit all your videos in Adobe Premiere Pro. Once you've selected a converter, you're ready to move on to the next step.
Open the cloudconvert website.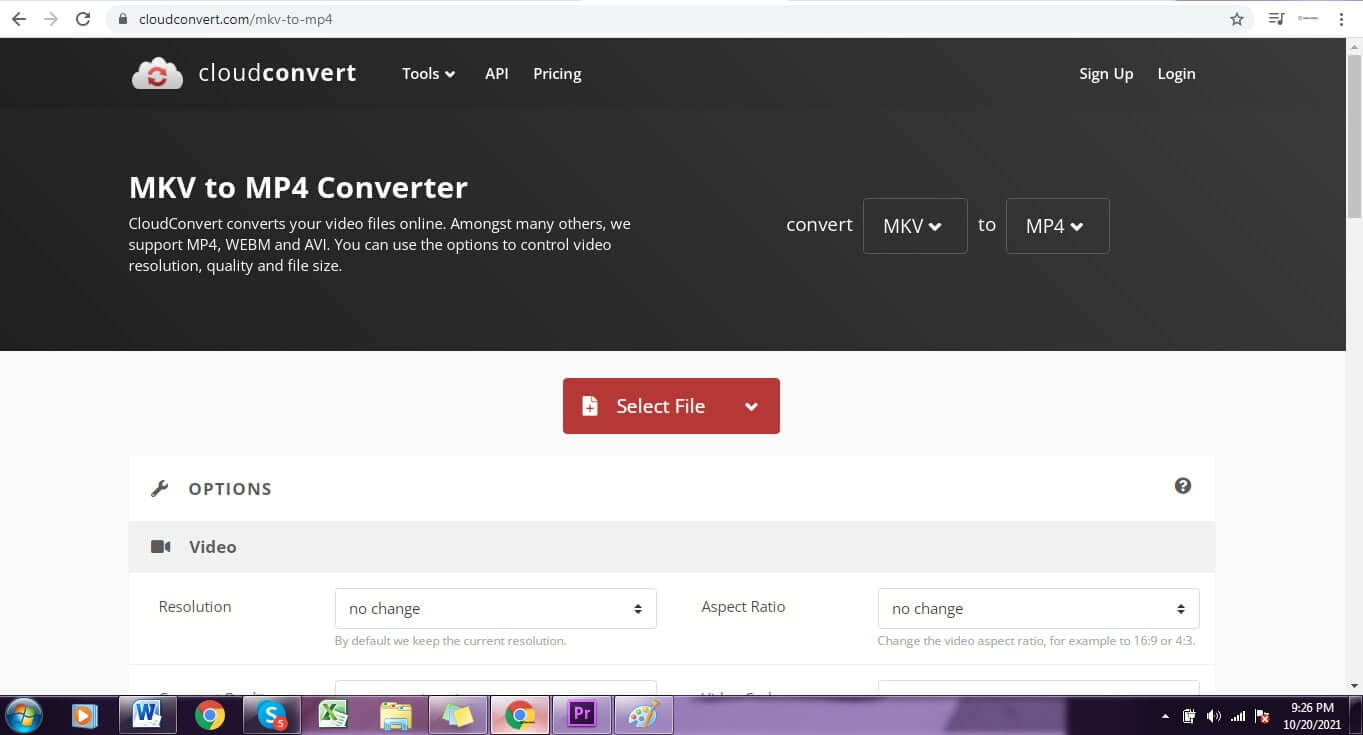 Step 2: Now, you have to simply upload the video and click on the convert. You can also change the aspect ratio and resolution if you want.
Step 3: Now, the next step is to select a video format that Adobe Premiere Pro supports. You can opt for any format that is Premiere Pro friendly. For instance, you can convert them to MP4.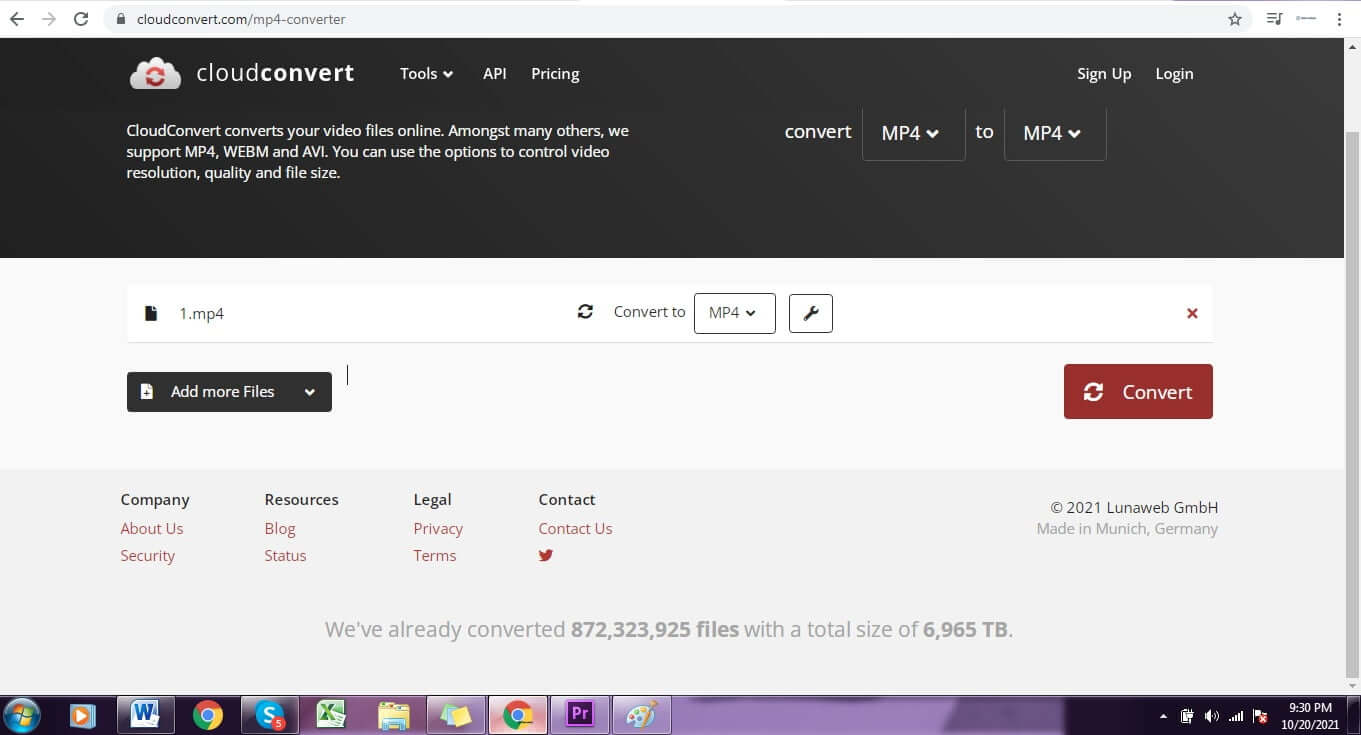 Step 4: After your file is converted, you can easily open it with Adobe Premiere Pro.
Step 5: Now, some people simply rename the file extension from .mkv to .mp4 or .mpv can solve this problem. However, this method does not always work. Hence, it is possible to convert your MKV files to other formats and edit them using Adobe Premiere Pro.
Part 2. Use iMyFone Filme as an Alternate as Premiere Pro Doesn't Support MKV
While Adobe Premiere Pro is a great application for editing videos and making them more impressive, it doesn't support MKV container files. This is quite inconvenient for people who have to work on such files. Therefore, it is a good idea to look into alternatives for Adobe Premiere Pro. An excellent alternative is iMyFone Filme. It Is also a video editing application that can meet your needs if Premiere Pro can't.
Below, we have mentioned how you can import MKV file along with some strong reasons why you should consider trying out iMyFone Filme:
Step 1: iMyFone Filme has a very user-friendly interface. Therefore, it is straightforward to use and self-explanatory. You can find your way around the application quite easily since it is easy to navigate.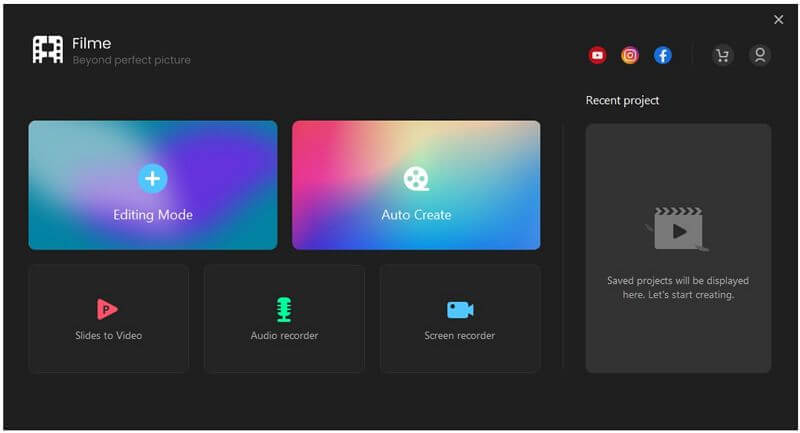 Step 2: It allows you to do so much. You can use iMyFone Filme to trim, split, crop, or even rotate your videos. Furthermore, you can even use it for speed adjustment of your videos, picture-in-picture mode and it also supports MKV extension. If you want to import, just import files from the menu and select the MKV extension video.
Step 3: You don't need to have a lot of technical knowledge in order to use iMyFone Filme to edit your videos. The functions in the application are pretty easy to learn just drag the video on the timeline.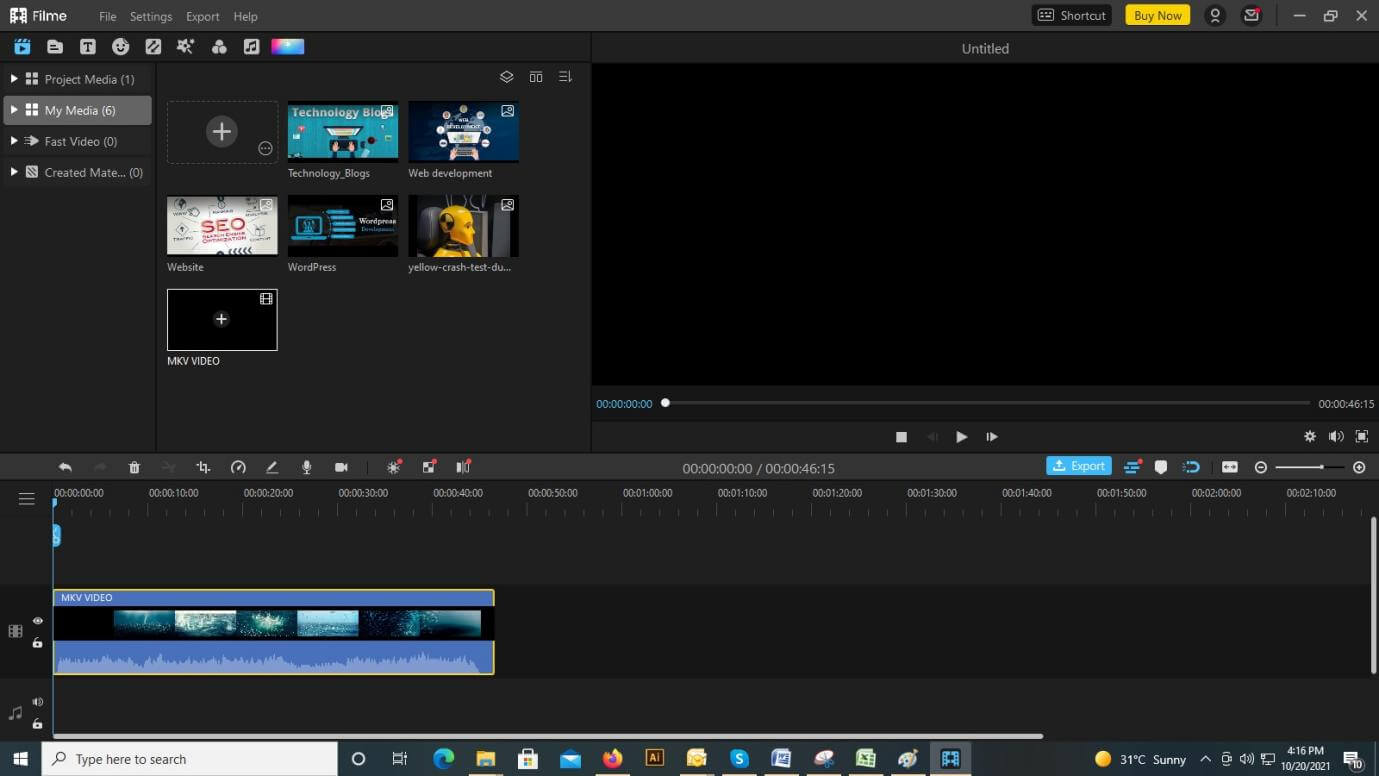 Step 4: You can even add graphics, audio, and music to your videos using iMyFone Filme. To do that, just click on the effects from the menu and drag it over the video.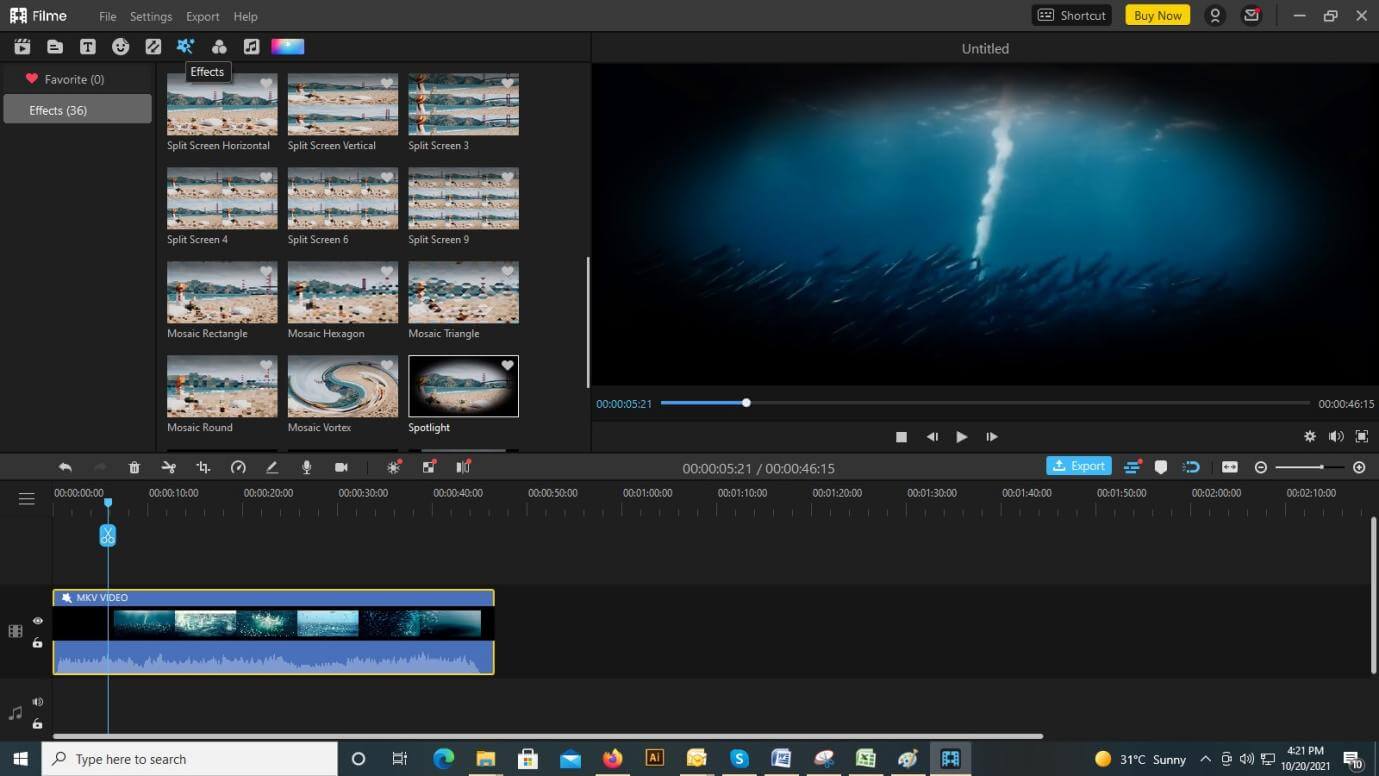 Step 5: And then you can also export your video to MKV format. This application also allows you to add text in various fonts to your videos so that you can give your videos a certain aesthetic.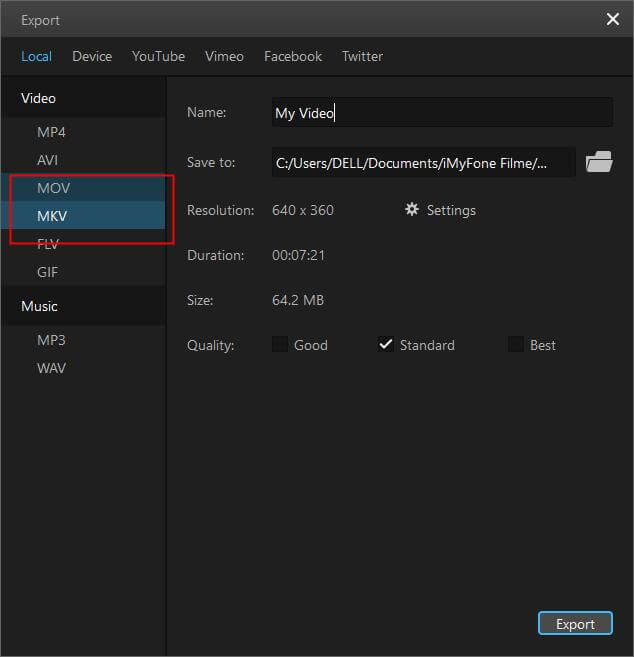 Part 3. FAQ about How to Edit MKV Files on Adobe Premiere Pro
Trying to edit MKV files on Adobe Premiere Pro can be tricky, and people get confused. Therefore, here are some frequently asked questions:
1. How do I convert MKV files to MP4 files?
In order to convert MKV files to MP4 files, you need a converter that can change the format of your MKV files. For this, you need to download and install a suitable converter on your computer. Once you have installed it, you can use it to convert MKV files to other formats that Adobe Premiere Pro supports.
2. Does converting MKV to MP4 lose quality?
MKV is not actually a video format. Instead, it is a container. Therefore, when you are converting MKV files to MP4, you are only changing the wrapping around the video. You are not changing the video itself. Hence, your video should not lose its quality during the conversion at all.
3. Can I edit MKV files?
Popular video editing applications like Adobe Premiere Pro do not support MKV files. However, it is possible to convert them into other formats and then edit them using Adobe Premiere Pro. Furthermore, there are video editing applications like iMyFone Filme that you can use instead of Adobe Premiere Pro to edit MKV files without needing to convert them.
4. What files can Adobe Premiere Pro open?
Adobe Premiere Pro can open various video formats like MP4, MPEG, MPG, and MOV, etc. However, this application does not support MKV files. Hence, in order to open and edit MKV files, you need to convert them into formats that are compatible with Adobe Premiere Pro. Another option is to use another video editing application such as iMyFone Filme.
Conclusion
Adobe Premiere Pro is a great application to edit videos for various purposes. However, the drawback of this application is that it does not support MKV files. If you don't want to convert your MKV files into other formats, you can use iMyFone FIlme to edit them. The best part about iMyFone Filme is that it supports all formats that exist. It is an excellent application that is fairly easy to learn how to use. This means that it is very user-friendly.
Moreover, it is pretty simple to download. It doesn't take a lot of time because most of its features are available as downloads. Therefore, you don't have to download them all at once, only as you need them.
In conclusion, it is your choice whether to use Adobe Premiere Pro or iMyFone Filme to edit your videos. To use Premiere Pro to edit MKV files, you will have to convert them to some other format. However, iMyFone Filme can edit videos in almost any format. If your work requires you to edit a lot of videos, you should really start either of these applications. They will make your job easier tenfold.