Premiere Pro is elegant looking video editing program available for both Windows and Mac platforms. It allows you to edit the video in many ways, including cutting, color grading, adding audio tracks, adding visual effects, and converting files to different formats.
Using Premiere Pro, you can also add attractive and unique transition effects between two clips. Moreover, adding audio transition is also pretty straightforward in Premiere Pro, as you'd have known that transition effects can make or break the reputation of your video.
Looking into that aspect, we'll share how to add video transitions in Adobe Premiere Pro.
Let's start it.
Part 1. How to Add Transitions to Video in Premiere Pro
You'll get some unbelievable video editing features in Adobe Premiere Pro. Overall, Premiere Pro makes sure to keep every user happy with the interface it possesses.
However, if you want to add a breathtaking transition to your video, Premiere Pro never takes a back step in it.
You can effortlessly add prolific transition effects to your video with Minimal effort. You can follow the guide below to know about how to add video transitions in Premiere Pro.
Step 1: Download Premiere Pro
The first step you need to take to start the proceedings is to navigate to Premiere Pro's official website or page and download the software from there.
After downloading it, you need to install the application on your desktop or whichever computer you're currently using.
Step 2: Purchase a Premium
When you launch Adobe Premiere Pro, it offers you the option to buy a subscription to Adobe Premiere. You can't edit your video without acquiring a subscription. However, you can use the seven days free trial versions of Premiere Pro.
Step 3: Import a File
Now, you only need to launch a new project. For this, hit the New Project icon from there and follow some on-screen instructions to get your job done.
After, you need to select a video file from the desktop gallery you're looking to add transitions to.
Next, you need to import that video file to Premiere Pro and drop it to the timeline for starting the editing procedure.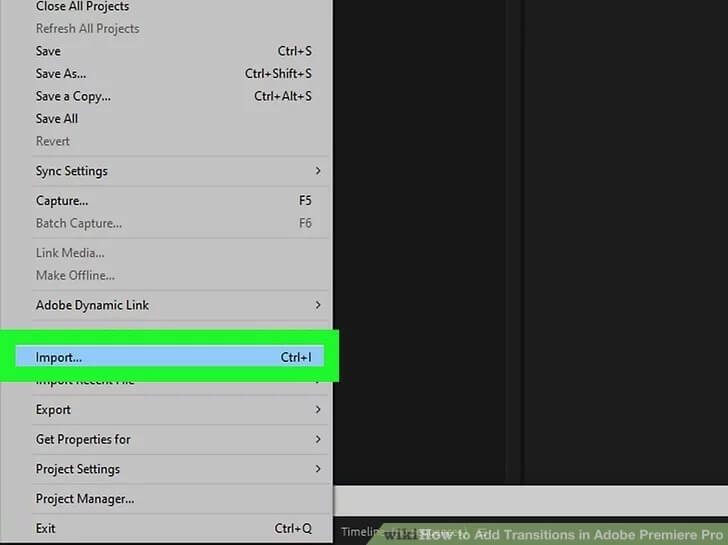 Step 4: Hit the Effects Tab
In this phase, you need to click on the Effects tab. If you don't find the Effects tab option there, hit the '' Window'' icon and open the Effects panel from there.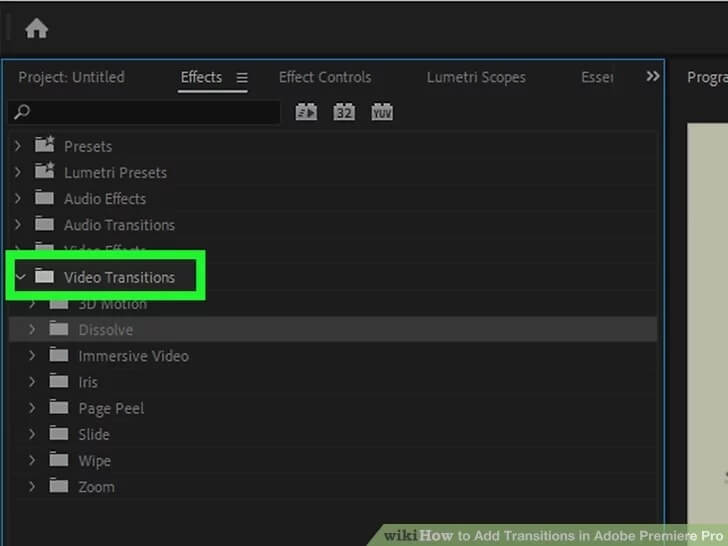 Step 5: Select a Transition Option
In the Effect tab, you can see video and audio transition options available. If you want to add audio transitions to your video clip, click on it. At the same time, hit the video transitions option if you'd like to add mesmerizing transition effect to your video.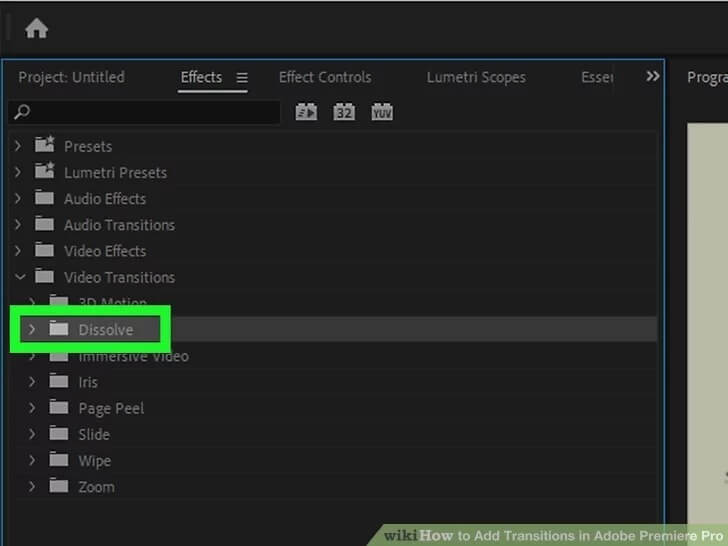 Step 6: Drag It to Timeline
After selecting the preferred transition, you need to push it to the timeline and add the transition effect. You can crop a transition between two video clips by adding a transition effect to a video.
Part 2. Add Transitions to Multiple Clips in Premiere Pro
You'll get the Default Transition option in Premiere Pro that allows you to add transition effects in various clips simultaneously.
It is a pretty reliable and time-saving feature of Premiere Pro that most famous content creators admire a lot.
Here's is the best guide to add transition effects to multiple clips in Adobe Premiere Pro.
Step 1: Apply Default Transition
After launching and importing a video clip in Premiere Pro, you need to drag the file to its timeline.
Now, you need to select video clips you want to add transitions effects too. After, it would help if you pressed the Sequence option and chose the Apply Default Transition option.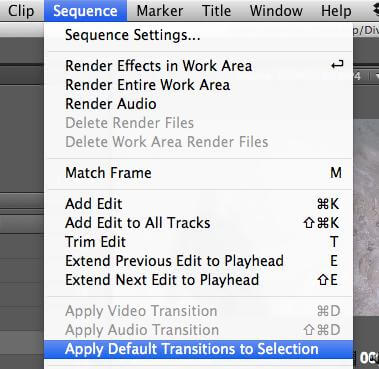 Step 2: Set the Duration
You can also set the duration of your video by navigating to Preferences and then General.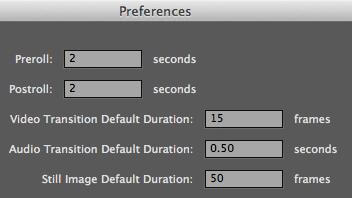 Step 3: Export the File
After adding the transition effects to multiple effects, you need to preview the video file and ensure everything is good. Later, you need to click the'' Export'' button to download it to your computer's gallery.
Part 3. Best Alternative Video Editor to Add Video Transitions - iMyFone Filme
In the present era, where the video editing field has evolved dramatically, everyone seems to be looking for a reliable video editor.
Luckily for you, iMyFone Filme has been launched to offer remarkable editing services to its users. Despite many video editors, iMyFone Filme can be a great alternative to popular video editing tools like Premiere Pro.
Considering the concerns of many users about different editing tools' hectic interfaces, iMyFone Filme has come up with a user-friendly and professional user interface.
Features
Filme has some unique features, and we will discuss about notable features.
1. Fast Video Mode
Fast Video Mode helps you create innovative slideshows with built-in templates and filters within seconds.
Categories which Fast Video Mode offers:
Festivals

Business

Education

Travel
2. Multiple Editing Modes
Filme possesses extraordinary reliability with Multiple Editing Modes. The presence of video effects, themes, GIFs, Pictures, and sound effects can help you generate excellent content.
It provides multi-layering of videos, text, audio, animation and makes editing easier for smooth playback.
3. Instant Preview
In Instant preview, you can preview your video, and if you want to make some changes, you can do it before downloading the video. Luckily, iMyFone Filme comes with an outrageous Instant Previewing feature for its users.
4. Brilliant Transitions
When it comes to adding picturesque transitions to your video, iMyFone Filme seems the best available option currently. First, it offers you various scintillating styles of transition effects to explore.
Second, you can apply the transition filters with minimal effort due to the pretty slick interface of Filme.
In addition, you'll get Filme's subscription cheaper than the premium of a video editor like Premiere Pro.
Steps to Apply Transition in iMyFone Filme
Step 1: Launch iMyFone Filme
Download the latest version of iMyFone Filme on your Windows computer and launch it on your PC.
Step 2: Upload a file
After selecting the favorable video clip, you need to drag it to Filme's timeline.
Step 3: Add transitions
Now, you can add a transition between your videos or images. In addition, you can also apply transition effects to your single clip as well as multiple clips. Moreover, Filme also allows you to use a brilliant transition between two images.
To put things in order, you need to hit the Transition option for finding the appropriate transition style. After, you need to hit the "+" icon to apply the preferred transition to the video clip.
Every transition effect comes for a 2-second duration; you can change the "duration" by choosing transition and dragging your time bar.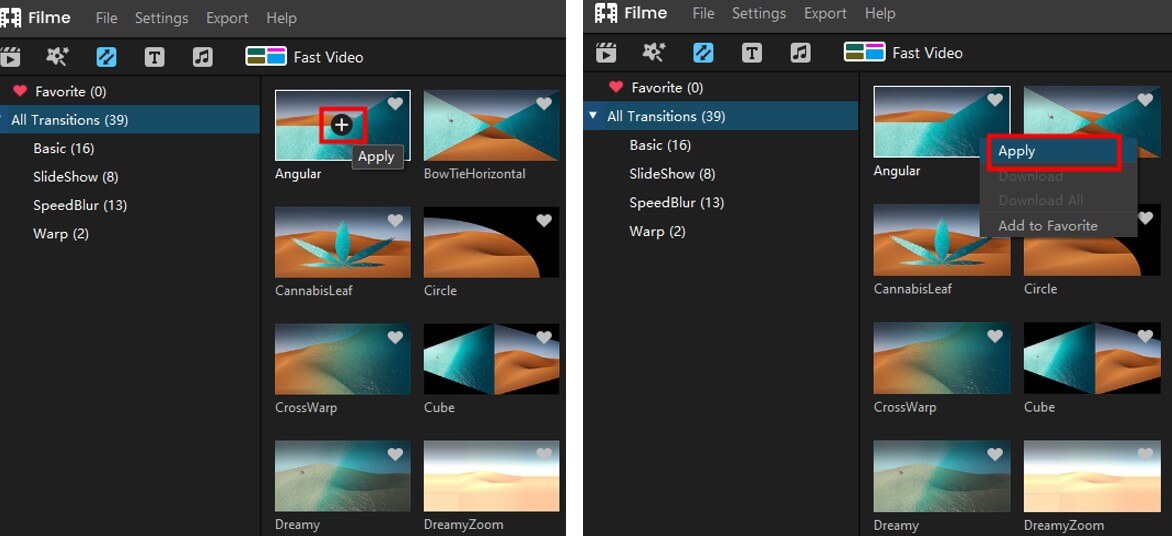 Step 4: Download the video
Suppose you have completed editing the video and adding transition effects to your video. In that case, you can press the '' Export'' button icon to put the edited video file into your Computer gallery.
Part 4. FAQs about Add Video Transitions in Premiere Pro
1. Why adding transition effect to a video is pretty important?
When you create a video for your YouTube channel or other social media platforms, you'd always want it to impress the audience you intend to target.
But, to make the video flawless and relevant, you need to analyze the video after playing it again and again. When you play a video, you'd have noticed that a black screen appears when one clip replaces another.
It looks deplorable for your video. To fix that issue, you got to add relevant transitions between these two clips. Transition effects can make your content easier to digest and pertinent to appreciate.
2. Why adding transitions in Premiere Pro is different from other video editors?
Since the importance of transitions is revealed, every other video editing tool seems to have this feature. But, is everyone holds a quality transition effect?
That's the question that needs to be answered. Premiere Pro is pretty famous for providing quality and professional transitions.
However, it also supports some third-party transitions plugins. You can simply download those plugins and apply the transition effect using the platform Adobe Premiere.
Due to many abilities, Premiere Pro can add more flawless and memorable Transitions to your video than any other video editor. However, iMyFone Filme also is a reliable option to play with. You should try both the video editing tools and check which impressed your more and why.
Conclusion
Every pro video editor knows the importance of adding appropriate transitions to a video. Without transition effects, a video can be as useless as it gets. However, you can add flawless Transitions to your video using video editing tools like Premiere Pro.
Whichever video editor you choose, it should be able to serve your purpose. Apart from Premiere Pro, a video editor that can surprise you is iMyFone Filme. It is worth admiring and more than a handy video editor. Using this tool, you can add effect to the video you want.
It comes with a fantastic ability to make a video terrific. More importantly, iMyFone Filme holds the fantastic ability to offer breathtaking transitions for your video.