The first thing that the viewer sees in any video is the intro. If you want to leave a good impression on the viewer, then your intro must be eye-catching and engaging. The first few seconds of the video are critically important; thus, it is better to pay attention to them. Moreover, intros are also used for branding and creating an identity on the platform. Therefore, you need to have a perfect intro in all your videos.
In this article, we will have a look at the best 15 online intro video makers, and iMyFone Filme -the best software intro video maker. After reading this article, you will be able to pick the best intro video maker online free of cost. Let's begin.
15 Best Free Online Intro Video Makers
1) Animaker - Large Animation Library
If you want to create an animated intro for your YouTube video or any other type of video, then Animaker is one of the best online tools. The best thing about it is that it has a vast library that can help you select anything you need to create a perfect video. It has 100M+ stock videos and images, so you only need to choose the appropriate one for your needs.
Moreover, it is a beginner-friendly tool that anyone can use. It does not require any experience. You can use its 1000+ templates to make any kind of animated intro in no time. Just drag and drop the elements, and your video is ready within a few minutes.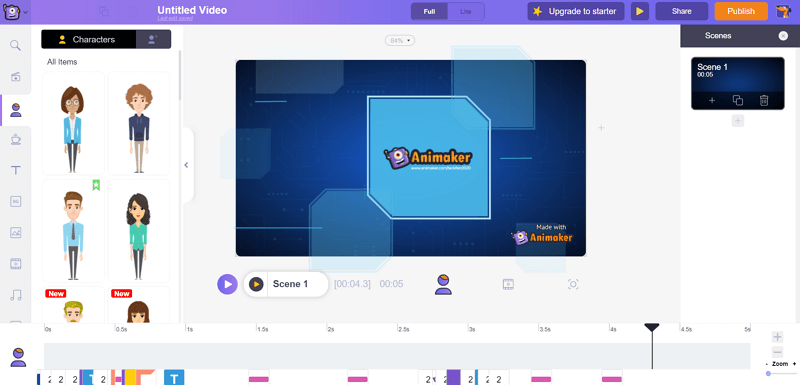 2) OFFEO - Creative Design
OFFEO is a video maker that has a special tool that is only made for creating intros. It has 100+ special templates that you can use for the purpose and make an intro in no time. You can create almost any type of intro to represent your brand, YouTube channel, tagline, or company.
It is just as simple as dragging and dropping. The templates are professionally designed and highly customizable, so you only need to customize them according to your needs. You can add text, effects, logos, background, and animations. Using this tool, you can create intros for YouTube, Vimeo, gaming, presentation, or any other purpose.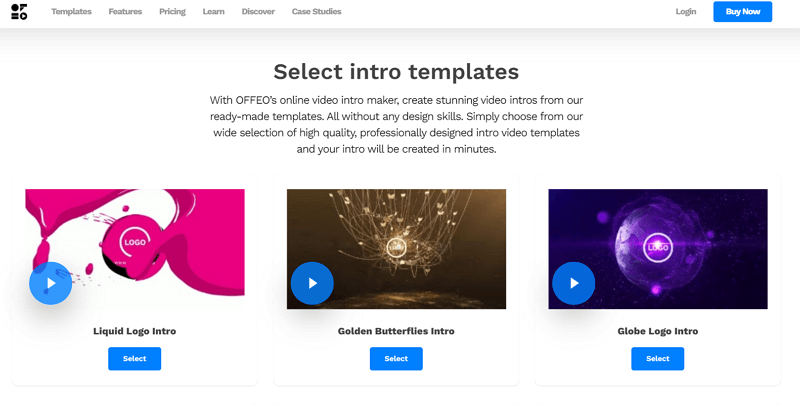 3) Canva - Create Free and Easily
Canva does not need an introduction. It is the most famous graphics creation online that everyone uses, whether it be digital marketers, students, teachers, freelancers, or anyone else. It can be used for professional, commercial, and personal use.
Canva can create any type of video, including video intros. You can create intros for Facebook, YouTube, Linked In, TikTok, and Pinterest. There are preset templates available, but you can also create your own. Thus, you can turn your imagination into reality and create something you need.
You have access to stock photos, audio, images, gifs, shapes, and other media, so you can easily create an awesome intro. Moreover, it is integrated with many apps, including Facebook, YouTube, and Flickr. Therefore, you can add media to your intros from any platform.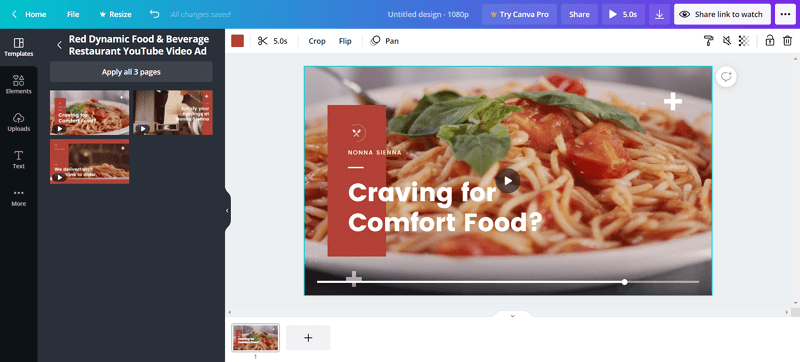 4) Biteable - Online and App
Biteable is an online video maker that can make any kind of video. You can make animated videos, intros, software promos, advertisements, presentations, posts, or almost anything you can think of.
You can use its templates and create excellent intros according to your needs. You can customize by dragging and dropping the items in the video. It allows you to adjust the color of text, animations, background, and ribbon. You can add stunning animations, videos & images, icons, logos, or any object to your video.
This web-based tool is super easy to use. It has limited features, but you can still create a stunning video. In your intros, you can add your logo, music, text, images, and animations. Your intro will be ready without any hassle.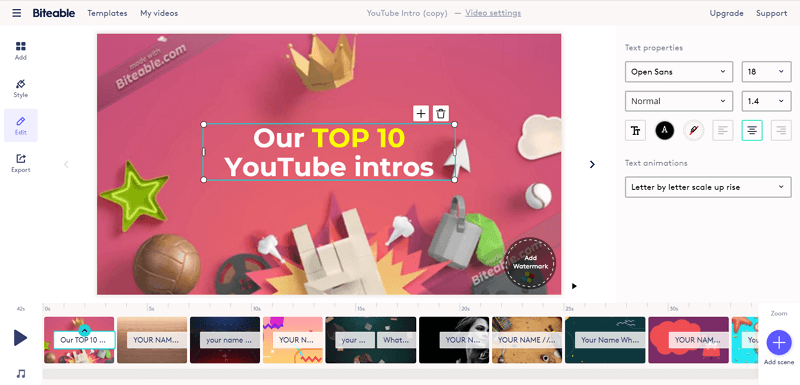 5) InVideo - Professional and Easy-to-Use
There are many online intro makers, but not every tool has a wide range of intro templates. InVideo is one of the tools that has hundreds of intro templates of almost every type. Just name the type of the intro, and you will have a stunning template in its library.
The templates cover almost every category, including YouTube, gaming, food, fashion, business, education, sports, art, graphics, logo, action, and many more. Moreover, they are available in different aspect ratios, such as 16:9, 9:16, and 1:1.
You can add text, music, images, videos, logos, stickers, overlays, shapes, masks, and collages. Thus, you can customize the template according to your own creativity.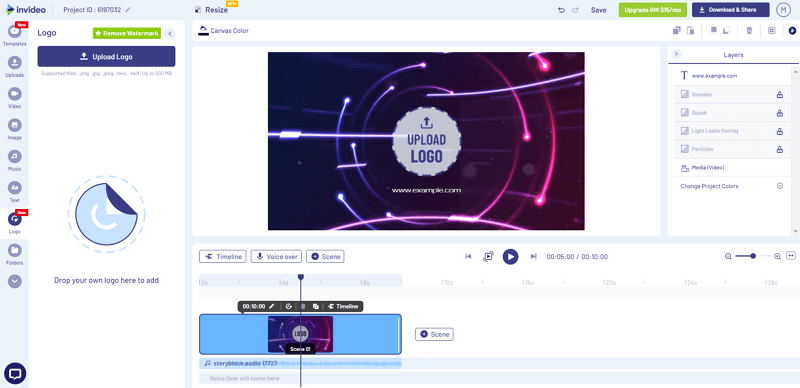 6) Flixpress - Graphics and Effects
Flixpress is a vintage video maker, which has templates that look quite old. If you are interested in creating an intro in vintage style, you can try it. It has a wide range of templates according to different occasions.
Along with templates, the interface and tools will also take you a decade back. Everything is pretty basic, and you can customize a few things in the template. You can add text to predefined places and select audio. However, it is beginner-friendly, and if someone is looking for old-fashioned intros, it could be the best choice.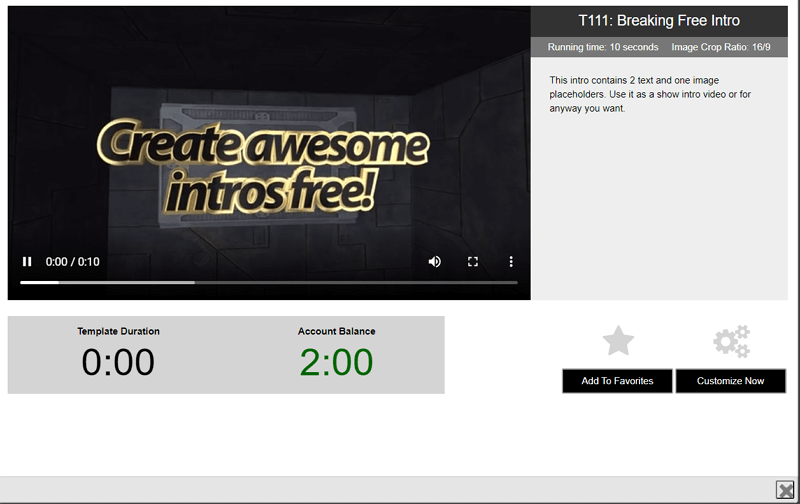 7) Intromaker – Music Intro Video Editor
Intromaker is a video editor specially created to make stunning intros. As it is only for intros, the developers have given special attention to the templates to create something exceptional. It has different types of intro templates, including 3D, colorful, corporate, multipurpose, drawing.
Creating a video is pretty simple. You just need to select a suitable template and add an image to it. Your video will be ready in a few seconds. However, you cannot customize the intros. Thus, if you need quick intros just by adding an image, you can use this online tool.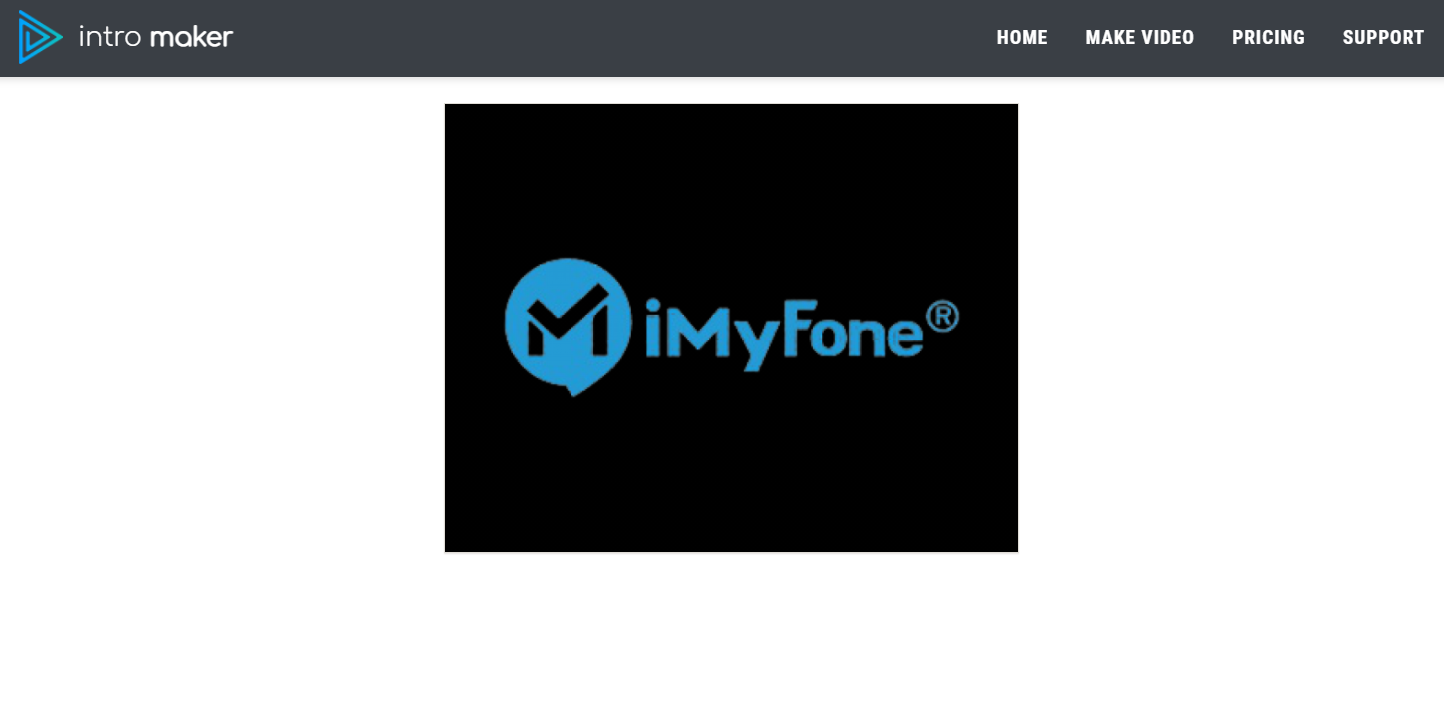 8) IntroCave - Custom Intro Video Maker
IntroCave is a very simple and basic intro maker. You can create simple yet attractive intros using its templates. It has a huge range of templates that are customizable. You can customize the logo, background, text, subtitles, and colors.
After selecting a suitable template, you just need to customize it. Your intro video will be ready, and then you can use it as you like. All templates have default music, but you can also change it or keep it muted.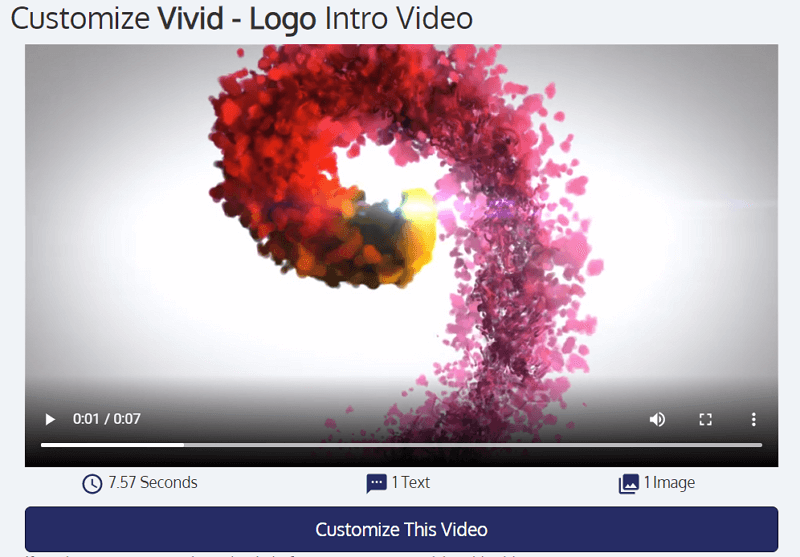 9) Ivipid - Create Quality Video Intros
Ivipid can create high-quality video intros using its professionally designed templates. There are several dozen templates, and all of them are designed pixel-perfect. You can use them in your high-quality videos.
After selecting a template, you can customize it. However, all templates have their own customization limits. You can edit text, select a color, enter your website address, and do other things, depending on the template. Within a few clicks, your high-quality video intro will be ready.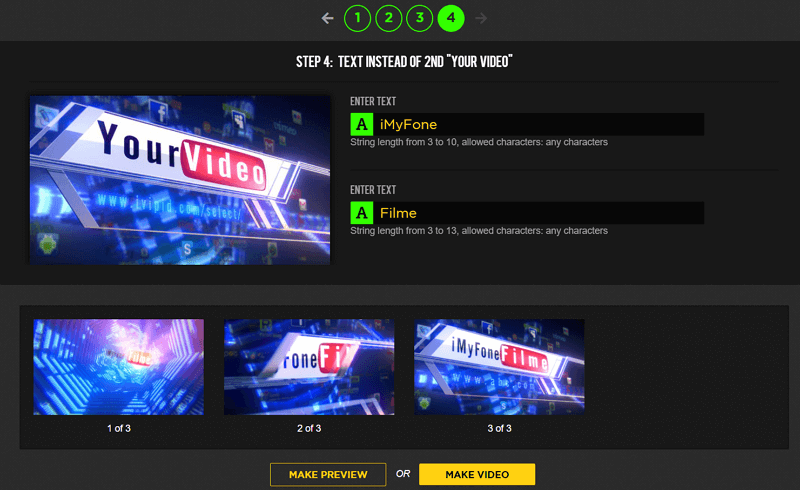 10) Lumen5 - Perfect for Business
Lumne5 is an extraordinary video maker designed for professionals. You can confidently use it for commercial purposes. It can help you create professional YouTube intros, Instagram stories, explainer videos, advertisements, marketing videos, and everything you can expect.
It has a separate category called YouTube intros. It has intro templates that are suitable for various niches. The templates are pretty simple, and they look more professional, which is what a business owner or marketer needs.
The templates are highly customizable, and this feature of Lumen5 is commendable. You can edit text, images, design, duration of slides, music, logo, and format. It also has its own library of GIFs, images, and videos to make everything easier.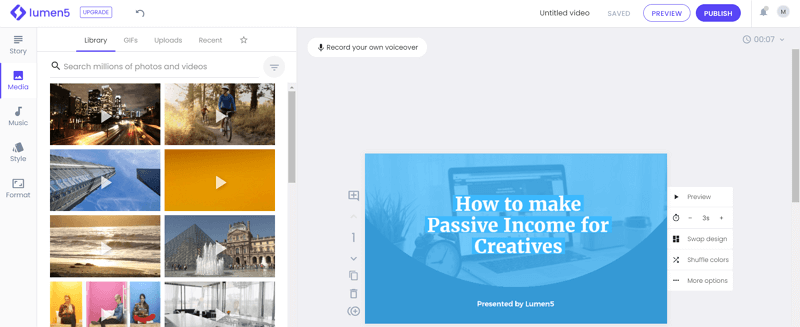 11) LightMV - Great Crss-platform Solution
LightMV is an all-in-one online video maker. You can create videos for YouTube, vlogs, travel, education, business, family, party, and various other occasions. You can also create mesmerizing intros using it.
The templates of LightMV have their own class. They are professionally created, and everything is more than amazing. After seeing the intro templates, you won't believe you can create such intros with an online tool. It is just like creating visual effects using a professional tool.
You can add images to the templates, edit the existing text, and add the desired music. It also has a music library from where you can choose suitable music for your intro. With the free version, you can export videos in 360p. For HD and FHD, you need to buy premium plans.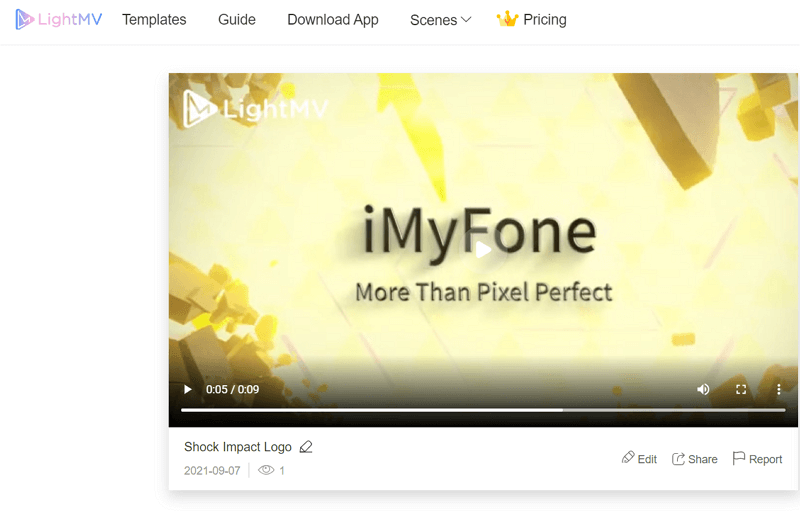 12) Wideo - Online Marketing Video Maker
Wideo is a web-based tool for creating animated videos. It is a versatile tool that can create any type of video according to your needs, but it is mostly used for marketing purposes.
You can create YouTube and business intros with it. It has video intro templates that you can use. The best part is that it is just like a video editor, so you have complete control over the customization of your intros. You can add the desired animations, images, and music. It also gives you access to its huge library of music and images.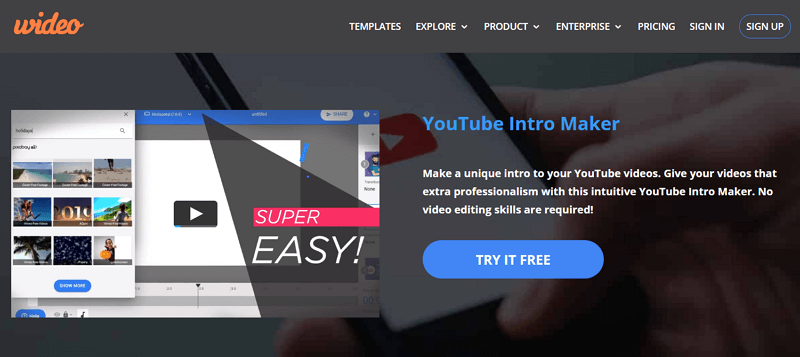 13) Visme - Stunning YouTube Intros
Visme is a complete graphics tool for creating videos, presentations, infographics, graphs, and social media graphics. It also offers a YouTube intro-making tool that has 40+ templates for creating intros.
You can use any template you like, but if you cannot find a suitable one, you can also use the blank template and create an intro according to your needs. All templates have three aspect ratios: 16:9, 9:16, and 1:1.
The best thing about it is its intro maker tool. It is like a video editor, and you can customize everything according to your needs. You can place text and other objects wherever you want. You can select the perfect font, graphics, grid, diagrams, photos, videos, theme color, and almost everything. The customization features that Visme provides are difficult to find in other online tools.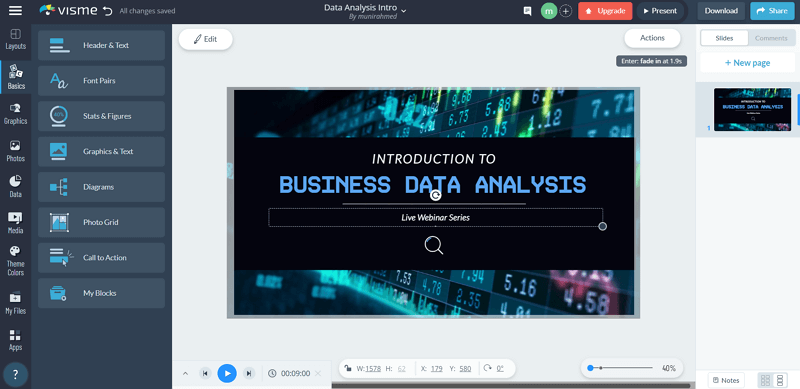 14) VideoCreek - Powerful Intro Maker
VideoCreek is a powerful intro maker because it has exceptional tools that you cannot find in other intro makers. You can create stunning intros without any hassle.
The most important feature of VideoCreek is its collection of 3500+ templates. You can use a suitable intro template for any purpose or occasion.
After selecting a template, you can customize it easily. You just need to drag and drop the elements and items. You can edit everything in the template. VideoCreek has its own library of images and videos that you can use in the video. You can also add music or voiceover to the templates.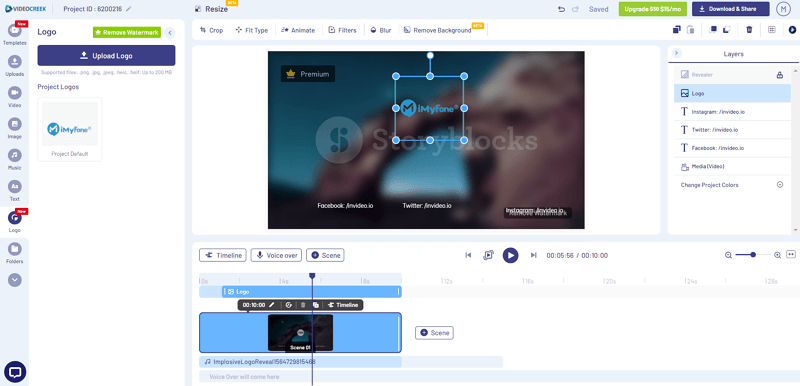 15) MotionDen – Animated Intro Templates
MotionDen is a platform for creating jaw-dropping video intros for YouTube or any other purpose. It is actually a video maker for creating all types of videos, and it offers some stunning templates to make everything more than perfect. You can make gaming intros, 3D intros, professional intros, 2D intros, and logo reveals. It is just a matter of a few minutes, and you will have your professionally created intro.
You can customize the template and choose free stock media from its millions of free stock assets. The templates require minor edits. You can also add music to it. Your final video will be rendered in a few seconds.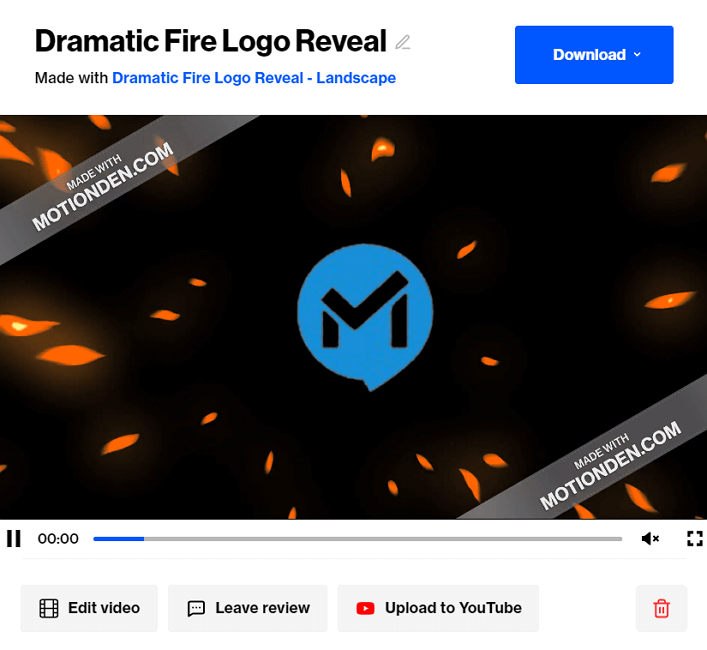 How to Make a Dazzling YouTube Intro Video Using iMyFone Filme
We have discussed the best online intro video makers. You can use any of them to create a stunning intro. All these tools are amazing, but they have some limitations. Online tools do not allow you to create a video that is 100% according to your needs. The templates only allow you to make minor edits, so you cannot do what you want. Therefore, you need a desktop tool that can turn your imagination into reality.
Filme is a powerful yet beginner-friendly video editing tool to make stunning videos of any kind. It has exceptional tools to make your videos beyond pixel-perfect. You can also create YouTube intros using Filme, and it can help your videos stand out from the crowd.
Features:
Filme has a wide range of templates that can be used to create animated slideshows or intros.

You can use effects, transitions, text styles, filters, and stickers to make your video mesmerizing and eye-catching.

You can add music, sound effects, and voiceover. You can also use the voice changer to change your voice.

The video can be exported in any format. You can make it according to YouTube, Instagram, Snapchat, or any other platform. You can also upload your videos directly to YouTube.
Steps to Make a YouTube Video Using Filme Video Intro
Step 1: Open Filme on your computer and click on Editing Mode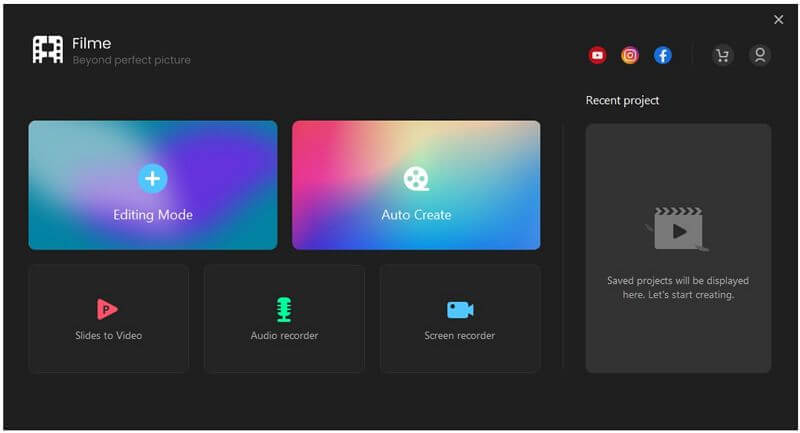 Step 2: Click on File>New Project and click on 16:9 for the YouTube intro.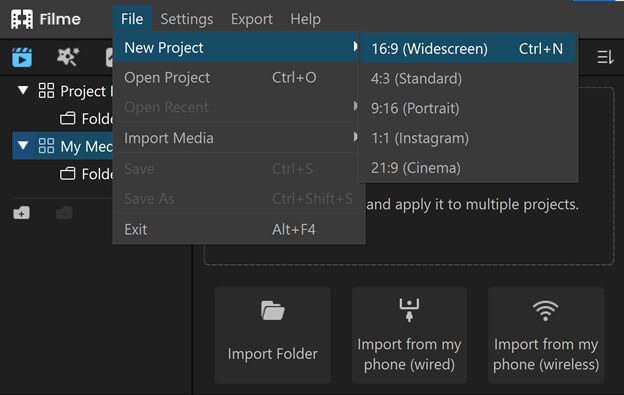 Step 3: From the Media menu, import all your files. You can import videos, images, music, or anything you need to create the intro. After importing the files, drag them to the timeline.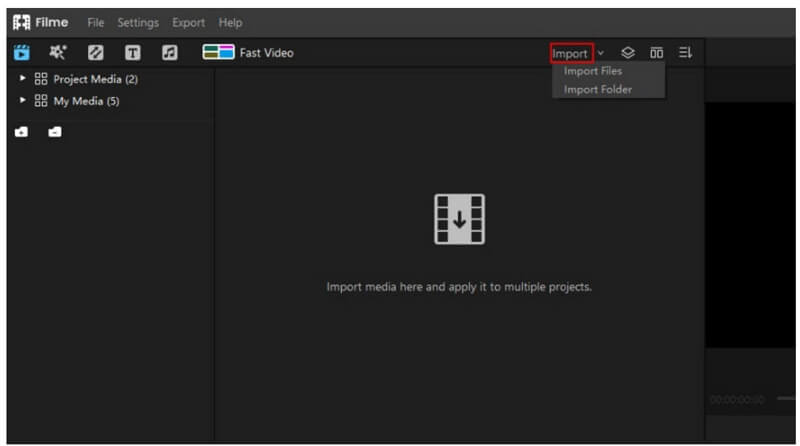 Step 4: Now, you can add text, images, effects, transitions, stickers, GIFs, and filters to your videos. You can do these from the top menus. Just go to any menu and click on the desired object you prefer.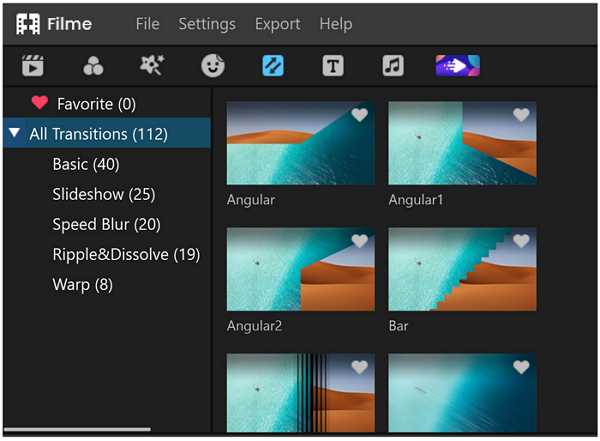 Step 5: You can also add music and sound effects. You can find the appropriate music and sound effects from Filme's library. You can also record your voiceover.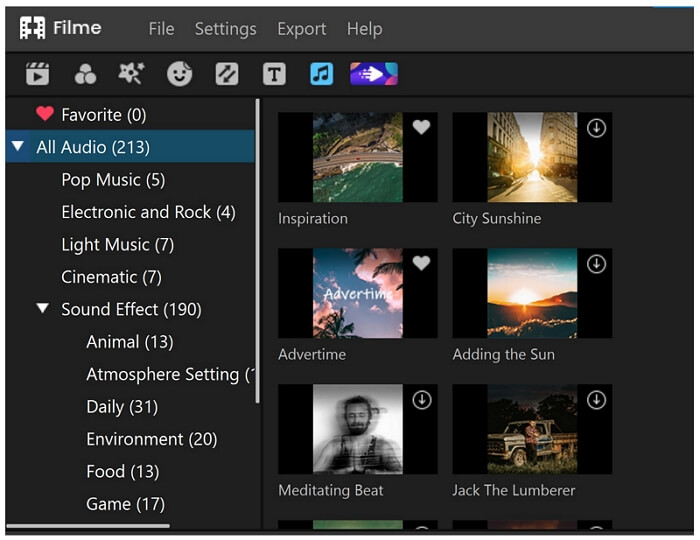 Step 6: Click on the Export button. You need to select the desired settings. You can choose resolution, frame rate, bitrate, quality, codecs, and other settings. Click on the Export button to save the video.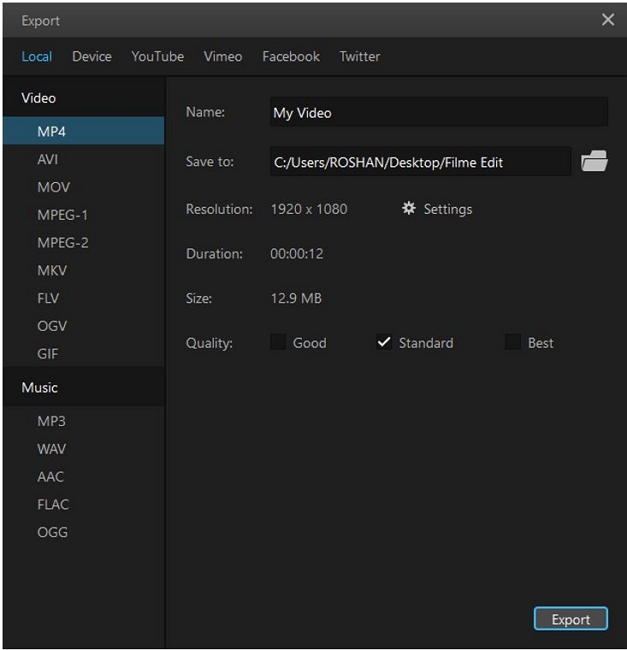 Conclusion
We have listed the best online intro makers in this article. For your ease, we have introduced every tool so that you can select the best one without any hassle. After using them, you can create an attractive intro for your videos. We recommend Filme as it is a complete video editor. Whether you need to make an intro or edit your video to make it perfect, Filme is the best option. It has every tool to make your videos stand out from the crowd.