If you're a fan of the iconic Toy Story franchise, you've undoubtedly been captivated by the lovable character of Sheriff Woody Pride. With his timeless cowboy charm and Tom Hanks' unforgettable voice acting, Woody has become a beloved figure in the hearts of both young and old.
In this article, we'll explore how you can harness the power of AI technology to sound just like Woody using the innovative Woody AI voice changer.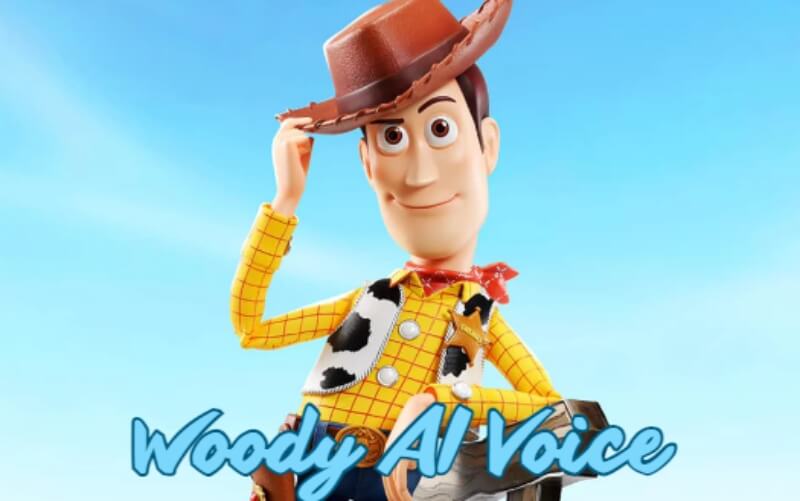 Part 1: Info about Toy Story Woody
1) Who is Woody?
Woody, the cherished character of Disney-Pixar's Toy Story series, is a pull-string cowboy doll. Known for his leadership qualities,Woody is adored by fans for his loyalty, iconic phrases, and memorable adventures alongside his toy companions.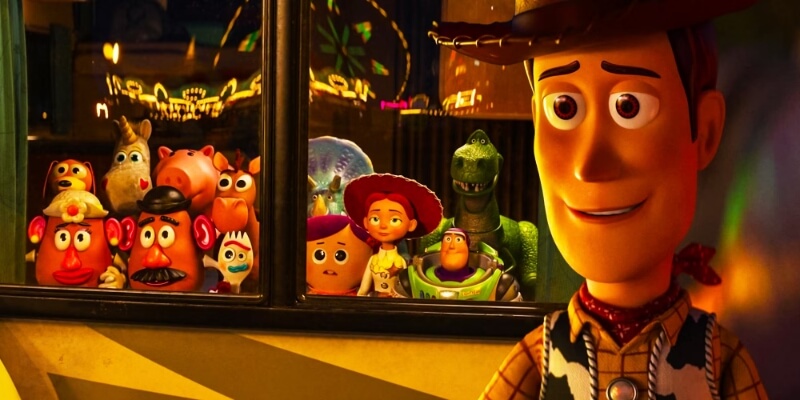 2)Who Plays the Voice of Woody in Toy Story?
Tom Hanks lends his voice to the character of Woody in the Toy Story film series. His portrayal has become synonymous with the beloved pull-string cowboy doll's personality and charm.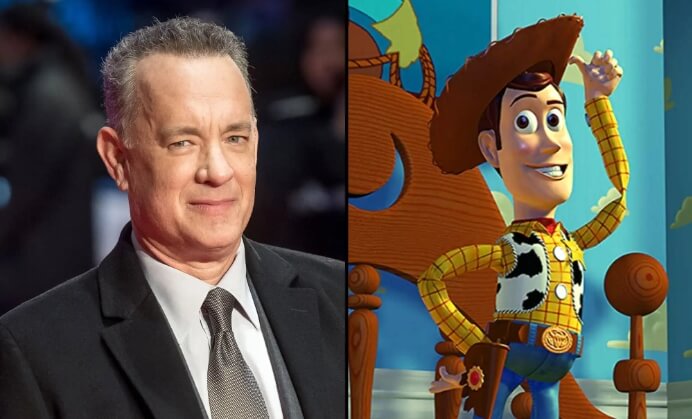 Part 2: How to Sound Like Woody's Voice with Toy Story AI ?
Curious about Woody's iconic voice? Wondering how to transform your own voice into that of the beloved cowboy? Look no further than the remarkable MagicMic AI Woody voice changer. With over 600 sound effects, 200 voice memes, and 225 voice filters, you have the tools to emulate Woody's distinctive tone and create an immersive experience for your audience.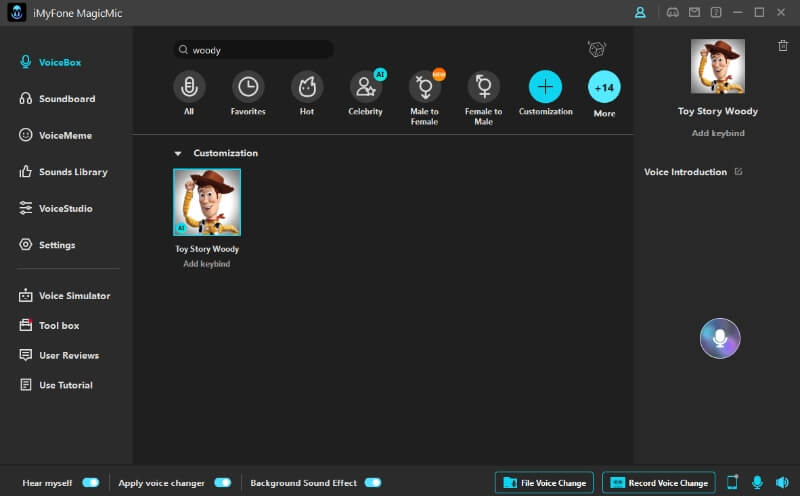 How to get Toy Story Woody AI voice?
Step 1: Download and Launch
Install MagicMic software, log in to your account.
Step 2: Configure Input and Program Settings
Choose your main microphone as input, enable "Apply Voice Changer," activate "Hear Myself."
Step 3: Select the MagicMic Virtual Audio Device
Select Virtual Audio Device as input in your preferred app for seamless voice modification.
Step 4: Choose Voice or Create AI Voice
Explore effects , assign keybinds, create personalized AI voices, such as Woody AI voice: Buzz Lightyear, Jessie,Lots-o'-Huggin' Bear and other characters in Toy Story.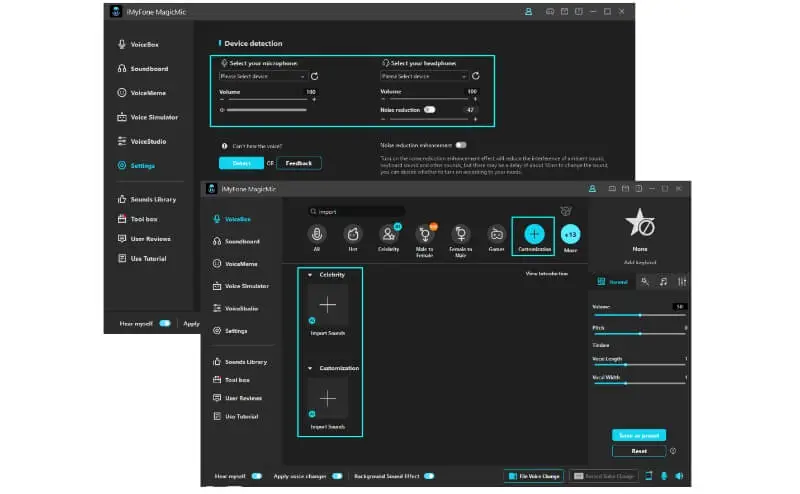 Key features of MagicMic
Woody Voice Changer
It provides 225+ voice effects,600+ voice effects and 200+ voice memes.

Elevate voices instantly with real-time AI effects.

Enjoy an integrated soundboard for fun audio interactions.

Personalize your experience with customizable hotkeys for quick access to preferred voice effects.

Experience improved audio quality through background noise reduction.

Seamlessly compatible with popular platforms like Discord and Twitch.

Capture and tweak audio from any source with the virtual audio driver feature.
2)VoxBox- AI Voice Generatior
Immerse yourself in the magic of Woody's voice with VoxBox, the ultimate Toy Story AI voice generator. Choose from 3200 voices across 77 languages, flawlessly capturing the distinct tones of anime and cartoon characters. Let an AI generator infuse Woody's essence into your voiceovers like never before.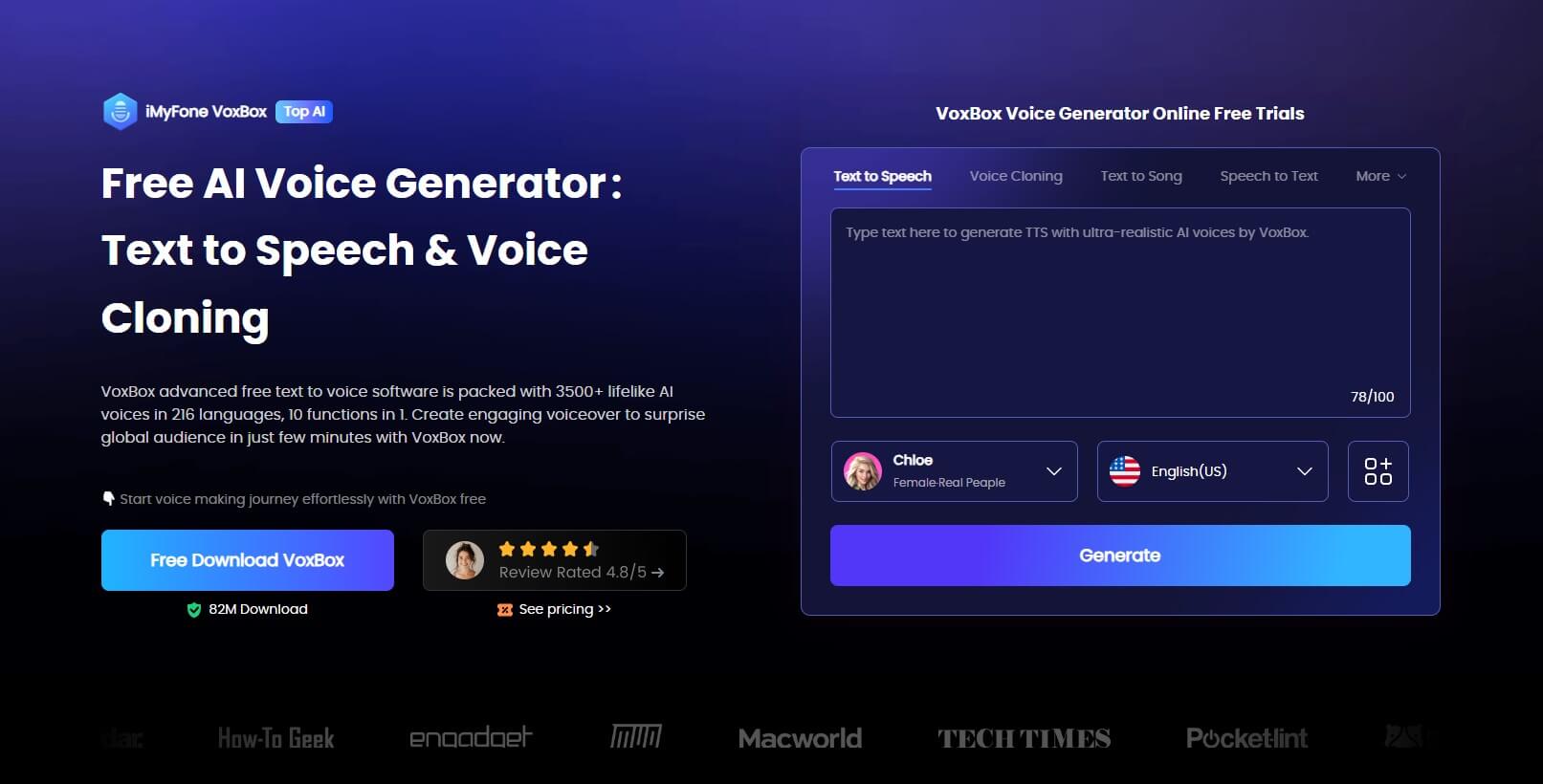 Steps of How AI Gets Woody Voice
Step 1: Download and install VoxBox. Access "Voice Cloning" and upload your chosen Toy Story Woody audio. Wait briefly for the desired Woody voice.

Step 2: Choose "Text to Speech," input the cloned voice's name (e.g., Woody), and enter text for voice generation.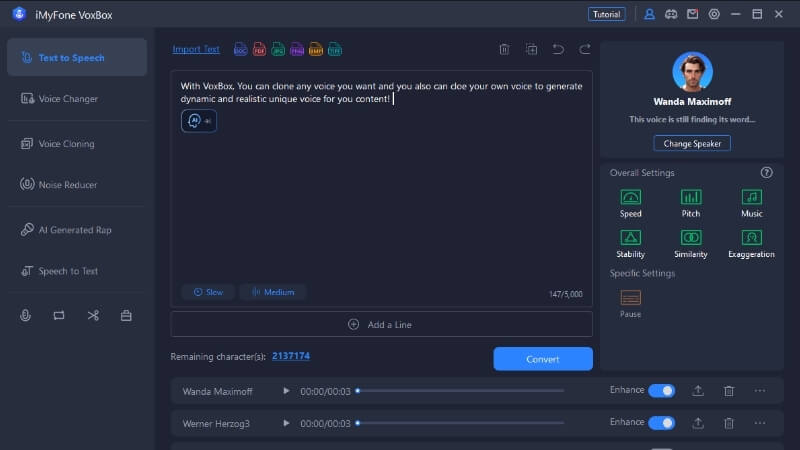 Step 3: Click "Convert" to export the realistic Woody voice.
Features:
Access 3200+ voices in 77 languages and over 100 accents for authentic speech.

Benefit from text-to-speech, voice cloning, and transcription capabilities.

Adjust pitch, speed, and volume according to your preferences.

Experience high-quality audio output in OGG, WAV, and MP3 formats.
Part 3: FAQS About Toy Story Woody AI Voice
Q1. What is Toy Story Woody AI Voice?
Toy Story Woody AI Voice refers to the AI-generated replication of Sheriff Woody's distinctive voice from the Toy Story franchise using advanced technology.
Q2. What is Woody's personality?
Woody remains a faithful toy, cherished by Andy since kindergarten. Displaying intelligence, determination, and unwavering devotion, Woody goes to great lengths for his cherished friends. He views his companions as kin and strives to ensure their unity in all circumstances.
Q3. Who is Woody's boyfriend?
Bo Peep, Woody's romantic counterpart in Toy Story, Toy Story 2, and Toy Story 4. In the initial movie, she suggests delegating sheep-watching duties to someone else, hinting at her intention to share personal moments with Woody.
Conclusion
In the realm of AI-generated voices, Woody AI voice stands as a remarkable innovation. Through the power of MagicMic, Woody's iconic charm becomes accessible to everyone. With an array of voices, languages, and accents, this technology offers endless creative possibilities. Whether for entertainment or business, the ability to embody Woody's voice adds a touch of magic to interactions.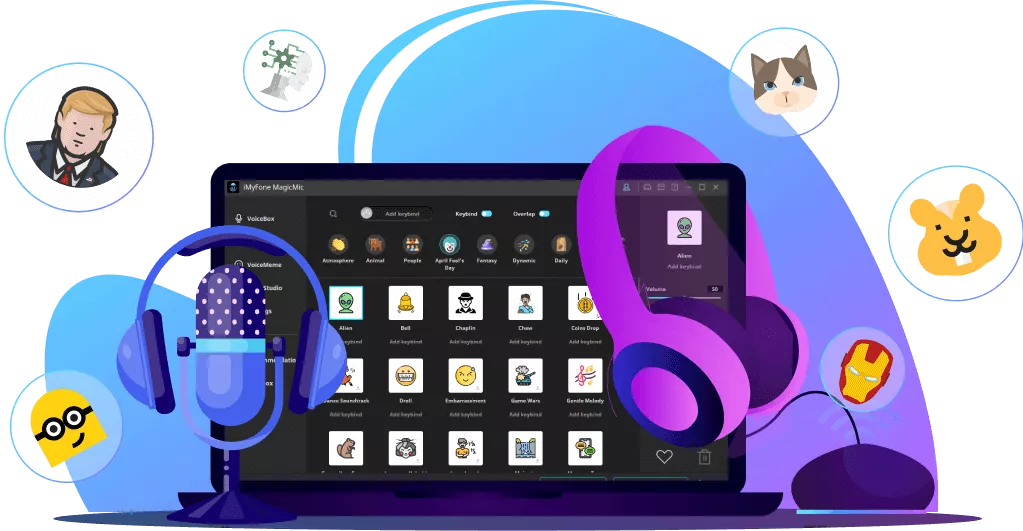 250+ Voice effects for one-click voice changing in real-time.
Huge library with 600+ Voice Effects and 200+ Voice Memes.
Sound emulator in games, live, chatting, online classes, and more.
Voice recording and audio voice changing is supported.
Voice studio lets you create any voice you like.