In the realm of cutting-edge technology, ElevenLabs has emerged as a trailblazer with its AI-driven voice transformation capabilities. Explore the power of Eleven Labs AI, delve into the world of Eleven Labs Voice AI, and discover noteworthy alternatives that offer diverse solutions for your voice transformation needs.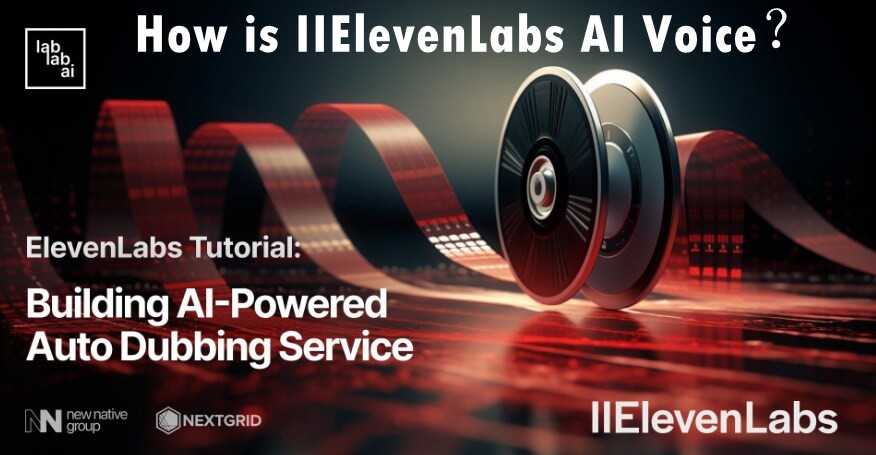 Discover more about Eleven Labs, Eleven Labs AI, and explore alternatives in this comprehensive guide.
Part1: Overview Of Eleven Labs
1. What Is Eleven Labs?
Eleven Labs is an American software company founded in 2022, specializing in advanced AI-driven voice transformation. Their cutting-edge text-to-speech technology replicates human speech patterns, emotions, and intonations.
It offers real-time voice modification, including celebrity voice cloning. From podcasts to entertainment, Eleven Labs is reshaping voice interaction and content creation.
2. Eleven Labs AI Review
Eleven Labs stands as an exceptional AI-driven text-to-speech (TTS) generator, amassing a remarkable 4.8 out of 5 rating. Its users laud its precision in converting text into natural audio, offering a diverse array of customizable voices and accents.
The platform's seamless interface and high-quality output consistently garner praise, showcasing its top-tier performance.
3. How to Use Eleven labs?
ElevenLabs offers free usage for individuals, allowing up to 10,000 characters of text-to-speech per month in various languages and accents. Here's how it works:
Step 1:
Sign up on Eleven Labs' website.
Step 2:
On the Speech Synthesis page, pick your voice and audio model.
Step 3:
Enter your text, click "Generate," and download the MP3 file.
Step 4:
Explore voice cloning and Voice Library for accents.
Step 5:
Add samples to VoiceLab, choose a voice, and generate speech. You're all set!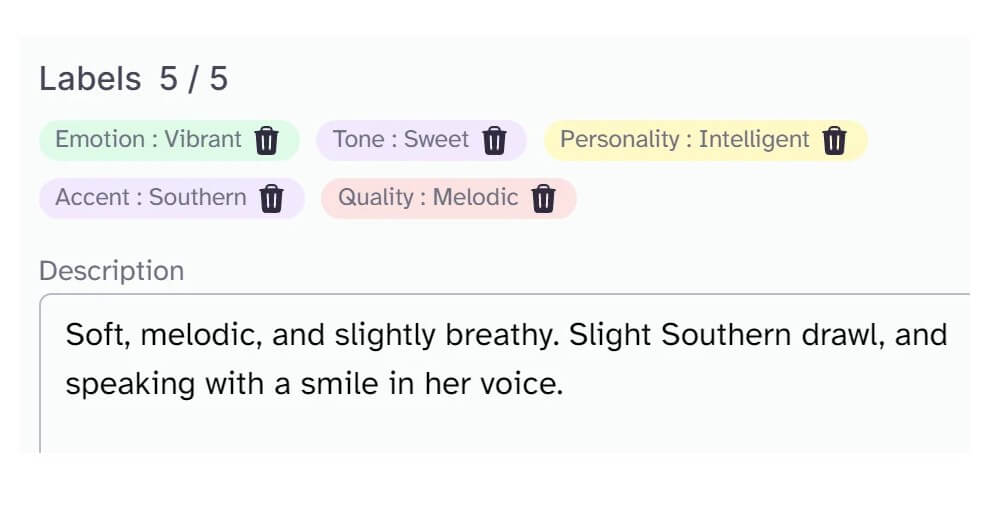 Part2: Top 10 Free Eleven Labs Alternatives
While Eleven Labs is known for accurate TTS and natural voices, other alternatives cater to diverse needs. Check out these top options:
MagicMic Voice Generator emerges as a top Eleven Labs alternative. Unlike typing, it lets you transform speech into various character voices through your microphone. Moreover, MagicMic facilitates real-time voice changes across popular platforms, enhancing your voice modulation experience.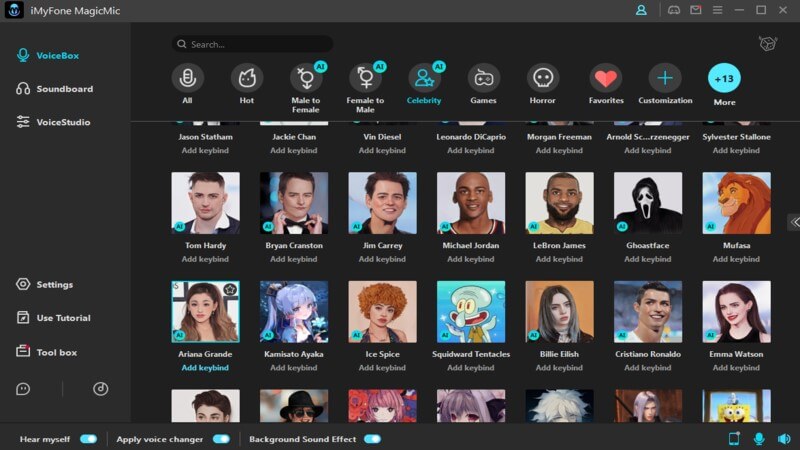 2. Murf
Murf voice generation platform excels with rapid text-to-speech conversion, lifelike voices, and customizable parameters like pitch, speed, and more. Its versatile AI-generated voices suit diverse needs, from eLearning to gaming. Murf also offers video creation with a sleek, user-friendly interface, making it an essential text-to-speech solution.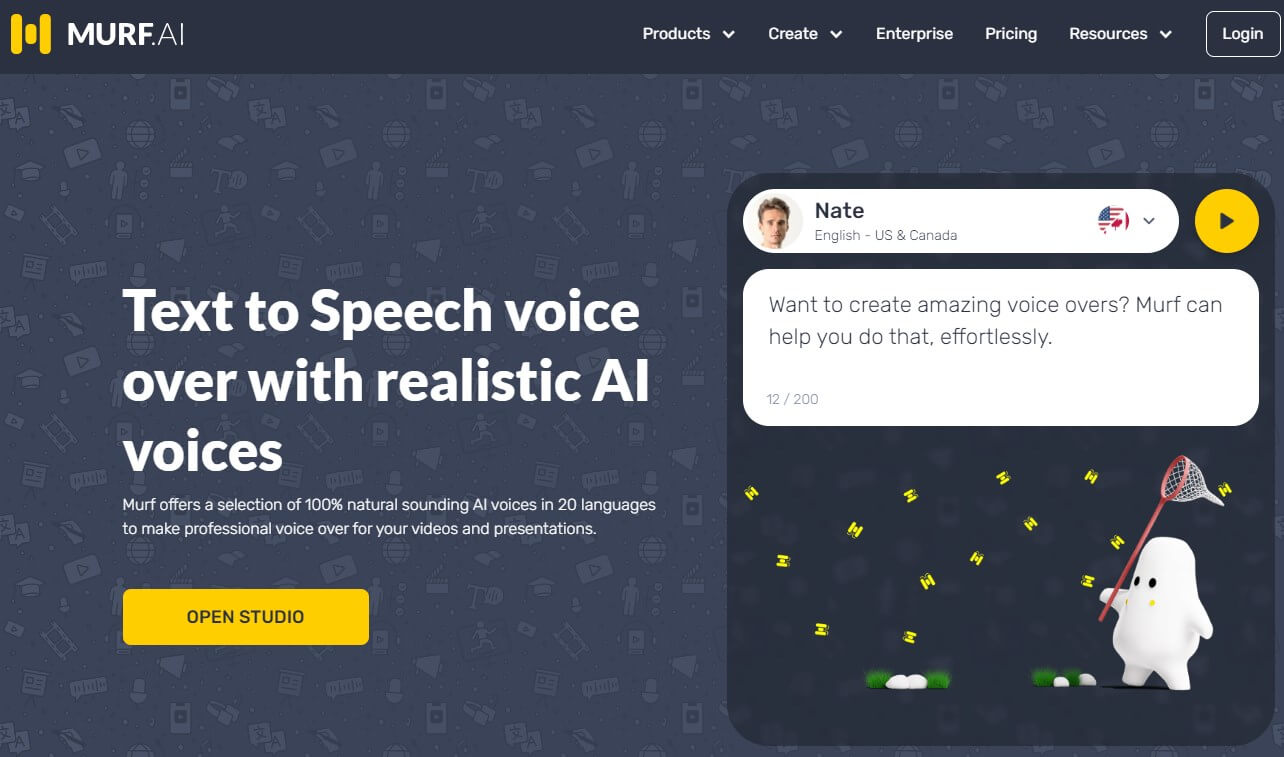 3. TopMediai
Harness the power of TopMediai's AI voice generator, a remarkable feleven labs free alternative, to create lifelike voices that captivate audiences and effectively communicate complex ideas and emotions, akin to genuine presidential speeches.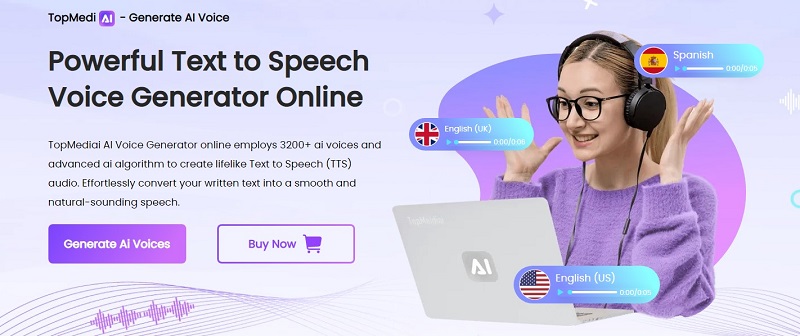 4. Play.ht
Discover Play.ht, a versatile eleven labs free alternative. Instantly convert text to natural speech, download as MP3/WAV. Choose from 907 AI voices in 142 languages. Create captivating voiceovers with text-to-speech editor, styles, pronunciations, and SSML.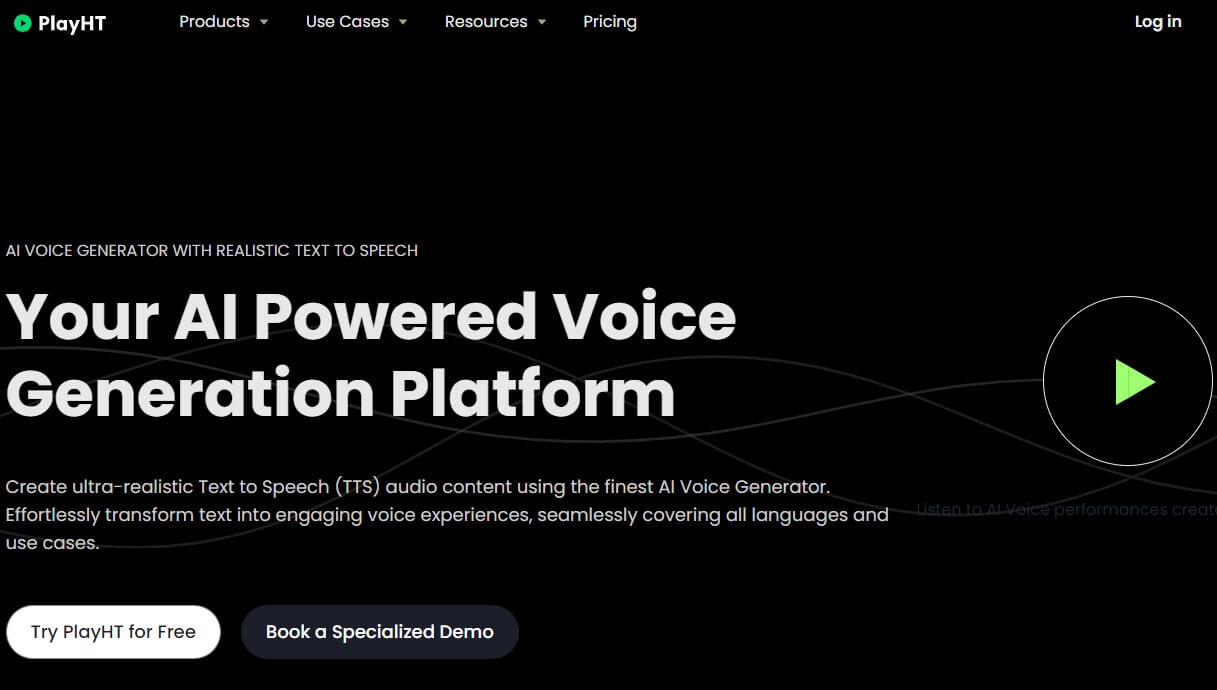 5. Natural Reader
Experience Natural Readers, a versatile tool for text-to-speech conversion. Convert written text to speech, including PDFs, eBooks, and emails. Accessible as a mobile app and Chrome extension. Choose from various voice styles and speeds. Ideal for eLearning with dyslexia font and text highlighting. Elevate accessibility and independence with this eleven labs voice cloning alternative.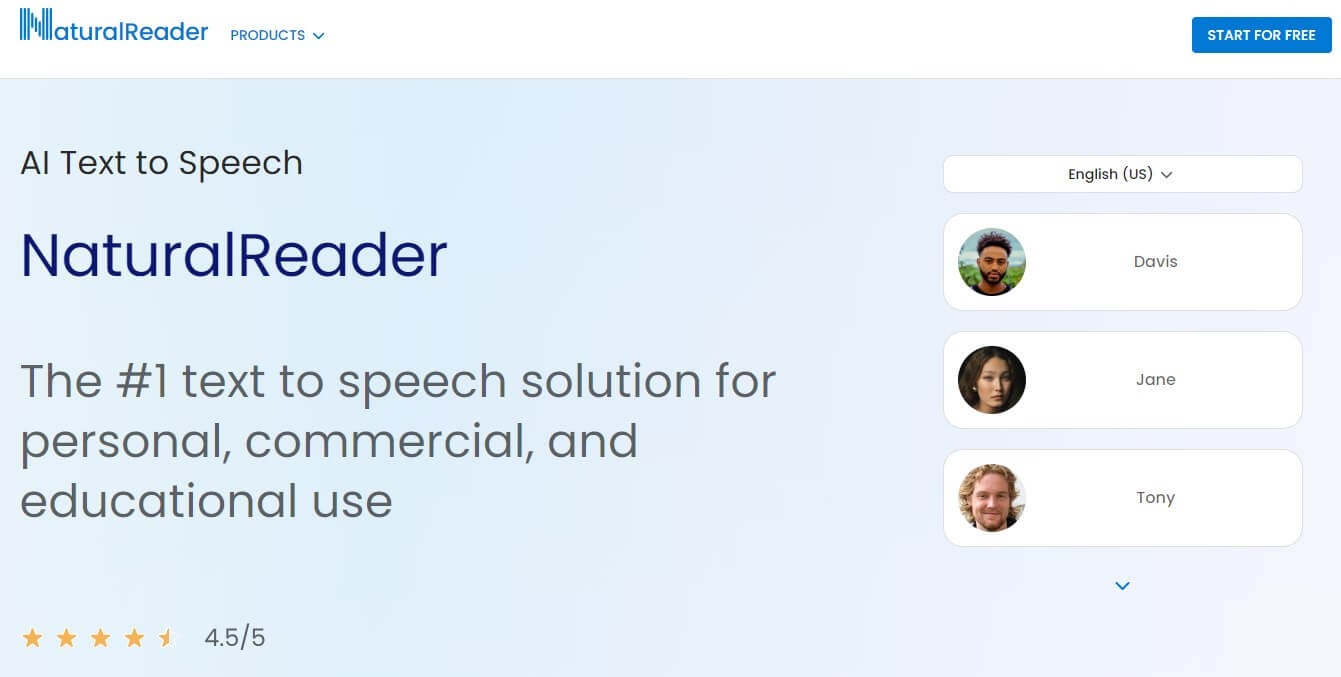 6. Amazon Polly
Harnessing advanced deep learning techniques, Amazon Polly excels in generating natural-sounding speech, serving creators and businesses. This complements the features of eleven labs ai voice. With an array of lifelike voices in diverse languages, it seamlessly supports speech-enabled applications.
Users can refine output using SSML tags, adjusting phrasing and emphasis. Amazon Polly boasts a library of 47 AI voices in 24 languages, with an API for swift integration, enhancing the capabilities of eleven labs ai voice.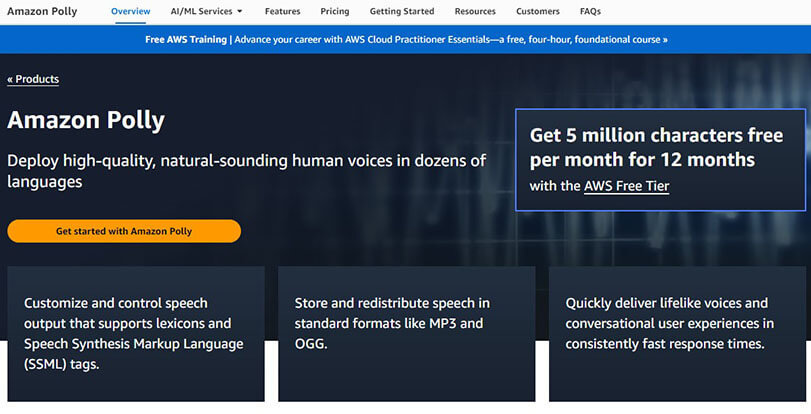 7. Google Text to Speech
Google Text-to-Speech API transforms text into lifelike speech for seamless creation of speech-enabled apps. Pick from 380+ voices across 50+ languages, like Spanish, Russian, and Hindi. Adjust pitch, rate, and enhance with SSML tags for precise customization.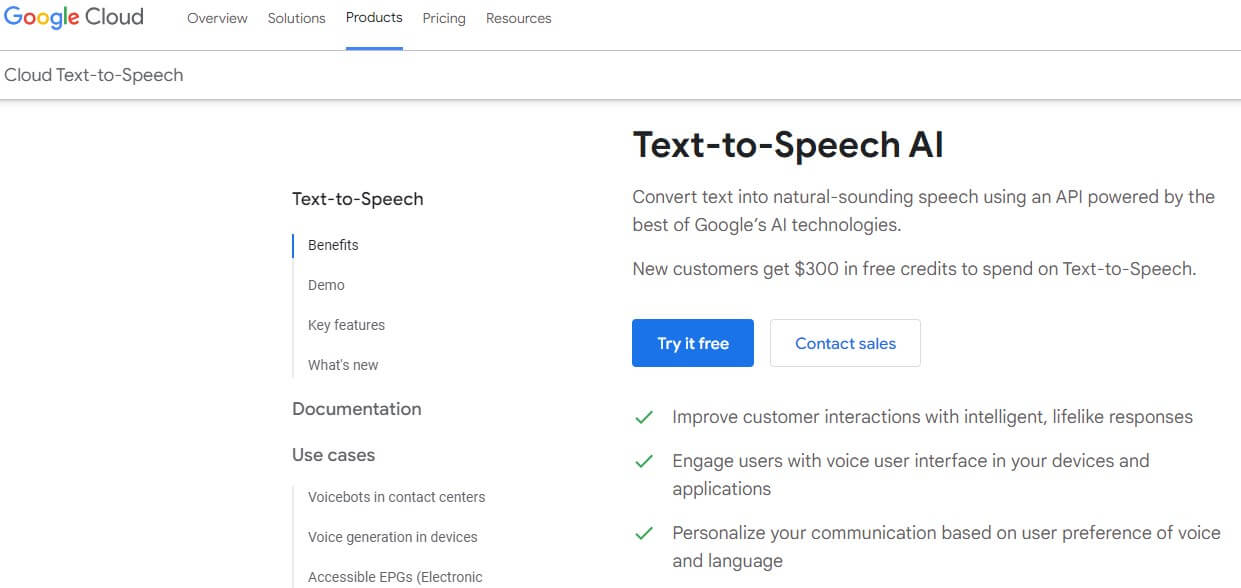 8. TTSReader
TTS Reader, an efficient text-to-speech tool like Eleven Labs, reads various text documents including PDFs, ebooks, and web pages. It's perfect for auditory learners and supports multiple languages. With an offline option and a Chrome extension, it offers accessible and convenient content consumption, enhancing the online experience.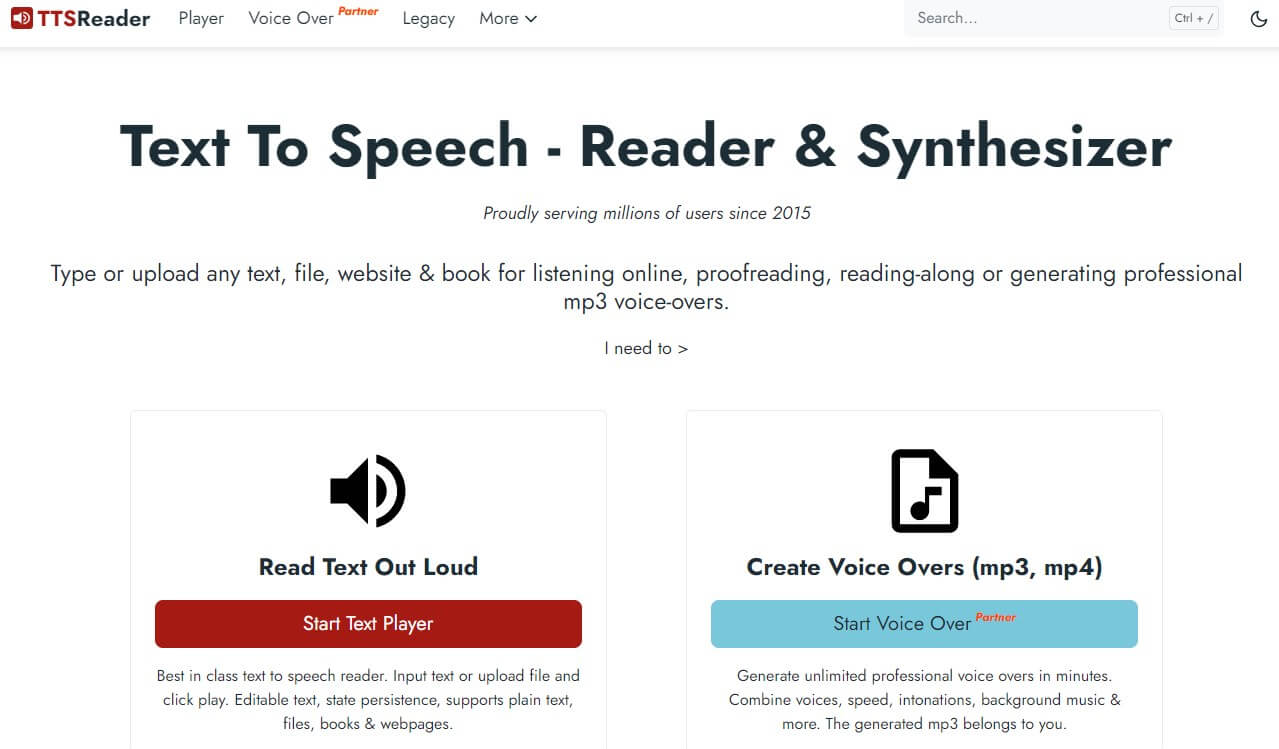 Final Words:
Embarking on your voice transformation journey with Eleven Labs AI voice, a reliable tool for text-to-voice conversion, opens up a world of character-based vocal possibilities. However, for those seeking alternatives, we recommend MagicMic and TopMediai.
MagicMicstands out for its real-time voice modulation, while TopMediai impresses with its lifelike voices, making both excellent Eleven Labs alternatives.Experience the transformation today!(use MagicMic)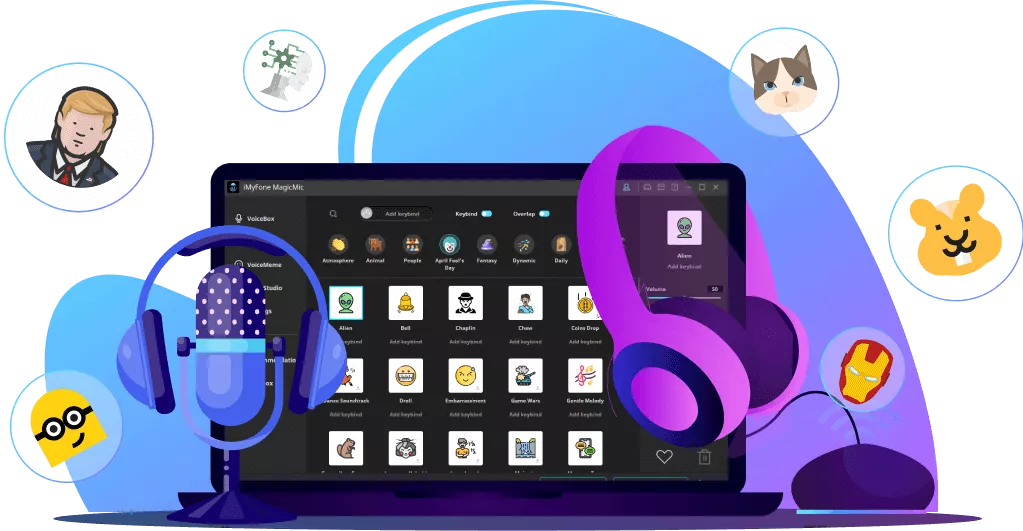 225+ Voice effects for one-click voice changing in real-time.
Huge library with 600+ Voice Effects and 200+ Voice Memes.
Sound emulator in games, live, chatting, online classes, and more.
Voice recording and audio voice changing are supported.
Voice studio lets you create any voice you like.