We all have our favorite video on YouTube. You might hit that replay button hundred times, but did you know how to play a YouTube video on loop? You can loop a YouTube playlist or favorite video.
On this article, you will learn how to loop a song on YouTube with a simple guide. Learn how to create a YouTube loop section with different tools that you can use without any download.
Part 1: Loop YouTube Videos with Loop Button
It is possible that you haven't heard of this feature before. That is, because this feature is no advertised that much even if it has a button on the display of your playlist. Still, it is possible to loop a YouTube playlist and videos.
If you want to learn how to loop a song on YouTube, just follow these instructions:
You just need to search the video you want to loop.

Once it is playing, you just need to place your mouse over the video and make a right click.

A menu of options will unfold. You just need to click on the "Loop" option.
And it is done, your video now will play on a constant loop and you just need to reproduce another video to stop the loop.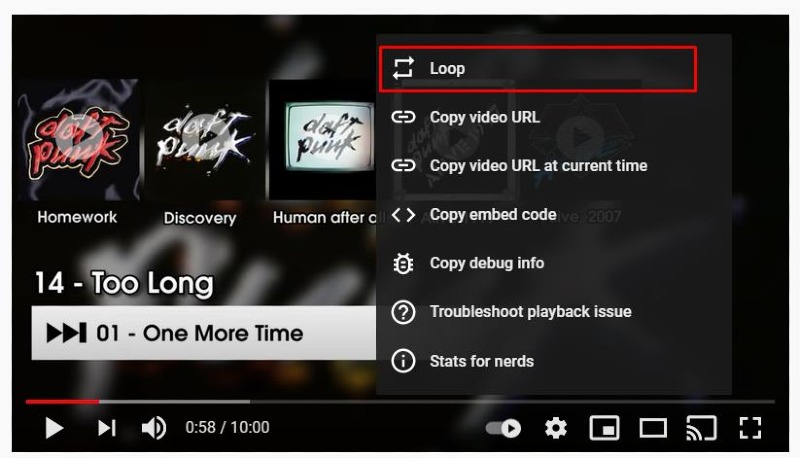 You might as well adjust a loop on any playlist. If you want to loop a YouTube playlist, you need to follow these steps:
Create or reproduce the playlist you want to loop.

Start reproducing the YouTube playlist. You should notice a menu with all the videos of the playlist on miniature. It may be bellow if you are at the app or at the right of the current video (Depending the device you are using). It should have the name of the playlist at the top, click on it if it is closed to display all the options.

Now, click on the arrows representing the "Loop" option. Once it is on, your playlist will loop and once you end the last video it will start from the first one again.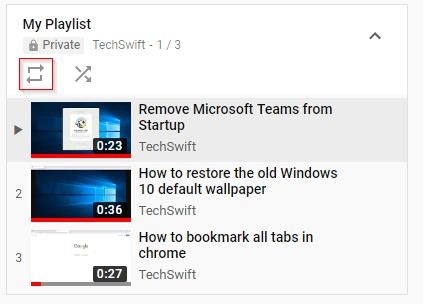 Also Read:
How to Make a Slideshow Loop Powerpoint
Part 2: Repeat YouTube Videos with YouTube Looper
Even if you can loop your videos and Playlist on the platform itself, you can use other tools if you want. There are Chrome different alternatives, yet we will focus on two of the most common ones. That is, a Chrome Extension and an online youtube looper website.
You might as well find extensions on your favorite browser. There are different assistant tools that could help learn how to play a youtube video on loop. We will give an example and instructions of each alternative we mention.
These alternatives has their benefits, since you can adjust freely which part of the video you want to loop instead or looping the whole song or the whole playlist. Also, most of these alternatives are free tools available to anyone online. You don't need to download any software tool to keep reproducing your favorite video clip.
1. Chrome Extension – Looper for YouTube
You can download the Looper for Youtube extension for free on the Chrome Extensions section. It is a simple tool that will add a button to the menu display. On any video you will now have the "Loop" option. It is really simple to use and it even counts with technical support.
Here are the steps on how to install and use it:
Go to the official link on the Chrome extension section to download Looper for Youtube

Add the extension to your Chrome Browser. Make sure it is enabled.

Now you can go to any youtube video and bellow the video player, you will now see a "Loop" option that is created by the extension. Click on this option.

No you loop your video. You can decide whether you loop the whole video or just a section of it. To adjust only a section loop, you can click on the reproduction bar that will unfold.

Now you know how to loop a song on YouTube using a Chrome Extension. The extension will also count how many loops it has played.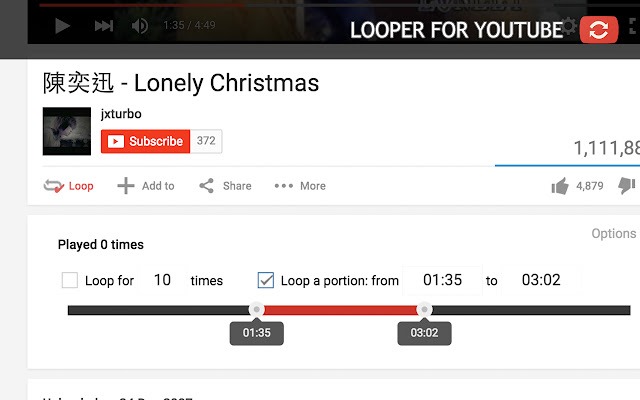 2. Online YouTube Looper – YouTube Loop
YouTube Looper is a free online website that can help you loop a YouTube playlist or only a video. You only need internet connection to use it, that is useful is you can't download any software loop tool. To use this website tool, follow these steps:
Open YouTube Looper on the internet browser of your preference.

Load one or multiple YouTube videos. You can do so if you copy and paste the videos links.

You can adapt specific sections of the video on loop.

Control the loaded YouTube videos and enjoy.

Part 3: How to Loop a YouTube Playlist?
We mentioned earlier but we will get into detail on how to create your own YouTube playlist. Most importantly, we will explain how to loop a YouTube playlist using YouTube options without any external application.
First, create your playlist by searching your favorite videos and clicking on the "Add to Playlist" icon. It looks like three lines stacked with a plus icon.

You might add the video to an already existing playlist or create a new one with a custom name.

Now, open your account playlists and you will see the playlist you just created. Keep adding all the videos you want.

Once your playlist is done, start reproducing it and you will see the playlist options close to your video playing.

Turn on the loop option to repeat all the videos from the start once the video ends. This loop reproduces all the videos completely.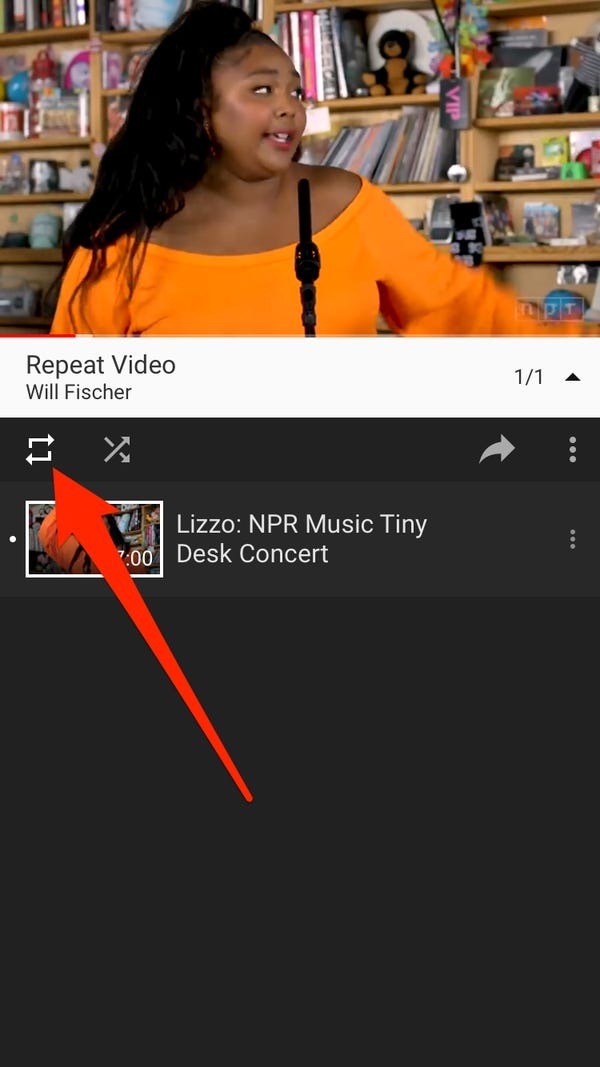 Part 4: Make a Loop Video on Desktop- iMyFone Filme
Loop videos are an interesting way to create an enhancing content. It attracts the attention of your public. There is a great chance that your public will see multiple times a loop video, that can be due to the feeling that it still does not end or due to the fascination of the continuous information.
It can be a powerful marketing tool if you use them on your social media brand. Loop videos can also be of great help if you want to keep attention to details on a specific video section. You can even create a loop out of a song part you enjoy a lot.
If you are wondering how to play a youtube Video on Loop, we will recommend another alternative you can use: iMyFone Filme. This video editor is a reliable tool that can help you download and edit your favorite videos.
If you want to learn how to loop a song on YouTube with iMyFone Filme, here is the tutorial on how to use this tool.
You can download it from the official website for free.

First, download the video you want to loop.

Now import your video to iMyFone Filme

To create your loop video, just copy your video clip with command (Ctrl + C) and paste (Ctrl + V). Do it as many times as you need the loop to repeat itself.

Save your video in your preferred format. You might as well share it right away since it is compatible with social media platforms like Facebook, YouTube, and Twitter.
If you want to, you can add effects to your loop video. There are more editing features like text adding, audio editing, and noise filters. You can adapt and change your videos with stickers, Chroma filters, and other useful tools that are come by on just one tool.
And here is the detailed video tutorial about how to use Filme.
Check Out Hot FAQs About Looping YouTube Videos
1. How to Fix YouTube Loop Not Working?
If you can't loop a YouTube playlist properly, there might be a bug going on that YouTube has not fixed yet. There are some features that might show conflict with the "Loop" feature. To discard any other feature, turn off the "Autoplay" option if you are looping a single video.
If you want to make a loop out of a playlist, it is best to turn off the "Shuffle" alternative. Hopefully, it will solve the bug that is messing with your Loop function.
2. How to Loop a Section of a YouTube Video?
You can adjust the link of your YouTube video to create a loop section on your YouTube video. Depending on the URL of your video, you can add a timestamp by typing &t=1m30s" or "?t=1m30s". Change the time depending where you want the video to start.
Final Words
We hope that you have learned a useful and quick way to loop a youtube playlist or video that you prefer. There are alternatives on youtube itself or using external tools if you want more detailed features for your video loops.
Even with the entire social media platforms that were created, YouTube is still the biggest platform for video sharing. If you want to create high-quality videos and media content, iMyFone Filme is the right tool to improve your content creation.