The VLC media player is an open-source and free cross-platform that supports different multimedia files such as audio, DVDs, and many other streaming protocols. Moreover, VLC media player is ideal to play videos from different sources and can be used as an editing tool. You can trim and cut videos with the VLC editor to create new videos. VLC is an advanced video editing software with the latest skills that help users to easily trim and cut their videos. So VLC video editor is the best solution if you want to cut unwanted clips from your video. Furthermore, the software provides users an option to share videos with family and friends via different mediums.
Video Editing Features of VLC Media Player:
VLC video player supports 4k video playback as it is a 4k video player. It also provides videos in different formats like hardware acceleration for high-end videos. Furthermore, the upgraded version of this open-source video editing tool is versatile and provides support for traditionally unsupported formats and devices. You can easily use the VLC editor on Mac and Windows.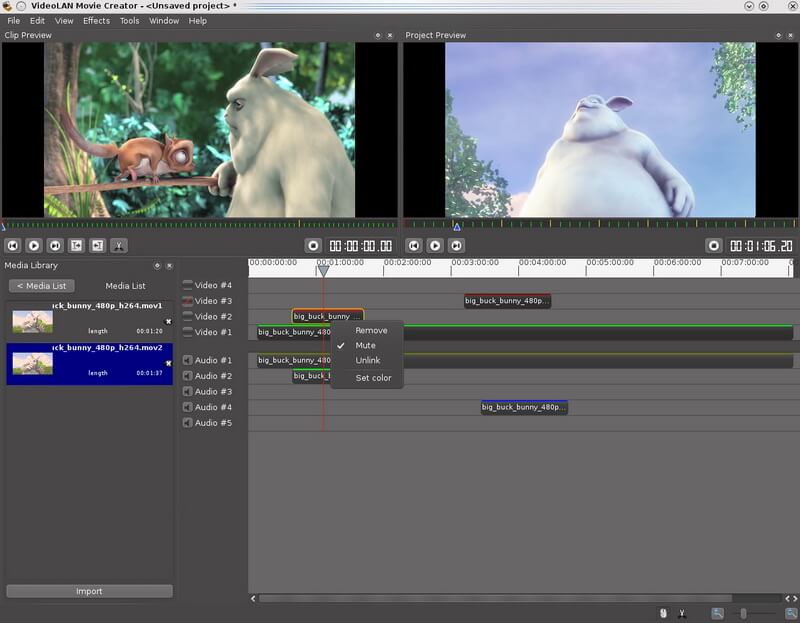 Key Features:
Let's focus on a few secret features of this media player to explore more about it.
VLC as a YouTube Video Downloader:
There are innumerable free downloaders available for YouTube, but the VLC video editor has a built-in feature. However, it's a one-click video downloading tool, and you need to take the browser help.
Convert Videos to any Format:
Converting video to any format is the most important part after downloading. The VLC video player can easily convert video into your device compatible format.
Graphic Equalizer:
VLC video editor is a cross-platform standalone media player. So it's clear that you can make use of audio effects with playlist supports because VLC has a good graphic equalizer for music.
Activate Audio Normalization:
One of the key features of VLC is its perfect for audio normalization that helps to optimize media volume and improve sound quality.
Play Podcasts and Internet Audio Stations:
The VLC video player has an incredible feature to find and play internet radio. Moreover, the VLC will fulfill your audio-related requirements because it can play podcasts and stream audio stations.
Pros:

100% free and incredibly fast

Simple to use yet powerful

Supports both h.265 and h.264

Supports all popular formats
Cons:

No timeline

Lack of user-friendly interface

Not ideal for beginners

Sometimes, VLC might fail to format and decode
How to Edit with a VLC Media Player?
VLC is a flexible and free media player that records and plays a variety of formats. The editing capability of the VLC editor is limited. However, the best thing about this tool is users can record clips from existing videos with great ease. The other functions are simple, and you will enjoy editing the videos when you know how to control them. Let's have a look at some of the unique features that increase its worth.
1. Trim:
Step 1: Select or Generate a File:
Different files have different formats, so it's necessary to convert the imperative trimming video into a VLC video player compatible format.
Step 2: Trim the File:
1. Open VLC and add selected videos that you intend to trim on the VLC player.
2. Now play the video and drag it to the point you want to cut, and after that click on the record button.
3. If you want to trim multiple parts of the video, repeat the process.
Step 3: Identification and Sourcing of Saved File:
You can customize the name of the trimmed video to know how to edit the video in VLC. The data will be converted into an MP4 file, and you can change it in any other formats later on.
2. Crop:
While cropping a video on Mac or Windows 10, many users will encounter a problem, so let's have a look at the complete solution.
Open VLC video playerand add the target video file to it.

When the video is loaded, you can go to the "filters and effects" tools.

Now, you have to enter values to the left, right, top, and bottom in pixels. You can crop the unwanted section from the video with the VLC editor.

There will be a "preference" option to save and export video permanently and locally.

You can save the crop video after returning to the main menu bar by clicking save/convert from the media tab.
3. Rotate:
The VLC is an open-source video editing tool, and users can flip, rotate and transport video with the amazing software. Videos can be simply rotated up to 270, 180, and 90 degrees. You will be surprised to know how many things you can do with video when you learn how to edit video in VLC. There are some simple steps you need to follow if you want to rotate video with this tool.
Go to the tools and select "effects and filters" from the VLC media player.

Now the next step is choosing video effects from the effects and adjustment.

After that, click on the rotate option, and your video will be rotated into your desired style.
Learn more: How to Rotate A Video Using Vlc >>
4. Merge:
If you have already installed VLC editor in your Mac or windows, follow these steps to merge or combine videos using VLC.
Click on the media menu from the VLC video editor, and select multiple files.

Now tap on the "+add" button to insert the videos you want to merge.

After importing the video, you can click on the save drop-down or convert button at the bottom of the right corner of the menu.

After that, tap on the browse button and select the location to save the merged video.

The last step is clicking the start button below the browser to save the video.
Best VLC Video Editor Alternative - iMyFone Filme:
iMyFone Filme is the best video editing software that lets users edit videos with ease. If you think the process of trimming and cutting videos is difficult with a VLC editor, then you should consider iMyFone Filme as the best alternative. The Filme is a better, latest, and multifunctional video editor that makes your videos creative and vibrant. Users can easily add stunning video effects from the basic editing interface. The fully refined animations and filters will make your video ready for digital usage. Moreover, you can also add text and audio to improve your video content quality. So the VLC video editor review has revealed iMyFone Filme as the best alternative to the VLC.
Watch this video to learn how to edit video using iMyFone Filme:
How to Edit Video with iMyfone Filme:
Step 1: Download iMyFone Filme on your device.
Step 2: Click on import video from the sub-options menu.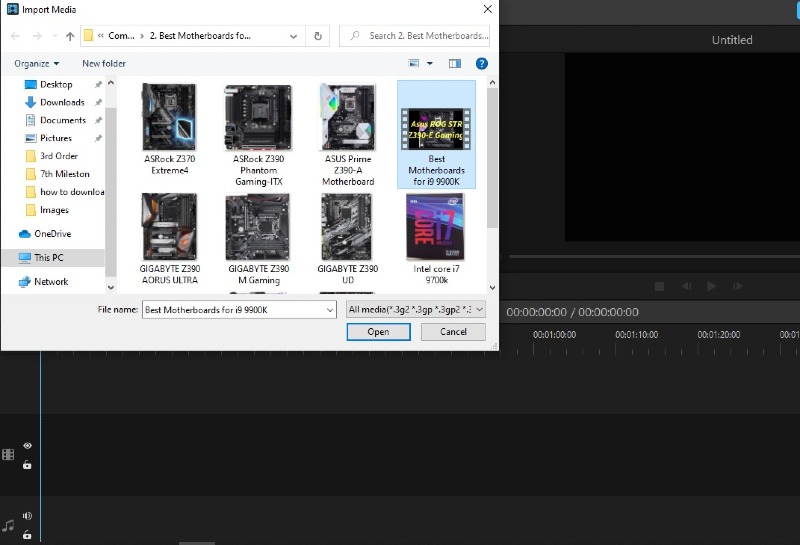 Step 3: Double-tap to add after finding your source file.
Step 4: Now click on "+" after scrolling the video and dragging the cursor on the video part you want to edit.
Step 5: Now you can crop, trim, rotate, and trim video into your desired form and according to your requirements.
Key Features:
iMyFone Filmeallows users to create slideshows and videos with its fast build-in feature mode.

The software provides a quick working process and beginner-friendly execution. You just need to click for the whole process setup.

The tool is lively and comes with special effects that boost the video editing quality in a fun way.

It comes with more accessible video editing options such as users can trim, crop, split, rotate, and add new filters.

With iMyFone Filme, users can add background audio because it is the core strength of any video.

The software has plenty of cool effects and provides exclusive visual transitions to users.

The Filme provides an instant preview feature, so users can easily check their editing during the process.
Pros:

Variety of themes to enhance video quality

Provide customer support on phone and online

You can create amateur movies to view the applied effects in preview.

Abundant transitions and resources

One-click fast video editing mode

Provide instant preview

Users can save the video in different formats
Final Talk:
VLC video player is the best video and audio player that supports different formats, so you can say it is a multifunctional software. It runs on operating systems such as Linux, Mac OS, Windows, Solaris, and BeOS. Moreover, the VLC video editor can play almost all audio and video files using several different protocols remotely through a web browser. So the VLC editor is one of the most liked media players, and you can easily find it on the internet. The other significant thing about the tool is that many media players require codecs, but with VLC, you don't have to download any kind of codecs. The tool is developed by VideoLan projects, so it will work well on Linux as it does on Mac and windows. Therefore, if you are looking for an ideal and creative video editing tool with exceptional features, you should consider the VLC video editor and media player.