Twitter users share videos with the audience. The first thing that appears to the viewer is the thumbnail, which is also known as cover. The thumbnail is the first impression; if it is engaging, the viewer will definitely love to see the video. Thus, the thumbnail is quite important, and it must give a short idea of the video. In this article, we are going to look at the ways to add and change the thumbnail on Twitter videos. It will help you make your videos more engaging.
Choose/Change and Post a Thumbnail for Twitter Video
It is to be noted that video tweets dominate over all the other forms of messages. These tweets are more likely to be retweeted by the people, around 300%, to be exact. It is not that difficult to upload a video on Twitter if you know the supported formats. The steps to upload and change the thumbnail are mentioned below:
Step 1: Navigate to Tweet Option
You must have a Twitter profile to post a tweet. If you have, navigate to the homepage. On the left corner of the homepage, there is a list of options, select Tweet from it. You will see a dialogue box that says, "What's happening?" Click on it to write your tweet.
Step 2: Upload the Video
In the same Tweet portion, there are some icons at the bottom-left corner. Select the "Media icon" from that icon list, which is the first one from the left. As soon as you click on this button, you will be directed to your gallery or hard drive. Select the video you want to upload. The size limit for Twitter videos is 512 MB.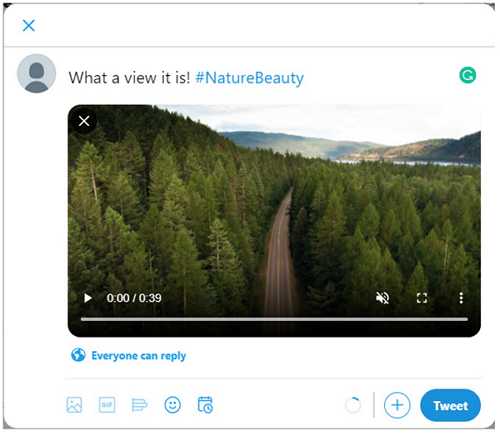 Step 3: Choose or Change the Thumbnail
To change the thumbnail, go to the library section in your profile. Select the video for which you want to change the thumbnail. Now you will see the "Select thumbnail" option. Click on it to choose the thumbnail either from the video itself or an external picture from your PC.
Watch this video to learn how to add a video thumbnail on Twitter:
Tips for Choosing a Nice Cover for Twitter Video
Video is one of the most interacting media when it comes to different forms of media. Everyone relies on video to connect better with their target audience, friends, and followers. Video is found to be the most engaging medium as compared to others.
With great advantages comes great responsibility. Video making and creation is one of the most important aspects, as you cannot just put anything on the internet to gain likes. The video must be well organized, targeting a specific audience. The format, video length, and many other details are considered while creating a video.
Out of all these aspects, the thumbnail is considered one of the most important. As the user is going to have a first look at the thumbnail only, so he/she is going to judge the content of the video just by looking at the thumbnail. So, the thumbnail must be appealing, related to video, and accurate; otherwise, people will scroll away from your video without even playing it. Some of the best tips to choose a thumbnail for your Twitter video are described as under:
1) Use of Still Image:
The first and foremost important thing is to choose the right image for your thumbnail. By right image, it means that the image is still and not just a screenshot from your video. If the image is taken from the video, it might be a bit blurry, and it might not relate to the content of the video accurately. You can just simply capture a separate image for the thumbnail while shooting the video.
2) Simple Image:
The image that is being used in the thumbnail should be a simple one. By simple, it means that there must not be a lot of things happening in that particular image. An overly populated image might not give a correct context to any single topic, and the viewer might be unsure and unclear of the topic of the video. You can add simple text to describe the video, but do not overdo it.
3) Right Contrast to the Text:
It is important to tone your text in the thumbnail with contrast to the colors in your thumbnail. It might create a dull effect overall if it is not done right, and the viewer might neglect your video.
4) Size of the Thumbnail:
It is a fact that most of the videos nowadays are viewed on mobile phones. You might have created the thumbnail on a laptop, and when the viewers see it on mobiles, they might have a sense of clutter/crop in the thumbnail. So your thumbnail must be for all sizes of screen.
5) Use of a face:
It is human nature that they are attracted more to a face rather than the image of any object. So it might be useful to get the attention of the viewers by showing your reaction to something in your video.
Also Read:
Use Twitter Media Studio to Build a Video Marketing Strategy >>
Recommended Tools for Editing Videos and Thumbnail for Twitter
Filme is a video editing application that is quite user-friendly. It is one of the top recommended tools for editing videos for Twitter, as the features available on this application align with the requirements of Twitter videos. It is available on both Windows and Mac.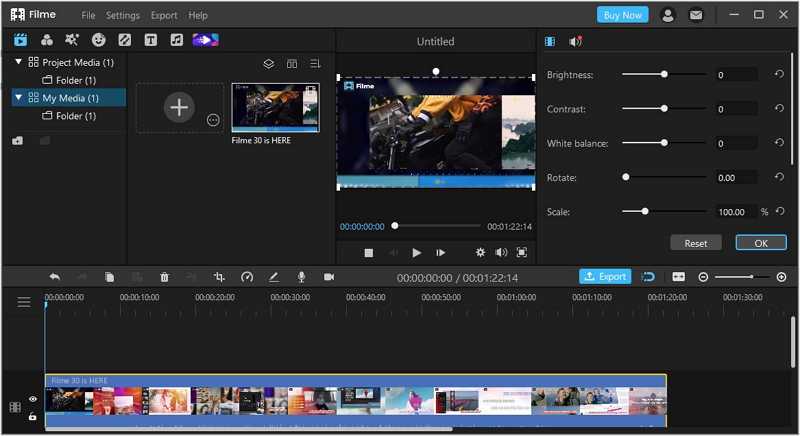 Some of its top features are as follows
1) Basic Tools:
Filme has a wide range of tools available related to basic editing. You can simply upload your video to the timeline, and you are all set to apply all the necessary tools to it. These basic tools can help you cut, trim, split, adjust speed, and make other changes to your video. You can also adjust the contrast and white balance. Furthermore, you can rotate and scale your video and thumbnail according to the needs of Twitter.
2) Audio Track:
You can add an audio track to your video to give it a soothing effect. You have the choice to use the wide range of audios available on the application, or you can add an audio track on your own from your library. There can be multiple audio tracks to mix music and sound effects. The best part is that Filme has some voice changers that can change the voice in any video, and you can also record your voice in a different pitch and tone.s
3) Text Editing:
One of the most important features for Twitter video is the use of correct text fonts and sizes that are in contrast with the video, and the same goes for the thumbnail as well. Filme provides a versatile range of text options, and you can also add subtitles to your video and end credits. There are many fonts, sizes, colors, and text styles available.
4) Video Format:
Filme has advanced export options. You can export the file according to any social media. You can select the aspect ratio, resolution, frame rate, file container, codec, bitrate, and other settings. You can also share your video to your Twitter account directly from Filme.
Pricing:
Plan
Price (Limited Time Offer)
1-month Plan
$29.95 ($

49.95

)
1-year Plan
$39.95 ($

69.95

)
Lifetime Plan
$59.95 ($

109.95

)
Quik is a free video editor application. If we compare it to any desktop video editor, the features are comparatively more along with faster processing and a friendly interface. You have the option of editing and saving videos in 720p as well as 1080p. It is also available on both iOS and Android.
Some of its main features are as follows:
1) Audio/ Music:
You can add any music from your phone's library to your video. There is a wide range of music available on the app itself. It combines with your video perfectly, and the transition of the music at the end of the video is also on a professional level. The themes of different music genres available on the app are Friends, Travel, Summer, Epic, Night, and many more.
2) Format:
It is essential to select the right aspect ratio on the Twitter thumbnail for your video. Quik provides you with the option to select different aspect ratios according to your requirement. The aspect ratios available on Quik are 16:9, 4:3,1:1, 3:4, and 9:16.
3) Grab Photo:
Quik provides you with the option to "Grab Photo" from your original video. The importance of this feature comes in handy while selecting the thumbnail for your video, as you can pinpoint the exact frame of the video that you want to use in your video as a thumbnail.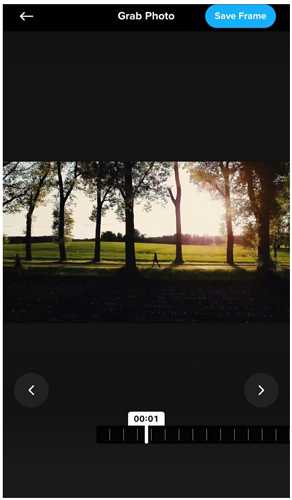 Pricing:
You can download Quik for free. However, there will be limited features. You can buy a 1-year subscription of $9.99.
Final Words
In this article, we have seen the ways you can add a thumbnail to your Twitter video and the tips that can be useful to select your thumbnail. Moreover, applications like Filme and Quik could come in handy to edit your thumbnail and video for Twitter and other social media applications. We recommend Filme as it is a desktop application, and there are many features to make your videos more engaging and appealing.