The retro-looking VHS effect is making a comeback after more than two decades. In a world where HD is considered to be the de-facto resolution, this 360p format stands out as a classic, vintage effect that makes your videos look authentically old. But how do you get this effect on a video that you shot in hi-res (HD, UHD, 4K, 8K, etc.)? One option is to use a desktop video editor with a built-in VHS effect in the form of an overlay filter or special effect. The other option is to use an online service for the same purpose. Let's show you several online services for this as well as a comprehensive video editing suite for desktop computers that can apply the VHS effect.
5 Best VHS Video Effect Makers Online
The biggest advantage of using an online service to get the VHS effect for your video is that no downloads, plugins, or extras are required to do the job. Simply upload your video, choose the appropriate filter or effect, apply it, and download the output file. With that, let's look at our list of the 5 best VHS video effect makers on the web.
Kapwing is a well-known online platform for video editing and related tools. It's a convenient service with little to no learning curve and comes with a plethora of options when it comes to processing videos. The platform supports a wide range of video input formats and the interface is very user-friendly, making it one of the top online video editors. Although Kapwing doesn't offer any filters for this, it does offer a nice VHS template that you can use as your starting point.
Pros:

Easy way to apply a VHS effect to your video in seconds

Slick interface with no learning curve

Fast response because low-resolution is used when editing
Cons:

No special filters for the VHS effect

Limited additional filters for the retro look
The process to create a video with VHS effect in Kapwing is simple.
Start a new project with the VHS Template

Click Edit This Template on the page that is linked above. This will open the editor.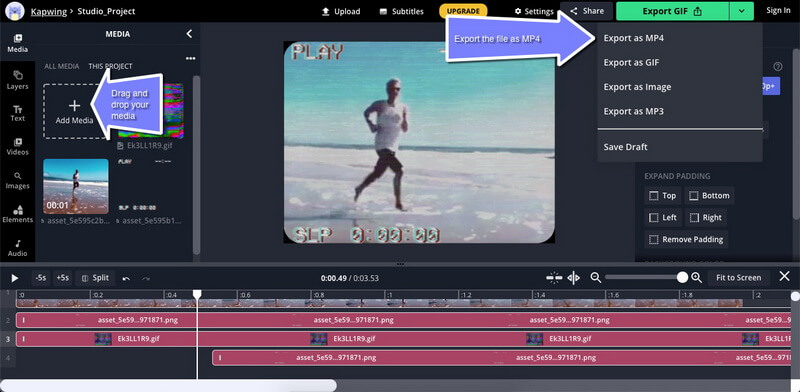 In the editor, you'll see that the template consists of a clean video clip in high resolution and several additional effects tracks that combine to give it the VHS effect.

Replace the stock clip with your own video but don't touch any of the other tracks.

You can now adjust the length of the tracks to fit your video duration.

Export the file as an MP4 video using the Export button on the top right of your screen.
#2: Veed.io
Veed is another popular online video editing platform that comes with VHS effects, Glitch effects, and several other retro options. It's a user-friendly platform with loads of options for giving your video that antique look. Veed renders videos in their original resolution so make sure your file is not too large or in very high resolution or you may notice a lag when processing tasks. Key features include a range of tools such as effects, filters, elements, text and subtitling, layered drawing, etc.
Pros:

Easy to use

Simple VHS effect options

Manual effects work is optional
Cons:

Only a couple of options for VHS effects

Doesn't always work well with high-resolution videos
Here are the steps to add the VHS effect to a video on Veed.
Click the Choose Video button in the Veed.io website's Video Editor Effectssection and import your video clip.

In the left sidebar panel, scroll down and click on the Filters section, then go to the Effects tab.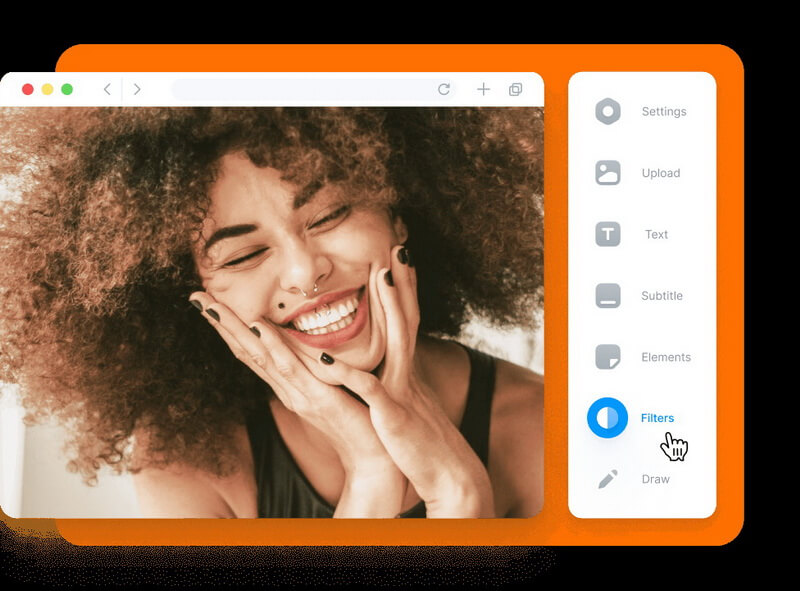 Under Effects, select either VHS or VHS Overlay; it will be applied to the video clip automatically.

Click the Export button on the top right, set the output quality, and click Export Video.
#3: CreatorKit
This online platform is absolutely free and comes preloaded with filters and effects. You can also use your Instagram filters here, and the interface is very minimalistic so no surprises there. It also comes with a bunch of templates and scenes that you can insert into your video. You won't find a dedicated VHS filter but you can combine a couple of them to get the VHS effect.
Pros:

No registration required for applying filters and effects

Reasonable choice of retro options

Other transformational features included (Ken Burns, rotation, etc.)
Cons:

No VHS preset filter

Importing a clip is not very straightforward
Here's how to apply a VHS effect to a video in CreatorKit
Go to the CreatorKit website.

Import your video (no sign-up) or use one of the templates (sign-up required.)

On the right sidebar panel, click Filters and choose either Old TV or Glitch. These two effects have a realistic VHS feel to them.

Click the button to export your processed video.
#4: Clideo
The Clideo platform is easy to use and offers a range of services including adding filters and effects. Other tools include video compression, video merging and cutting, subtitling, resizing, etc. The site is not free but the quality of the filters is good enough to justify the nominal $9 a month subscription fee and get access to unlimited video processing.
Pros:

Pro-quality filters

Used by some of the world's top companies

Simple 3-step process
Cons:

Free version has limited filter options

No direct VHS filter in the free version
Here's how to use the free version of Clideo to achieve the VHS effect:
Upload your video to the Clideo effects editor pageusing the Upload button.

Search for an appropriate filter to mimic the VHS effect; you can try Sepia for an old-school look, Maxwell for a low-light effect, or Tallac for a mild effect.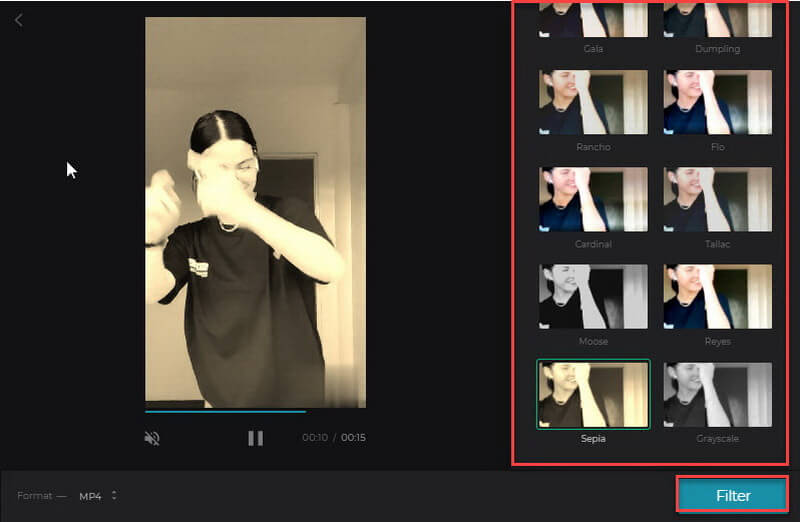 When you're done, click Export and save your processed file.
#5: FlexClip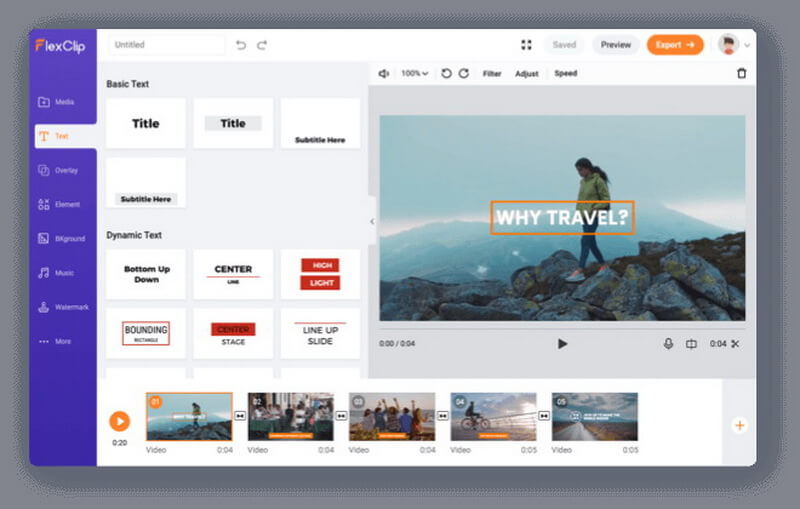 This is the last online VHS effect maker we're showcasing today. FlexClip is a popular video editing platform on the cloud with a strong template portfolio and a rich collection of elements, effects, filters, overlays, etc. You'll need to sign up for a free account to save or export a video but the effect is worth the effort.
Pros:

Simple interface - no learning curve

Tons of enhancement options

Convenient preview button
Cons:

Requires a combination of filters and adjustments to get an authentic VHS effect

Sign-up required for saving and exporting videos
This is how to create a VHS effect using FlexClip:
Click the Start from Scratch button on the FlexClip home page.

Select Storyboard or Timeline mode depending on how you want to edit your clip.

Click the Local Files button in the Add Media section of the Media tab on the left.

Click the + symbol on the media thumbnail to add it to the timeline/storyboard.

Above the preview pane, click Filter and choose one of the retro filter options such as Vintage, Retro, Sepia, B&W, etc.

Click the Export button (sign-up required) to save your video.
Free Download VHS Effect to Video on Desktop - iMyFone Filme
However, convenience often comes at a cost. In this case, the cost is potential security issues that may arise when uploading or downloading files. Even though these websites are 100% secure, the information (your video file) is not fully secure when being uploaded or downloaded unless the connection to the Internet itself is secure. That's why most professionals working with confidential materials prefer the desktop route.
iMyFone Filme is a robust video editing software for desktop devices. It is a full-fledged editor with built-in libraries for effects, filters, text, backgrounds, royalty-free audio, etc. The slick interface allows anyone to slip right into their comfort zone and is complemented by clean labeling and crisp, modern iconography. iMyFone Filme can also be used to create instant video slideshows from the media stored on your desktop. To import smartphone media, use a cable or transfer wirelessly with zero hassles.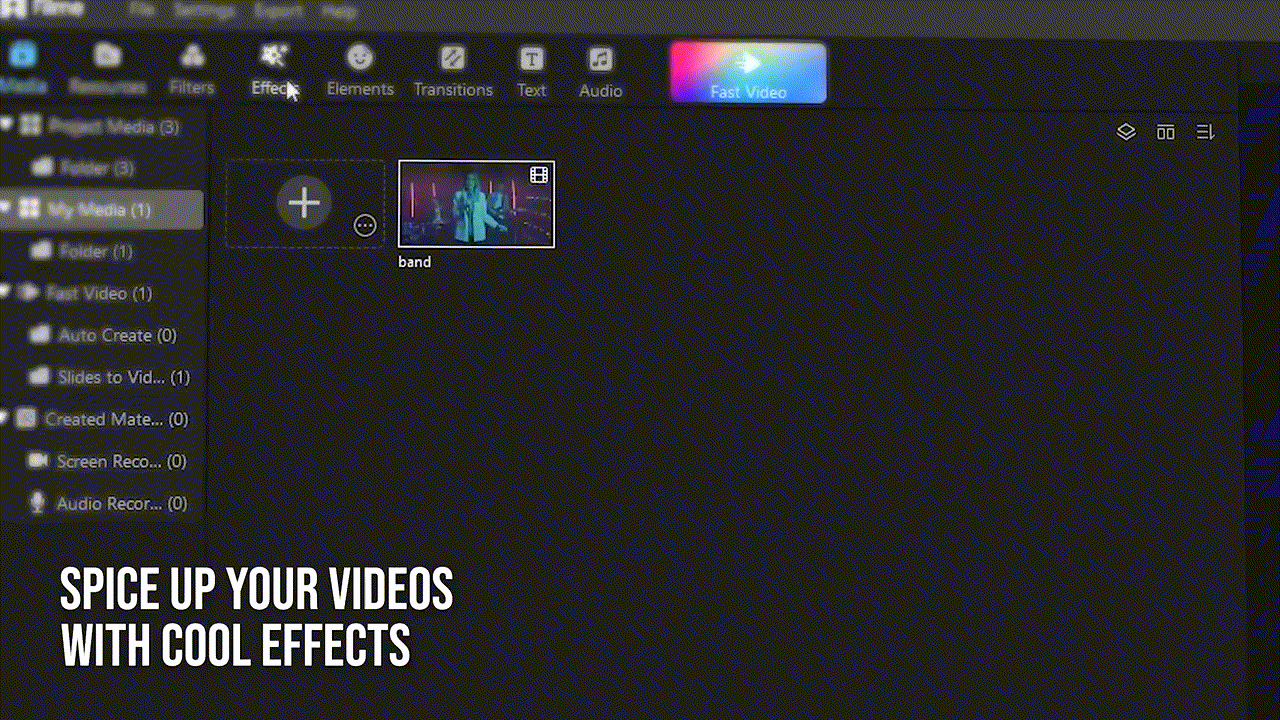 How to Get the VHS Effect Instantly with iMyFone Filme
Drag your video into the Media Library to upload it to the platform.

Click the + symbol in the video thumbnail to add it to the timeline for editing.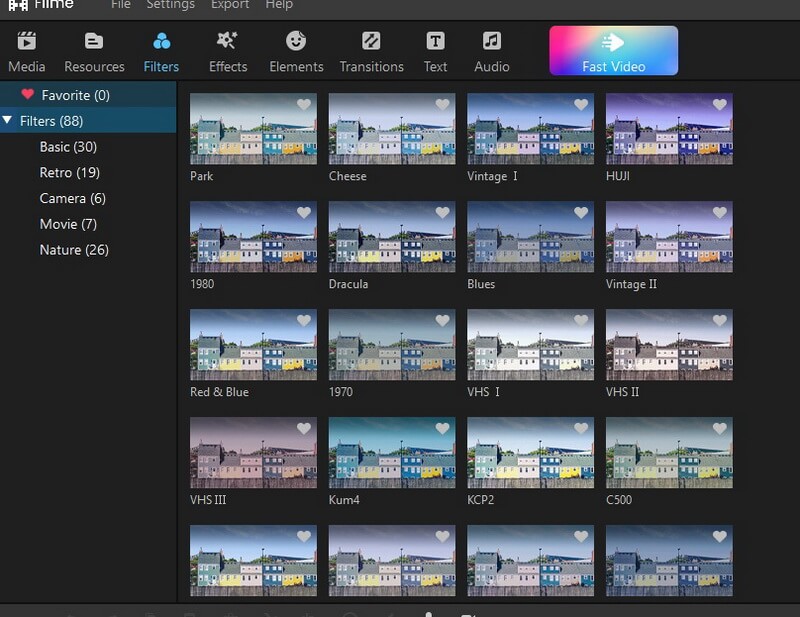 Click the tab on the top left that says Filters and look for the ones named VHS I, VHS II, and VHS III; click on one to add it as an effects track.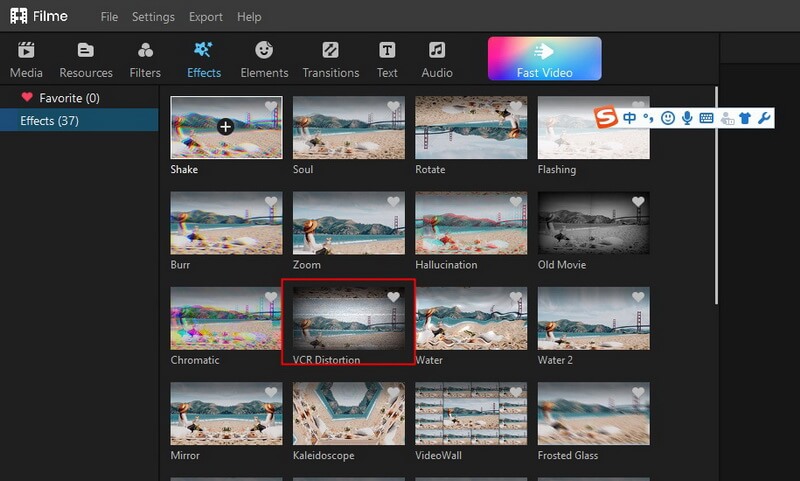 Alternatively, you'll find a VCR Distortion effect in the Effects tab.

Do more edits using the tools above the timeline or by double-clicking the video track to adjust color, brightness, contrast, etc. or to crop, trim, split, change speed, and so on.

When you're done, click the Export button, set the output parameters and format, and click Export in the small dialog window.
Why Use iMyFone Filme for the VHS Effect (VCR Distortion)? Key Features and Pros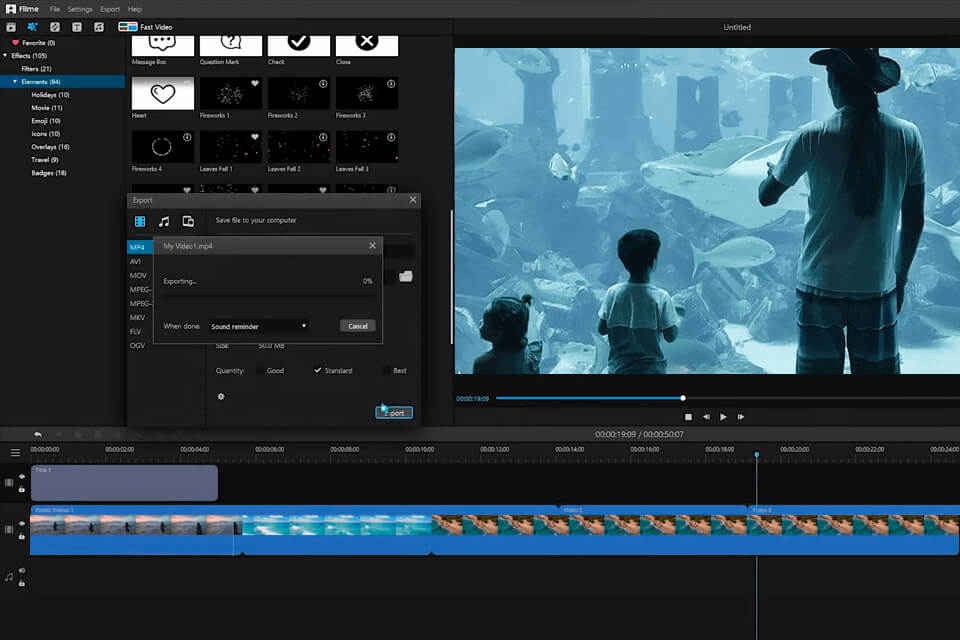 Filme is intended to be easy for beginners to learn video editing basics. The intuitive UI and crisp layout contribute a lot to that experience. However, there are several advanced options once you start using the various libraries that are included. For instance, the VCR Distortion effect is a preset that's very hard to achieve using manual color aberrations, blurring, contrast reduction, and other methods. With Filme, it's just one click and the job's done. That's what makes it so appealing to a wide range of user types. But that's not all. Here are some of the top features of iMyFone Filme that have made it one of the fastest growing video platforms.
Extensive Effects and Filters to get any kind of look for your video, ranging from uber-vintage to ultra-modern.

All basic editing tools such as cropping, pan & zoom, speed control, color adjustments, etc.

Rich transitions for video clips to smoothly segue into each other.

Add text animations - titles, subtitles, etc.

Royalty-free music collection in the Audio library to spice up your videos.

Third-party resources can be accessed from within the software.

Fast Video Mode - Instantly stitch together video clips, photos, and other images to create a video slideshow with music in the background.

Convenient timeline editing - accurate cuts.
Also Read:
Conclusion
The Internet is a great resource for practically anything. But if you really want a specialized tool for creating effects such as VHS distortion or achieve an authentic retro-vintage look, then a desktop editor will serve you better because it's faster, usually has more additional tools, and is more native to the platform in question - Windows or Mac. Moreover, the most important aspect is that a tool like Filme is extremely user-friendly and intuitive to work on, which means anyone can start using it and become proficient in a matter of minutes. Finally, you should always consider file format support. Filme supports a very wide range of video, audio, and image formats, making it easy to import all your media and manage it in one location.