Have you had Christmas card ideas for kids? Which will make them excited? Send the best wishes to your loved kids with personalized video Christmas cards. Let's try out some of the methods below to make Christmas cards for your kids and some of the ideas for digital Christmas cards 2021.
Where Can I Get Christmas Card Ideas for Kids?
You can find and get ideas everywhere on the internet or social media. Or you can refer to many available Christmas video card templates on many video editors like iMyFone Filme. Discover by yourself and make your own choice.
That is all about how to make Christmas card ideas for kids into reality. Choose your own tool and start now! iMyFone Filme is recommended as one of the best video Christmas makers for everyone.
Get 1-Month FREE License (Limited Time)
Price:
A free trial of iMyFone Filme is available, but you can choose one of 3 Filme plans to access more functions:
Monthly Plan: $29.95

Annual Plan: $39.95 (save $12)

Perpetual Plan: $79.95 (one-time purchase)
How to Customize Your Christmas Card for Kids with iMyFone Filme?
It's very easy to custom video Christmas cards with iMyFone Filme, just follow these steps, or you can download Filme and try your own.
Step 1: Install and launch iMyFone Filme on your PC > Go to Editing Mode.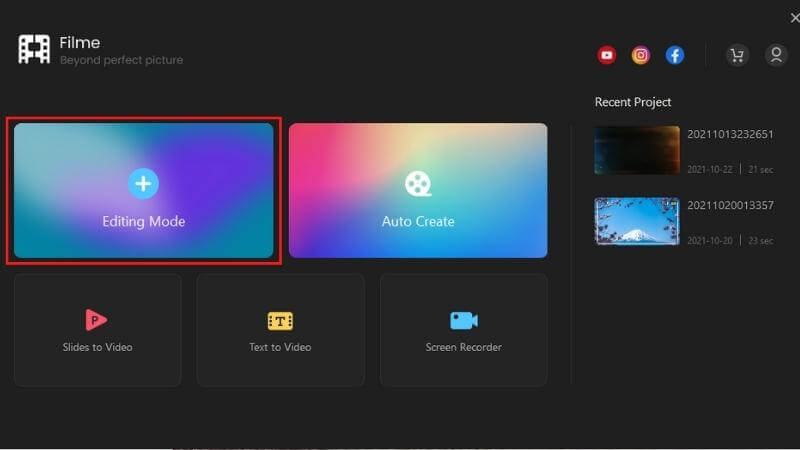 Step 2: Import your videos and images. Click on Import media to import the videos and images you want to put on the video card.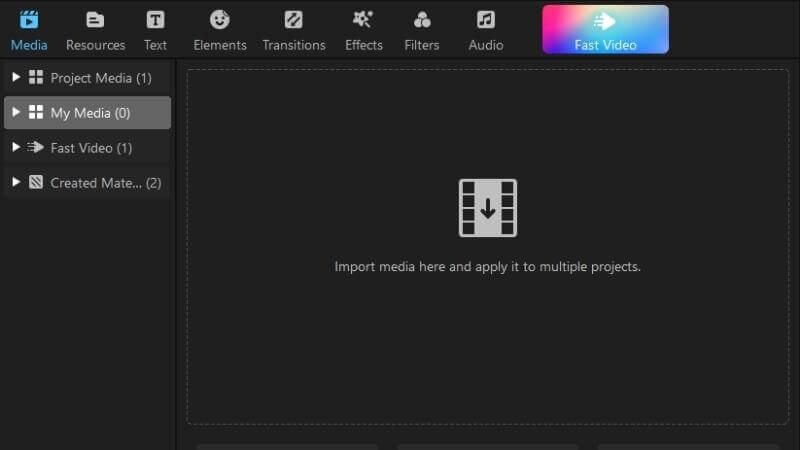 Step 3: Add Christmas photos, songs, or stickers.
You can add your own or use many Christmas stickers and songs available on Filme. Move to the Elements to add your favorite Christmas stickers and Audio to choose the song you want to add to your video Christmas card.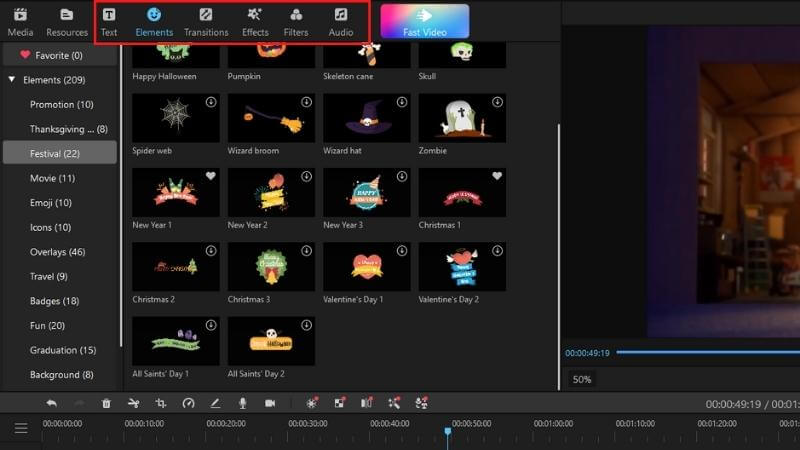 Step 4: Customize your video Christmas card.
After adding all elements you want to put on your card, you now can customize your card with many editing tools such as cropping, speeding, adding texts, filters, and effects,... You can look at the preview screen to have the best customization.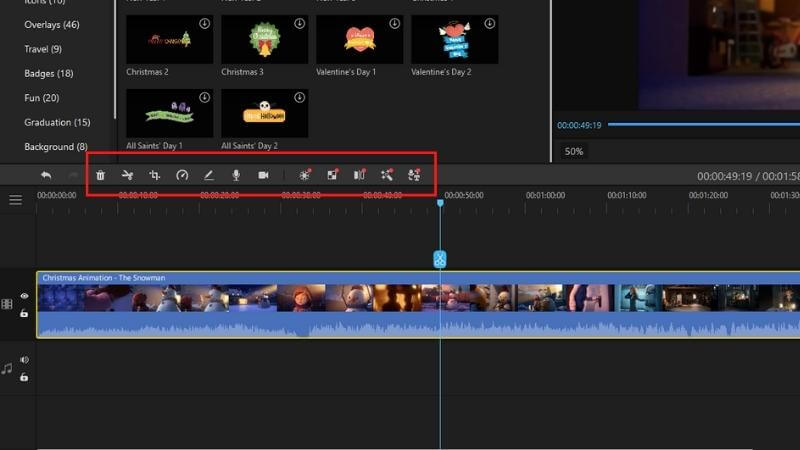 Step 5: Export and Share your video Christmas card.
After customizing the video Christmas card to your best version, export it to share with your friends and family. Click on Export on the top right of the screen > Choose the format to export, you can choose GIF to easily share with your friends.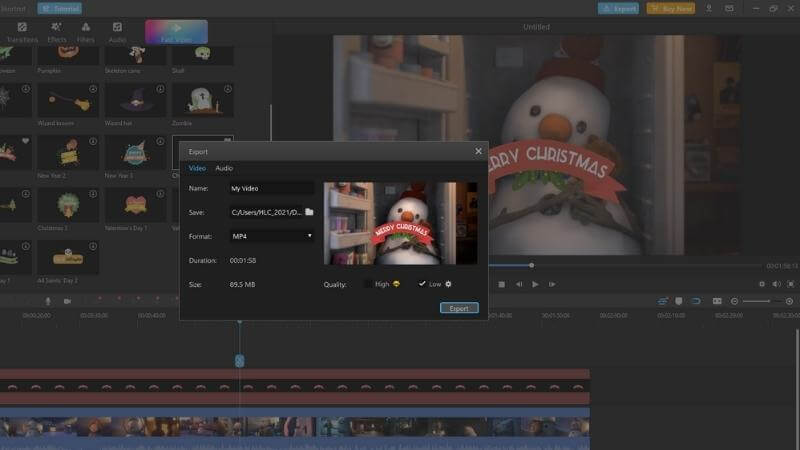 Part 2. Personalized Christmas Video Cards for Kids Online
If you do not want to use the available templates for your video Christmas cards for some reason, there are still other options you could consider. Whether you are afraid of losing privacy, device security or just your equipment is running out of memory, using the online free christmas video card maker is the best choice for you. So in this part, we will show you one of the outstanding online websites where you can make your products unique - Vimeo.
Step 1: Head to the official website of Video. Log in to your account.
Step 2: Click on New Video > Create a new video.
Step 3: Choose the video template to meet your desire. Find the right holly-jolly template for your video using Vimeo's free Christmas video editor. Or you can create your own video Christmas cards by inserting your video on your computer.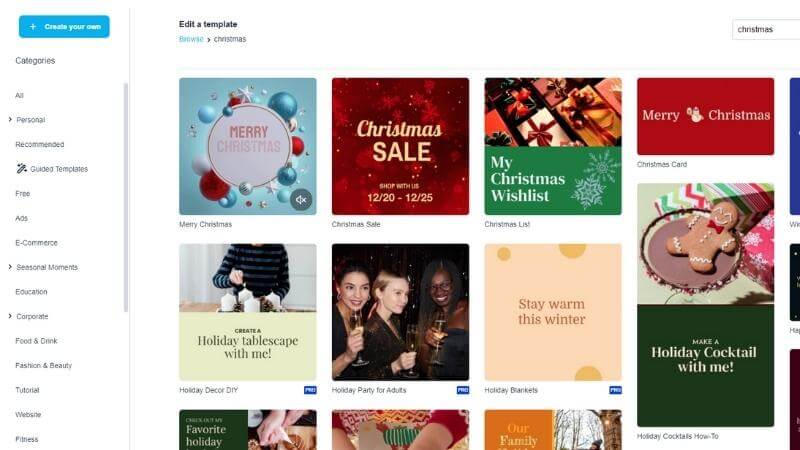 Step 4: Images from Vimeo's stock library can be used. Add photos to your film from our ever-expanding stock library.
Step 5: Customize and edit your video. Vimeo Create allows you to add text and filters, alter colors and fonts, and more.
Step 6: Download your video.
With the 6-basic-steps process, you can totally make an excellent product by yourself, making your greeting become so much more lively and attractive. Make sure that when readers receive the wishes and messages included in the Christmas greeting video you send. They will feel much happier and warmer this Christmas. So focus on this process, practice frequently and you absolutely will be succeeded.
Bound Tips. 5 Best Christmas Cards for Kids 2021
If you still have not had your idea for a digital Christmas card video, let's check out 5 best digital Christmas cards of 2021 below:
A Gingerbread Man's Hug
Take a snapshot of yourself and add a gigantic gingerbread man to give you a warm hug with this new feature. This festive gingerbread man sweetens your selfie for your card with a Santa hat and a smile.
Take on The Role of Santa Claus
With a ton of stickers to choose from, you can let your imagination run wild. Simply submit your selfie and browse the app's various Christmas Festival sticker sets. You can also use the Santa and Reindeer Template to add your own face. You can even design your own Santa Claus! Try using the Santa and Reindeer template in the app you're using to make a fun digital Christmas card by putting your friends and your faces in the template.
Make Use of Collage Templates for The Holidays
There are several Christmas card collage templates to pick from in some applications. To make your image unique, experience different formats, shapes, sizes, and other features on these collages. Collage templates featuring Christmas decorations, snowy scenery, seasonal messages, and more are available.
Card with A Virtual Snow Globe
We also suggest taking a photo of you and your family and putting them within the snow globe, complete with a falling snow animation. Who doesn't want their virtual Christmas greetings to have a bit more zing? You might also consider an animated Snow Globe. If sending images of your family is not a good idea, several applications provide a variety of stickers to choose from. You can replace your images by using animated Santa in a snow globe. Don't forget to use the Text function to add your own personalized Christmas wishes for receivers!
Share the Best Photos of 2021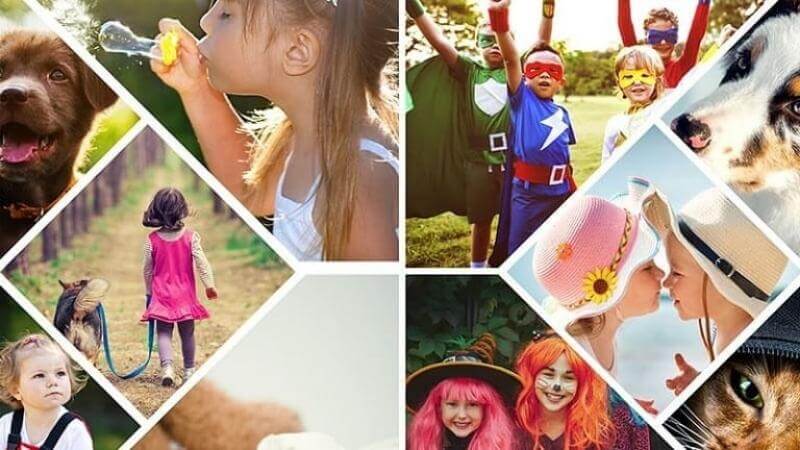 If you've used Instagram's Best 9 feature, you're familiar with how it works. You can choose which images to include and what to share with your card receivers using the 9-best-photos template.
FAQs
What are some pointers for making a Christmas movie that will keep you warm all year?
How Can I Make My Video Christmas Card Unique?
Try something different, like recording the family opening presents or having everyone perform a few Christmas carols for distant relatives. Consider making a Merry Christmas wishes short movie that highlights your greatest moments. And with the support of useful video editors like iMyFone Filme, your video Christmas card will be unique.
What Should I Add to My Video Christmas Card?
A family Merry Christmas wishes video should make you feel at ease as if you were at home. Allow your individuality to shine through rather than making it overly "perfect" and movie-like. You don't have to edit away any mistakes or bloopers unless you think it's necessary (your family will probably enjoy them).
Hope that after this article, you will find the best way to create your own video Christmas cards for yourself and the people you love the most. Try out iMyFone Filme to make your video in the fastest way.