Are you in search of the soothing Stolas AI voice or perhaps the captivating voices of fellow characters from Helluva Boss? Achieving this is simple with the aid of a sound generator. These character voices can be employed for dubbing, narrating tales to children, orchestrating playful pranks on friends, and a plethora of other amusing endeavors.
In this article, we'll present the top 2 voice generators to make you get a convincing deepfake Stolas AI voice. Let's begin now!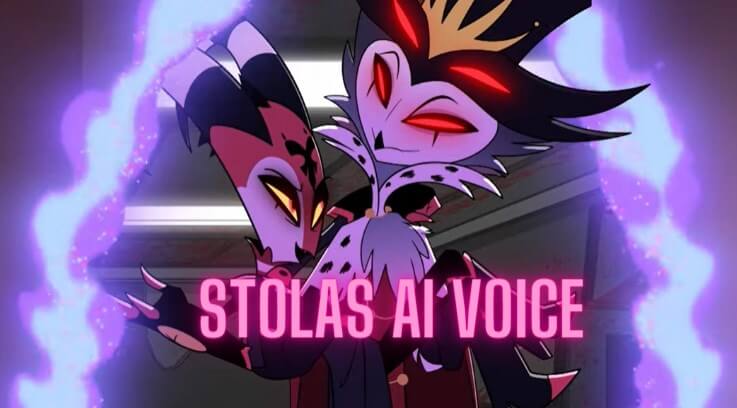 Part 1: Who Is Stolas in Heluva Boss?
Stolas is a character in the animated web series "Helluva Boss." "Helluva Boss" is a dark comedy, adult animated web series created by Vivienne "VivziePop" Medrano.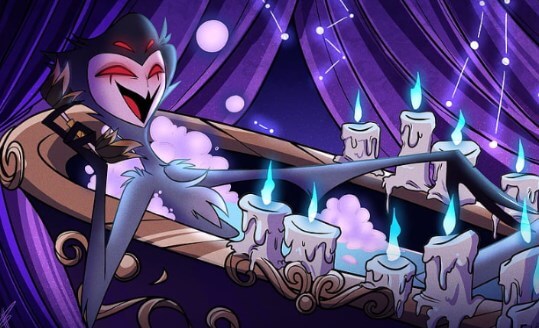 In the series, Stolas is portrayed as a powerful and high-ranking demon, holding the title of "Prince of Hell." He is depicted as a sophisticated and aristocratic demon with owl-like features, consistent with traditional demonology. Stolas often seeks the services of the main characters, Blitzo and his team at the IMP (Immediate Murder Professionals), to carry out various tasks and missions.
Part 1: Info of Stolas Voice Actor
Stolas is voiced by Bryce Pinkham. Bryce Pinkham is an accomplished American actor and singer known for his work on stage and screen. Bryce Pinkham has a notable career in theater, having appeared in various Broadway productions, including "A Gentleman's Guide to Love and Murder," for which he received a Tony Award nomination. He has also been recognized for his talent and contributions to the performing arts.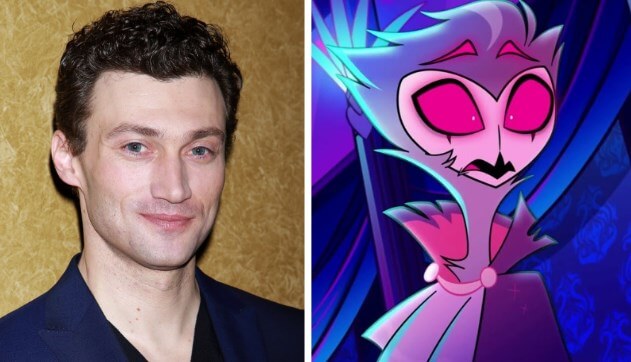 Part 3: How To Make Stolas AI Voice With Voice Generators?
Storas's voice in "Helluva Boss" is characterized by a sophisticated and refined tone, which reflects Storas' aristocratic and upper-class demeanor. If you also want to get such elegant sounds, then the voice generator will help you.
As a prominent voice generator, iMyFone VoxBox excels in crafting highly authentic Stolas AI voices with its powerful voice cloning and text-to-speech capabilities. Additionally, you have the flexibility to modify the resulting voiceovers to suit your preferences. With just a few simple steps, you can effortlessly replicate the distinctive voice of your beloved character!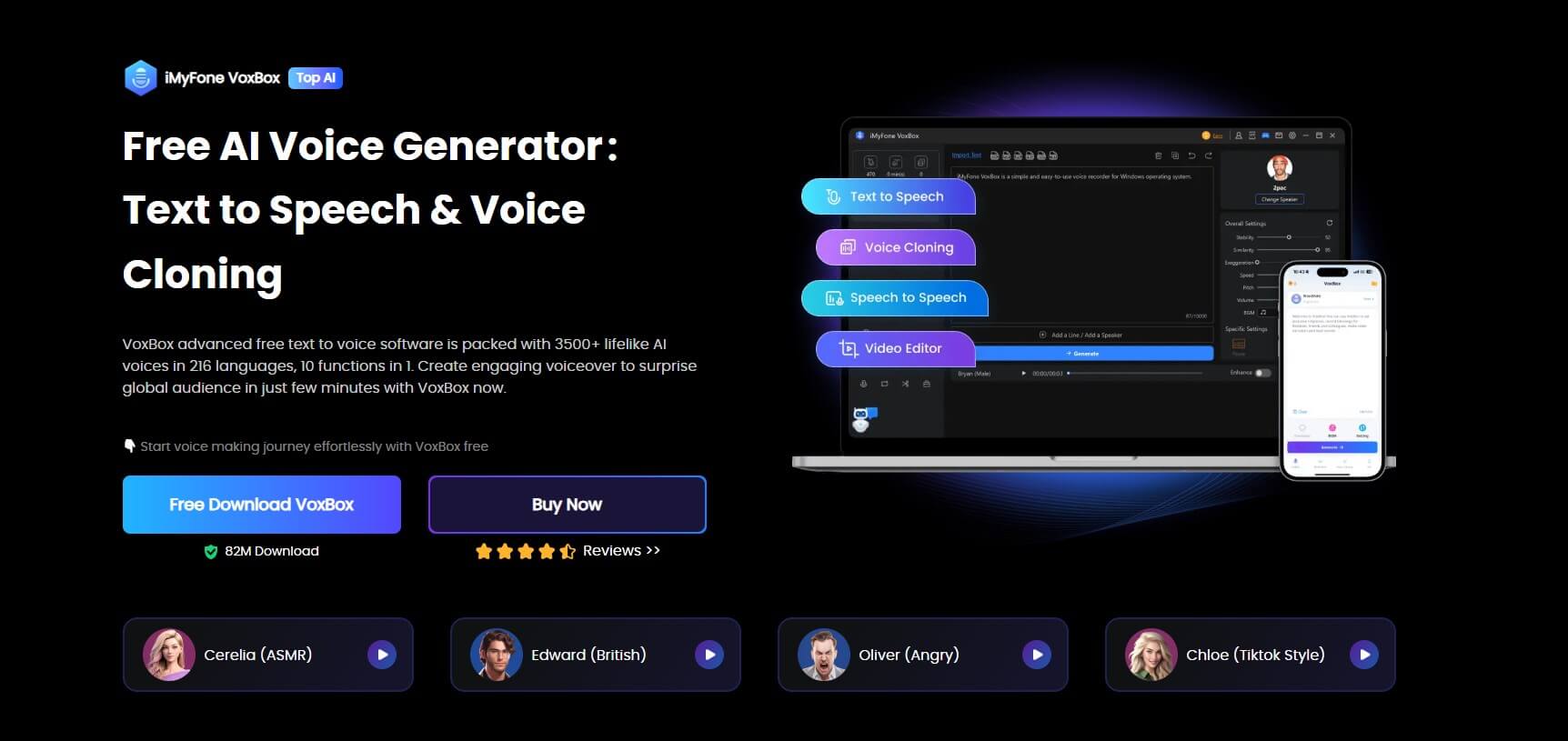 How To Use Heluva Boss Voice Generator:
#Step 1: Downloading and installing VoxBox.
#Step 2: Navigate to "Voice Cloning" and proceed to the cloning page. Upload your desired audio file to clone the specific voice you require. Once cloned, you'll find it in "My cloned voice".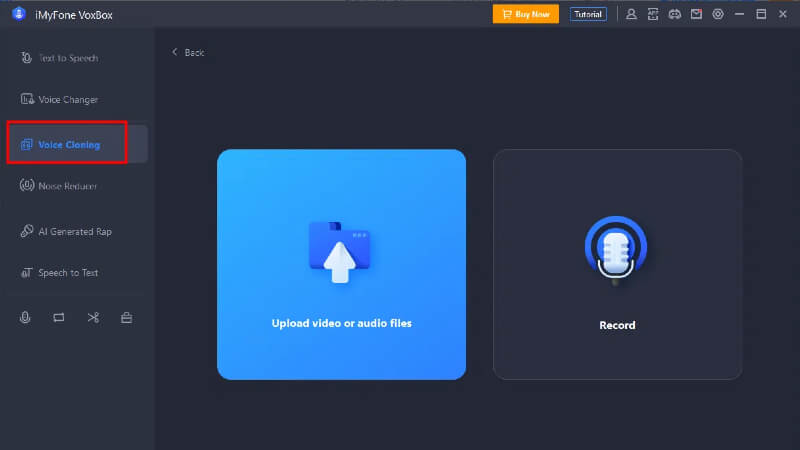 #Step 3: Use the voice and enter the Text-to-Speech page, input your text, convert it to speech, and export your personalized voiceover.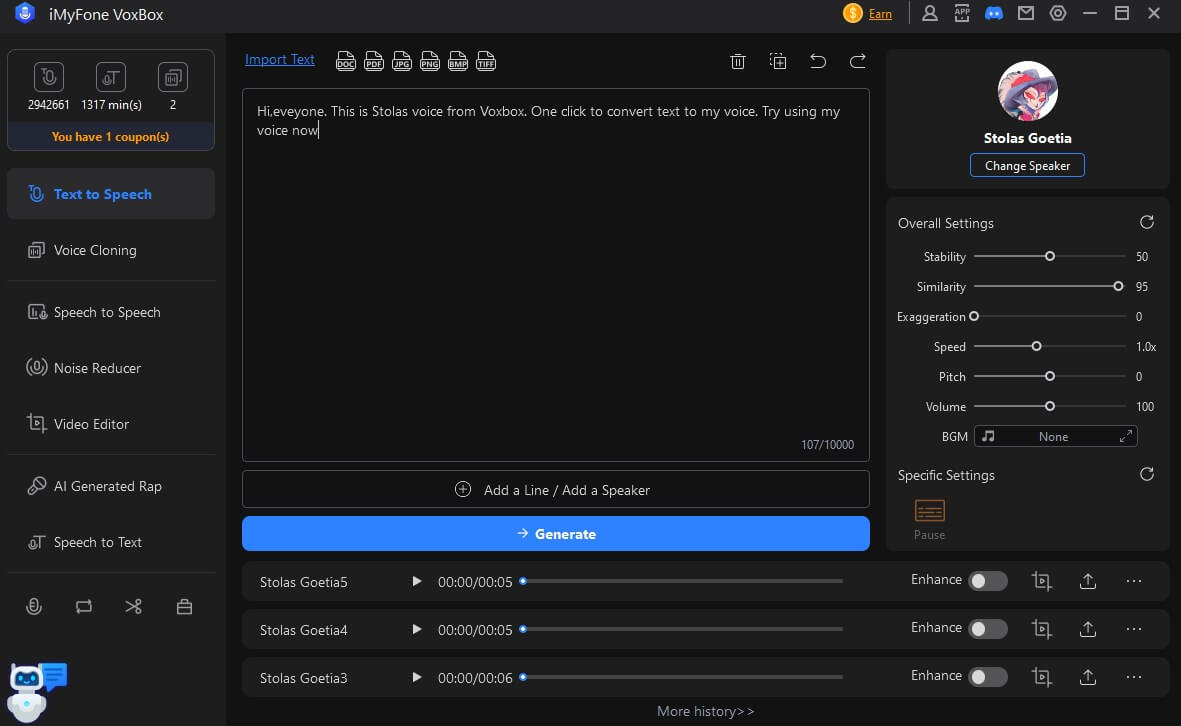 Key Features:
Give away 2000 free characters for you to experience text-to-speech.

Custom all voices included each Heluva Boss character within few time.

Different kinds of AI voices of animated series for entertainment in life.

Over 3200 voice options available in more than 77 languages worldwide.

Export the dubbing in various formats like MP3, WAV, etc.
MagicMic, a well-liked voice changer, lets users alter their voices in real-time during voice chats and online gaming, including a feature to mimic the preferred animated character Storas. Among its array of voice effects, the standout feature is the ability to entertain and have fun by adopting the voice of Storas, delighting those you interact with.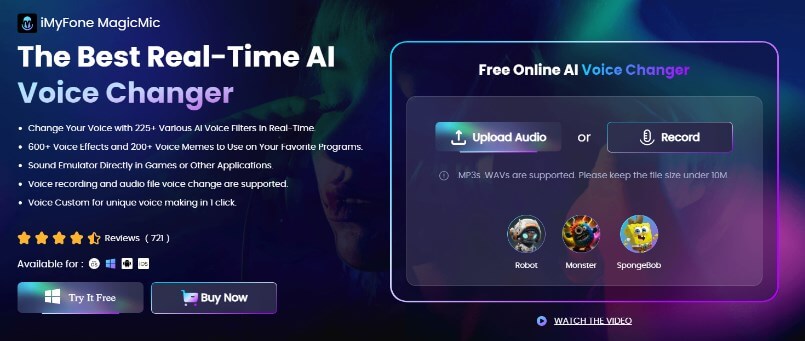 Key Features:
Offers over 225 voice effects, 600 soundboard options, and 200 voice memes.

Users can utilize a Storas voice effect, enabling them to emulate the endearing cartoon character.

Real-time voice alteration during live chats, gaming, streaming, etc.

Diverse voice effects are available, like Peppa Pig, Mickey Mouse, Elmo, and more.

Compatible with various communication platforms.
Bonus: Know More Heluva Boss Popular Characters Here
The characters in Heluva Boss are vibrant and diverse, each with their own unique traits and quirks. Here's a brief introduction to some popular characters: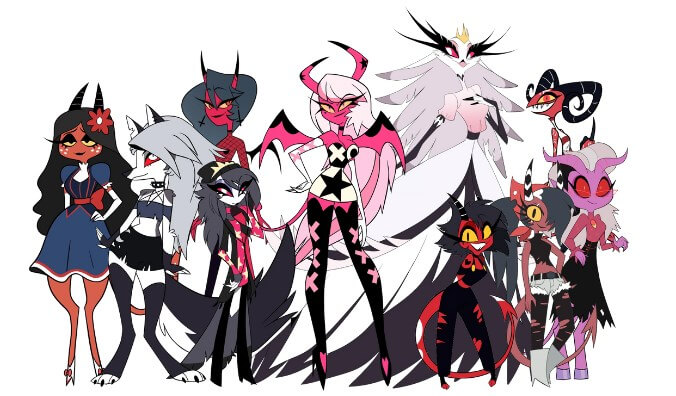 Blitzo (Blitz): Blitzo is the charismatic and somewhat eccentric founder of IMP. He's the main character and often leads the team on their assignments. Blitzo is ambitious and has a complex history.
Moxxie: Moxxie is another main character and a member of IMP. He's Blitzo's loyal and more cautious husband. Moxxie is known for his emotional struggles and endearing personality.
Millie: Millie is Moxxie's fiery and badass wife. She's a skilled assassin and a core member of IMP, providing much of the team's muscle. She balances her tough exterior with a caring nature.
Loona: Loona is IMP's receptionist and a hellhound. She's snarky and sarcastic, often adding a comedic touch to the series. Loona's interactions with her colleagues are always entertaining.
Part 4: FAQs about Stolas AI Voice Generator
1. What software is recommended for producing Stolas AI voice in Helluva Boss?
While this article highlights VoxBox, numerous AI text-to-speech tools exist. Conduct research to find one that aligns with your requirements and budget.
2. Which character from Helluva Boss can be replicated using AI voice generator?
You can replicate the voices of a range of Helluva Boss characters, including popular ones like Stolas, based on the capabilities of the AI tool you utilize.
Conclusion
In conclusion, the Stolas AI voice generator offers enthusiasts the ability to replicate the the iconic Helluva Boss character, Stolas. From pranks to creative storytelling and dubbing, the versatility of these voices make users more delightful.
With an extensive array of 3200 sounds and the capability to swiftly acquire the desired voice, VoxBox proves to be the perfect sound generator. Don't miss out on the opportunity to enhance your projects with the authentic and engaging Stolas AI voice—try VoxBox today access creative possibilities!