Have you ever came across Jerma AI cover songs generated using realistic Jerma AI voice? Do you want to use his distinct voice for text to speech and dub for your own videos or sound like him while live streaming or gaming? If yes, read on to the get the ultimate solution to that.
In this article, we will learn about the best Jerma voice generator that allows you to experience the magic of Jerma's voice in various ways.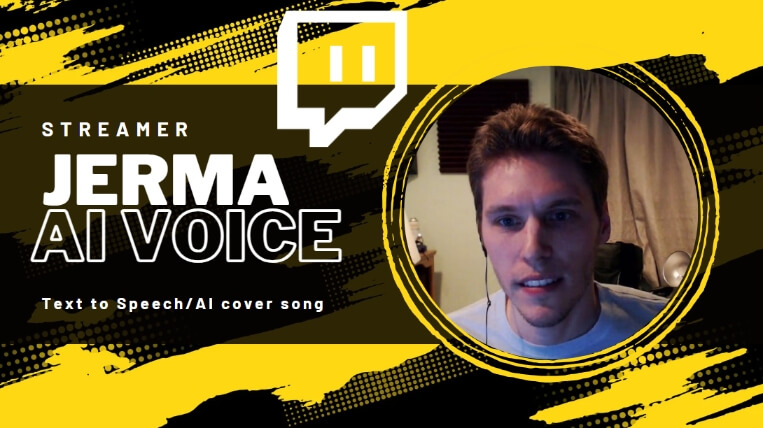 Part 1: Jerma985: Behind the Name and the Persona
Jerma985, also known as Jeremy Elbertson or just Jerma, is a prominent American live streamer, YouTuber, and voice actor. He gained fame through his unique and surreal livestreams on platforms like Twitch.
With a background in communication studies, Jerma initially worked as a substitute teacher and freelance wedding videographer.
He's known for his dynamic and engaging content across various platforms, including YouTube, where he started as a Team Fortress 2 content creator.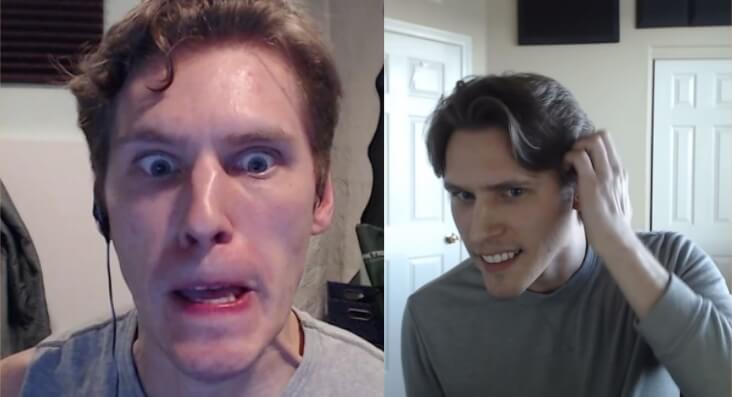 Transitioning to Twitch, Jerma's popularity soared, making him a household name in the streaming community. He's recognized for his wide-ranging game selection, interactive streams, and collaborations with other content creators.
Jerma's humor and innovative approach have resonated with viewers, contributing to his significant online presence.
Part 2: Free Generate Jerma AI Voice for Text to Speech
VoxBox offers seamless access to the captivating Jerma AI voice for your text-to-speech needs. Whether you're a content creator, Jerma enthusiast, or seeking a distinctive touch for your projects, VoxBox is your solution.
With a vast selection of 3200+ voices, including YouTubers, Twitch streamers, and fictional characters, you can create expressive and realistic AI voices that encapsulate Jerma's essence.
Supporting 77+ languages, VoxBox ensures effortless dubbing compatibility. And you are allowed to clone anyone's voices as you want.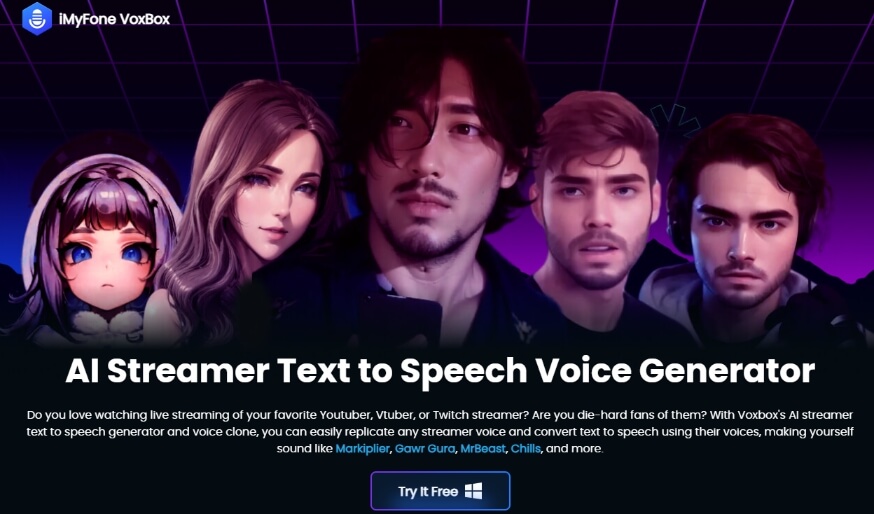 Free Generate Jerma AI Voice for Text to Speech:
Step #1: Downloading and installing the VoxBox application on your device.
Step #2: Open VoxBox and navigate to the "Voice Cloning" feature, and upload an audio file featuring Jerma voice.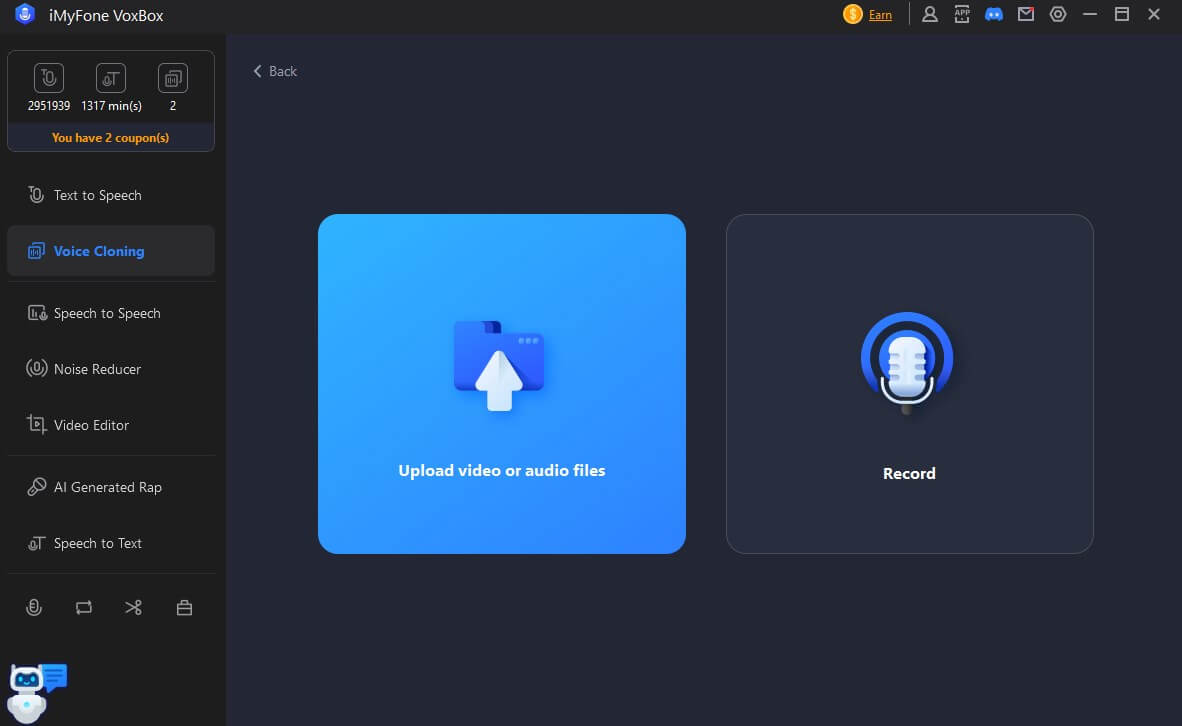 Step #3: Start the cloning process and get Jerma AI voice.
Step #4: Choose the voice you just cloned, and enter text to start the tts conversion.
Key Features:
Apart from generating Jerma AI voice, you are able to clone any streamers' voices if you like.

Except for the voice clone, you can directly gain access to various AI voices of YouTubers, Streamers, and more.

You are given 2000 free character counts for text to speech.

You have more than 3200 voices to use, including various characters and real people.

It allows users to do voiceovers in 77+ languages.

Serves as the best option for various applications, like audiobooks, podcasts, gaming, IVR systems, dubbing for content creation, and more.

Generate content in multiple formats, such as MP3, WAV, and Ogg.

VoxBox's user-friendly interface ensures a secure, fast, and enjoyable experience.
Part 3: Sound Like Jerma in Real Time
MagicMic - Jerma Voice Changer
For instant and interactive fun, like changing your voice into Jerma's during game or live streaming, you can explore MagicMic's Jerma Voice Changer.
This groundbreaking tool provides real-time voice transformation, effortlessly allowing you to adopt Jerma's distinctive tone. Seamlessly integrating with various applications, MagicMic offers live voice modification that adds a touch of uniqueness and entertainment to your conversations.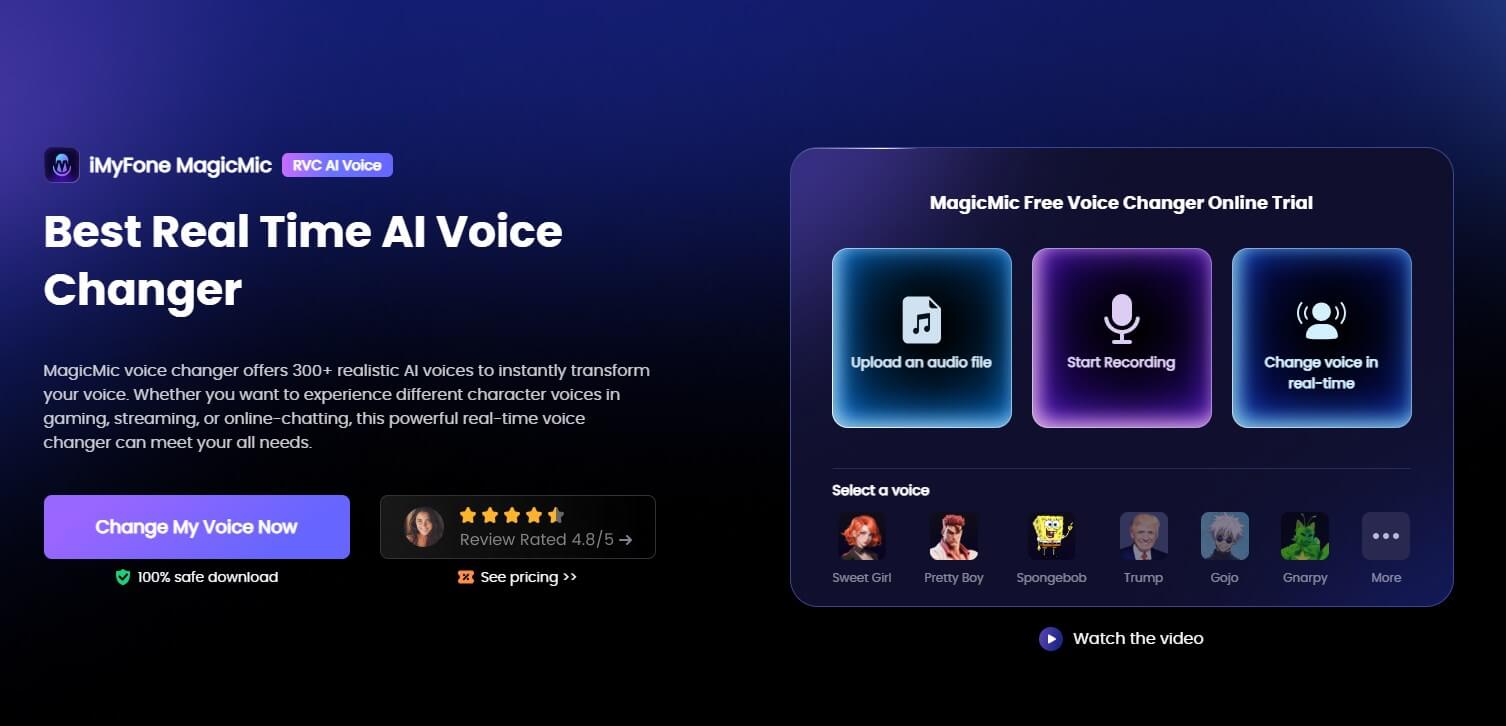 Key Features:
You can gain access to 250+ voice effects, 600+ soundboards, and 200+ voice memes for endless creativity.

You are allowed to transform your voice into characters from popular games, animes, celebrities, and more.

Explore a wide range of voice effects to adopt various tones and personalities.

MagicMic's intuitive interface allows effortless customization of voice effects.

Utilize keybind controls to switch between voice effects seamlessly during conversations.

MagicMic ensures noise reduction for clear and distinct modified voices.
Part 4: Bonus Tip to Generate Jerma AI Cover Songs
For crafting AI-generated cover songs with Jerma's voice that can gain traction on platforms like YouTube and TikTok, MusicAI is the ultimate choice.
This innovative platform seamlessly merges AI expertise with music composition, allowing users to create captivating AI-powered covers influenced by Jerma's voice and other well-known models.
With features like text-to-music conversion and vocal separation, MusicAI streamlines music projects through its diverse AI models. You can craft cover songs featuring renowned singers, characters, and rappers, while easily separating vocals, background music, and instruments. Achieve exceptional audio quality with a single click and export your cover songs in various formats for broad compatibility.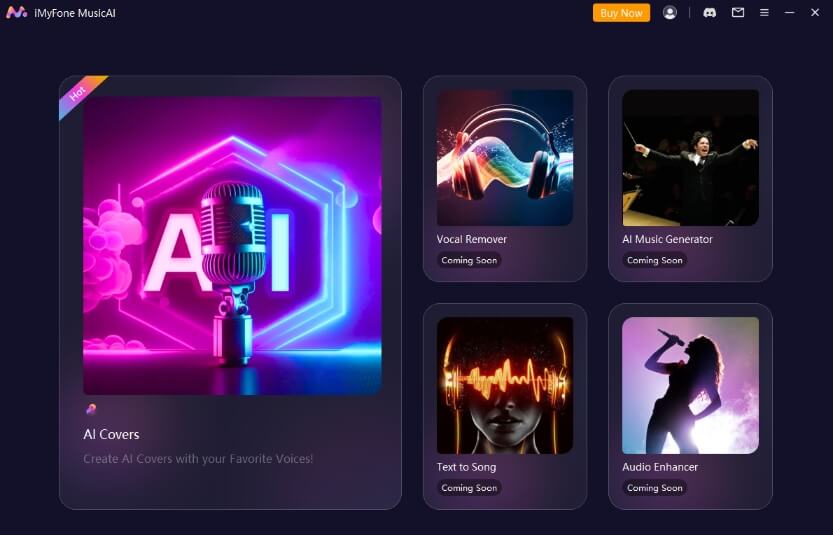 Key Features:
Craft AI-generated cover songs influenced by popular voices like Jerma, enriching your music production skills.

Recreate the charm of well-known tracks with various AI voice models, like Drake, Kanye West, and more.

Transform text into musical compositions effortlessly, giving life to your creative ideas.

Easily separate vocals, background music, and instruments for enhanced control and customization.

Improve audio quality with a simple click, ensuring your AI cover songs sound polished and professional.

Export your cover songs in various formats to ensure broad accessibility and compatibility across platforms.
Part 5: FAQs About Jerma AI Voice 2023
1. What is Jerma AI Voice?
Jerma AI Voice refers to the voice generated by AI technology, resembling Jerma's iconic tone.
2. How can Jerma AI voice benefit content creators?
Content creators can use this tool to add an authentic and engaging touch to their videos, streams, and other projects, enhancing their content's appeal to their audience.
3. Can I use the AI-generated Jerma voice for commercial purposes?
Yes, VoxBox offers flexibility for both personal and commercial use. You can incorporate the AI-generated voice into various projects without limitations.
4. How can I get Jerma AI voice?
You can easily generate realistic Jerma AI voice using VoxBox, where you only need to upload an audio file and start the voice clone.
Conclusion

In the realm of online content creation, Jerma985 has emerged as a luminary, enchanting audiences with his offbeat humor and captivating streams. Thanks to Jerma voice generator - iMyFone Voxbox, you can effortlessly get Jerma AI voice to convert text to speech, and you can even change your voice in real time during a conversation using Jerma voice changer.
Ready to infuse your projects with the magic of Jerma's voice? Download VoxBox today and unlock a realm of creative possibilities.