Uberduck AI Text to Speech has gained recognition in the text-to-speech arena, where AI enthusiasts and advocates can manipulate, create, and share voice data within the Uberduck AI community.
Uberduck AI is an open-source AI voice community, as described on its website. In this blog, we will explore Uberduck AI in more detail and compare it to similar tools in the field. Moreover, we also will discuss a better alternative to this online text-to-speech software.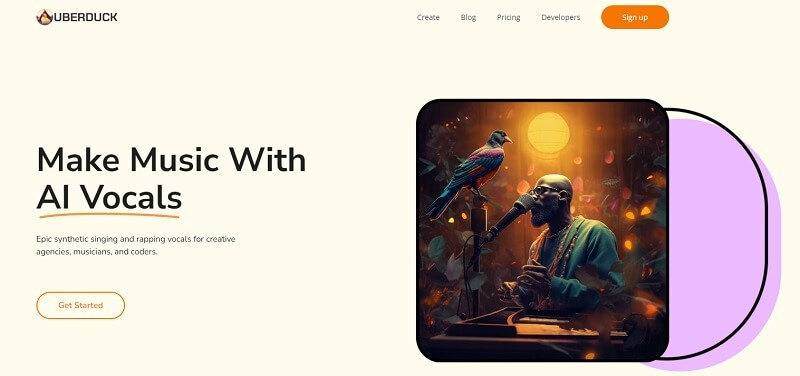 Part 1: What is Uberduck AI Text-to-Speech Online?
Uberduck AI Text-to-Speech is an innovative voice-generating AI bot that utilizes advanced text-to-speech technology to transform written texts into lifelike voices. With a vast collection of over 5000 AI-generated voices, Uberduck offers a diverse range of options for users.
One of the remarkable aspects of Uberduck AI is its inclusion of lots of real people voices including male and female, which allows you to choose mood, style, etc., captivating the TTS community.
Features:
Vast Collection of Expressive Voices: Uberduck AI provides access to a diverse range of over 5,000 expressive voices for creating AI vocals and voiceovers

User-Friendly APIs for Audio App Development: With Uberduck AI's easy-to-use APIs, users can quickly build impressive audio applications.

Personalized Voice Cloning: Users have the ability to synthesize their own custom voice clones, adding a personal touch to voiceovers and creative projects.

Thriving ML Community and Creator Tools: Uberduck AI fosters a thriving community where users can collaborate, share insights, and contribute to the development of AI voice technology and creator tools.
Part 2: Explore the Versatility of Uberduck Text to Speech
Uberduck AI offers a range of applications, particularly in content creation. Like other text-to-speech programs, it allows users to generate popular voices for various purposes. Whether it's presentations, soundboards, or any other content creation needs, Uberduck eliminates the need to use your own voice by simply typing the desired text and producing the desired sound.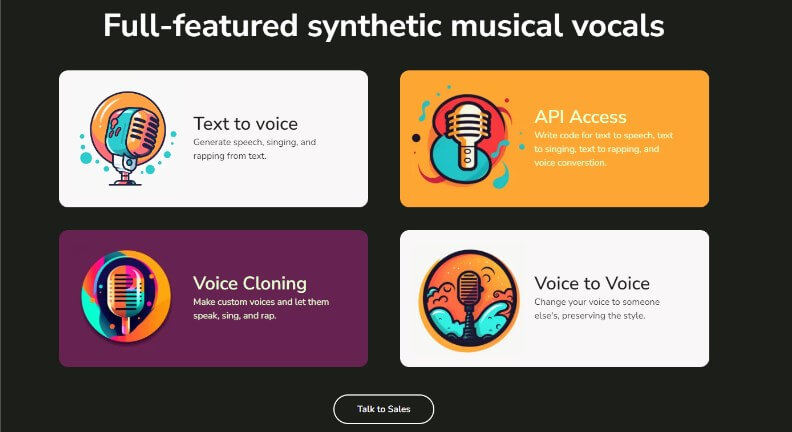 One of the most popular uses of Uberduck is for creating entertaining TikTok or YouTube videos, leveraging its various voice options. This tool is perfect for adding a touch of humor, pranks, or informative elements to videos, making them engaging and memorable. In addition, there are numerous other practical uses for Uberduck.AI like music production, voice cloning, voice to voice, and more, but its popularity in the realm of fun and informative content creation stands out.
Part 3: Is Uberduck AI Text-to-Speech Safe?
Uberduck.AI is a well-established tool in the industry, providing users with a reliable and secure platform. When signing up for Uberduck AI, you can rest assured that your data is kept confidential and not exposed in any way. Whether you're utilizing the text-to-speech feature, API documentation, or creating a custom voice clone, your data remains private and will not be shared unless you explicitly choose to share it with the community.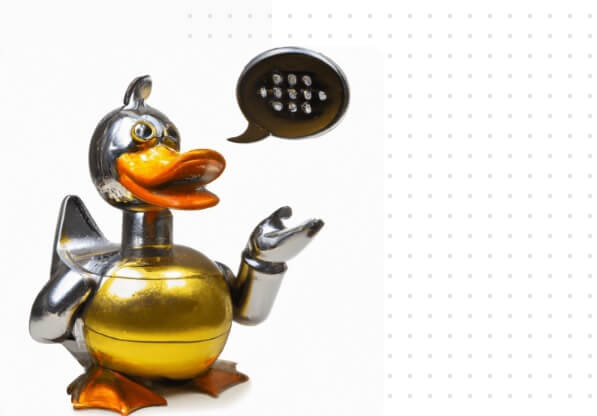 By opting for Uberduck AI, users gain access to not only a safe platform but also a wealth of features. Its user-friendly interface and extensive functionalities make it superior to other online tools. It's essential to prioritize safety when using online applications, and Uberduck.ai serves as an excellent choice that combines safety, reliability, and ease of use.
Part 4: How To Do Uberduck Text to Speech?
Utilizing Uberduck AI's Text to Speech feature for generating voiceovers is a straightforward process. You can make use of this online text-to-speech tool by following these simple guidelines.
#Step 1: Enter "Text to Voice" and log in with your account.
#Step 2: Select the voice according to the age, gender, accent and more, then add your text.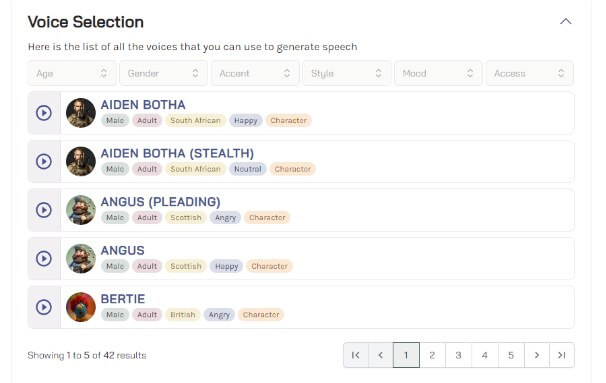 #Step 3: Click on "Generate Speech" and preview the AI-generated dubbing.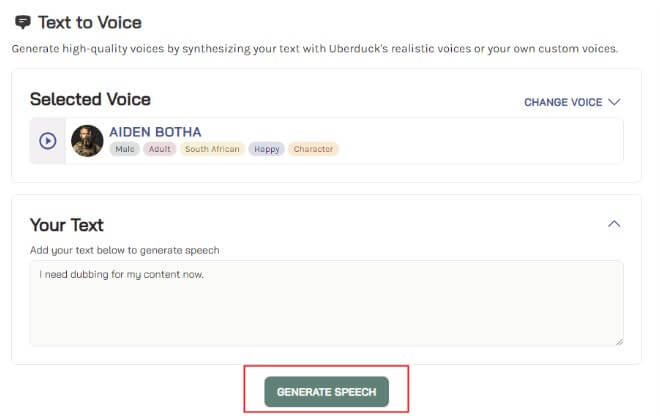 Part 5: Exploring Top Alternatives to Uberduck AI for Text-to-Speech
If you don't want to use an online tool, then VoxBox is the best alternative to Uberduck text to speech to use. It is compatible with PCs and works efficiently. You can use this tool to record and edit audio using different tools. Moreover, it has a text-to-speech feature that is reliable and effective.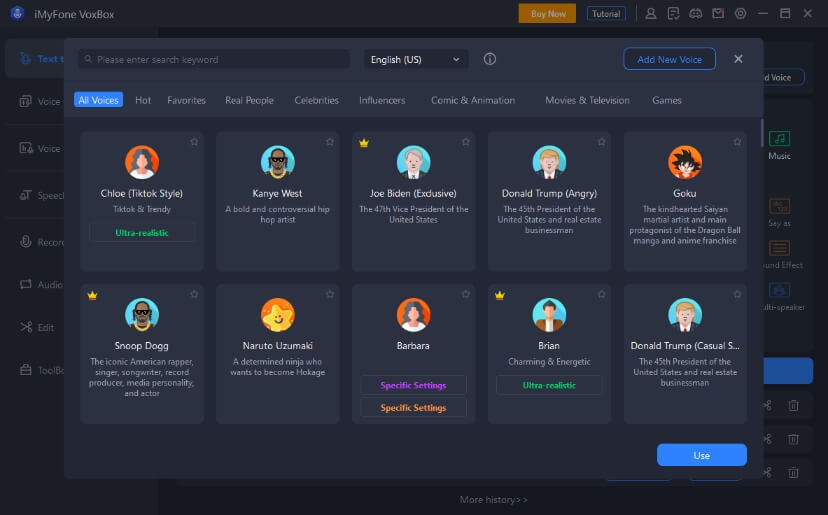 Voxbox is famous for its high-quality outputs as it doesn't lower the quality due to file size. It can be used for different applications, including songs, speeches, meetings, and more. You can also export multiple recordings at once with it.
Steps To Use The Alternative to Uberduck AI - VoxBox:
#Step 1: Download and install this software.
#Step 2: Head to "Text to Speech" on your left side. Hit "change voice" to choose what you like.
#Step 3: Type text into the interface, and convert it to speech, finally you can export the speech on your device.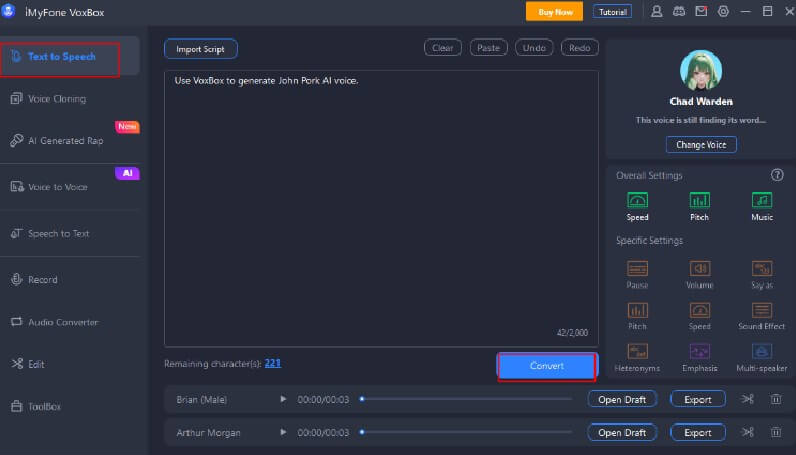 Features:
These alternatives offer text-to-speech capabilities in 77+ languages, including Spanish, Japanese, and French.

With 3200+ voices available, including rappers, YouTubers, cartoons, and celebrities, users have a wide range of voice options to choose from.

Compared with Uberduck AI, it has 2000 free characters for users who first download it.

These alternatives provide multiple built-in functions, such as voice cloning, text transcription, voice generation, video conversion, and voice recording.

Some alternatives, like VoxBox, include a voice recording feature alongside text-to-speech capabilities.

Users can import and export audio files in various formats, ensuring compatibility with different platforms and systems.
Pros:

VoxBox has a user-friendly interface making it easy to use.

It has a wide voice library to choose voices from.

It has a trial version that you can download and explore the tool.

Apply more scene applications like Education, Business, Entertainment, Social Media, etc.
Cons:

The Free Trial has not Clone Voice.
Conclusion
If you're looking to have fun with popular characters using text-to-speech, Uberduck AI is a great option to explore. It boasts an excellent community and a robust support system, allowing users to contribute and help improve the program.
For those seeking a superior alternative that enables the creation of high-quality content, VoxBox is highly recommended. With iMyFone VoxBox, you can swiftly build professional content while saving significant time. It provides the freedom to customize your voice to your exact preferences.VoxBox offers an experience akin to hiring a recording studio and voice actors but without the actual need to do so.