Have you found yourself listening to a live concert, or hearing your favorite song on Spotify and only wanting to keep that moment to hear it later? You can do so by using a streaming audio recorder to download your favorite audios. You can then listen to them offline or keep then to whenever you want to hear music.
On this guide you will learn how to use streaming audio recorder. Also, we will mention which are your best alternatives for paid and free streaming audio recorder.
5 Best Streaming Audio Recorder [Free]
It is normal to search first for the free streaming audio recorder alternatives. Some tools can be reliable and require zero investment. This is something to consider if you just want to record for your own enjoyment.
There are free alternatives of streaming audio recorders that offer features that could be enough for you. Also, some programs are compatible with different operating system Here we will mention five of the best free streaming audio recorder, their features and other useful observations:
1- Eease US RecExperts
EaseUS RecExperts is a recorder that can record video and audio at the same time if required. Therefore you can safe your favorite videos, series, and movies as well. It is also compatible with online radio, YouTube video and other media websites. It offers reliable functions even though it is a free tool.
Key Features:
Easy to use thanks to the friendly-user interface.

Compatible as streaming audio recorder.

It offers reliable programmed recording.

You can use it to capture YouTube music, videos and podcasts.

It includes the option to simultaneously add your voice recording to the audios.
Pros:

Flexible captures.

Compatible with Windows 10 and Mac.
Cons:

The free trial offers limited recording time.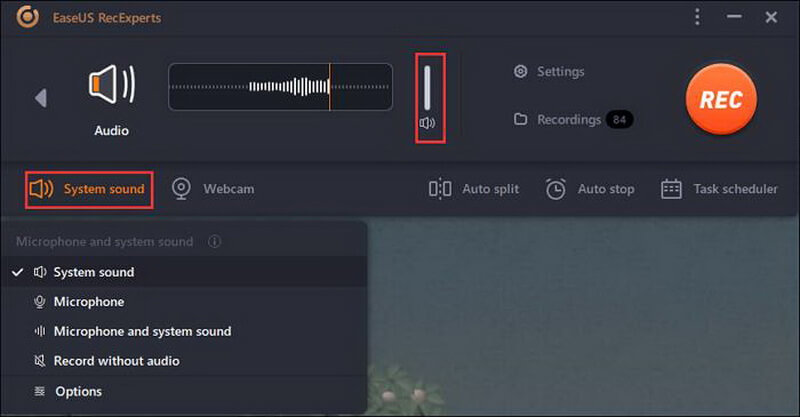 2- Free Sound Recorder
As the name indicates, Free Soiund Redcorder is a rather straightforward tool that enables free streaming audio recorder functions. It is a freeware that allows to record music from platforms like YouTube and Grooveshark. It is also compatible with online radio and
Key Features:
It is capable to capture the system sound and the microphone sound.

It can record video calls, audio broadcasts, and the audio from any video.

You can record your favorite YouTube videos.

It is completely free.
Pros:

Simple and reliable audio recorder.

Multiple settings to adjust your audio.
Cons:

There are no functions of audio converter.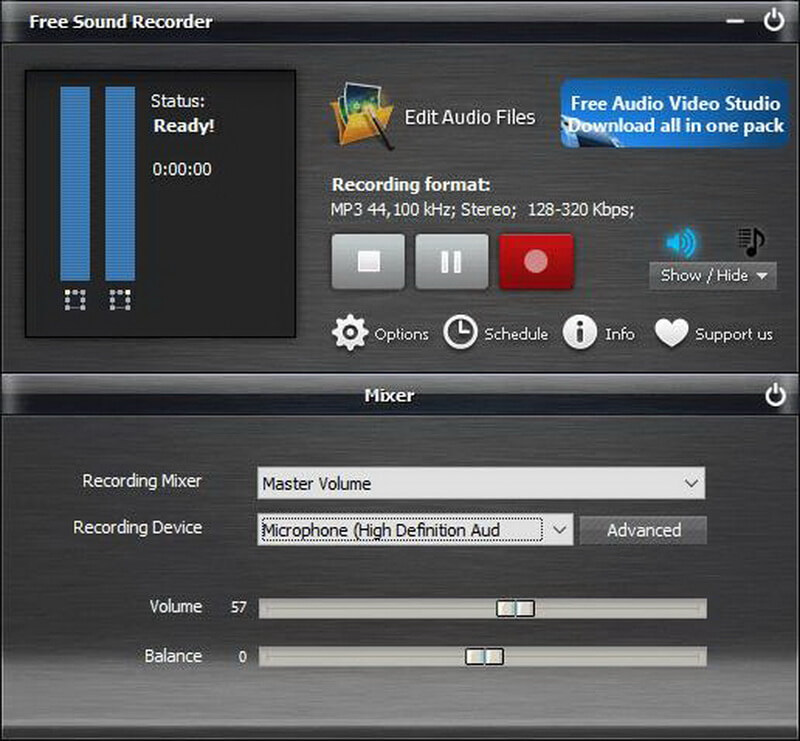 3- Cinch Audio Recorder
Cinch Audio Recorder is a high quality recorder you can use for free. It is a tool designed to record music. One of the main features is the metadata searcher, which will search all the information of the song like the artist, the album, and tittle. This comes in handy if you are planning to record complete albums.
Key Features:
Metadata finder that will gather the music information like artist and album. This information can be edited.

It is a streaming audio recorder that is compatible with YouTube.

You can split your audio files with this tool.
Pros:

Clear layout that is easy to use.

Good performance and use of your computer resources.
Cons:

It does not support many audio formats.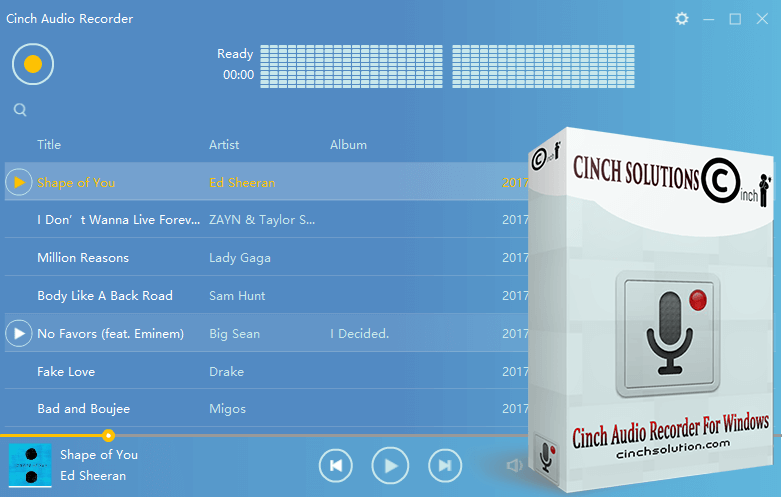 4- SoundTap Streaming Audio Recorder
If you want professional quality on your audio recordings, then SoundTap Streaming Audio Recorder is one alternative you can use. It is a free tool that can work as a streaming audio recorder. It achieves a higher quality thanks to the special kernel driver it uses.
Key Features:
This tool supports sharing your audio file on different platforms.

You can use it to burn audio files into DVD or USB drivers.

It offers detailed configuration of the audio quality.
Pros:

It offers higher audio quality for free.

You can create backup files on a folder network.
Cons:

Outdated interface that requires manual coding for the configuration.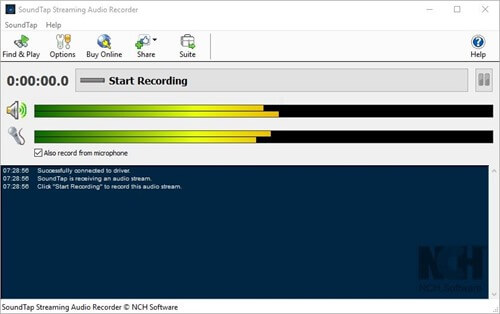 5- Chrome Audio Capture
We wanted to include a streaming audio recorder that is designed for browsers. In this case, the Chrome Audio Capture is the free online tool that can be used in that specific tab of this browser. This is useful to record specific websites and save lots of time.
Key Features:
It supports recordings of mp3 and Wav audios.

You can mute the tab you are recording while you use the browser.

It can be activated on any tab.

It offers hotkeys shortcuts.
Pros:

It does not require downloads and installation of software.

It is simple to adapt and use.
Cons:

Requires internet connection.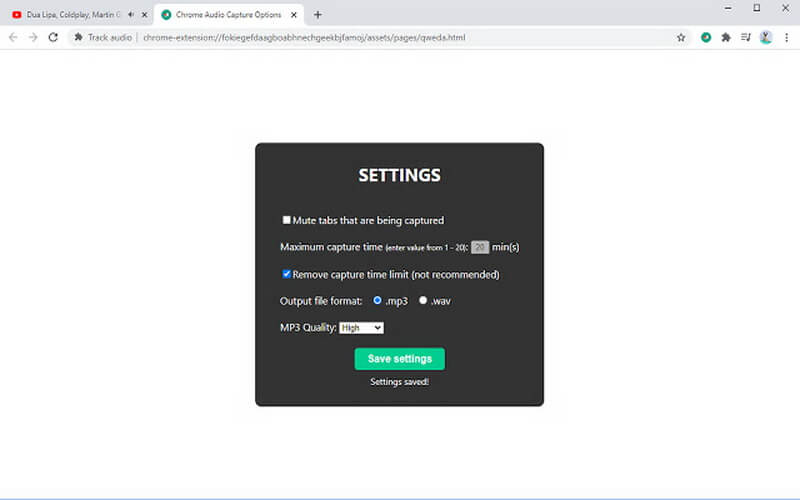 Also Read:
Record Audio on Final Cut Pro >>
Record Internal Audio on Mac >>
5 Best Streaming Audio Recorder [Paid]
There are also payed versions for streaming audio recorders. These are most professional tools that will offer more tools and features. This investment is a good decision if you need better quality recordings. Here are our top 5 for paid streaming audio recorder:
1- Adobe Audition
Adobe Audition is one professional tool that can be used for any audio file manipulation. In this case, it can work as a reliable streaming audio recorder. You can experiment and mix different audios and songs using this tool.
Key Features:
It is excellent to record music.

It offers a complete toolset to edit any audio or song.

You can use it with other Adobe products thanks to the company compatibility.

Compatible with almost any audio format.
Pros:

It offers a free-trial that last 7 days.

Reliable customer service.
Cons:

The user interface can be intimidating for beginners.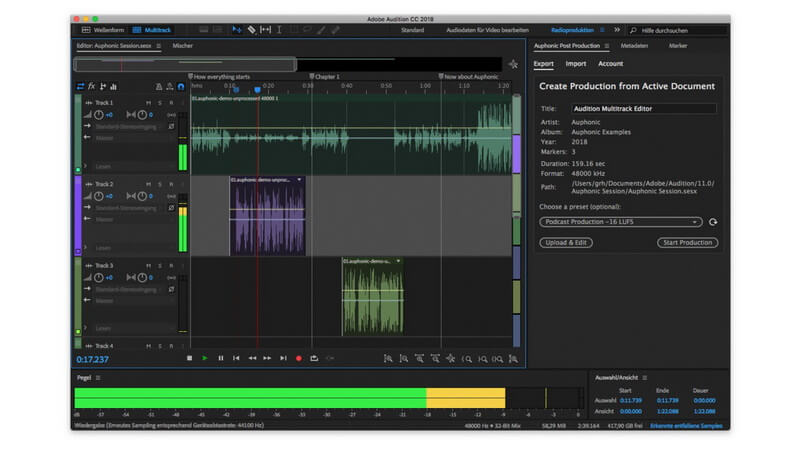 2. iMyFone Filme
iMyFone Filme is a video editor that can help you record streaming audio. It has multiple features that can help you create and personalize your streaming audio and video. You can use it to record simultaneously your screen, your face, and the audio. You can use it to broadcast your streaming sessions since it is compatible with the main streaming platforms like Twitch, YouTube Live, and Facebook Live.
This will solve your dilemma to how to record streaming audio, as well as enable you a long list of useful features like the followings:
Key Features:
It is compatible with desktop operating systems like Windows, Mac OS, and Linux. It is compatible as well with mobile devices with Android, iOS, and others. That allows you to record and edit audios at any moment.

Record and edit your audio tracks with tools and filters. You can adapt your audio without noise and adjust the tone of the voice.

You can also add a voice modification filter, to make a voice sound like the voice of another person, a robot, a girl, and other options.

It offers an asset library with media files like pictures, videos, and audios you can use for your content creation.
Pros:

It is compatible with multiple devices.

It has a friendly-user interface, easy to learn and use.

It is compatible with almost any audio or video format.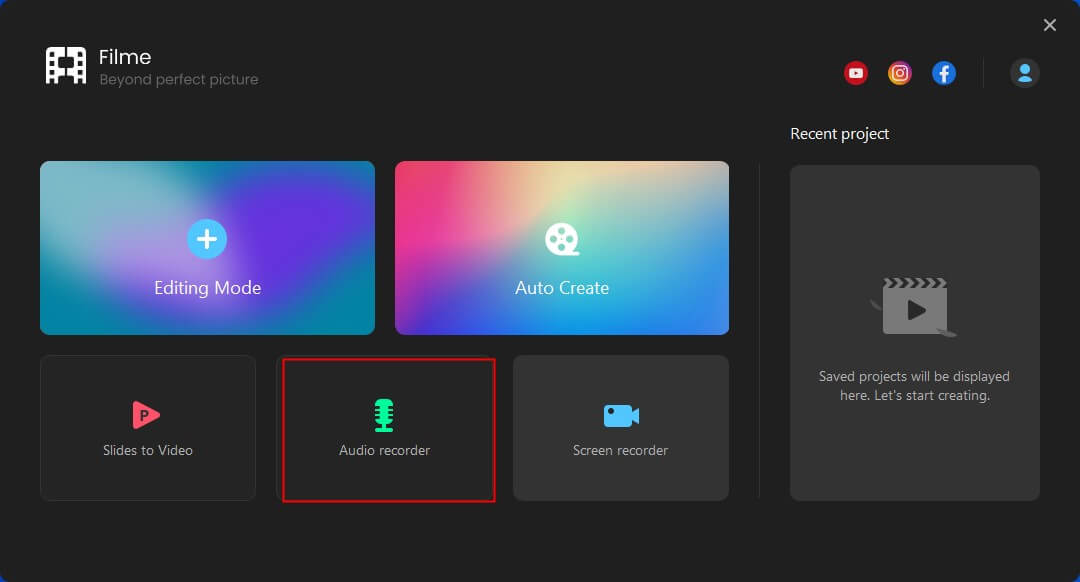 3- Gilisoft Audio Recorder Pro
Once you use a streaming audio recorder, you most likely will need an audio editor to adjust the complete recording. Gilisoft offers a pro tool that has all the editor tools you might ever need. It also offers professional quality recording and is compatible with other useful functions.
Key Features:
It can record your microphone and computer audio simultaneously.

You can preset your audio quality standards to decrease the amount of editing you need to do.

You can schedule your recordings to a set time and date.
Pros:

It offers professional quality recordings.

It offers preview audios before recording.
Cons:

The free trial is quite limited.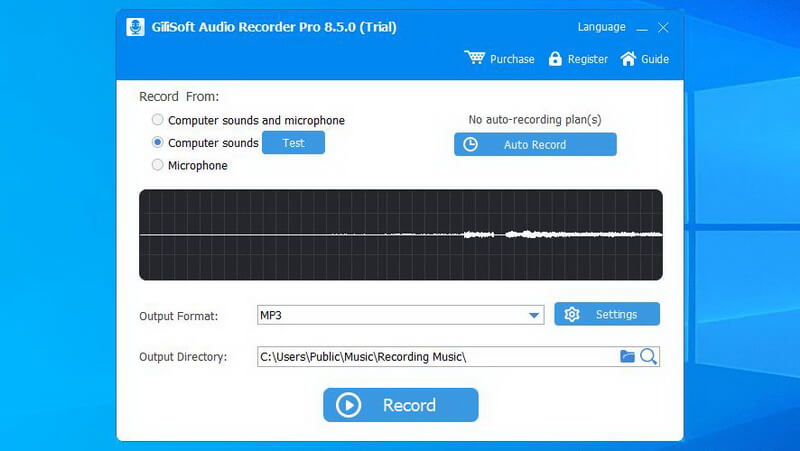 4- Wondershare Streaming Audio Recorder
Wondershare otfers an streaming audio recorder that is ideal for radio streaming. It can record simultaneously multiple audios at the same time from different websites. You can use it if you need to keep the audio from multiple websites at the same time.
Key Features:
You can use and edit ID3 tags to keep all the audio information.

It can prepare playlists that is compatible with iTunes library.

It supports MP3, WMA, WAV, AAG, M4A, and others.
Pros:

User-friendly interface

Optimizes the computer resources.
Cons:

You need to pay new functions and effects.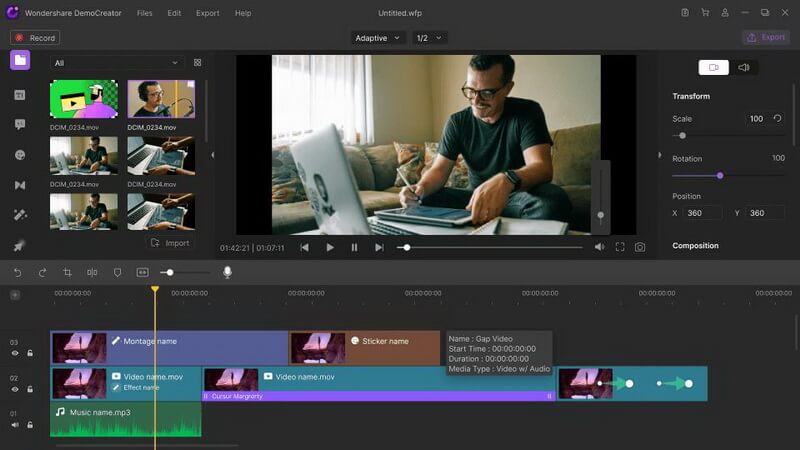 5- Leawo Music Recorder
Leawo is a tool designed to record music and online streaming music. It also offers to record offline sources. You can use it to manage and adapt playlist, Here are some of the main features it offers:
Key Features:
Built-in schedule to automatically set recordings.

Media manager tab to organize the music you record on different playlists.

It supports multiple audio formats.
Pros:

High quality recordings.

It offers a simple interface.
Cons:

It often crashes when using CD and DVD sources.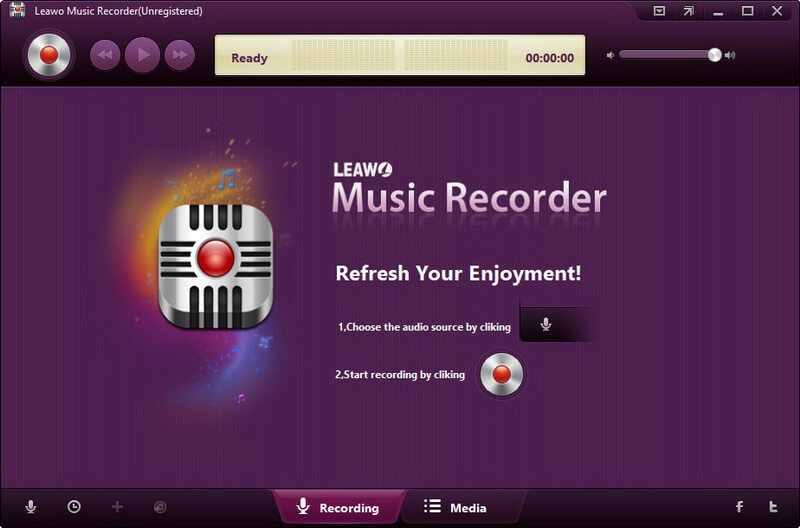 FAQs
How can you choose which streaming audio recorder you need to use?
There are different alternatives available. You need to consider your equipment compatibility, the price of the tool, and the features the program offers. The audio recorder you choose shall be the best for your conditions.
How to record online radio streaming?
Some of the streaming audio recorders offer special functions for radio streaming recording. For example, they offer metadata search, audio splitting to separate the songs, and editing tools to adjust the audio lengths.
How to record audio with a smartphone?
Some iOS and Android versions offer screen recorders with the operating system that can be configured to record the audio as well. You can as well use apps to record the audio with your smartphone.
Final Words
You might need a streaming audio recorder at any moment. It can be a practical tool to record meetings, classes, concerts, and your favorite music. We mentioned alternatives that can be downloaded and used for free. Some freeware can be used without any limitation and get excellent outcomes.
If you want more professional tools, then you can choose a paid tool that will offer most detailed features. We hope that this guide helped you find the right way to record all your favorite streaming audios.