Google Slides are an excellent tool to create your presentations. You can create any kind of presentations for meetings, classes, or tutorials. You can improve your Google slides if you add an audio or voice-over.
If you want to learn how to record audio on Google Slides, here you can follow a detailed tutorial for Windows and Mac users. You will learn how to improve your presentations and add valuable explanation and context. Let's start reviewing the tools to record the audio for the Google Slides available on Windows and Mac.
How to Record Audio on Google Slides on Windows?
On windows, there are multiple tools and recorders that you could use to add audio to Google Slides. Yet, it is advisable that the program you use keeps the proper sound quality. Also, it is recommended to have a program with voice editing tools. That way, you can record and edit the content to leave only the important information.
If you want to offer an engaging presentation, then we recommend you a reliable tool like iMyFone Filme to record your audios and voice-overs. It is a program that can be use with a free trial and it offers audio and video editing tools. Here is a resume of all the main features it offers:
iMyFone Filme – Key features:
High-quality voice and system sound recording.

Sound filters with the option to mitigate noise and adjust the mood of the recording.

You might as well use a voice modifier to make your voice sound like a robot, a woman, a man, big person, small person, and others.

You can edit your audio file with detailed editing tools.

You can use the audios available on the asset library for free to improve your audio.

User-friendly interface which is excellent for beginner users.
You can use this editor as well as a video editor. It offers editing tools for videos as well as the options like adding subtitles in case you want your voice-over to be accessible to anyone. Other features are the adding of smooth video clip transition, cinematic effects, and filters.
Watch this video to learn how to use Filme to screen recording with audio:
How to record audio with iMyfone Filme
Step 1: You need to download the iMyFone Filme tool from the official website. Install the program and proceed to launch it.
Step 2: Now, you need to click on the "Audio Recorder" option.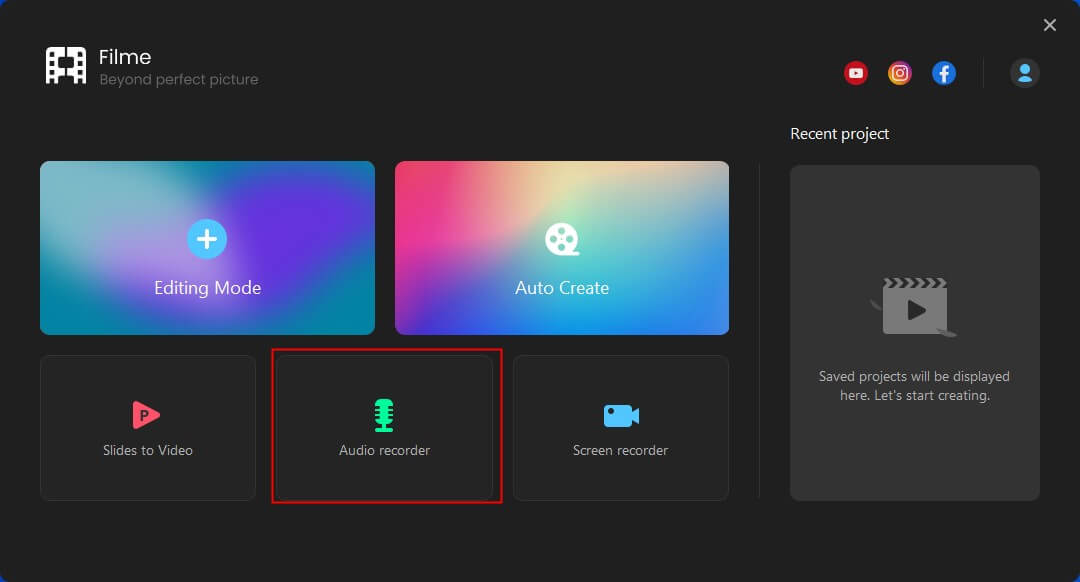 Step 3: A new window will open. Here, you need to enter the input audio source. For example, if you record your voice, then you need to choose the microphone you are going to use.
Step 4: You might as well choose if you want to a voice modifier to change the way your voice sounds.
Step 5: Press on the red button to start recording. It is located on the upper part of this emerging window.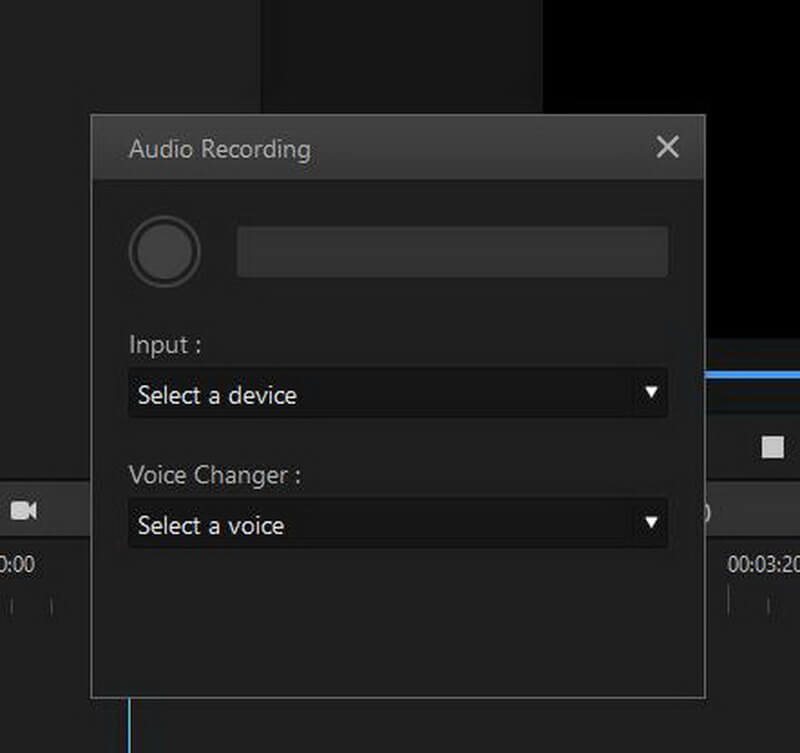 Step 6: You can pause the recording at any moment by pressing the "Stop" icon, located in the same place.
Step 7: Now, you can edit your audio with the normal options like trim, cut, adjust speed, and voice/audio effects.
Step 8: Press on the "Export" option and choose the audio format you would like to save the audio with.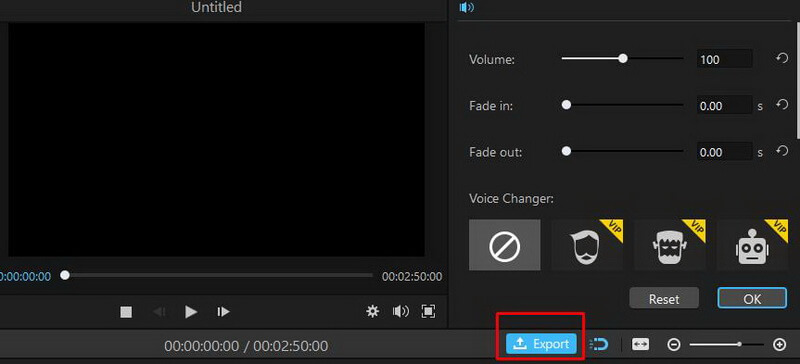 Also Read:
How to Record Voice on Google Slides on Mac
On mac, you might as well use tools and audio recorder to prepare the audio for your Google Slides. Instead of using a regular sound recorder, it would be advisable to use a voice recorder that will improve the quality of your voice-over narrations.
Therefore, we will recommend a tool specifically meant for voice recording: TwistedWave.
TwistedWave is a powerful yet simple audio recorder and editor for Mac users. It is also compatible with iOS devices, which means you are able to record everything with your iPhone. Here are some features this recorder offers:
TwistedWave – Key Features:
You can start recording using the app buttons or using hotkey commands.

Add at any moment markers to remember which parts need editing latter.

Use equalization, compression, limiting and other amazing editing tools for your audio and voice recordings.

Convert your recordings into any audio format without losing sound-quality.

Automatically cut and apply fades to your sound recording.

If offers speech recognition to transform all the speech into text.

It offer tools to help you synchronize the video with your audio.
How to record audio with TwistedWave
Step 1: First of all, you need to download and install the TwistedWave app from the official website to start using it.
Step 2: Once the app is open, click on the microphone icon to start recording your voice with a microphone. You will need to give permission to the app to gain access to your microphone input.
Step 3: Click on the "Stop" Button once the recording is done.
Step 4: You will now preview the recording and be able to edit it. Remove or cut any unnecessary space.
Step 5: Once your audio is done, click on "Save" to save the audio file as an MP3 on your device.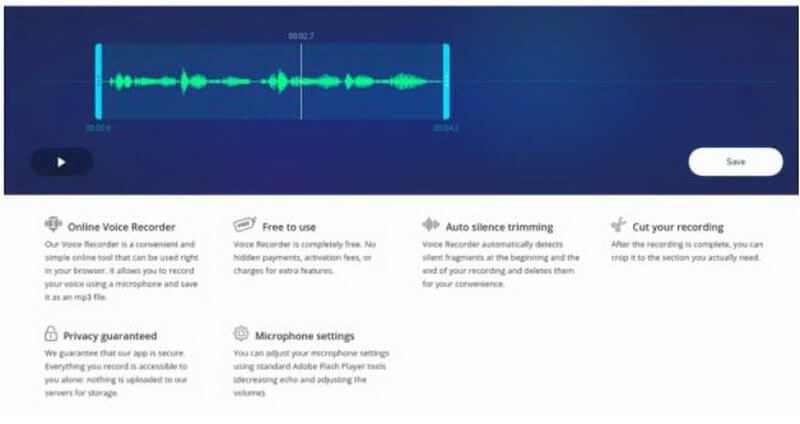 How to Add Audio to Google Slides
Now that your audio recording is done, it is moment to add it to the Google Slides. For this, you will need to use a Google Drive account. Here is the detailed tutorial on to use the Google Cloud and learn how to add audio recording to Google Slides:
Step 1: First, you need to Upload the audio file to your Google Drive. To do so, open your Google Drive account and then click on the triangular Drive icon located at the right upper corner of the screen, then click on "New" and then on "File Upload"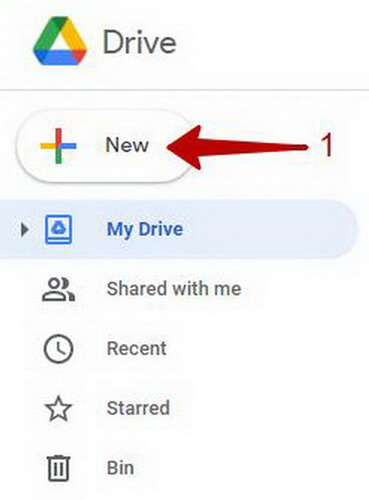 Step 2: Search among your files for the audio file you want to add to your Google Slides. Double click over it to upload the file. This might take a couple of minutes depending on the speed of your internet connection.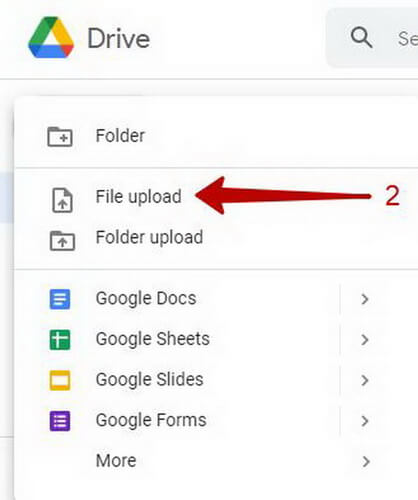 Step 3: Now, you need to share the audio file, you can do so by right-clicking over the audio file uploaded to the Google Drive. Now, click on the option "Share" and allow anyone with the link to gain access to the audio.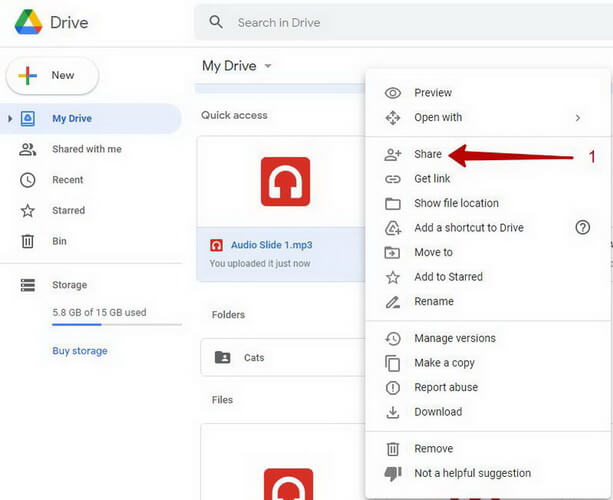 Step 4: Now it is time to add the audio files to the Google Slides. To do so, open the Google Slides file that you need to add audio to. Open the menu options tab and click on "Insert". Among the options available, click on "Audio". At this point you can choose the audio from your Google Drive and complete by clicking on "Select" button.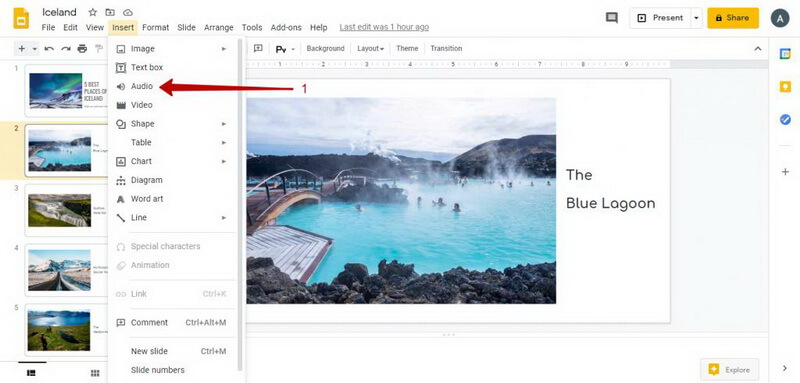 Step 5: By doing this, your presentation will have audio and you will notice a speaker-shaped icon located on your slides. You can play the audio by clicking that speaker icon.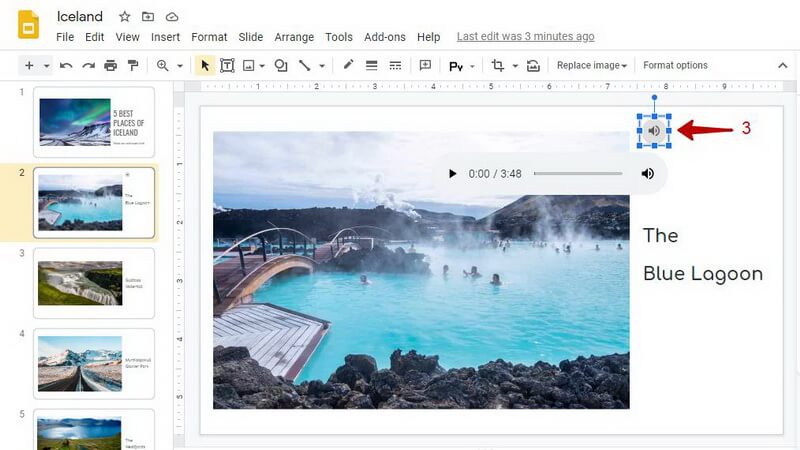 Other Best Audio Recorder for Google Slides
There are other options if you are searching a way on how to record audio on Google Slides. Here are some online alternatives in case you are no able to download a tool on the device you are using. These can help you record without any further installation.
This online platform is one option you could use if you are using Chrome as your browser. It is one simple application that will work well as an audio recorder for google slides. If you are not interested on using an advanced audio tool, then this could be helpful.
Features:
User-friendly interface that can be used online

Simple options and easy to learn

It does not include a sound editor so you will need to use the exact audio you record.

It is designed for institutions and educations means so it is a free tool.
If you need to use another internet browser other than Chrome, then this is the right tool for you. This simple platform is free and can be used from any internet browser or device without problem. You can also edit the audio afterwards so it can be a live-saver if you need to adjust an audio in minutes.
Key Features:
Free tool available online

Simple interface ideal for beginners

Enable simple editing functions.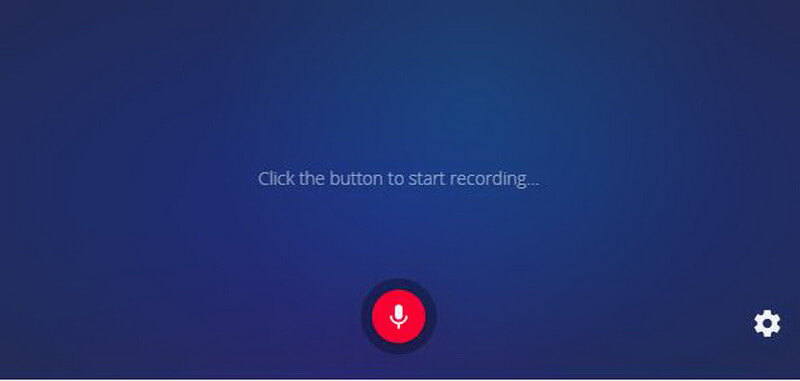 FAQs
How to play the audio from the Google Slides?
You can choose whether the audio from your presentation starts automatically or if it requires a play button. To do so, go to the "Format options" and there you can choose to start playing on Click or Automatically.
Is there other way to add sound to Google Slides?
You can add audio to your Google Slides by screen recording your presentation and then adding the narration to the video. This way, you will ensure that the presentation is synchronized with the voice-over narration.
Final Words
A visual presentation sometimes is not enough to transmit all the information you want. That is why using a voice recorder and learning how to add audio recordings to Google Slides can be a useful skill to improve your presentation.
We hope that this guide helped you learn how to record audio on google slides. Tools like iMyFone Filme are useful since you can record and edit your audio to improve the narration and content quality. Keep in mind that the audience is extremely critic with the audio quality and content.