Premiere Pro by definition is a timeline-based video editing software app that is developed by Adobe Inc. it is used for all common video editing jobs that are aimed at the production of perfect broadcast-quality and high-definition video. It can be used to import video, audio, and graphics, and is used to create new, edited versions of video which can be exported to the medium and format necessary for the distribution. Today, we focus on how to add shapes like circles and rectangles for titles or descriptions while editing your videos. It is so easy that you will not even believe it.
Part 1. Add Different Shapes in Premiere Pro
Premiere pro is a tool that's one of the best video editors out there, and among many other things you can use it to add shapes to your videos, which is actually pretty common nowadays.
Step By Step Guide with
Premiere Pro
Step 1: Go to graphics on the top part of your screen, and then to the pen tool and simply choose the shape you want and click on it. You can also opt to left-click on your mouse, shapes will also appear.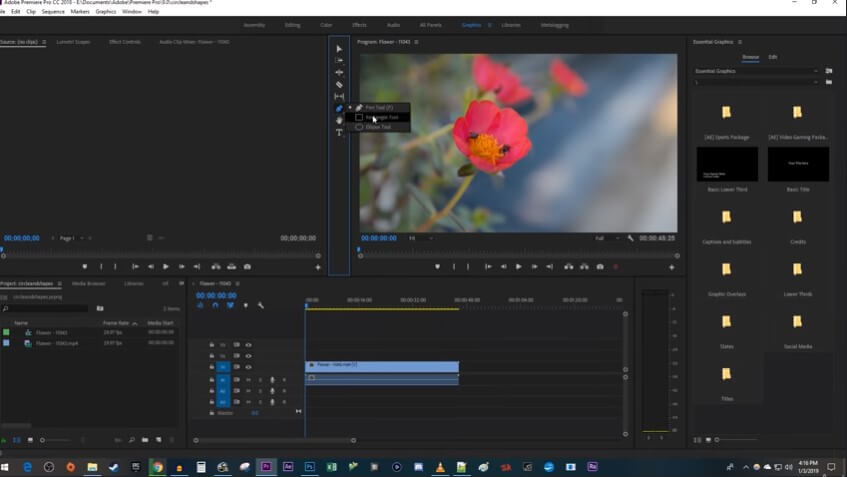 Step 2: Then drag the shape where you want it placed. This will automatically create a new graphic space on your timeline. Here, you are also able to make your shape unfilled or filled, just adjust on the same graphics panel.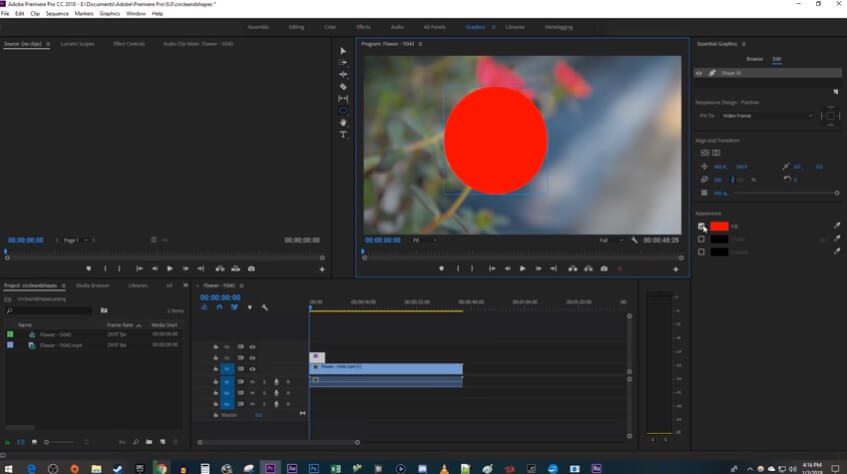 Step 3: Increase or decrease the size of your shape in premiere pro by dragging the number of the size on the graphics panel next to it. This wholly depends on the use of the shape in the video or movie.
Step 4: To change color, all you need to do is select the color you prefer, and click on it. It automatically changes. Guess what, that is all it takes to get those shapes in your videos or movies.
It is also important to note that you can do all these in the editing bar in the Fx control. Then left-click on your mouse and choose your options. Just do not forget to click anywhere on the timeline, deselect the graphics so that when you draw a new shape, it will create a new graphics clip for it.
Part 2. Best Alternative Video Editor to Add Shapes to Video - iMyFone Filme
One thing to note is that Its Fast Video mode is excellent for anyone looking to edit a movie quickly as it allows you to use the software's built-in, refined templates in real-time to complete your video editing project on time. There are many other features of this software and they are all easy to understand and use. With iMyFone Filme, you can also add shapes to a video in a few steps; it is no different from adding filters effects and elements. It is maybe even easier than on premiere pro.
Step By Step Guide with iMyFone Filme
Step 1: The First thing you need to do is click the Element tab and choose the shape you want to use in your project. It could be a circle or a rectangle.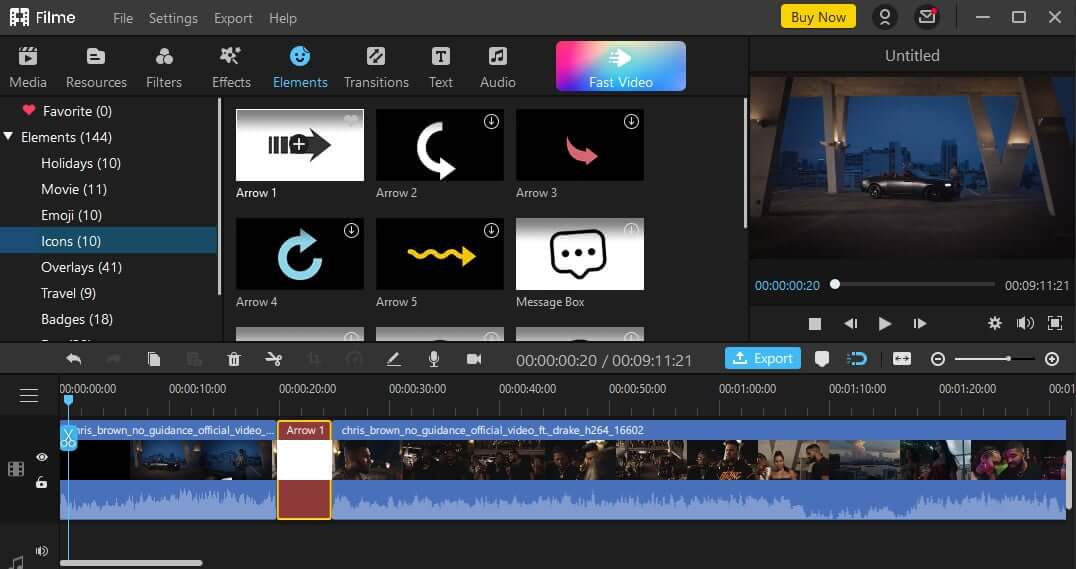 Step 2: Then, you will have to drag the shape to the timeline and place it where you want it depending on the context of use. Here, you can also adjust the color of the shape you opt to go with whether by filling it up or the out layer.
Step 3: Then, you can also resize your shape to make it either big or small by dragging it to the corners of the canvas. To manover around here,simply pick the size number you want and click okay.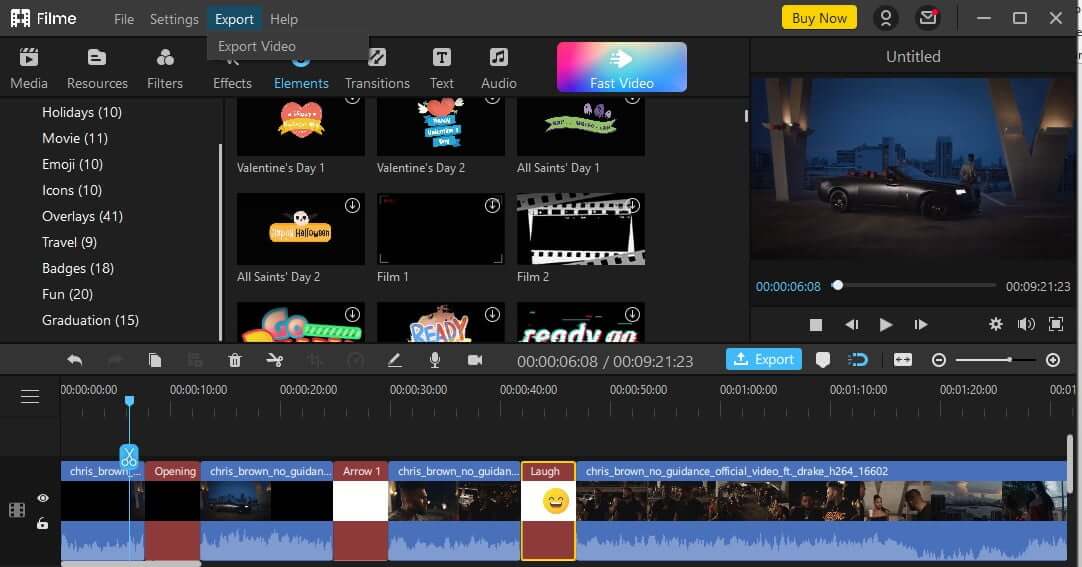 Step 4: After placing the shape in the right place, then you can move the text over the shape if that is what you were getting it for. Adjust both the text and shape accordingly. Do not forget to make sure the text layer is above the shape layer in the timeline.
That was easy right?
Part 3. FAQ about How to Add Shapes to Video in Premiere Pro
There is a lot of frequently asked questions around this software. We will just look at some of the most frequently asked and try to answer them. Someone asked;
Q1. How do I feather a shape in Premiere Pro?
To begin with, you will need to adjust the radius to get the degree of feathering. Then you can blur your shape by going to the Filter option, clicking on it, then to the Blur icon, and clicking on it then to the Shape Blur. And there you have it. Here, you can play around with the effects, you can add a Gaussian Blur to your Shape Layer and it works perfectly!
Q2. How do you add a text layer in Premiere Pro?
All you need to do is click CTRL+T on Windows or CMD+T on Mac and a text box will be created on the video and a graphic layer will appear on the timeline. Here, you can choose the duration of the text layer by just dragging it to the left or right.
Q3. Why can't I edit my text in Premiere?
If/when you are using an updated version of the Premiere pro; it should be able to edit text attributes. Start by selecting the graphics than the text clip in your timeline and lastly use your graphics essentials panel. You could also use the alternative by selecting the graphics than the text clip in your timeline and then going to the effects controls panel.
Q4. Can you import 3d models into Premiere Pro?
It is as easy as importing various 3d models format such as. obj and. 3ds and you can animate and light the objects. Then lastly you can render them out in alpha + RGB as an after-effect for use in Premiere.it is that easy
Q5. How do you create a black box in Premiere?
Start by clicking on the new item button at the lowest part of the Project panel and opt for the option Black Video. While that is done, you can adjust the Width, Height, Timebase, and Pixel Aspect Ratio to fit your preference and to match these settings for the sequence.
Conclusion
The ease of creating unique videos and slideshows that have a very professional look and feel was the most important function that I identified from this software. You won't need to spend extensive time going over any instruction manuals or guides before using them.
We can sum up all this by saying that there is much video editing software out there, but not all of them are reliable and updated. If you are looking for the best software to add shapes to your video, then you simply cannot go wrong by choosing Filme. There is this perception that free editing software is not the best, but iMyFone Filme has much to offer. It has a lot of shapes to pick from; you will definitely not feel limited. Be sure that you can you can make high-quality videos, by using Filme to make those shapes you want. Mind you, shape options are so many including circles, rectangles, bubbles, etc.
What i am trying to say is, imyfone filme is free, and has amazing features. It is definitely the best editing software around. Try it out,you will not regret using it.