AVS video editor is one of the easiest-to-understand software and is highly suitable for beginners. Still, unfortunately, many people are unaware of how to deal with AVS video errors. So here are some of the most common recurring AVS video errors and how to fix them.
Tips
And our recommendation for best alternative to AVS video editor is
iMyFone Filme
. It has better performance than AVS. The program doesn't crash suddenly and it's impossible to lose your project like that.
We recommend you to try it out first. Just download it below.
The Most Common AVS Video Editor Errors and How to Fix Them
Error 1: AVS Video Editor Audio Not Playing
Suppose you're having issues with your AVS video editor not producing sound with the software despite your computer's speakers clearly working fine and the sound detection of the software showing sound being detected but not playing it. In that case, we recommend trying the following.
1. Go to ""Tools"" and select ""Options."" By going on "playback," check if your device is being shown accurately. Also, check if your volume is not all the way down.
2. If you do not have both these problems, but the issue persists, run the audio file's playback after opening it.
3. Select the Volume Mixer in the system tray and see the Volume of AVS Audio Editor. Check its Mute/Unmute status, too, while you're at it.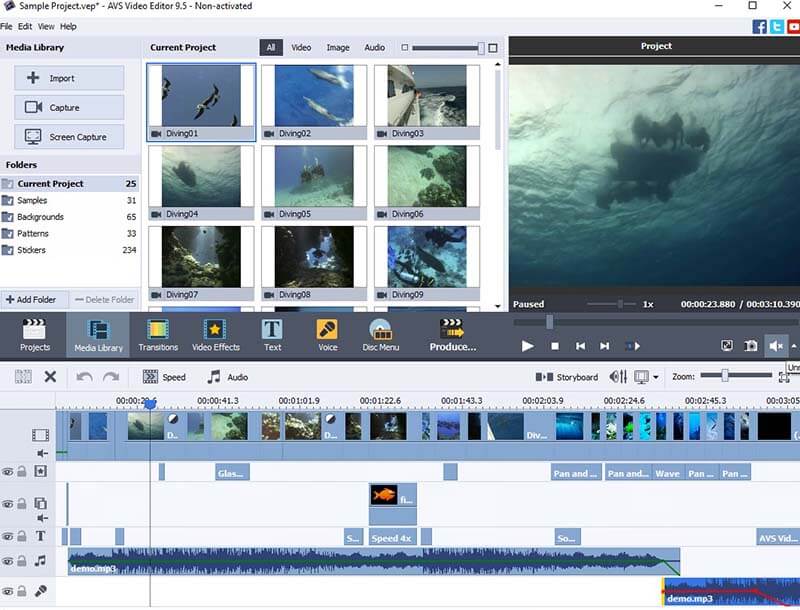 That should help, but you should also make sure that your sound devices are all switched on in other cases. And you can do this by
1. Click ""start"" and then ""control panel."" Select "Hardware and Sound" and then "Manage audio devices." From there, you go to the "recording tab" and then check the "Show Disabled Devices and Show Disconnected Devices."
2. Check the field "Enable" by right-clicking on each of the icons.
In this way, you can fix any issues of the AVS Video Editor audio not playing
Error 2: AVS Video Editor Text Not Showing
If your text in the edited video is not showing, then, assuming you already have your registry key, it is recommended that you uninstall and reinstall the software.
But wait! Before you rush off to uninstall the software, you must take some measures to ensure that your pre-existing data and editing to the project file are reserved. This is what you must do:
1. At the top of the toolbar, select the "Export Media Library" option. This will allow you to import your files later back in after you finish reinstalling.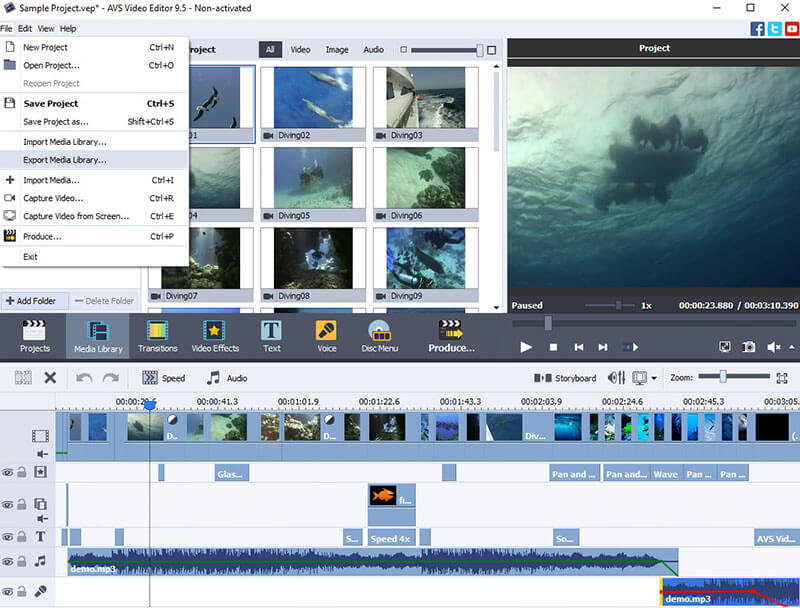 2. Reinstall the software by going to "Go Start" and then "All Programs" and selecting ``'' AVS4YOU" from there. Click uninstall and choose "check all."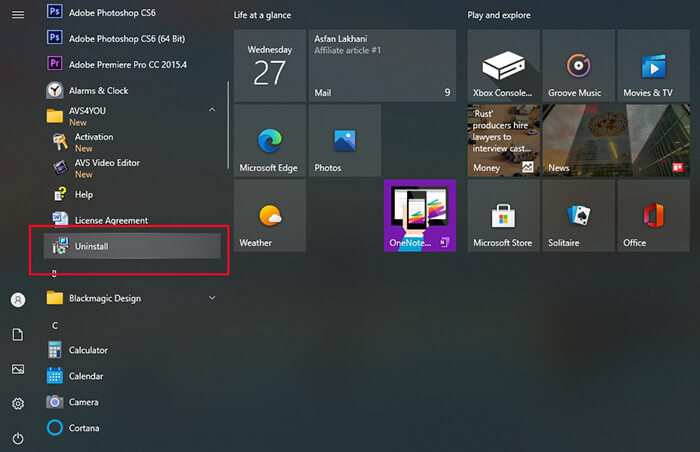 3. You can download a utility to remove all AVS software components from your PC
4. Reinstall the software and check the results. This should fix the issue.
Error 3: AVS Video Editor Not Responding
In case your video keeps crashing, and because of the AVS video editor not responding the app has frozen, it is best to force your computer to restart. You can first try this before uninstalling and reinstalling the software. You can try the same procedure for your AVS video editor review not working.
Press your power button for 10-15 seconds to shut down your computer and then restart it. This is an easy way to restart your computer without risking complete power and data loss.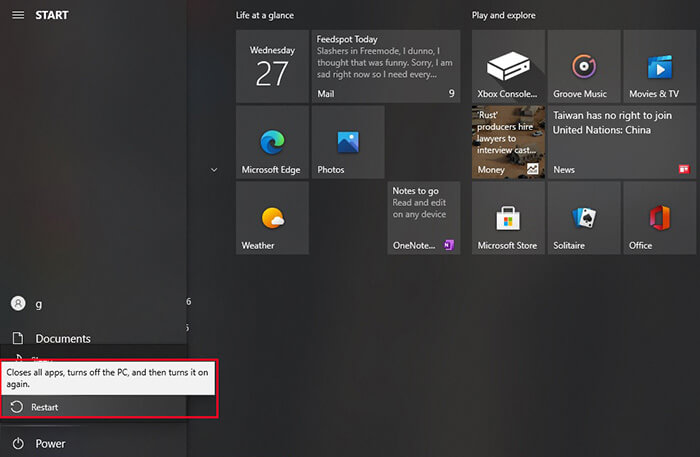 Error 4: License Key Invalid Error
Your license key is needed for the activation of the software, and it won't work if you don't have your license key.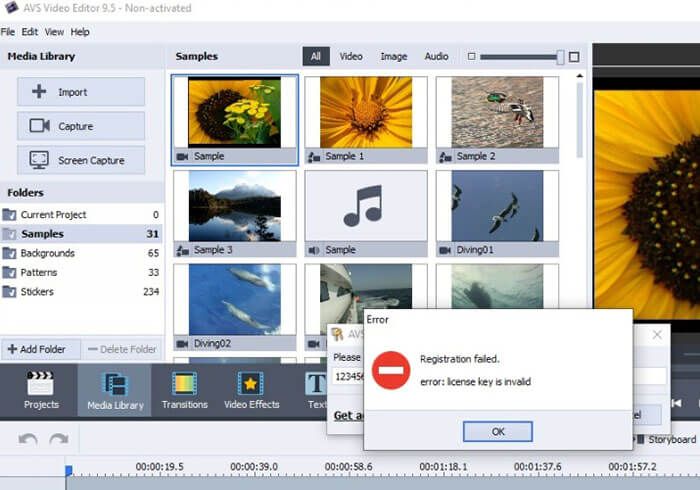 This error basically means that you are inputting the wrong license key. Here are some steps to avoid getting this error
1. This error might be because of confusion about similar-looking characters (such as 0 and O). This is why it is recommended that you copy-paste the license key provided by the server instead of re-writing it.
2. ou need to connect to the internet to activate and validate your key, or it won't work.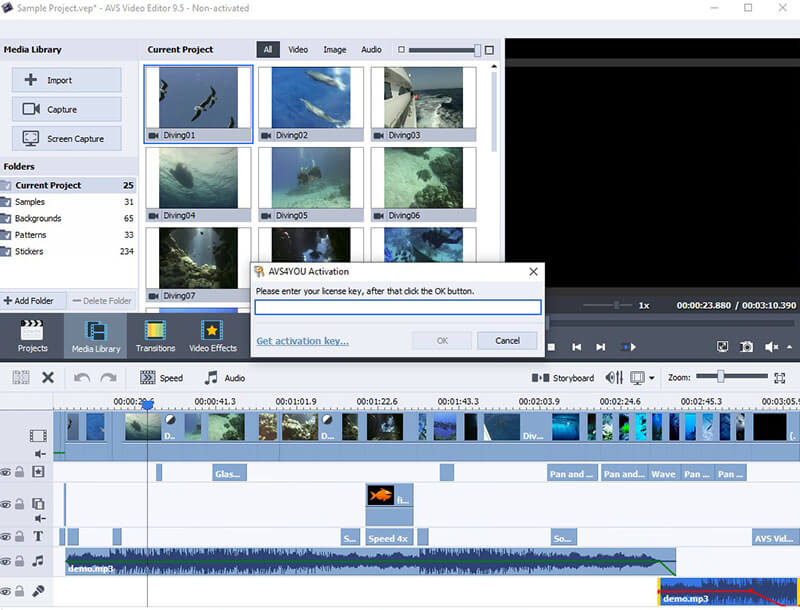 Error 5: Unable To Establish Connection With Server Error
You might see this error because of internet connectivity issues, but if you are connected to the internet, and this error still shows, then your antivirus program or firewall might be hindering the activation utility and keeping it from connecting to the internet. You can simply rid yourself of this problem by doing one of these.
1. Create a rule for Registration.exe so that the activation can happen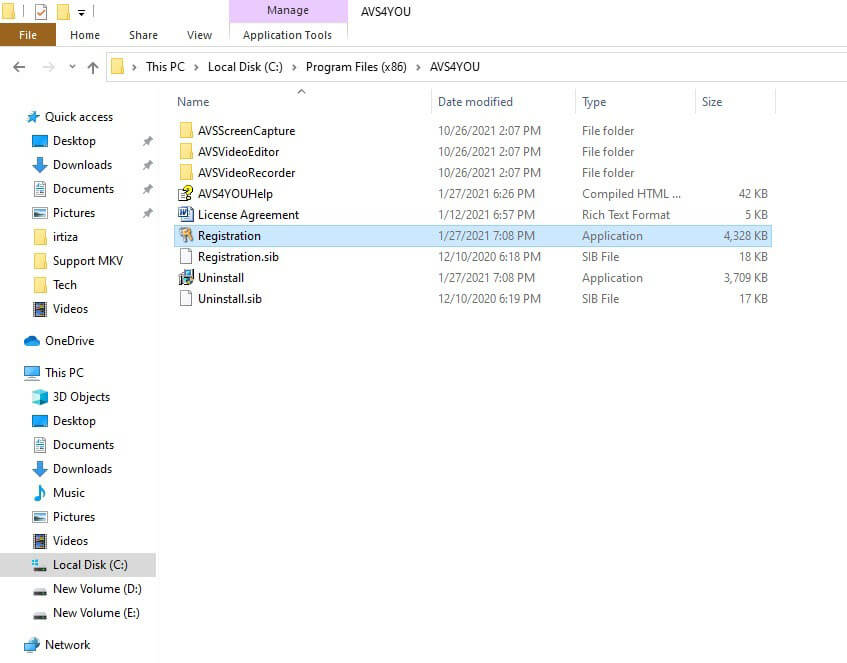 2. Disable your firewall or antivirus, let the activation process occur (it only needs to happen once), and then enable them afterward.
3. Try the offline activation procedure and send your license key and Hardware ID to the short customer team for this procedure.
Error 6: Uploading Media Files Error
You might see this error because of incorrect file format, which can cause problems in uploading. AVS only support a few extensions. To resolve this issue, you can do one of the following options:
1. Make sure the format is correct. If it's not correct, you can easily convert it using an online tool.
2. Re-running the program or file.
We Recommend Another Video Editor With Better Performance- iMyFone Filme
It can get exhausting to constantly have to deal with so many errors so often when you're just trying to edit a video having to fit into so many specifications and continuously re-running or uninstalling, or reinstalling a program. Not everyone has the time. In addition to that, it's too much effort when there are easier options to try out. Why put yourself through so many troubles when you can get the work done without any of it.
iMyFone Filme is precisely for that. It will get the job done free of any of the hassles. It's designed to make the job easier, more convenient, efficient, and faster for you so that you can focus on what is important and needs your attention, the actual video editing.
Create stunning visual masterpieces using Filme! You can use it on Mac and Windows. Just some of its features include:
iMyFone Filme Key Features:

Comprehensive video editor with useful tools - trim, crop, rotate, add picture-in-picture, and video speed control, etc.

Abundant effects and resources - iMyFone Filme comes with various filters, music, transitions, animations, titles and more.

One-click Fast Video Mode – Fast Video Mode can help to careate quick slideshow videos without complex editing. Only simple clicks!

Free & easy to use – You can download Filme on your Windows or Mac for free and try it out. And it is easy to get started.
Steps to Use Filme
Filme is incredibly easy and simple to use. You do not need to have years of experience or extraordinary]ry skills to understand how it works. The process is fairly simple and easy; all you have to do is
Step 1: Import Videos
This is the first step before starting work on your video. You have to import it into the software to be able to use it.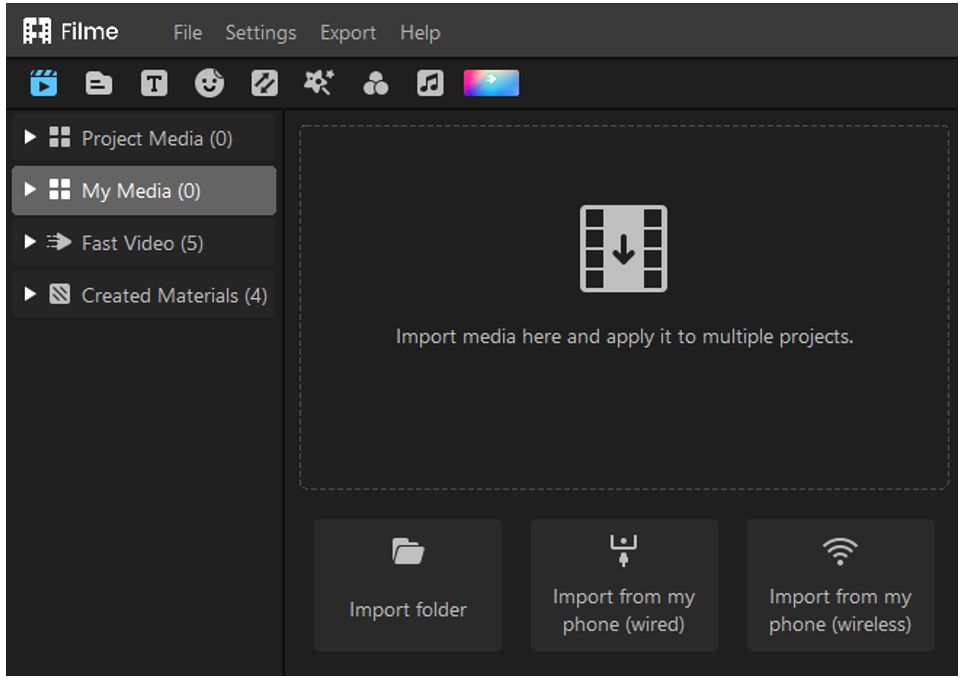 Step 2: Add To Timeline
In this step, you simply add your desired footage to the timeline, which is where you'll be making edits to it. To do that, select the video and place it on the timeline.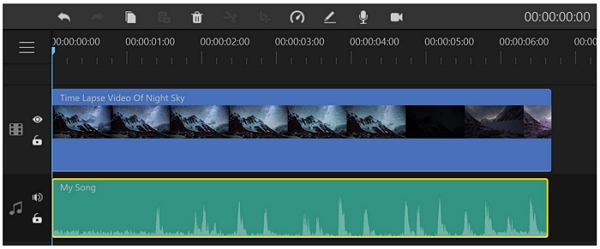 Step 3: Edit The Video (crop, trim, add text, effects, and transitions)
Now comes the fun part! This is the part where you finally get to work your magic and transform the footage into your desired product however you wish!
You can easily cut the video, or add effects to it. There are many options available at the menu. And all the steps are easy to do. For e.g. if you want to add effects, you can simply click on the effects button. Select your desired effect and place the same effect over the video. That's it.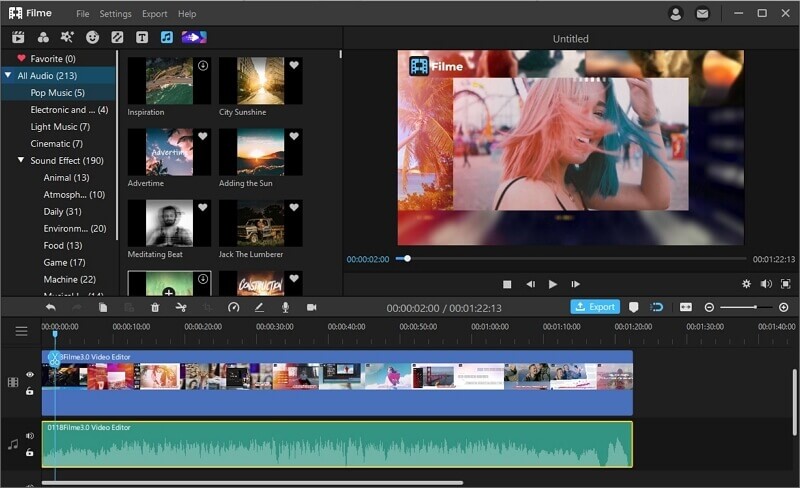 Step 4: Export Video
Now, all that's left is to export or download the desired product and upload it or use it! That's it, with these easy steps, you're done!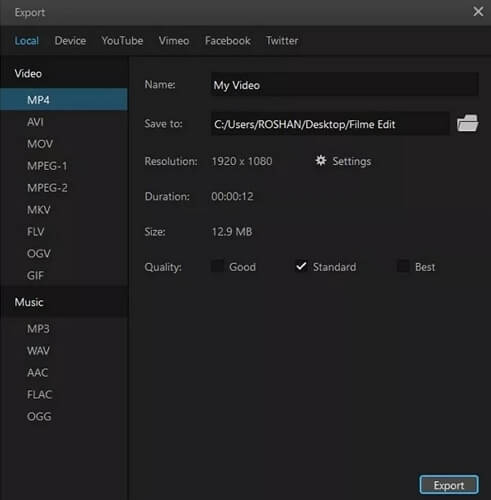 Conclusion
While using the AVS Video editor, you might encounter many errors and bugs, so it's essential to know how to deal with them and fix them. Filme is an excellent alternative to using an AVS video editor that will fulfill all your editing needs and do so without any hassle or unnecessary effort being required.