Have you ever recorded a video, either on your phone or camera only to realize that it was upside down, or it came out vertical when you wanted it to be horizontal? You see, when recording a video, more often than not, you really don't focus on the orientation you are using at the moment, all you want is to get that moment on camera. It's when you start editing when you notice that the video has the wrong orientation. So, what do you do? Well, you need to rotate the video, and we've got the perfect tool for you to use – AVS video editor. In this article, we will tell you more about this editor and how you can use it to rotate that video.
How to Rotate Video in AVS Video Editor
AVS Video Editor is basically a tool that's used by both beginners and professionals to edit a video of any nature. Whether it is cropping a video, adding or removing background music or anything in the video that you don't want, or even rotating a video, like we are discussing in this particular article, this video editor is just amazing. The tools enable you to rotate an entire video or a certain scene in any desired direction, thereby changing its orientation from portrait to landscape and vice versa. Now, it includes the following features:
Over 100 supported formats.

Over 300 effects and transitions.

GPU acceleration.

Comes with an in-built video recorder.

It has quite a number of saving options.
How to Use AVS Video Editor to Rotate Your Video
Step 1
The very first thing you need to do is to download and install the AVS video editor on your device.
Step 2
Open the app and tap on Import to upload the video file you want to edit into the platform. Also, add the file to the timeline.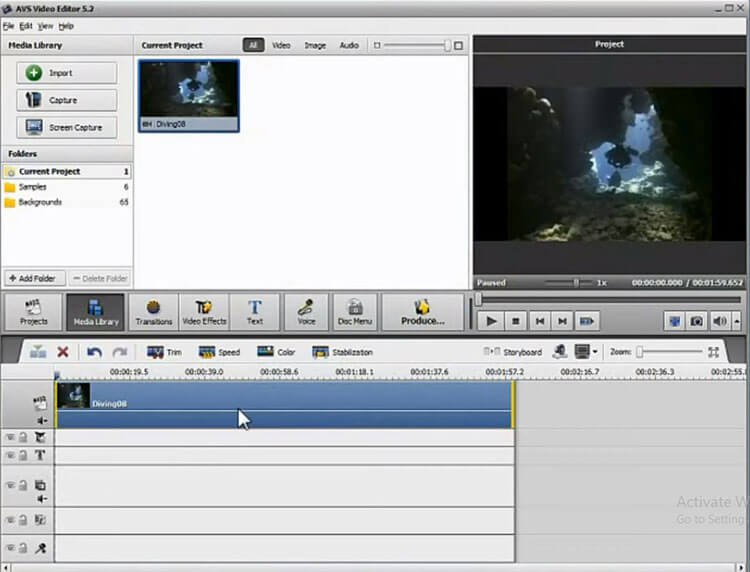 Step 3
Now, within the main window of the editor, click Video Effects, and all the effects will be displayed under the Files and Effects Area. Click non Transform to select the specific video effect you want. Under this, you will find the Rotate Effect, which you will right-click, and then Add or Replace Video Effect. This way, the Rotate effect will be displayed on the timeline.
Step 4
You will set the area you want the effect to be applied – whether it is the entire video or just a certain part only. Then drag the effect and drop it at the beginning of the scene you want to apply the effect to.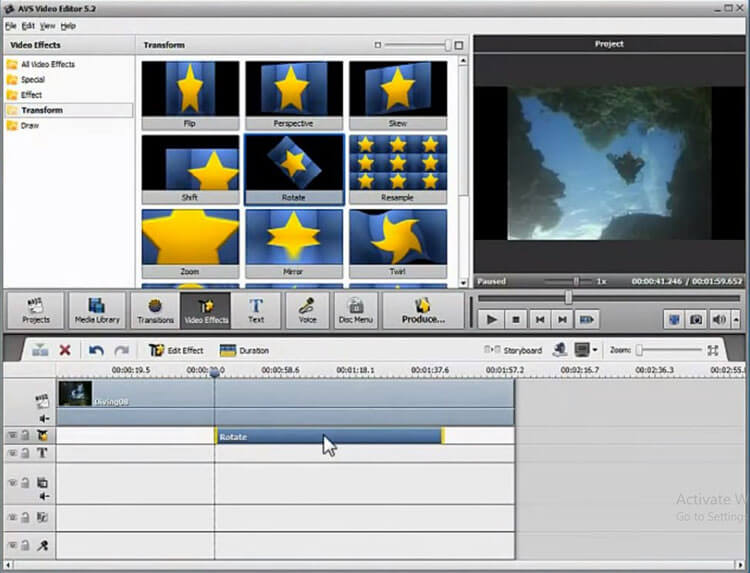 Step 5
If necessary, adjust the rotation angle by clicking the Edit Effect button on the timeline so as to open the Video Effects window. You will find the Angle slider where you will key in the numeric value.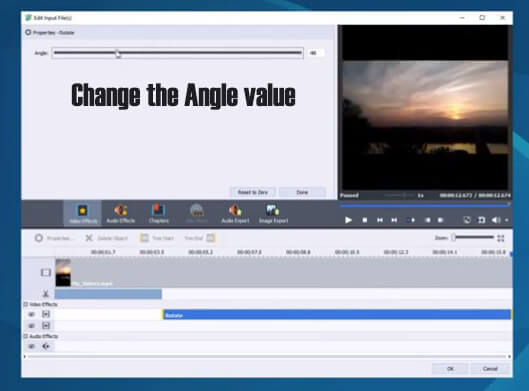 Step 6
Playback the video to see if you have achieved what you hoped for, by clicking the preview button. If you are satisfied, then click OK to save all the changes. You can then download the changes.
Related Tips:
How to Add Background Music in AVS Video Editor >>
How to Crop Video in AVS Video Editor [2021 Tutorial] >>
Is Your AVS Rotate Effect Not Working?
If so, here are some of the probable problems as to why plus their solutions:
The software may stop automatically at times. When it does, the solution is to uninstall the app and install it again.

Showing error messages for any WMA audio files. To solve it, try installing windows media player 11.

When replacing a file, an error message appears. To solve it, you just need to close the app and then open it again.

Your mobile device is not being detected by the software. The solution is to check whether the connection is on and if the device is switched on.
How to Rotate Your Video With AVS Alternatives – Desktop Tools
Other than AVS video editor, there are few other alternative options that you can use to rotate your video to your desired orientations. They include the following:
This is one of the best alternatives as it can help you rotate any video, quickly and easily. It's quite a powerful video editing tool, that's specially designed to help both beginners and advanced users perform high-level editing in order to modify and enhance their videos. It has quite a number of features, among them rotating videos to any orientation you wish for, which you get with just a few clicks.
How to Rotate Your Video Using iMyFone Filme
Step 1
First and foremost, you will need to download and install iMyFone Filme on your device.
Step 2
Open the app, and import the video you want to rotate on the app, by clicking the import function.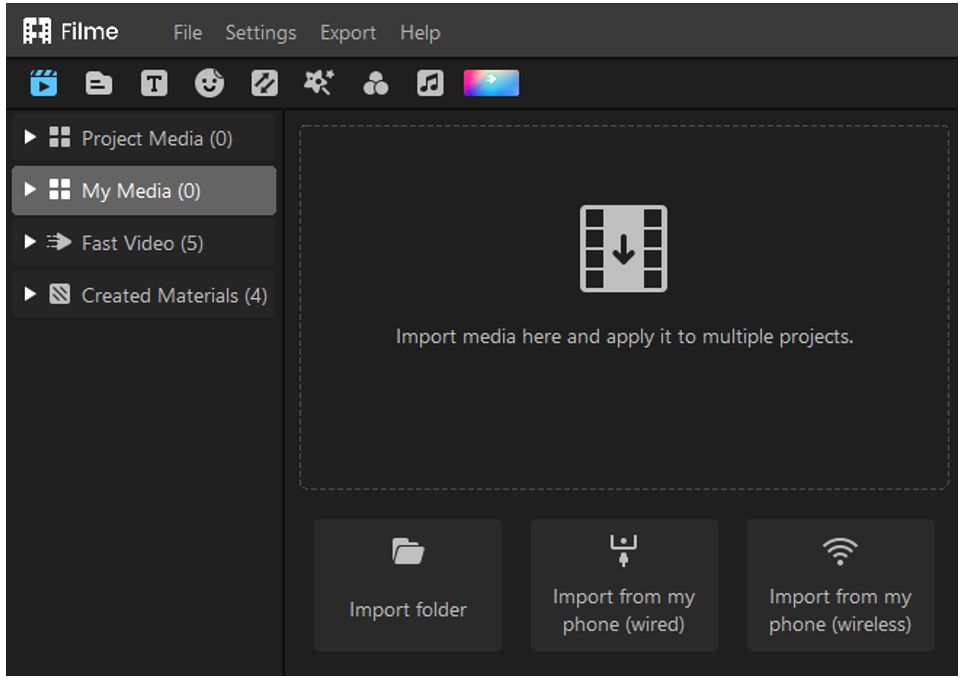 Step 3
After doing that, add the video to the timeline and then click Edit, and an editing window will pop up. You can now change the orientation by using the Rotate slider on the Editing window. You can also insert your desired angle value if necessary.
Step 4
Once everything is done, just click OK to save the changes and then click export to download the file.
2. Windows Movie Maker
This is a free non –linear video editor that comes pre-installed on Windows operating systems, which means it comes ready, whether you need it or not. It packs several features, including the rotation effect, which is used to set videos to your desired orientation. Now, using it is quite easy, and smooth.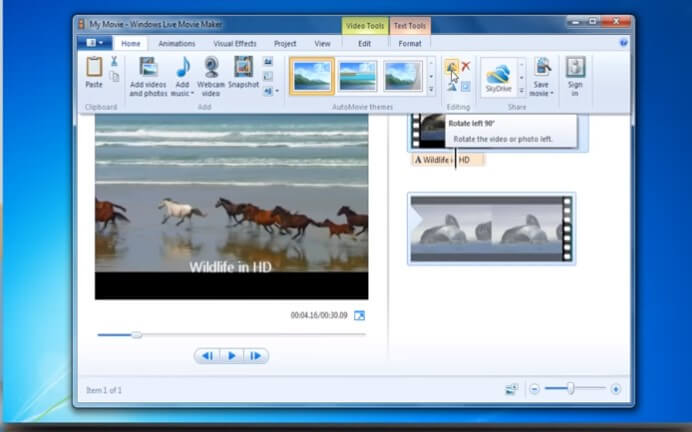 How to Rotate Your Video Using Windows Movie Maker
Step 1
First and foremost, you need to import the video file to the Window Movie Maker screen and on the timeline.
Step 2
click once to select the video from the timeline, and click on the find Rotate function on the toolbar.
Step 3
click Rotate once to rotate the video to the left side, click again to rotate the video back to the right side. Continuing clicking until you get what you want, or the video is how you want it to be.
Step 4
Once everything is done, save the file to your device.
3. Camtasia
This is the other video editor that has proven quite helpful when it comes to not only rotating videos to your desired orientations but also adding more effects and edits to make sure that the video is appealing and engaging to your viewers. Camtasia is easy to use, and it's very reliable for that matter. Even when it comes to rotating your video, the process is easy and straightforward;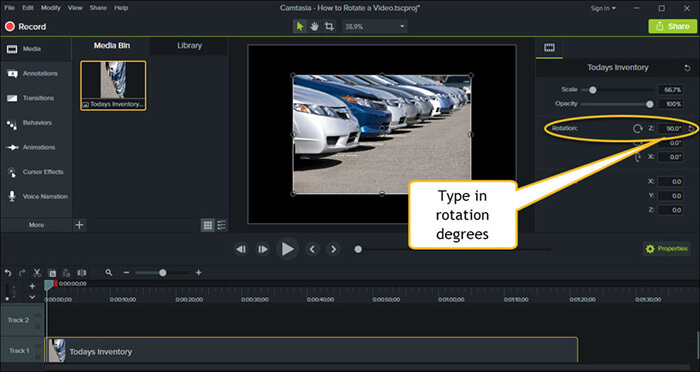 Step 1
Download and install Camtasia into your device
Step 2
Import the video you want to edit into the software by clicking the Import button on the interface.
Step 3
Drag your video to the timeline. Then, on the preview pane, click on the video. In the center of the video, there will be two hollow circles. Click on the circle on the right, hover over it until the cursor becomes a rotation symbol, which you will click and move in order to tilt your video.
Step 4
Once you are satisfied with everything, you can save the video to your device.
Hot FAQs About Rotating Video
Why is my video playing upside down?
The only reason your video is playing upside may be that when shooting it, your phone was in an upside-down position, and you didn't realize it. You see, this problem is actually very common, where you find people recording while their phones or cameras are in the wrong orientation. But it's an easy fix though! You can rotate the video with AVS video editor, or iMyFone Filme, which is also a very good tool for this kind of stuff.
How do I slightly rotate a video?
Just upload the video to Filme or AVS video editor, and make sure that you drag the video to the timeline. After that, hit the edit button, and there you will find the Rotate function which you will slightly alter to rotate your video slightly.
Final word
Now that you have seen how you can use AVS video editor to rotate videos, never get stressed when you realize that your video is in the wrong orientation, as you can just change it whenever you want. Other than the AVS video editor, iMyFone Filme is also another reliable video editor that you can use to rotate your video to your desired orientation. These two video editing tools will never disappoint you!