Unwanted background noise can significantly impact the quality of audio, whether it's in podcasts, commercial recordings, interviews, and others. Even minor noises can disrupt the immersive experience. AI voice cleaners offer a convenient solution to eliminate these distractions with just a single click. Whether you're working on audiobooks, podcasts, videos, or conferences, these tools ensure that you obtain clear and pristine audio and video outputs.
In this article, we will introduce best AI voice cleaners and how to use them to remove noises. Let's start!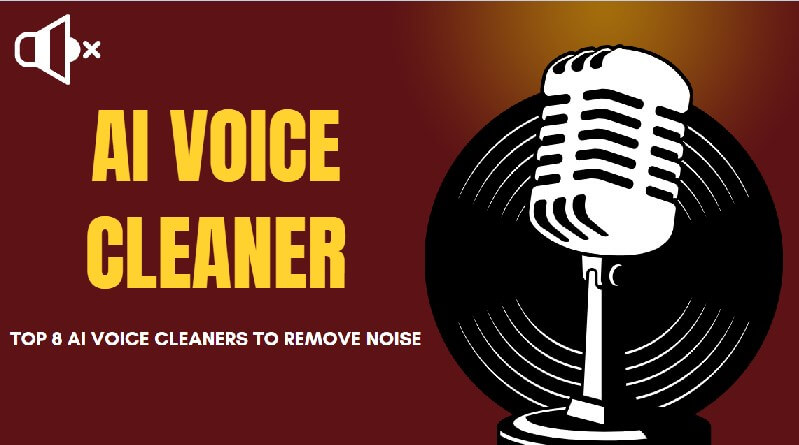 Part 1: Best 7 Online AI Voice Cleaner
Cleanvoice is one of the best AI powered audio tools for cleaning voice available online. Cleanvoice is good at removing filler words, stutters, hums and unwanted accents from recordings. The end result is a professionally polished recording ready for distribution across platforms.
By signing up for Cleanvoice, you can try the service for free for 30 minutes. After the trial period ends, a premium plan needs to be selected to continue accessing its premium features and benefits.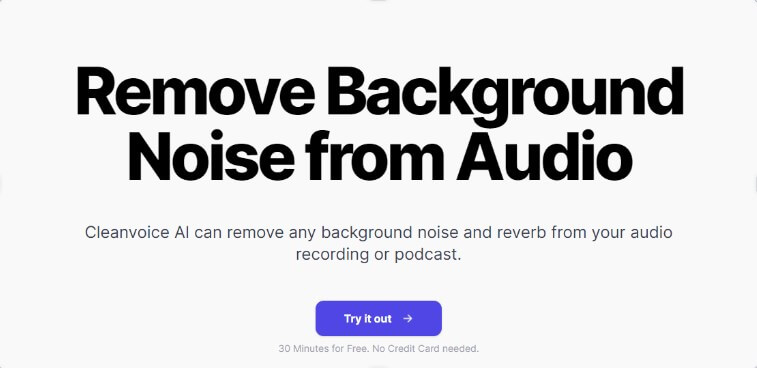 How To Use Cleanvoice AI:
Step 1: Sign in to your account and make your selections.
Step 2: Import your file from various sources.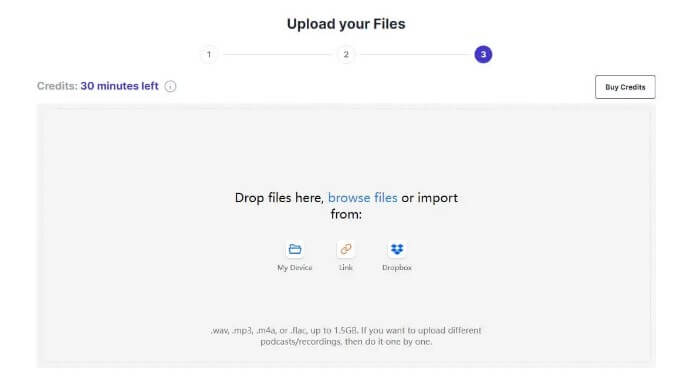 Step 3: Within a few seconds, your result will be ready. Download or export your audio as needed.
Key Features:
Detects and removes filler words and sounds in multiple languages.

Identifies and eliminates mouth sounds & stuttering.

Export your timeline to your editing software.

A complimentary 30-minute credit for trial.

Billed by the hour.
Audo Studio offers advanced AI voice cleanup to improve voice quality. It effectively eliminates all kinds of noise, like chatter, barking dogs, street noise. This online AI-powered voice cleaner is suitable for a variety of different scenarios, including listening to podcasts and watching videos. It removes background sounds while maintaining audio integrity.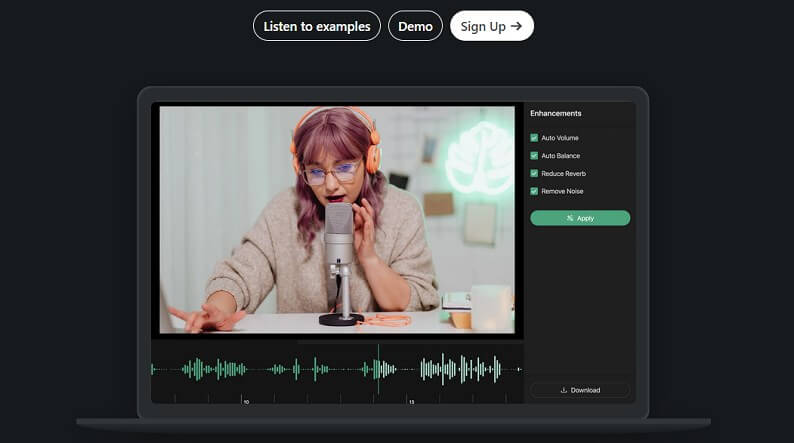 How To Clean Voice WIth Audo AI:
Step 1: Log in with account, record or upload an audio or video file
Step 2: Choose "Reduce Background Noise" and click on "Apply", AI will give a result within few time.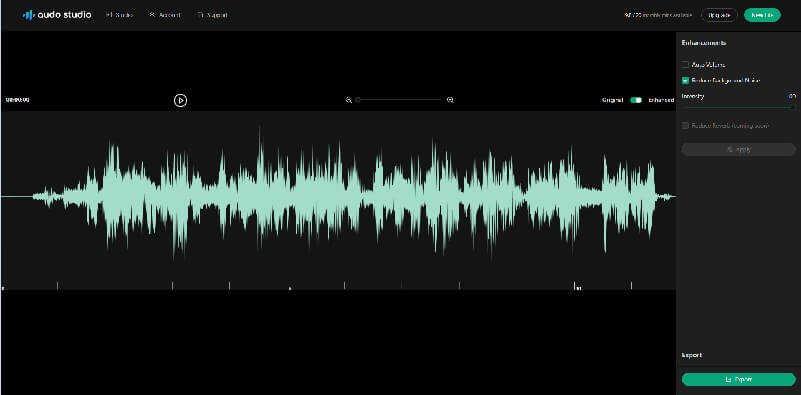 Key Features:
Processing large amounts of audio comes with a fee.

Three Adjustable price plans.

Get 20 minutes of monthly audio enhancement.

Automatically adjust volume levels.

It has fewer features.
Veed's AI voice cleaner excels in identifying and eliminating unwanted sounds such as wind, rain, traffic noise, mouse clicks, and ceiling fans. Whether you upload an audio recording from your computer, a cloud service like Dropbox, or record directly on the website, Veed's AI tool will efficiently clean your audio.
In addition, this robust editor provides functionalities like incorporating background music into videos, inserting sound effects, and substituting audio. Furthermore, it serves as a professional online MP4 vocal remover, adept at eliminating unnecessary vocals while preserving audio quality—ideal for karaoke production and more.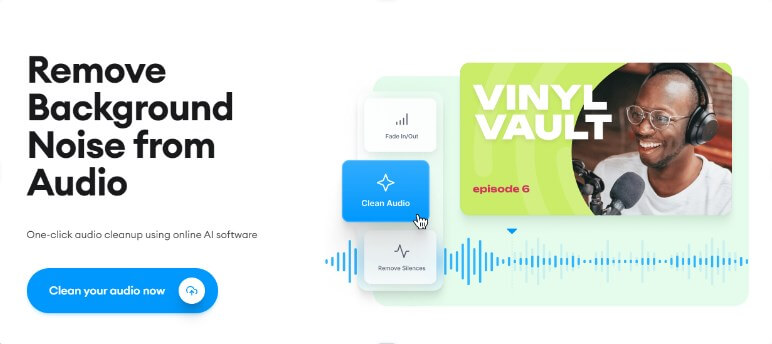 How To Use Veed.io To Remove Voice:
Step 1: Upload your audio to VEED or start recording using the online recorder.
Step 2: Click on the file on the timeline and tap "Clean Audio".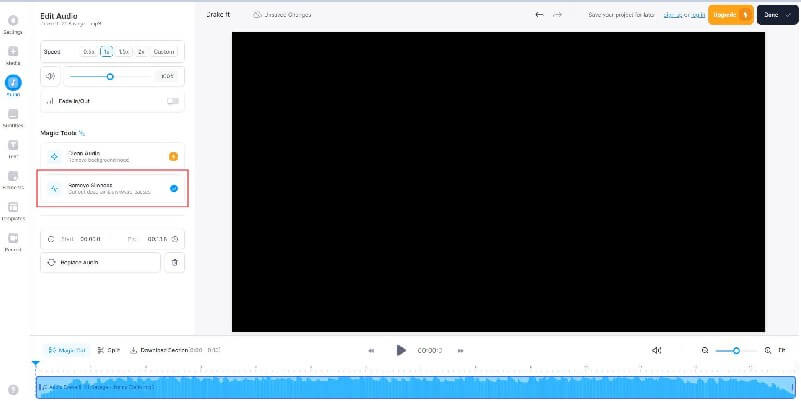 Step 3: You have the freedom to incorporate background music, voiceovers, and more. When satisfied, export your project as an mp3 or mp4 file for sharing.
Key Features:
Access royalty-free stock audio(in the premium version).

Supported by Dolby technology.

It works with all popular video file types including MP4, MOV, AVI, etc.

Unlimited export videos in 720p with watermark.

Provides four pricing plans for different needs.
LALAL.AI voice cleaner is another high-quality vocal removal app that is tailor-made for a variety of users, including musicians, vloggers, streamers, translators, journalists and other professionals. Content creators, such as streamers, can utilize this tool to remove copyrighted music from their videos.
Additionally, journalists conducting interviews in a variety of environments can benefit from the tool's ability to enhance sound quality by removing unwanted background noise. But the disadvantage is that there is a limit to the length of audio and video that new users can split.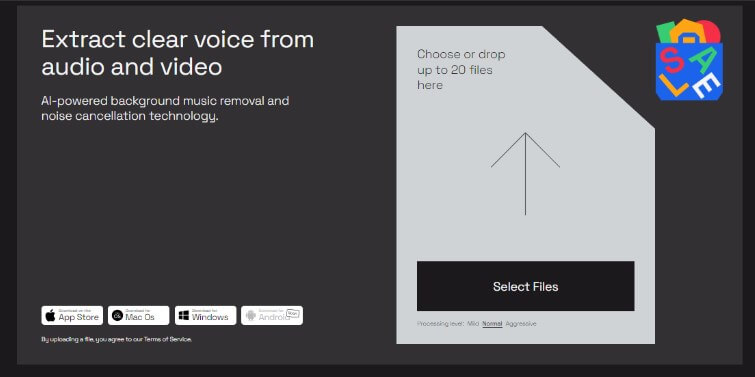 How To Use LALAL.AI Voice Cleaner:
Step 1: Select up to 20 files and import.
Step 2: You should wait and the AI will work automatically, then you can listen to the previews.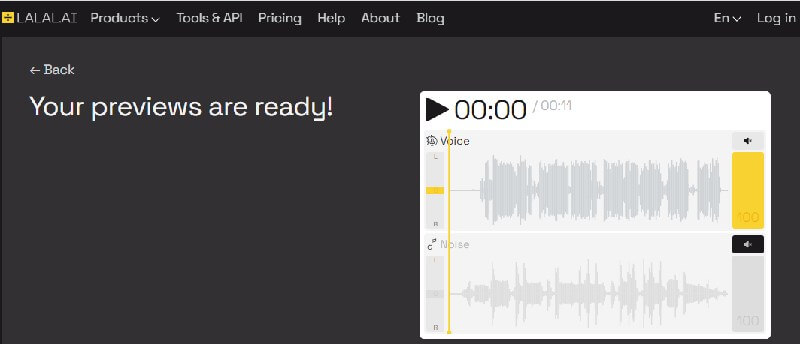 Key Features:
Only 10 minutes of audio or video can be played for beginners.

Allows you to upload in batches.

Suitable both for individual and business use.

The process is a little slow.
Designed for amateur podcasters, Podcastle cleans up your audio recordings with just one click. This AI voice remover is great for identifying static, chatter, and unwanted background noise in recordings. Podcastle's AI noise-canceling feature delivers clean, crisp audio to help you sound like you're in a professional recording studio.
To remove any background noise from your audio, simply upload it to Podcastle, right click on the audio track. This AI tool will clean up your audio files in no time.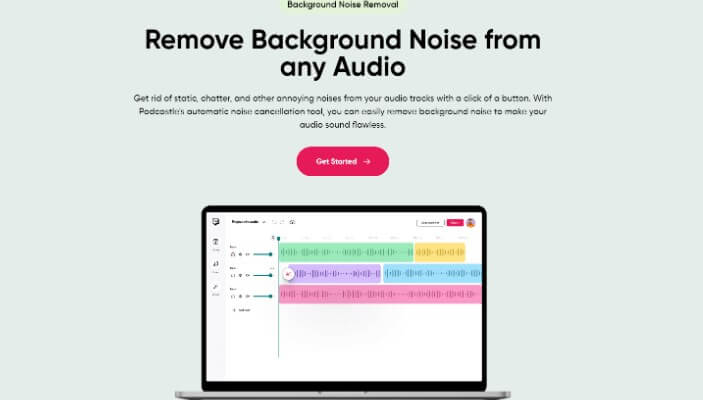 How To Clean Up Audio in Podcastle.ai:
Step 1: Record your audio by uploading a file or using Podcastle to record directly.
Step 2: Edit your audio file to your preferences, including cutting, fading, trimming, and adding music.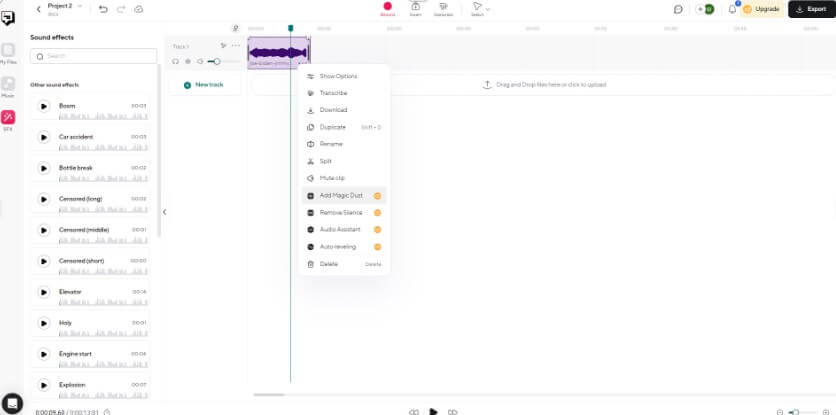 Step 3: Enhance your audio with ease by selecting the Magic Dust option.
Key Features:
An AI-driven collaborative audio and video creation platform.

Voice cleaning option is not available.

The file duration cannot exceed 3 minutes.

User-friendly and professional end-to-end tools.
Media.io Noise Reducer uses advanced artificial intelligence technology to quickly clean audio noise. It is good at isolating basic sounds from surrounding noise and is committed to eliminating environmental background noise.
This AI voice cleaner is free for initial use and you can smoothly eliminate background sounds in just a few seconds. Noise Reducer has a file limit of 2GB. It supports almost all audio file formats on the market, including MP3, M4A, OGG, AU, MP4, MOV, VOB, MTS, etc.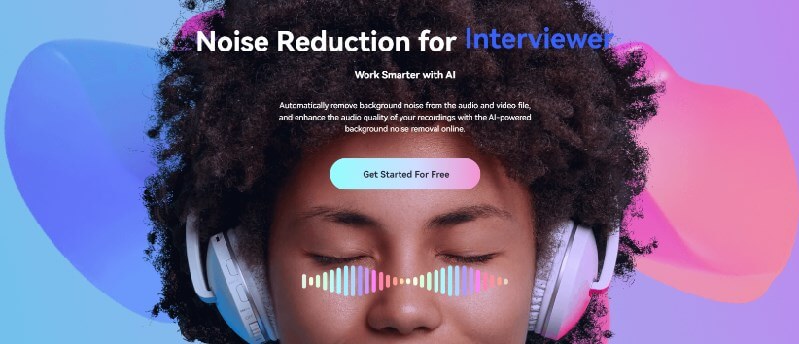 How To Clean Voice From Audio:
Step 1: Simply press the Upload button to bring your audio and video files directly into the app.
Step 2: Select the specific noise type you wish to remove from the noise list, then click the Reduce Noise Now button to swiftly eliminate unwanted audio noise.
Step 3: Preview the outcome and hit the "Download" button to save your denoised file.
Key Features:
Excellent fidelity noise reduction.

Support to adjust the decibel of the noise and optimize the audio.

Clean different types of noise.

All uploaded audio files will be deleted after 24 hours.

No watermark.

Free version: 3 free AI tools and 12 AI tools with limits.
The last online AI voice cleaner to be introduced is Adobe Podcast, which is specially designed for people who love to listen to podcasts and provides exclusive features to enhance podcasts.You just need to open the web and upload your audio, don't need other steps.
Adobe Podcast has two versions, namely free and more advanced paid version, and the benefits of the two are very different. Moreover, both versions allow you to use AI to analyze your microphone settings for optimal recording quality, ensuring your podcasting workflow is efficient and professional.

Key Features:
Free trial has lots of limited features.

The max file size is up to 1 GB and max duration is 2 hours.

You can analyze your microphone with AI.

Enhance your speech with few clicks.

Record, edit, and enhance in your browser.
Part 2: Best AI Voice Cleaner Software
MusicAI MusicAI lovers of all levels. Its beta version launches a series of powerful artificial intelligence tools to help you simplify and speed up the music production process. From making artificial intelligence cover songs, generating songs from text, creating original melodies to track separation, this professional music software fully meets all your requirements.
Excitingly, MusicAI is expected to launch an AI voice cleaning function. This feature takes your music to greater heights by effectively eliminating background noise, ensuring your audio remains pristine and uninterrupted. With this upcoming feature, you can expect unparalleled sound quality. Stay tuned as we continue to innovate and improve your music production experience with MusicAI.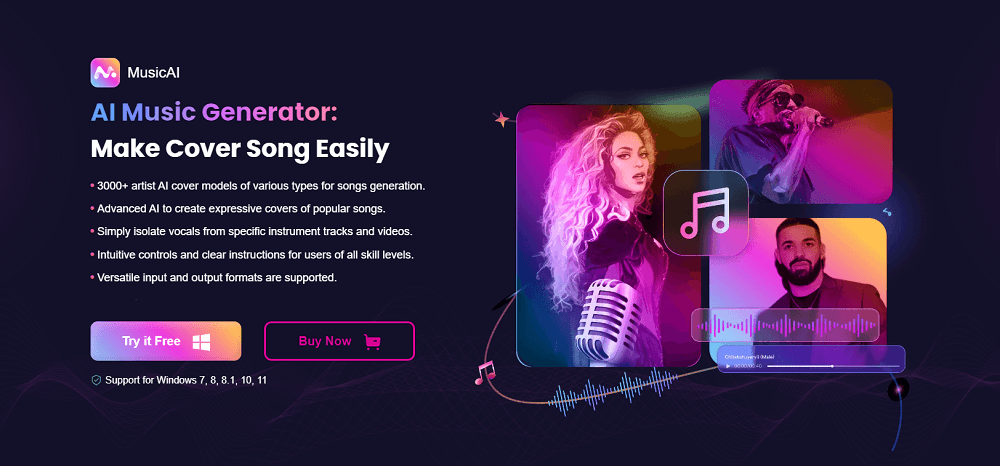 Key Features:
Clear background sounds while ensuring high audio fidelity.

MusicAI voice cleaner feature is compatible with various audio formats.

Swiftly cleaning vocals and eliminating noise to achieve optimal audio quality.

Free trials of each function.
Part 3: The Benefits of AI Voice Cleaner Usage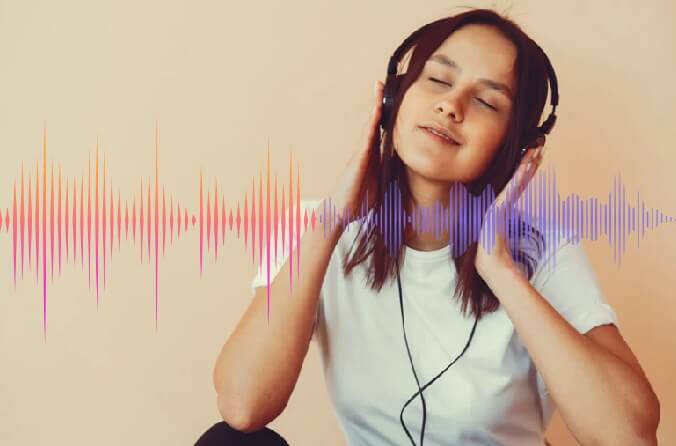 AI voice cleaner offers a multitude of advantages for refining audio quality. By effortlessly removing background noise, distortions, and unwanted elements, it ensures exceptional sound clarity. This technology is a time-efficient solution that enhances professionalism in various domains, from podcasting to virtual meetings. With its user-friendly interface and compatibility with diverse audio formats, AI voice cleaner provides consistent, cost-effective, and engaging audio results, making it an indispensable tool for elevating audio experiences across different contexts.
Part 4: Hot FAQs about AI Voice Cleaner
1. What is an AI voice cleaner?
An AI voice cleaner is a technological tool that utilizes artificial intelligence algorithms to enhance audio quality by removing background noise, disturbances, and imperfections from voice recordings.
2. Can AI voice cleaners work with different types of audio recordings?
Yes, AI voice cleaners are designed to work with various types of audio recordings, including podcasts, interviews, webinars, presentations, music, and more. They can handle different audio formats and adapt to the specific requirements of each recording.
3. Can AI voice cleaners handle real-time noise reduction?
While some AI voice cleaners focus on post-production noise reduction, others are designed to work in real-time during live broadcasts, online meetings, or streaming sessions, ensuring clean audio in real-time interactions.
4. Where can I find AI voice cleaner tools?
AI voice cleaner tools are available online through various platforms and software providers. Some popular options include MusicAI, Cleanvoice, Veed, and more. Always ensure to choose a reliable and well-reviewed tool for your audio enhancement needs.
Conclusion
In the earlier sections, we've highlighted best 8 AI voice cleaners that can assist in minimizing noise in various scenarios. Among these options, MusicAI stands out as an all-encompassing and highly sophisticated music software, boasting advanced functionalities, including the upcoming noise reduction feature. Keep an eye out for this exciting addition, as MusicAI aims to deliver an exceptional experience that won't disappoint!