Metal music has the power to shock people. The AI metal music generator can help you create your own unique metal songs, whether published on a music platform or simply used to commemorate the original metal music, you can use it to realize and express your ideas.
In this article, we will introduce three AI metal music generators, including generating music tracks and lyrics. Let's read below!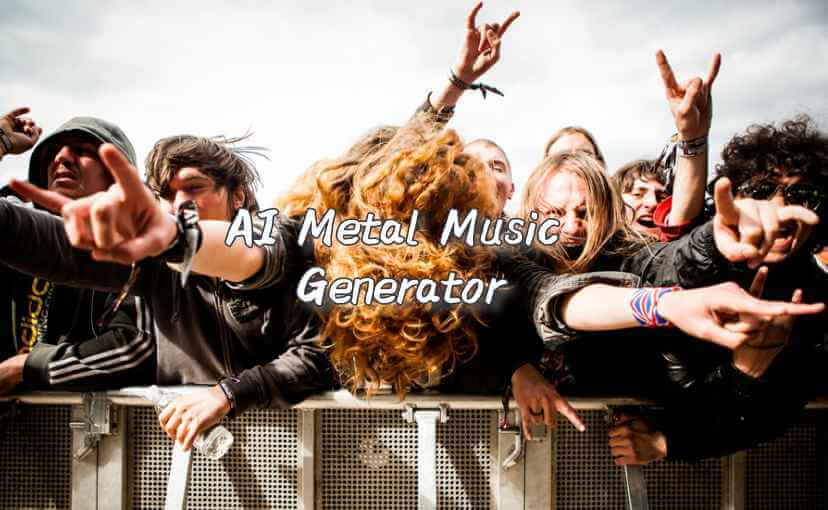 Part 1: The Origin of Metal Music
Originating in the late 1960s and early 1970s, metal is a subgenre of rock music characterized by distorted guitar riffs, up-tempo drums, and powerful vocals. Representatives of metal music include bands such as Black Sabbath, xLed Zeppelin and Deep Purple, who have created many classic works.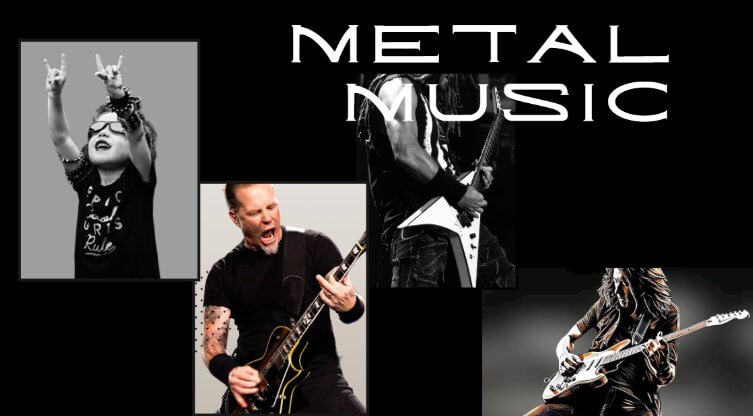 As the genre evolved, bands like Iron Maiden, Judas Priest, and Metallica became prominent representatives of subgenres such as thrash metal, death metal, and black metal. Today, metal music still enjoys a wide following around the world and continues to evolve with new sub-genres and innovative approaches to heavy music.
Part 2: What Can an AI Metal Music Generator Do?
1. AI metal music generator helps you innovate guitar riffs and chord progressions.
2. It can create bass drums, blast beats and complex drum fills.
3. AI can generate bass lines to complement guitar riffs.
4. Bring new inspiration to your metal track creation.
5. The AI metal music generator assists in mixing and mastering to achieve the metal sound you need.
Part 3: Make AI-generated Metal Music by Yourself
1. Soundraw
Soundraw is an online AI music generator designed for generating music easily. With its intuitive interface and a great many metal tracks, Soundraw enables users to create amazing metal music. You just need choose the mood, type and length.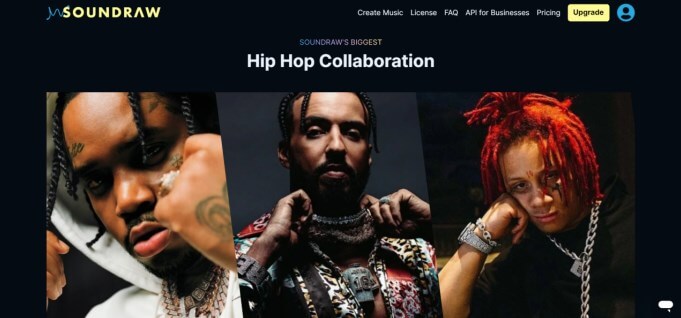 How Soundraw AI Metal Music Generator Work:
Step 1: Select your desired genre and instruments from the options available.
Step 2: Customize your track by adjusting the volume and panning of each track.
Step 3: Easily export and share your customized songs with others.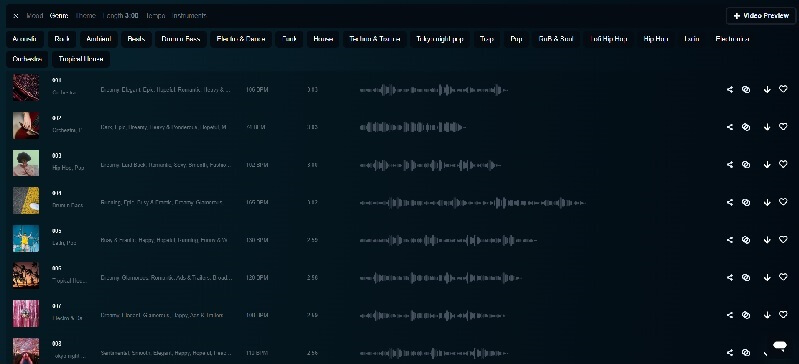 Key Features:
Access to high-quality tracks of DJ, pop, jazz and more.

Allows to use the AI-generated metal music for business.

Royalty-free music.

Support to generate music according to your mood for making love songs or sad songs.
2. Industryhackerz - AI Metal Lyrics
Industryhackerz is a platform that provides metal song lyrics for musicians, bands and lovers. You can use the tool to generate the lyrics that meets your needs just by describing and telling your idea to the AI. Combing with AI metal music generator to make the bgm, you will create an entire metal song.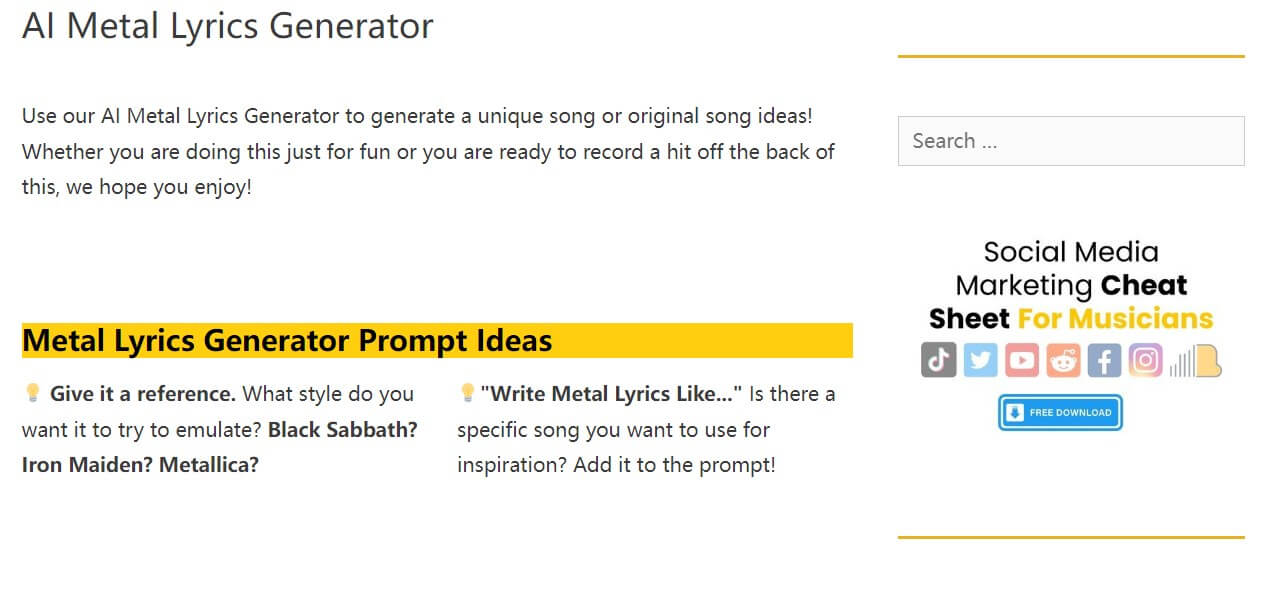 Steps to Get AI Metal Music Lyrics:
Step 1: Input the text to discribe your song lyrics idea, lyrics tone and artist style.
Step 2: Then you click to generate lyrics and wait for few time.
Step 3: Save your AI generated metal music lyrics.
Key Features:
Comes with tons of metal-related words, phrases and topics.

The AI generator offers various song structure options.

Users can choose specific themes for their lyrics, such as darkness, rebellion, mythology, or any other characteristics of metal music.

The user-friendly interface makes it easy to enter preferences.
MusicAI is a multifunctional AI music generator that provides AI covers, text-to-songs, AI composition, audio track separation, etc. These features help you create and generate intense heavy metal music in one go.
In addition, you can also cover the generated heavy metal songs with the voices of your favorite singers and celebrities, which is very interesting.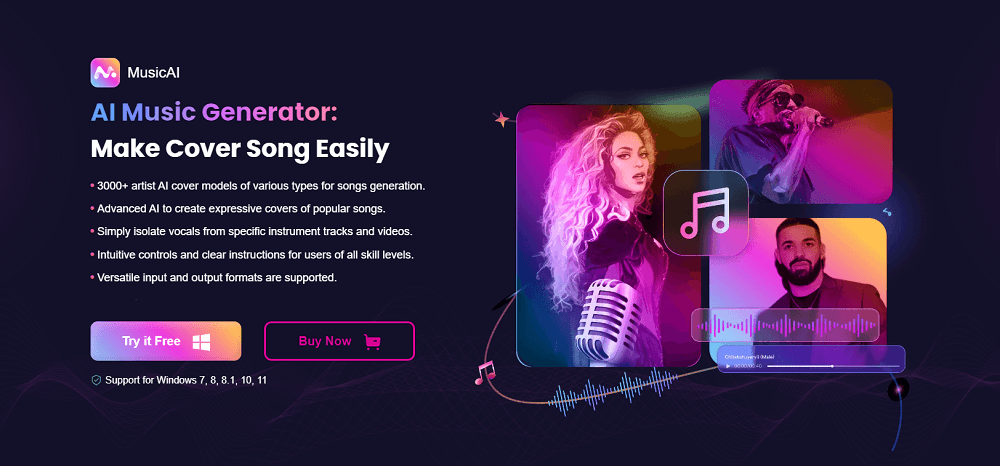 Key Features:
One of best music tools including music covers, and coming functions of voice removaing, text-to-song, audio enhancing and AI compositions.

Availble trial and download offered for you.

Numerous artist voices like Drake, Shakira, Harry Styles and others.

You will use the music generator to create AI tracks of different genres except metal music.

Flexible to export your songs in various formats.

Wide user appeal & quick generating process.
Part 4: Hot FAQs about AI Music Generator Metal
1. Can AI create good metal music?
Yes, there are lots of useful and excellent AI metal music generator in the market these days, and AI will automatically generate lyrics and music for you based on your preferences, as good as those created by composers and lyricists.
2. Why AI metal music generator are so popular?
Because AI metal music generator can save time and cost to find composers and lyricists, you can generate metal music quickly by yourself without any cost.
3. Are there any great AI metal song generator?
Of course, good AI music generator online tool and software that we have recommended like Soundraw, MusicAI, etc., allowing you make music effectively.
Conclusion
All in all, the AI music generator offers different types of music genres for you to choose from, including niche metal music. Among them, MusicAI helps you create music and songs of your own style with its intuitive interface, powerful functions and diverse music style choices. Don't hesitate any longer, come and give it a try!