Want to disguise your voice to Santa Clause to surprise your friends or family members on Christmas? Read this article to find out how! With just one quick search, you'll find a plenty of Santa voice changer software to make your Christmas even more exciting. But not all tools out there are worth your time and money. To help out our readers, the blog post will talk you through several proven voice changers to disguise your sound to Santa in real-time. All these tools are easy to use and user-friendly. Stick to reading and let us know which tool works best for you.   
Part 1: Top Santa Voice Changers in 2021
Here are the three most sought-after Santa voice changer tools in 2021 that anyone can use with great ease.
1. MagicMic
Developed by iMyFone, MagicMic is one of the most efficient voice changers to disguise your voice to Santa Claus in high quality. With just a few clicks, you can sound exactly like Santa and surprise your friends or partner on Christmas. Aside from that,
MagicMic offers tons of amazing voice-changing themes and sound effects that you can preview and apply in a jiffy. Unlike its competitors, MagicMic is so easy to install and set up that a 70-year granny or a 10-year kid won't face any technical issue during the process. On top of that, it is light in weight and consumes low resources on a PC, which explains why it works phenomenally perfect even on low-end PCs.
MagicMic is compatible with all popular communication and messaging apps and video games including Discord, Skype, Fortnite, Twitch, and so on. With all these stellar features, MagicMic is a go-to Santa voice changer for both professionals and newbies to mess around with their mates.
Features:

Most comprehensive real-time voice changer for Santa Claus  
A huge library of built-in voice themes and sound effects
Apply any voice effect with just once click
Compatible with all modern games and apps
Use it while gaming, chatting, and even live streaming
Pros
Sleek and easy-to-use interface
24/7 customer support
Cost-friendly
Price: MagicMic offers 3 pricing plans to the users. You can get its monthly subscription for just $4.95, yearly for $19.95, and lifetime license for $39.95. Check its latest prices here. 
Voicemod is one of the top-ranked Santa voice changers you would find out there. It offers a curated library of high quality voice themes along with sleek and friendly UI. With just one click, you can sound like Santa, robot, girl, and so on. Expect a lag-free output while changing your voice in real-time using Voicemod.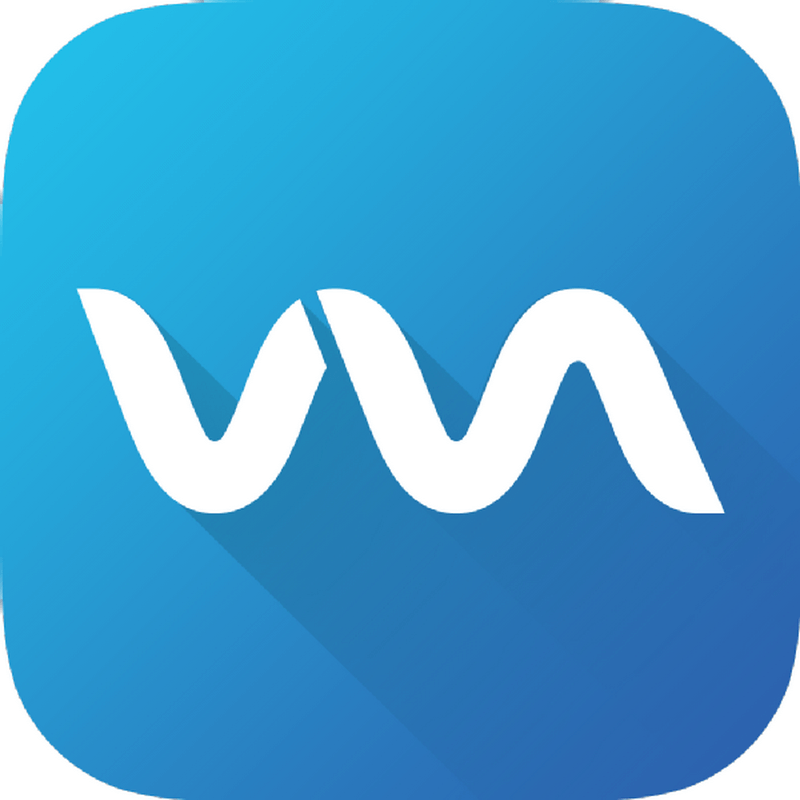 Features
Offers hundreds of voice modes
Good choice for live streaming and online chatting due to nice compatibility  
Applies effects in real-time
Assign hotkeys
Provides live voice effect demos
Pros
Free across all Windows OS
Compatible with other popular apps such as Skype, Twitter, modern games, and any online streaming app
Apply sound effects on MP3 and WAV files
Cons
Free version has limited features
Grammatical mistakes in the app
Price: Free, offers in-app purchases
Clownfish is arguably the easiest and most user-friendly voice changer that even a first-time user won't face any issue using. It directly takes you to the main interface where you can see all the voice effects. It can be a great choice for users who don't want a tech-savvy procedure to sound like Santa in real-time.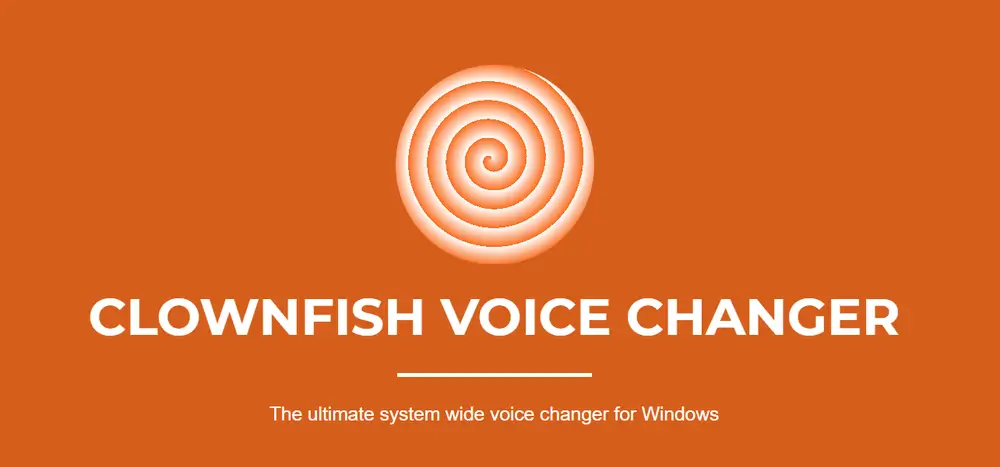 Features
Offers a built-in sound player
Can convert text into speech
Supports VST plug-in
Adjust the microphone's background noise
Pros
Open source and 100% free
Compatible with all Windows OS
Interface is very simple and basic  
Cons
No advanced voice effects
Interface seems old-fashioned
Price: Open source and free
Also Read:
4 Best Voice Changers for Chromebook and Chrome OS
8 Best Voice Changer for Google Meet
Part 2: How to Make Choices among them
Now that you know the pros and cons of most efficient Santa voice changers, it's time to decide which tool best suits your requirements. Drawing upon user feedback and our own research, it's easy to rank iMyFone MagicMic as the most comprehensive and expansive tool to sound like Santa.
Below are the reasons justifying why MagicMic is your first-choice:
1. It is cost-effective. 
You can get monthly subscription for just $4.95 and yearly, for $19.95. No other professional voice changer with stellar features offers such competitive rates.   More so, it offers a free trail to users to help them check its efficiency.   
2. Offers Universal Compatibility
 Probably the most highlighted reason why most users choose MagicMic is its compatibility with almost all major games and live chatting apps such as PUBG, CS:GO, Second Life, Fortnite, Discord, Skype, and so on.
3. Sleek Interface
Even the 10-year old kid can easily download MagicMic from its official site and apply a Santa-like voice effect to surprise their siblings or parents.
4. Works Perfect on Low-End PC
 As opposed to most professional voice changers, MagicMic doesn't slow down your computer or produce lag while disguising your voice in real time.
Part 3: How to Use Best Real-time Voice Changer for Chat in Christmas
One of the biggest strengths of MagicMic is its straightforward procedure to change your voice in real time. Check out yourself how easy it is to use MagicMic:
Step 1
Install MagicMic from the official site and launch it on your computer.
Step 2
The program will ask you to select your real microphone and headphone as the input and output devices as shown in the figure below. Hit Continue to proceed.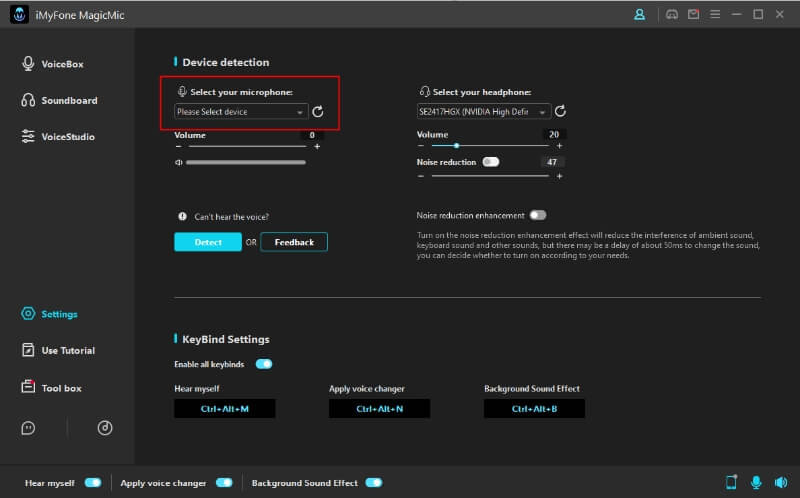 Step 3
Now, you'll see tons of voice changing themes and sound effects on the screen that you can apply with one click. All you need to do is click on any voice filter and speak into the microphone to listen to the effect.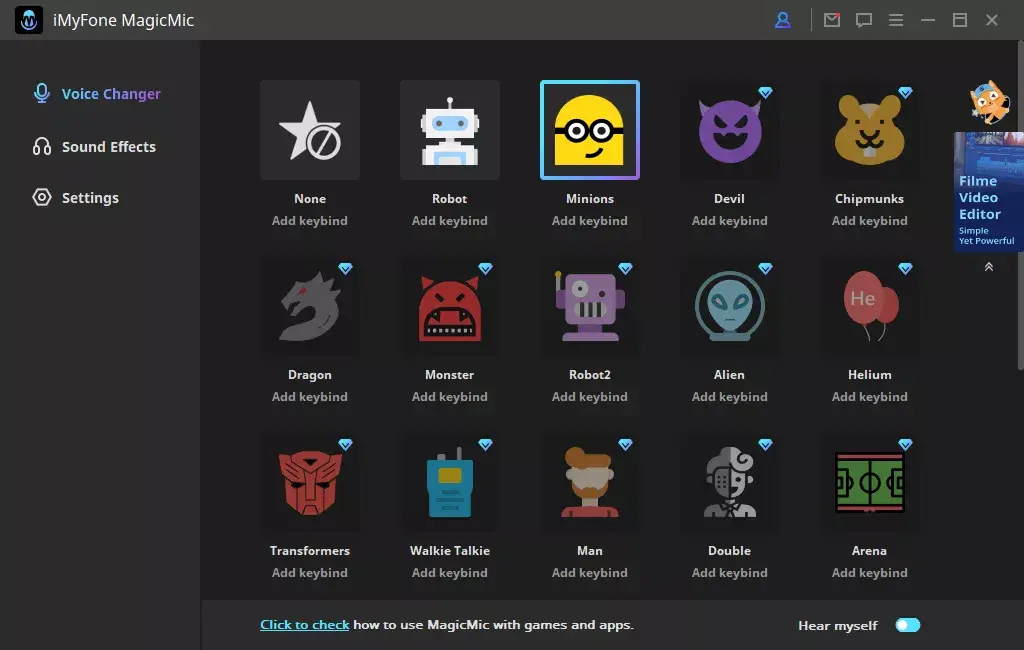 Step 4
Click on Sound Effects in the left tab to preview almost 190 sound effects. Click on a filter to apply it to your games and live chats.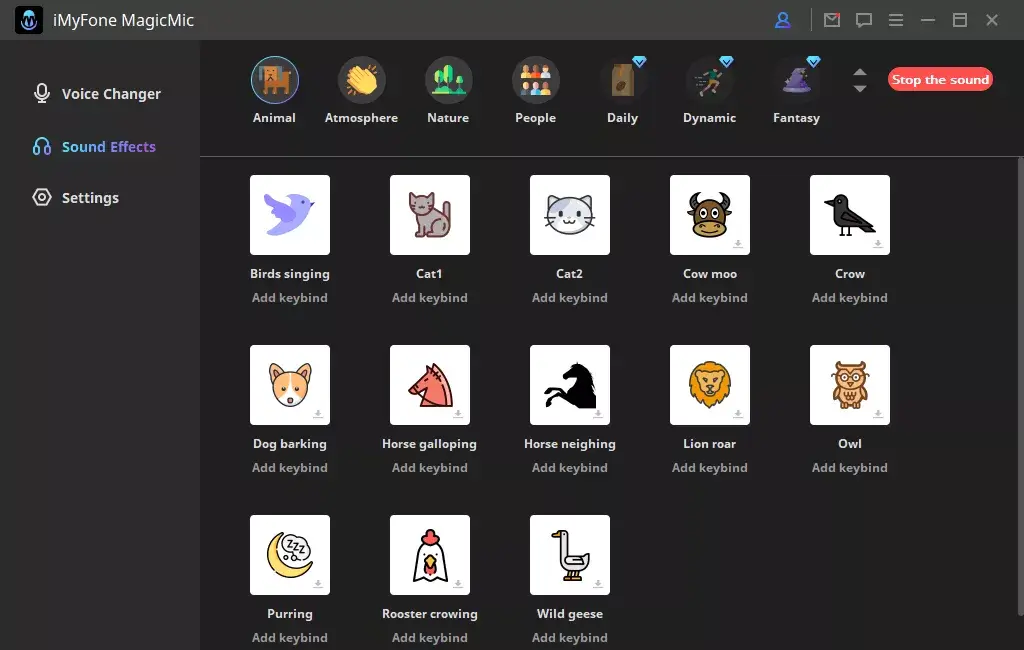 Step 5 MagicMic also allows users to disguise their voice in real-time on all major platforms like Discord. For that:
Launch Discord (or any other platform) and go to its Voice Settings.
Here, choose Microphone (Voice Changer Virtual Audio Device (WDM) as the Input Device option.
Then, launch MagicMic and apply the voice effect.
Part 4: FAQs
Here are the common queries of readers regarding Santa voice changer.
1. How to change your voice to Santa Claus?
You need to a competent voice changer to sound like Santa. Such third-party tools can change your voice to Santa in real time as well as apply the effect on the pre-recorded voice. Here are some efficient Santa voice changers:
iMyFone MagicMic
Voicemod
Clownfish
2. What is the best way to sound like Santa?
The best and easiest method to disguise your voice to Santa is via iMyFone MagicMic. This simple yet feature-rich software offers a one-click procedure to sound like Santa Claus and entertain your family and friends. Aside from that, you get hundreds of built-in voice themes and effects that can be applied during live chatting and playing video games.  
Final Words
To sum up, this article shows that disguising your voice to Santa Claus is fun and exciting that can make Christmas even more special. You can rely on any of the aforementioned tools to get the job done but we recommend our readers installing iMyFone MagicMic to get the best possible results. it is easy to install and use, compatible with tons of major chatting platforms and video games along with offering a plenty of captivating effects. No wonder, MagicMic is a go-to voice changer to sound like Santa for all users regardless of their skill levels.