Carmen Winstead, as we know, struggled with a tragedy. Her voice became so famous that it went viral on TikTok and other social media platforms. People are now using it to make memes and fan art. The story of Carmen Winstead is quite horrifying and tragic. We will discuss the whole story and how she became famous. Moreover, we will also discuss how you can generate Carmen Winstead's voice using different Text-To-Speech voice generators.
Part 1:Why Carmen Winstead's Voice is So Popular on TikTok in a Short Time?
The reason Carmen Winstead's voice is so popular on TikTok is that it was widely spread. Video makers started making fan art on her and stories relating to the actual incident.
In 2014, an artist made art that was inspired by Carmen Winstead; it gained popularity within a short time. Later, different YouTubers made videos about the actual incident and the urban legend. People were amazed by the story.
The story of Carmen Winstead is now believed to be a factual tale, and its stories are being shared worldwide, having thousands of views. The original sound of Carmen Winstead is like "AUUUGHHHHH" on TikTok, which sounds like a little distorted and loud audio that cuts off the speech.
Part 2: Story of "Hello My Name is Carmen Winstead"
In 2006, a girl named Carmen Winstead was pushed into an open sewer by 5 of her friends. They all were school girls. When Carmen didn't submerge out of the sewer, police were called. The police found the body of Carmen with her neck broken and bruises on the sides. The police reported that she hit the ladder of the sewer, which caused her death. The girls that pushed her made a statement to the police that she fell on her own and was not pushed.
However, the story does not end here. Months later, a boy named David Gregory was taking a shower in his washroom, and he heard the voice and screaming coming from his shower. The boy read the post about Carmen and didn't repost it. After listening, he said goodnight to his mom, and 5 hours later, he was found dead in the sewer the same way as Carmen Winstead. His neck was broken, and his skin peeled off.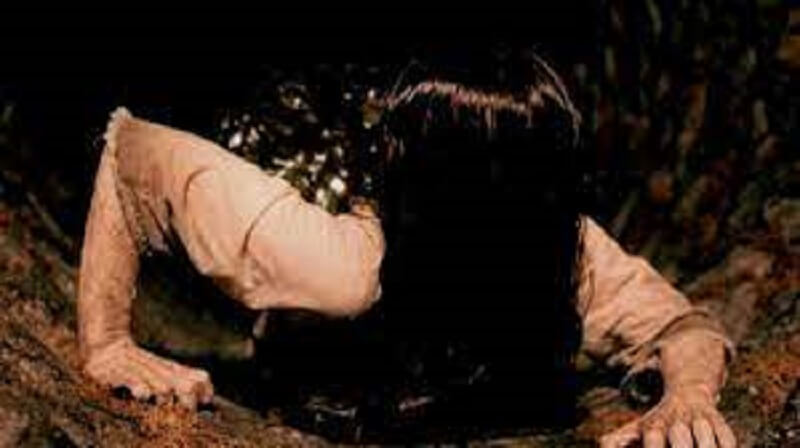 Part 3: Top 3 Carmen Winstead Text-to-speech Voice Generator?
iMyFone Voxbox is the most advanced and simple tool among all the audio recording, editing, and text-to-speech applications. You can download the tool and install it easily on your computer.
With VoxBox, you can record audio with just a single click. The editing features are unmatched. Let us take a look at its key features, pros, and cons.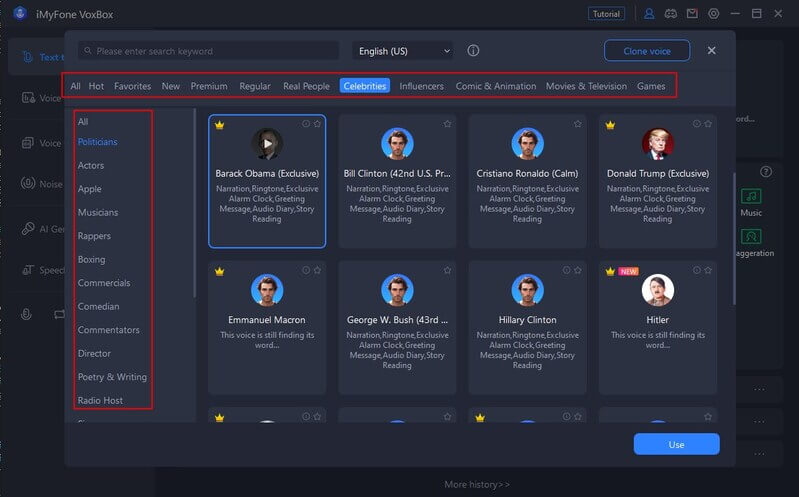 Features:
9 global languages like Spanish, Japanese, french.

3000+ voices like rappers, YouTubers, cartoons, celebrities, etc.

Supported voice record even from platforms like iTunes.

Supported text-to-speech, and 2000 characters limited.

Supported select, cut, trim.
Pros:

VoxBox provides high-quality audio outputs.

It has a user-friendly interface.

The privacy of the user is guaranteed.

Helps you to delete, cut, and trim the audio easily.

Wide range of voices to choose from.
Cons:

The user needs to install the tool on the computer.

It is only compatible with Windows at the moment.
Price:
| Plan | Price |
| --- | --- |
| 1-quarter Plan | $9.99 |
| 1-year Plan | $19.95 |
| Lifetime Plan | $39.95 |
2) Uberduck.ai
Uberduck.ai is an online audio tool that you can use to generate voice using text-to-speech. It has thousands of voices from which you can choose easily. Besides text-to-speech, you can also create your custom voice clones. It is best for the developers as it provides API Documentation for building audio apps.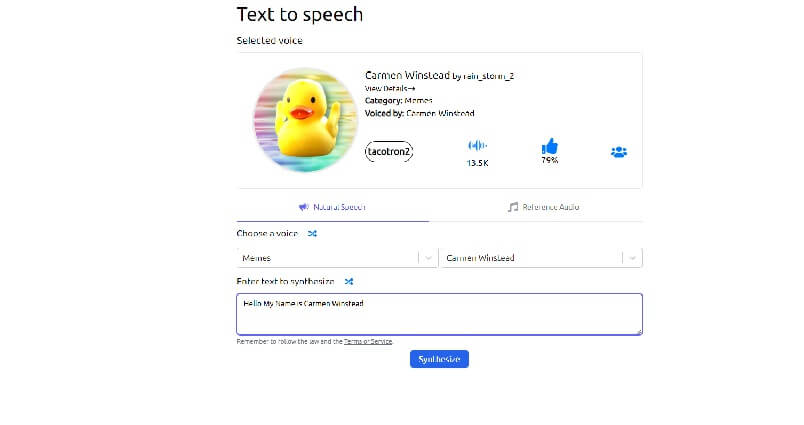 Features:
It was over 5000 voices in which you can makeover your voice.

It works on AI and is very efficient in transforming the voice.

It provides APIs to the developers so other audio apps can be made.

You can also customize your custom voice clone.
Pros:

Provides royalty-free voices for commercial use.

You can also submit your contribution to the community

Allows you to rap with reference audio.

It can be accessed from anywhere as it is an online tool.

Has a discord group where all the users can connect and solve queries.
Cons:

Required a stable internet connection to work properly.
Price:
| Plan | Price |
| --- | --- |
| Singing voice Clone Plan | $25 / month |
| Natural voice Clone Plan | $25 / month |
| Enterprise Plan | $300 / month |
3) Fakeyou
Fakeyou is the sole text-to-speech website. It allows you to use AI and convert your voice into deep fake tech with different iconic characters. Among all the tools we are discussing, Fakeyou has the greatest number of voices to choose from. It is simple and creative. Anyone can use this tool as it only requires one to enter the text and choose the voice, and it will convert it into an audio file.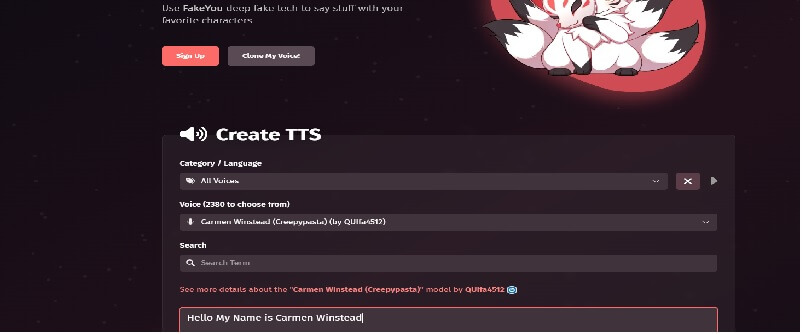 Features:
Provides different categories and voices from which you can choose.

It also has different terms, making It easy for the users.

You can first listen to the TTS voice generator and then download or share it.

You can also share your creation with the community by uploading your audio.
Pros:

Extremely simple and easy to use.

You can also use the clone feature to clone your voice.

It is also an online tool, so there is no hassle.

Fakeyou is completely safe to use.

It has millions of users and patrons to support its website.
Cons:

It does not have audio recording and editing features.

The processing time for TTS can vary depending on the internet connection that you use.
Price:
| Plan | Price |
| --- | --- |
| Free Plan | $0 / month |
Conclusion
We discussed the story of Carmen Winstead in this article, and now why it went viral in a few days on TikTok for a short time. and I also recommend some Text-to-speech voice generators to make Carmen Winstead's voice. Among all these tools, VoxBoxis the best as it is very simple and easy to operate. It has a trial version that you can download and enjoy its features.