With the rise of advanced AI capabilities that allows users to harness the distinctive vocal essence of Margot Robbie. As the entertainment industry continues to explore new horizons, the Margot Robbie AI voice changer stands out as a remarkable tool, granting users the ability to transform their voices into that of the acclaimed actress herself.
In this article, we delve into the Margot Robbie AI voice technology and the innovative Margot Robbie AI voice changer. Continue reading to explore more about Margot's AI Voice!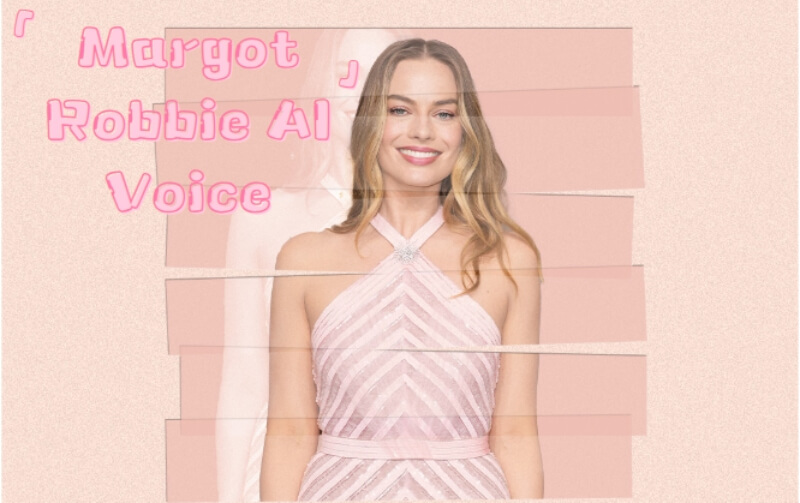 Part 1: Spotlight on Margot Robbie: Hollywood's Shining Star
Margot Robbie is an accomplished Australian actress and producer. She has earned multiple nominations and awards, including Academy Awards, Golden Globes, and BAFTA honors.
Her rise to fame began with roles in Neighbours and Pan Am, and she gained international recognition with The Wolf of Wall Street. Notably, she portrayed Harley Quinn and Tonya Harding in different films. Her exceptional performances in Mary Queen of Scots, Once Upon a Time in Hollywood, and Bombshell garnered critical acclaim and nominations. Robbie continues to shine with recent roles in Babylon and Barbie. Alongside her husband, Tom Ackerley, she co-founded LuckyChap Entertainment, producing notable works like I, Tonya and Promising Young Woman, as well as successful series like Dollface and Maid.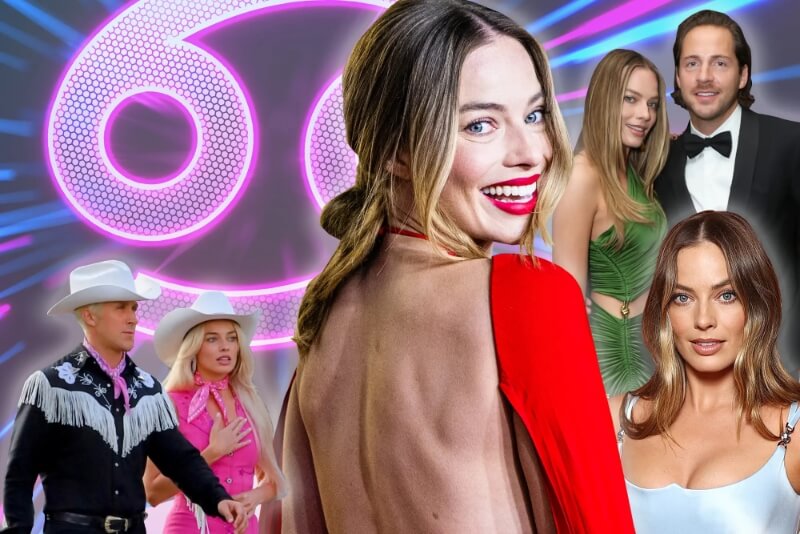 Part 2: How to Sound Like Margot Robbie with AI Voice Changer?
MagicMic is revolutionizing voice transformation with its advanced AI technology. As a real-time AI voice changer, MagicMic boasts an extensive repertoire of over 250 voices, ranging from iconic celebrities to fictional characters and even animes, including the mesmerizing Margot Robbie AI voice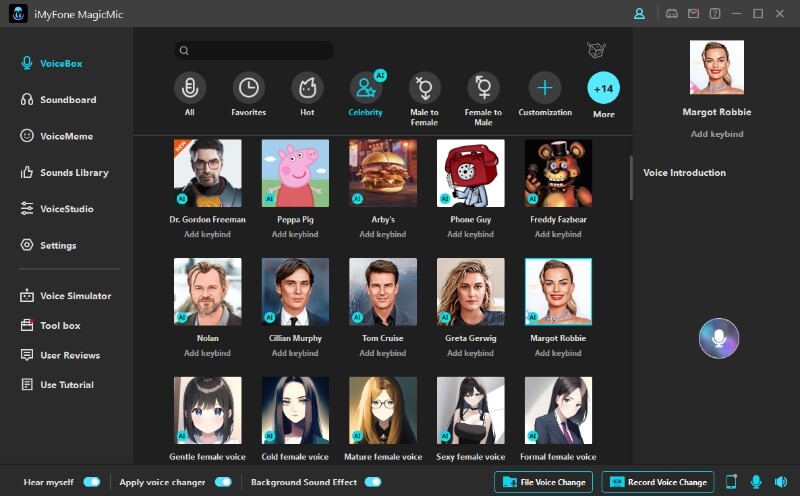 Key features of MagicMic
Margot Robbie AI Voice Generator
Access 250+ voice effects, 600 soundboards, and 200 voice memes for versatile sound manipulation.

Morph into Margot Robbie, Scarlett Johansson, Morgan Freeman, and more famous actors' voices.

Enjoy pitch shift, reverb, echo, and an array of voice-altering options.

Craft unique effects with the built-in voice editor.

Seamlessly use it with Discord, Skype, Twitch—elevating voice calls and streams.

Easy setup for content creators, gamers, and voice enthusiasts to have endless fun.
Pros:

Offers a diverse array of voice effects.

User-friendly setup and operation.

Works seamlessly with major voice chat apps.

Features exclusive, high-quality soundboards.

Enhanced control with Stream Deck integration.

Create unique voice effects with voice recorder and audio editor.
Cons:

Optimal performance of the AI voice may require a high-performance computer setup.
Price:
Monthly package for $9.99
Yearly package for $29.99
Lifetime package for $49.99
How to Generate Margot Robbie AI Voice with MagicMic?
Step 1: Download and Launch
Obtain and install the MagicMic software on your device.
Step 2: Configure Input and Program Settings
Choose your main microphone as input, activate "Apply Voice Changer," and enable "Hear Myself."
Step 3: Select the MagicMic Virtual Audio Device
Select Voice Changer Virtual Audio Device as input in your desired app.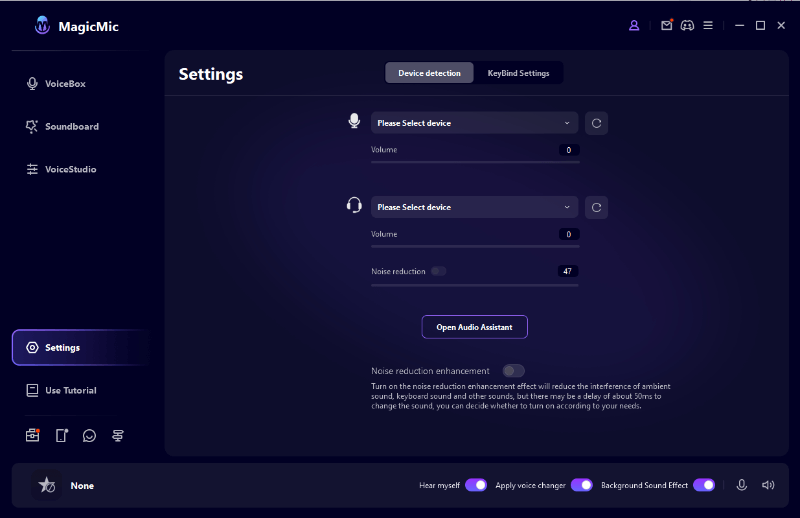 Step 4: Choose Voice and Sound Effects
Explore MagicMic's vast array of voice effects. Experiment and assign effects to keybinds for seamless toggling.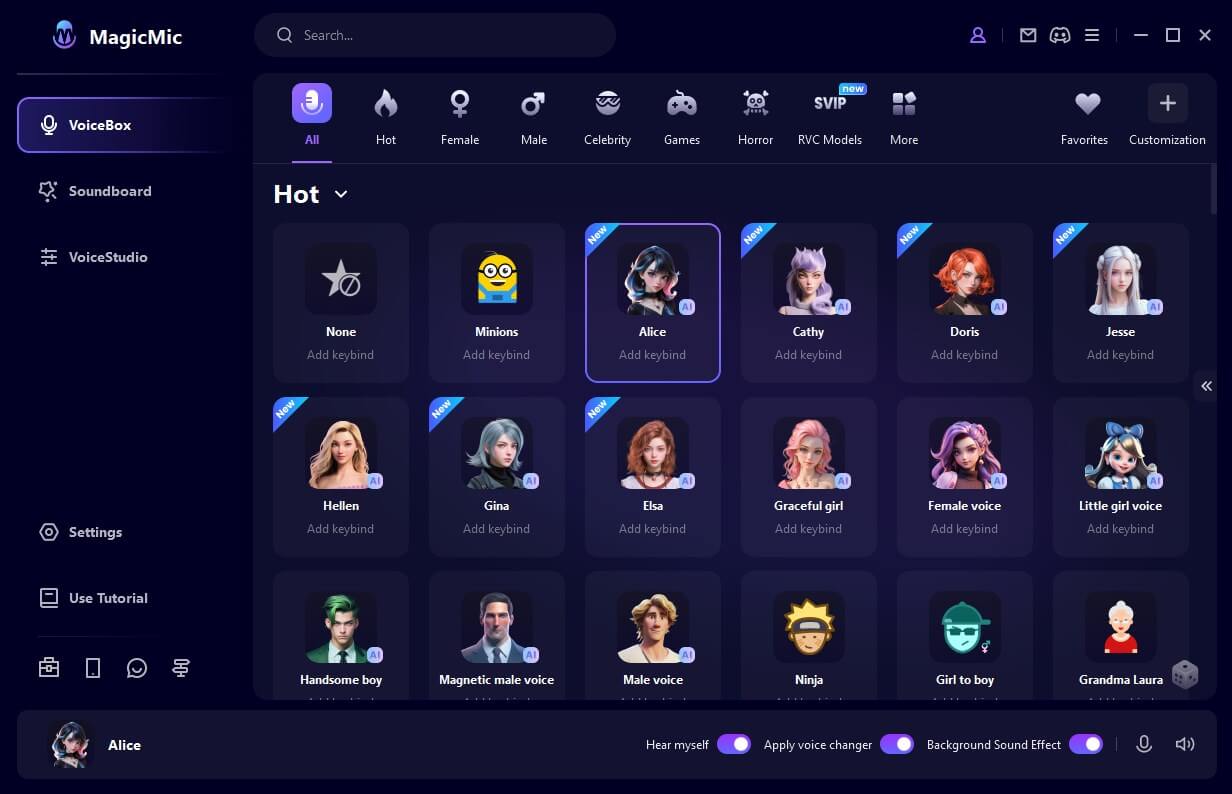 Tips
Watch the Video Below To Know More About Margot Robbie AI Voice Changer
2) VoiceMod AI Voice Generator
VoiceMod is another Margot Robbie AI voice generator app that enables real-time voice modification. With its integrated audio tools, crafting fresh audio personas and voice styles becomes accessible. As a prime Voice Changer with Effects option, it seamlessly syncs with platforms like Discord, TeamSpeak, and Zoom. Additionally, VoiceMod extends its compatibility to popular online games, including PUBG, Fortnite, League of Legends, and Call of Duty.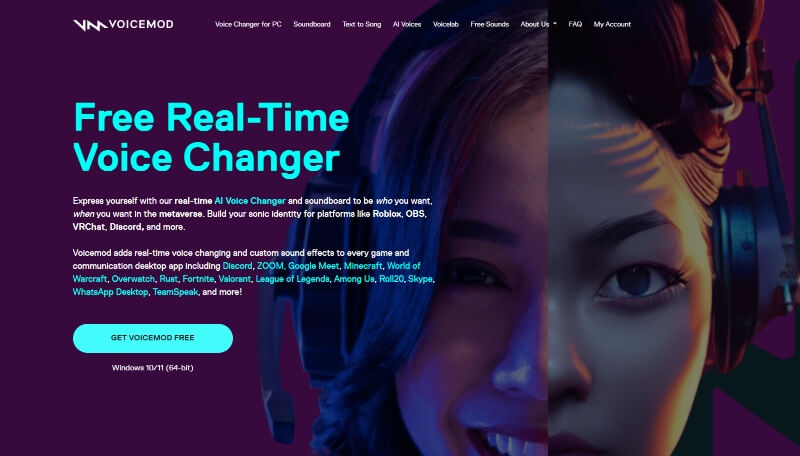 Pros:

Diverse Array of Voice Effects: Offers an extensive selection of voice effects.

Simplicity and Setup Ease: User-friendly interface for straightforward installation.

Seamless Compatibility: Works effortlessly with well-known voice chat apps.

Premium Soundboards: Presents exclusive soundboards featuring top-notch audio quality.
Cons:

Some advanced features are only available in the paid Pro version.
Price:
Free Version
VoiceMod Pro for $52.00
EaseUS VoiceWave stands as a Margot Robbie voice changer, emerging as a prime selection for users. Boasting 100+ voice effects and 18 sound variations, this software provides users with an extensive array of choices.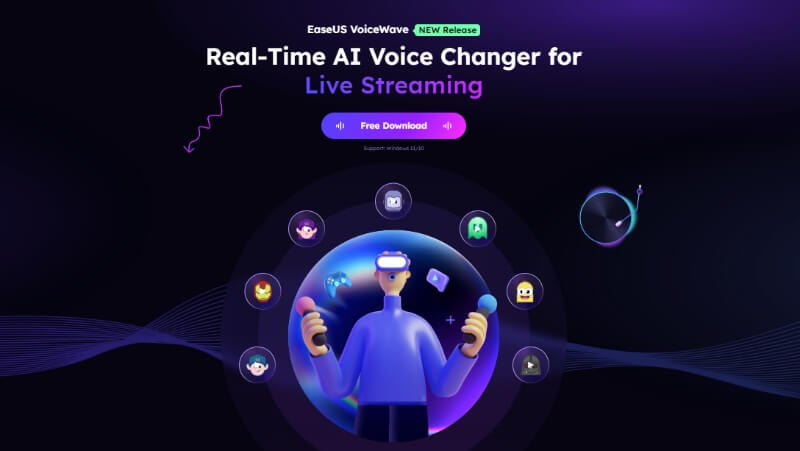 Pros:

User-Friendly Interface: Intuitive design promotes efficient usage.

Versatile User Base: Appeals to professionals and beginners alike.

No Subscription Needed: Basic features accessible without subscription.
Cons:

Platform Limitation: Incompatible with macOS and Android.

Limited Functionality: Due to recent release, features are restricted.
Price:
Monthly package for $15.95
Yearly package for $35.95
Lifetime package for $65.95
Part 3: Margot Robbie's Top 10 Performances: 'Barbie' to 'I, Tonya'
Navigating through roles such as an Olympic figure skater, a historical queen, a villainous vixen, and a tragic Hollywood starlet, Margot Robbie embraces a diverse spectrum of characters in her filmography.
'I, Tonya' (2017)
'Bombshell' (2019)
'The Wolf of Wall Street' (2013)
'Babylon' (2022)
'Barbie' (2023)
'Once Upon a Time in...Hollywood' (2019)
'Mary Queen of Scots' (2018)
'Birds of Prey' (2020)
'Z for Zachariah' (2015)
'Dreamland' (2019)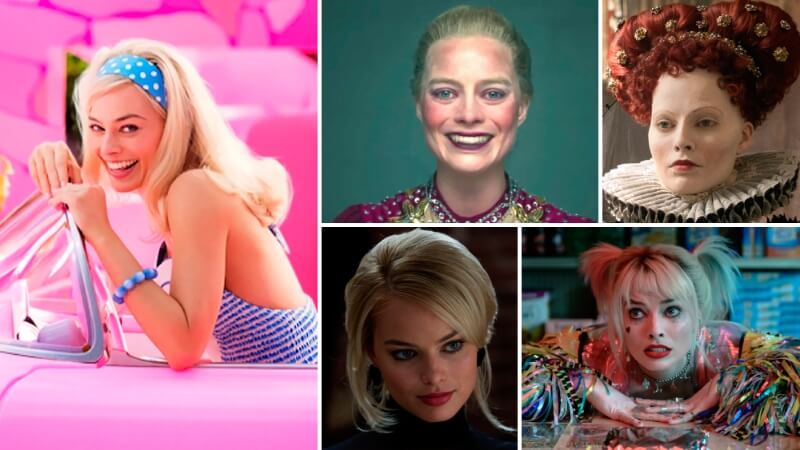 Part 4: FAQs about Margot Robbie AI Voice
1. What is the purpose of Margot Robbie AI Voice?
Margot Robbie AI Voice serves to replicate and simulate the unique voice of Margot Robbie for various applications, from entertainment to creative projects.
2. Are there any potential creative applications for Margot Robbie AI Voice?
Margot Robbie AI Voice can be used creatively in content creation, fan projects, voiceovers, and more, adding a touch of familiarity to your work.
3. Can Margot Robbie AI Voice perfectly replicate emotions in her voice?
AI-generated voices can capture certain emotional tones, but the extent to which they replicate genuine emotions depends on the complexity of the AI model.
Final words
In conclusion, the emergence of Margot Robbie AI voice technology, coupled with the transformative capabilities of the Margot Robbie AI voice generator, marks a significant leap in the world of vocal emulation. As the entertainment landscape evolves, these advancements, reminiscent of the acclaimed actress herself, empower users to engage with innovative experiences. With tools like MagicMic leading the way, the potential applications of Margot Robbie AI voice are boundless, opening doors to creativity and immersive content creation.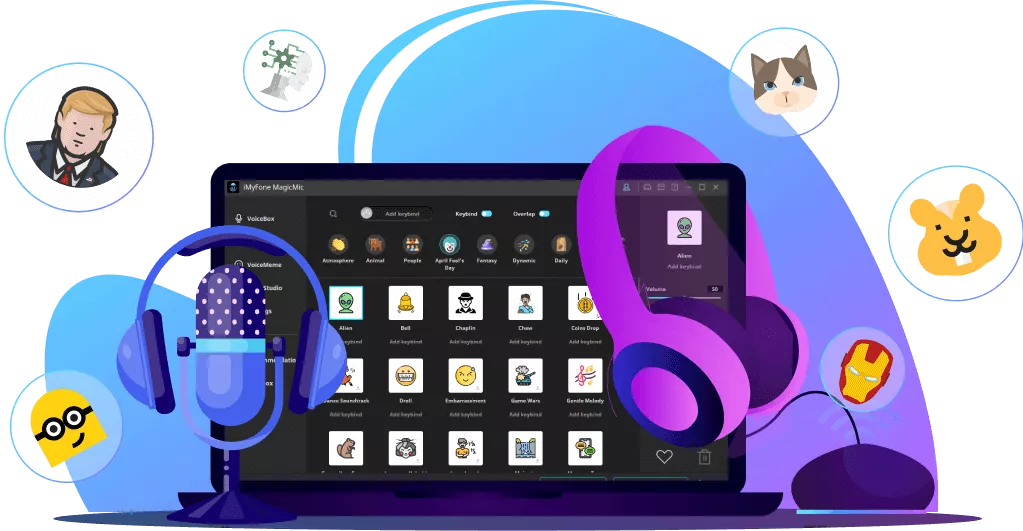 250+ Voice effects for one-click voice changing in real-time.
Huge library with 600+ Voice Effects and 200+ Voice Memes.
Sound emulator in games, live, chatting, online classes, and more.
Voice recording and audio voice changing is supported.
Voice studio lets you create any voice you like.