In the world of beloved children's literature, few characters capture the essence of curiosity and adventure quite like Curious George. The mischievous little monkey has been entertaining and captivating young readers for generations with his insatiable thirst for exploration and discovery. Now, as technology continues to advance, a fascinating convergence between classic storytelling and modern innovation has emerged. This article delves into the exciting realm where the timeless world of Curious George meets the cutting-edge capabilities of AI voice technology, specifically focusing on the integration of a Curious George AI voice and a voice changer.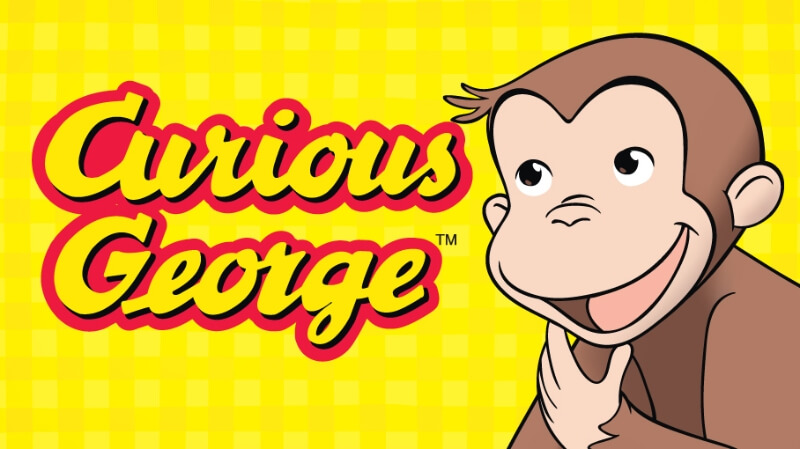 Part 1: Info about Curious George
1) Who is Curious George?
Curious George, created by H.A. Rey and Margret Rey, debuted in their 1941 children's book. The mischievous monkey's insatiable curiosity leads to adventurous escapades, endearing him with his iconic red hat to generations of readers as an iconic children's literature character.
George's explorations, interactions, and lessons in the books have led to a multimedia franchise, with TV shows and films. His relatable traits and knack for sparking wonder make him a timeless favorite for young readers.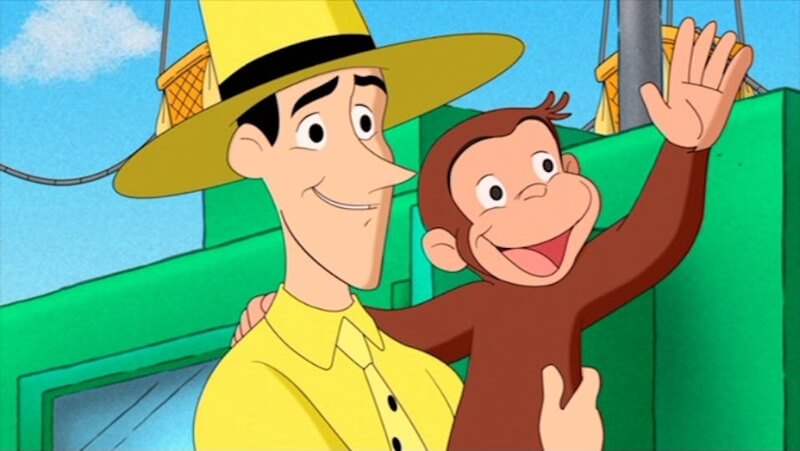 2) Who Voices Curious George?
Curious George has been voiced by a few different actors in various adaptations. In the animated Curious George TV series that aired from 2006 to 2015, the character's voice was provided by actor Frank Welker. Welker is known for his extensive work in voice acting, including voicing various animal characters in animations and contributing to numerous other projects.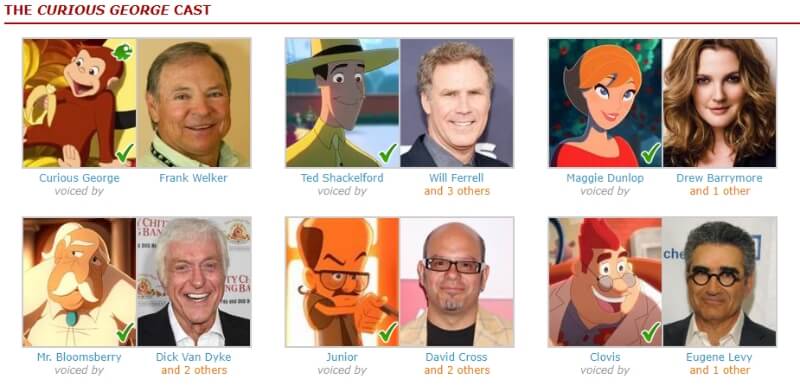 Part 2: Best Voice Changer to Get Curious George AI Voice
MagicMic's real-time voice changer, showcasing the unique AI-generated voice of Curious George. This advanced AI voice technology enhances your online gaming and chatting experiences by providing access to over 250 lifelike voice filters. Moreover, MagicMic ensures exceptional voice recording and seamless filter application, expanding its utility beyond gaming and live streaming contexts.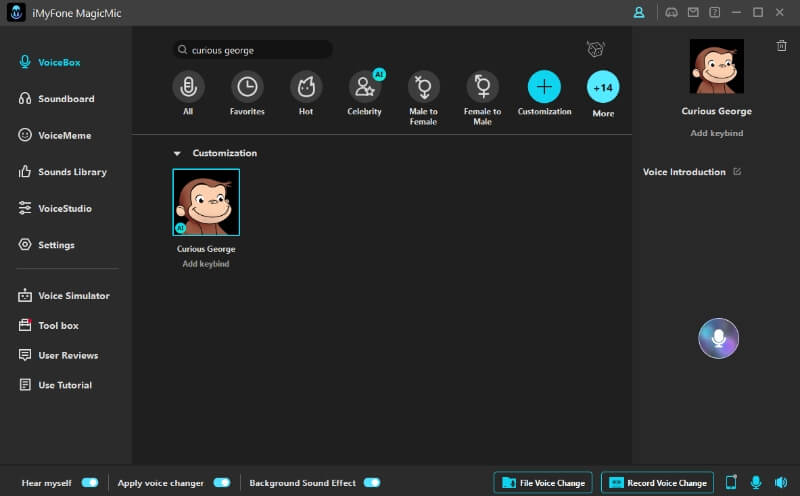 How to get Curious George AI voice?
Step 1: Download and Launch
Install the MagicMic software and log in.
Step 2: Configure Input and Program Settings
Set your main microphone as input, enable "Apply Voice Changer," and turn on "Hear Myself" for instant feedback.
Step 3: Select the MagicMic Virtual Audio Device
Select Virtual Audio Device as input in your chosen app for smooth voice alteration.
Step 4: Choose Voice or Create AI Voice
Experiment with effects, setting keybinds, create custom AI voices (e.g., Curious George AI Voice) .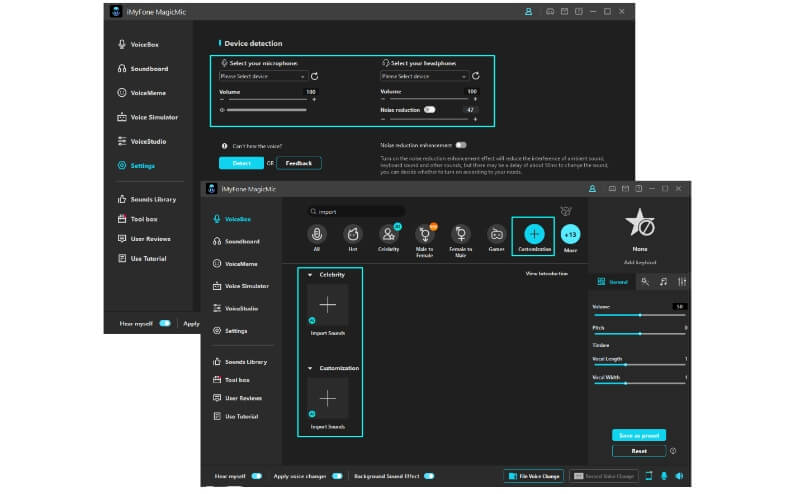 Key features of MagicMic
Curious George Voice Generator
It provides 250+ voice effects,600+ voice effects and 200+ voice memes.

Achieve instant vocal enhancement using AI-driven effects in real time.

Immerse yourself in captivating audio with an interactive soundboard feature.

Easily apply desired voice effects through personalized hotkeys for seamless access.

Enjoy improved sound quality by reducing background noise interference.

Seamlessly integrate with Discord and Twitch for optimal performance.

Capture and transform audio from any origin with the adaptable virtual audio driver.
Part 3: FAQs about Curious George AI Voice
1. What is the Curious George AI Voice?
The Curious George AI Voice is a technologically advanced voice generated using artificial intelligence. It captures the distinctive voice and mannerisms of Curious George, the beloved character, to provide an immersive and interactive experience.
2.Is the Curious George AI Voice available for different platforms?
Yes, the Curious George AI Voice can be integrated into various platforms, including gaming consoles, streaming services, and communication apps. Compatibility ensures a seamless experience across different mediums.
3.Does the Curious George AI Voice have voice effects?
Absolutely! The Curious George AI Voice offers a range of voice effects and filters that add creativity and uniqueness to your interactions. These effects enhance the overall experience.
Final words
In a remarkable convergence of classic charm and cutting-edge innovation, the introduction of the Curious George AI voice by MagicMic has opened new dimensions in interactive experiences. By seamlessly blending the nostalgic allure of Curious George's voice with the dynamic capabilities of a voice changer, MagicMic offers a journey that transcends storytelling.
As technology continues to bridge the gap between imagination and reality, this venture stands as a testament to the enduring magic of beloved characters, reimagined for the digital age. Step into a world where Curious George's voice comes alive like never before, thanks to MagicMic's pioneering advancement.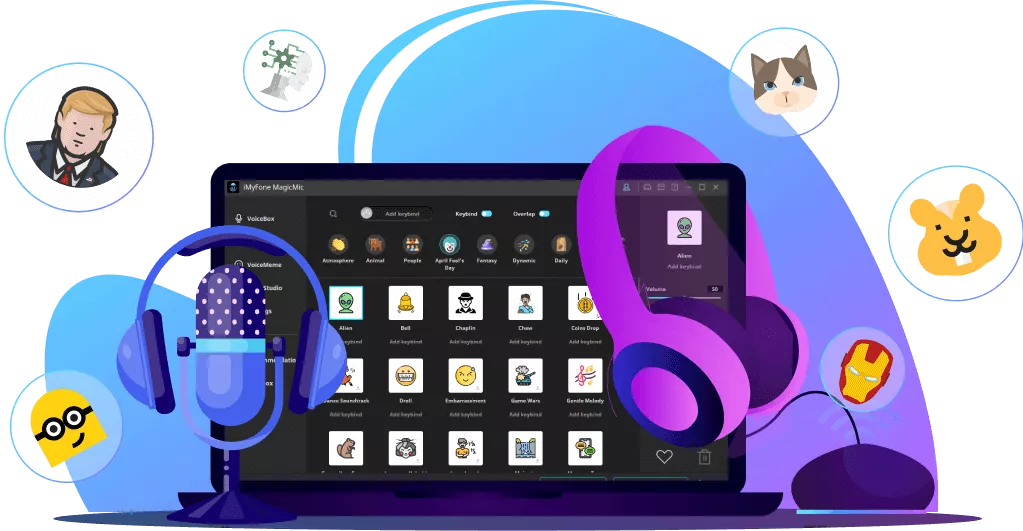 250+ Voice effects for one-click voice changing in real-time.
Huge library with 600+ Voice Effects and 200+ Voice Memes.
Sound emulator in games, live, chatting, online classes, and more.
Voice recording and audio voice changing is supported.
Voice studio lets you create any voice you like.